With upcoming seasons full of summer BBQs and graduation parties, everyone generously brings a side dish to share. Macaroni salad is the perfect item for a potluck, but we often find ourselves stuck with leftovers that we don't know what to do with. Many people don't enjoy food waste, and you might find yourself asking, can you freeze macaroni salad?
Freezing macaroni salad isn't as straightforward as freezing other food items. Learning how to freeze macaroni salad the right way takes an understanding of all the ingredients and how they change after being put into a cold environment.
How much macaroni salad you have left over determines what you do with it, but many storage options may better suit you. Macaroni salad is often made in large batches, so you might have to get creative with how you use it all.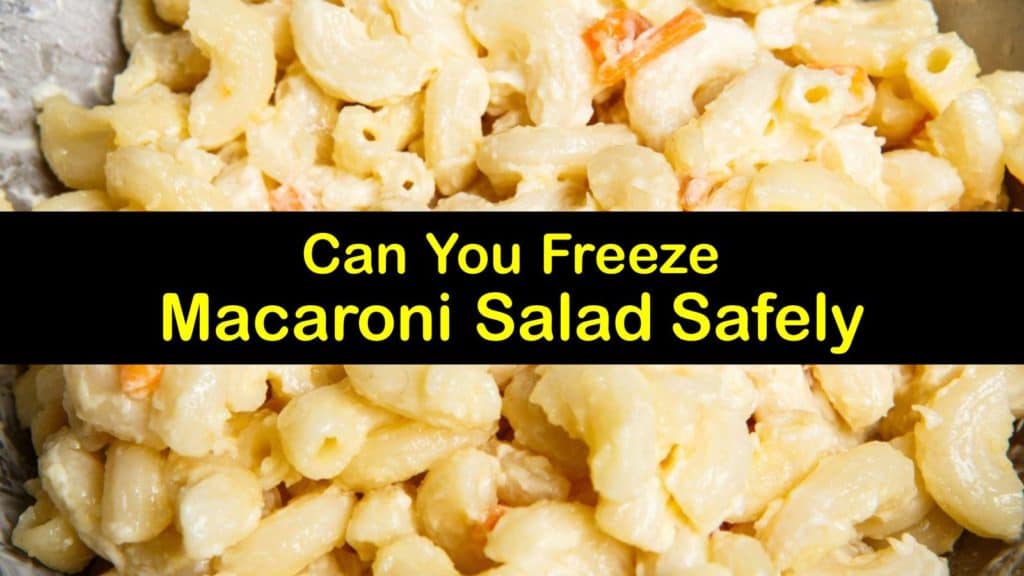 What is Macaroni Salad?
Macaroni salad is an American dish often used as a side and is most popular in the warmer spring and summer months.
Most recipes are high in cholesterol and carbohydrates because they are mayonnaise-based with elbow macaroni, yet they are mixed with healthier ingredients like veggies and eggs.
Some of the most well-known additions to the salad are hard boiled eggs, apple cider vinegar, red onion, red bell pepper, celery, and Dijon mustard. Of course, you can make plain egg salad, too.
Some people replace the mayo with cream cheese or sour cream. Home cooks have found so many different ways to spice up the traditional recipe that they even throw in taco seasoning and other unorthodox foods.
Traditional mayo is made of oil, cream, and egg yolks and is creamy and delicious. Unfortunately, these items spoil if left at room temperature for too long and have the potential to make us sick.
That leaves you with the question, can I freeze macaroni salad, or should I refrigerate it? This article is the place to find the answers you're looking for. Learn how to tell when pasta salad is gone bad and the best ways to keep it fresh. You might even come across some tasty new recipes to test at your next family gathering.
Some of the same rules apply to tuna and other types of salad dishes. Try to freeze tuna salad in a similar way to macaroni salad for the best results.
Can You Freeze Macaroni Salad?
There's a lot to learn about the freezing process before you know how to freeze macaroni salad and keep salad fresh longer.
Take a few minutes to ponder about how cold temperatures affect dairy-based products and the multitude of ways you can make the freezer work for you and your pasta salad. The process for freezing macaroni salad is a little different than when you freeze many other foods, so it pays to do it right.
Problems with Freezing Macaroni Salad
The biggest issue when facing mayo and other dairy products when you freeze them is the ice crystals that form. These ice crystals make the mayo lose its creamy texture when thawed. The mayonnaise starts to separate, and the consistency of the salad is ruined.
Pasta also isn't the best ingredient to put in the freezer. If not cooked al dente, the noodles might turn mushy and break down into a big sloppy mess. You face the same issues with potato salad. Does potato salad freeze well? It depends on the ingredients.
Thankfully, there are smart ways to combat these issues, and this article will help you find the best way to freeze macaroni salad.
How to Freeze Macaroni Salad
If possible, it is best to freeze the ingredients of the salad separately from the binder. Cook the dried boxed pasta according to the package directions so that they are perfectly al dente.
Once they cool, mix in your diced vegetables and put the mixture into plastic bags or freezer bags. Only after thawing these components should you mix in the mayo. This method also works for a potato salad or a different pasta salad recipe.
What if you already made the salad and are trying to take care of the leftovers? That's why discovering how to thaw frozen macaroni salad is beneficial. If you already mixed all your ingredients and want to freeze them, it is acceptable to do so.
The flavor change won't be so drastic that it's inedible, but the texture might differ. Remove your frozen macaroni salad from the freezer and put it directly into the fridge. Macaroni salad only lasts in the freezer for up to 14 days.
Allow the salad to sit in the fridge for as long as it takes to thaw completely. Remove it from the fridge and gently mix it to bring the mayo back to its normal texture.
How to Refrigerate Macaroni Salad
Can you keep pasta salad in the refridgerator? The fridge is hands down the best place to store macaroni salad, and it requires time to cool anyway.
Once your salad is prepared, keep macaroni salad fresh in the fridge in a large bowl with plastic wrap or an airtight container. Keep the salad in the fridge for up to five days before serving it as a delicious appetizer.
The Best Macaroni Salad Recipes
Now that you know how to freeze macaroni salad, you get to start the fun part: making it. A traditional macaroni salad recipe is delightful, but we think it's better to try something new.
We won't go as crazy as Hawaiian macaroni salad, but we think you'll enjoy this meaty version of the traditional American dish. Can you freeze homemade chicken salad with macaroni? Definitely. This is also a favorite recipe for frozen macaroni salad because it thaws well.
Start by cutting the plain chicken breasts in half, placing them in a slow cooker, and covering them with water. Add the salt, onion, and celery, and cook the chicken breasts on low for five to six hours.
When cooked all the way through, remove the chicken and let it cool before dicing it into chunks or shredding it.
Bring a large basic pot of heavily salted water to a boil and cook the pasta until al dente. Drain the elbow macaroni and rinse it under cold water to stop the cooking process. Put the pasta into a large bowl.
In a small bowl, quickly whisk together the oil, sesame oil, vinegar, soy sauce, pepper, sugar, and ginger. Toss the chicken and spinach with the pasta and then gently fold in the dressing.
Stir in the fresh parsley and green onions and top the whole dish with the toasted sesame seeds.
Refrigerate the salad at least three hours before serving it. Scoop the salad one spoonful at a time for the perfect sized appetizer, or put a few scoops into a small bowl as a hearty side.
Macaroni salad will always be a go-to recipe for summer parties and is a way to show the love you have for your friends and family through a mouthwatering meal.
Despite the issues that may arise when freezing macaroni salad, there are ways to work around it so that it always tastes fresh.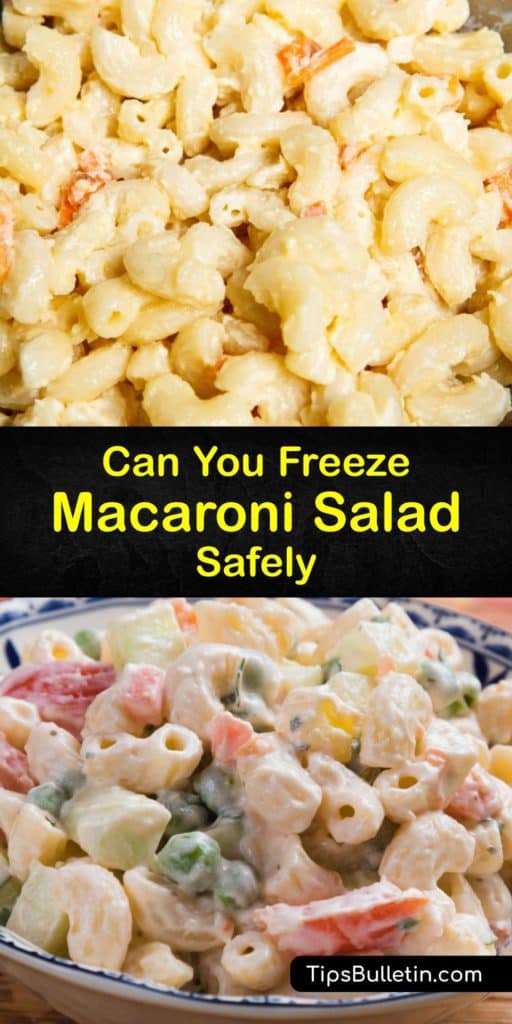 If this article answered your question of can you freeze macaroni salad, share these kitchen freezer tips for pasta salads on Facebook and Pinterest.