Onions are one of those ingredients that are needed in just about every recipe. With how often these veggies are required in recipes, many of you are probably wondering, can you freeze onions for later use? Having diced, sliced, minced, or chopped and ready to go inside the freezer saves you time on meal prep and also saves you money.
Having the onions prepared ahead of time cuts down on prep time, and by freezing them in advance, you are not wasting money by throwing out the food you let spoil. Sure, you can save time by running to the store and buying pre-cut onions, which grocery stores sell, hoping you will purchase them for the convenience.
The problem with those pre-cut onions is how much they end up costing; trust us, you are paying a lot to save a few minutes of prep time. Rather than wasting money, learn how to freeze onions so you can store the extra the next time the recipe only calls for half of an onion.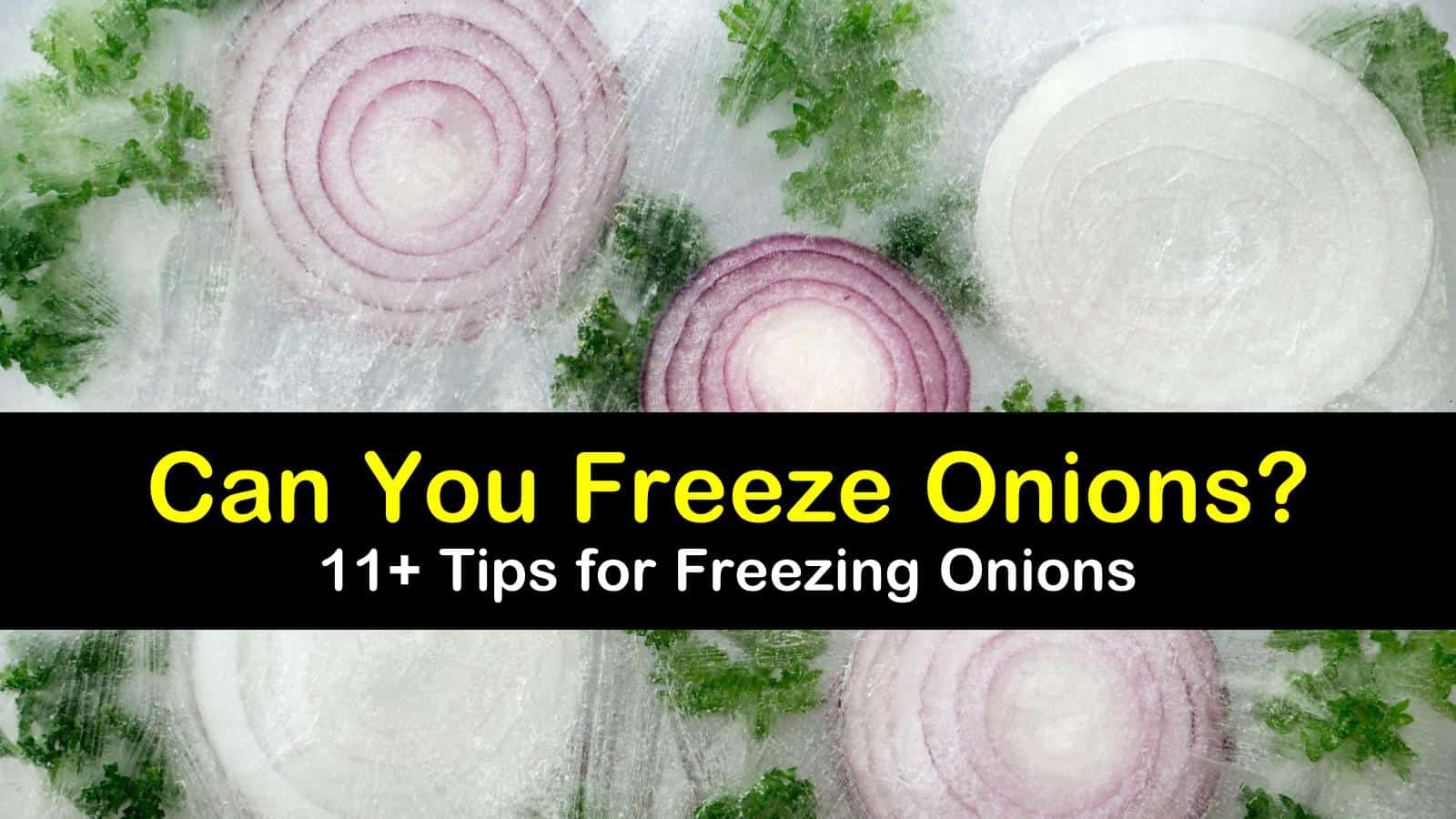 Must-Know Tips on How to Freeze Onions
Storing onions by freezing is an excellent way to preserve them. How long do red onions last if you don't freeze them? Onions of all types last for different amounts of time depending on your storage method. In the freezer, they last for several months.
Before you start chopping onions to freeze, you need to know that frozen onions don't work in all dishes. Once you freeze onions, they lose some of their crunchiness. If you are using frozen onions to replace fresh onions, use them in cooked dishes, including stews, soups, chilis, or any recipe that calls for sautéed onions.
Can You Freeze Onions?
Asking if you can freeze onions is popular. Freezing is ideal for onion storage, provided you have enough space. The process to freeze onions is relatively easy and only requires a few minutes of your time.
When freezing your onions, do not use ordinary zip lock bags, such as sandwich bags. Use a heavy-duty freezer bag to help preserve the quality of the onion.Freezer bags also minimize odors inside your freezer.
If onion odors bother you, consider storing your onions in a separate freezer. For the best flavor and quality, use up frozen onions within six months. If frozen onions clump together, hit the bag against the counter a few times to break up the clumps.
Freezing Onions The Clever Way
If you are ready to start freezing your excess onions, all you need to do is follow a few simple steps. You can use large freezer bags, but we recommend using smaller bags so you are only thawing as much as you need each time.
Begin by peeling your onions. Use a knife or food processor to dice, slice, or chop onions. You can cut your onions in various ways, so you have different sized pieces on hand for a variety of recipes. Add diced onions to freezer bags and then push out as much air as you can before sealing the bag closed.
Write the portion amount and the freezing date on the baggies with a permanent marker. The portion amount allows you to pull out only as much as you need from the freezer, as you cannot refreeze onions. The date ensures you use the oldest ones first to preserve taste.
Freeze the onions by laying them flat on a cookie sheet and then putting them inside a freezer. Freezing the bags flat allows you to stack them inside for easier storing. Once onions are entirely frozen; usually, a couple of hours, remove bags from cookie sheets and place directly inside the freezer.
Can You Freeze Green Onions?
If you are wondering can you freeze green onions, the answer is yes. The downfall of freezing green onions is they do not retain their crispness, but they still offer plenty of flavor. When green onions freeze, they become tougher upon thawing. The freezing process for green onions is the same as for diced or chopped onions.
Begin by peeling, trimming, and cleaning the green onions. Chop or dice the green onions into ¼ inch pieces. Blanching is not required. Package cut onions in freezer containers or bags and leave about ½-inch of headspace.
Remove as much air as you can. Another way to freeze diced green onions is by laying out the cut onions in a single layer, so each piece freezes separately. Once frozen, after several hours, scoop into various containers and store in the freezer for up to six months.
Can You Freeze Caramelized Onions?
Caramelized onions are one of the best kinds of onion to freeze; the best part is that freezing doesn't affect their flavor at all, and you can make them in the crockpot or on the stove. Caramelized onions offer a sweet and nutty flavor that makes a great addition to many dishes.
Still, the process of caramelizing the onions takes longer than most people want to spend on a busy weeknight. When caramelizing onions, the volume decreases a lot, so always make a bigger batch than you think you need.
When caramelized, four large onions only make about two cups, so the more you cook, the better. Like other onions, you can store caramelized ones in the freezer for up to six months. Just watch for signs of freezer burn.
You can freeze caramelized onions in three different ways. The first method is to pack them into ice cube trays, which is perfect for when you need smaller portions. The second way is to use muffin tins, but line the tin with plastic wrap to make removing the frozen onions easier.
The third option is to use freezer bags. You will also need to transfer the frozen onions from ice cube trays or muffin tins into freezer bags for long term storage. If freezing directly in a freezer bag, always freeze them in a thin layer, nothing more than ½-inch thick. To use, break off as big or small of a section as you need.
My Onion Sprouted. Can I Freeze It?
Sometimes onions begin sprouting and going soft before we can use them. Rather than just tossing the onion, you can still freeze it, but not the same way you can with fresh onions.
Begin by cutting off the sprout and peeling the onion. Chop the onion into several large chunks and place inside a food processor. Drizzle some olive oil in with the onion and blend. The food processor will create an onion slurry.
Scoop the slurry into ice cube trays and freeze. Once frozen, remove cubes of onion and place them inside airtight containers for storing inside the freezer. Use the cubes to add flavor to dishes like soups and gravy.
How Not to Cry when Chopping Onions
Sulfur compounds found within onions are what brings tears to your eyes as you chop them. To prevent your eyes from watering, place your onion in the fridge for 30 minutes before you chop it. Once you start chopping, begin at the shoot end and do not cut the root end.
The root is where the majority of the sulfur compounds are found, so leaving it whole reduces the chance of tears. Other methods people have found helpful in reducing tears is to do your prep work outside, so the breeze carries away the sulfur fumes naturally.
Some people say lighting a candle will work, as the flame consumes the fumes. Never toss out the root ends, but use them to make broth or stock instead.
Do I Need to Blanch Onions Before Freezing?
Blanching involves a quick dip in boiling water and then submersion in cold water. When you freeze onions, you have the choice of whether you want to blanch them or not.
Diced or otherwise cut onions do not require blanching, but it won't harm them if you do. Whole bulb onions do require blanching before freezing.
You can also blanch and freeze green beans or choose not to blanch this vegetable, too. Either method is acceptable. Freeze raw mushrooms or carrots or blanch them, as well. However, blanched veggies usually end up crispier than their non-blanched counterparts.
Can I Freeze Whole Onions?
You can freeze whole bulb onions, which includes red, yellow, sweet, or white onions. Before freezing bulb onions, you want mature bulbs rather than young bulbs. To prepare the bulbs for freezing, trim, peel, and clean them so that you can blanch them.
Blanching whole onions requires you to cook the bulb in boiling water from three to seven minutes and then transfer to cold water. With onions, the center requires thorough heating, so how long you blanch it depends on the size of the onion.
After cooling the onions, drain the water and place them inside a freezer bag. Use a bag or container that is big enough to leave 1/2-inch of headspace. Squeeze out any excess air and seal the bag.
Place the sealed bags inside the freezer and use within six months for optimal quality. Whole frozen onions are only recommended for cooking; do not use in cookbook recipes that call for raw onions.
Make and Freeze Onion Rings
Rather than waste your money on premade onion rings in your local grocery store's freezer section, use your excess onions at home to make your own.
Begin by washing, trimming, and peeling your onions. Slice your onions and then separate the slices into rings. Blanch the rings for 15 seconds and cool immediately. Drain rings and coat with flour.
Make a coating using equal parts pancake mix and cornmeal. Dip each ring into milk and then coat with the cornmeal and pancake mixture. Put prepared onion rings in a single layer on a baking sheet and place in the freezer. After several hours, remove the baking sheet and transfer onion rings into containers.
Place plastic wrap in between each layer to prevent them from sticking together. No headspace is required. Once the container is full, seal and then store it in the freezer. To use, heat frying oil to 375°F and cook until golden brown.
Best Way to Thaw Frozen Onions
Most of the time, you do not need to thaw your frozen onions before using them. Add them frozen to soups, casseroles, or stir-fry and cook normally.
If you prefer to thaw them, you can quickly thaw them in the microwave or run them under cold water. You can also place onions in the fridge to thaw overnight. We do not recommend thawing them on the counter at room temperature.
Using Frozen Onions in Recipes
You can use frozen onions in a variety of recipes, including soups and stews. We don't recommend using frozen onions in fresh recipes, such as salsa, as freezing changes the texture of the onion.
Cut each of the bell peppers in half; remove seeds and stems and wash. Place on a baking sheet and cook inside a 400°F oven for ten minutes. Saute onion in oil until the onion begins to brown. Add ground meat and cook until brown.
Mix in taco seasoning and continue stirring for two minutes. Add water and simmer for three minutes and then remove from heat. Place ½ cup of meat mixture inside each bell pepper.
Top with cheese and cook in the oven for another 20 minutes. Remove from oven and serve with your favorite taco toppings.
How to Store Onions
Many people wonder how long do onions last in the fridge? The answer to that question depends on how your onions are stored. Whole onions will last seven to ten days inside the refrigerator.
We strongly discourage you from storing whole onions in the fridge, though, as when stored in a cool, dry, and well-ventilated place they keep for one to two months in the summer and up to six months in the winter.
Storing your bag of onions in a cool, dry location is recommended by the National Onion Association because onions are known to absorb moisture. Storing them in areas with high humidity or high temperatures increases the odds of them rotting or sprouting. The ideal temperature range for onions is 40 to 50°F.
Never store onions in plastic bags or direct sunlight. Onions require proper ventilation to decrease the odds of rotting and molding. Direct sunlight causes fluctuation in humidity levels and temperatures, speeding up the rate in which they spoil.
For optimal results, store onions in a netted or mesh bag, pantyhose, open basket, or a bamboo steamer to allow air to circulate the raw onions. The only onions you should store inside the fridge are chopped, sliced, or cut onions.
Store them inside a zip lock plastic storage bag or an airtight container. When properly stored, cut onions last up to seven days. Peeled onions keep inside the fridge for up to two weeks.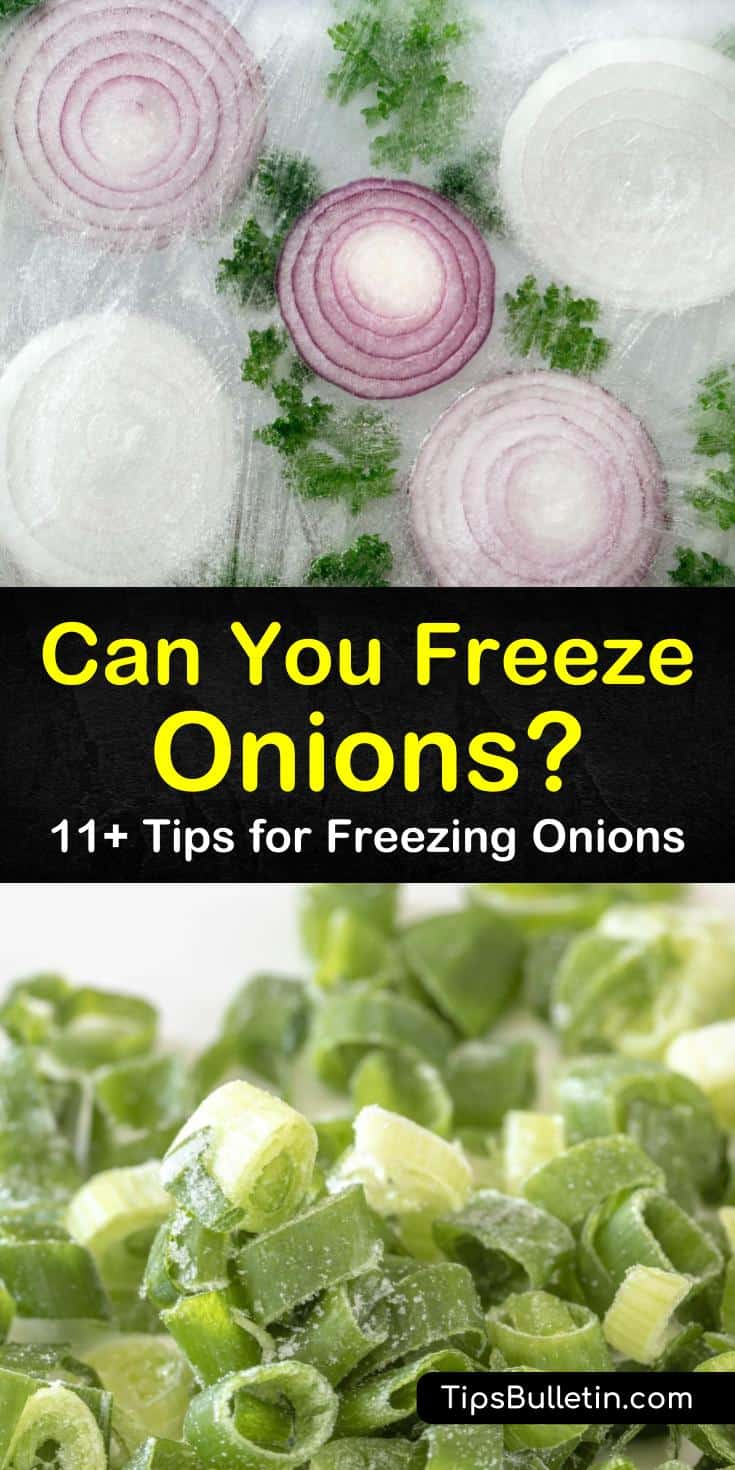 Thank you for reading our post on how to freeze onions. If you found any of our tips and ideas useful, please take a minute to share your favorite onion freezing tips on Facebook and Pinterest, so others who are wondering, can you freeze onions can have the correct answer.