It is common knowledge that dairy products don't always hold up well in the freezer. On the other hand, some hard cheeses seem to do just fine. Can you freeze parmesan cheese?
Of all of the cheeses, Italian Parmigiano Reggiano is one of the tastiest and most well-rounded. It has a rich, bold flavor that goes well with soups, salads, sandwiches, and more.
Knowing how to freeze parmesan cheese is a simple way to make cheese last longer when we can't use it up before it expires. We all know that it is possible to refrigerate parmesan cheese, but can parmesan cheese be frozen?
This article explains the best way to freeze parmesan cheese without sacrificing the texture and flavor we know and love. With these helpful tips, you'll be able to keep your favorite cheese in the house all year long.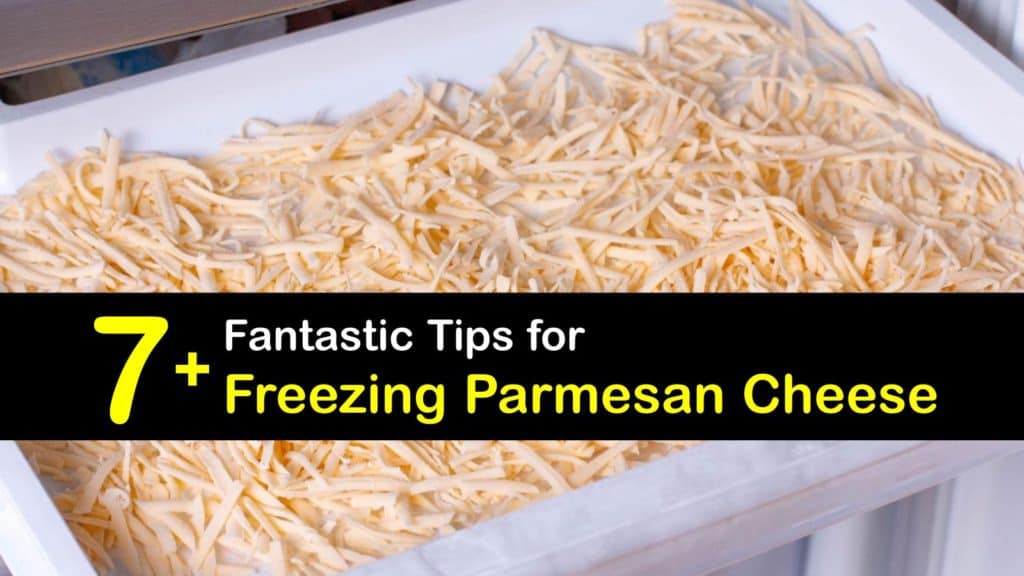 Is It Okay to Freeze Parmesan Cheese?
It is much better to freeze hard cheese like parmesan or pecorino romano than some soft cheeses like mozzarella, brie, and cream cheese.
This difference is because soft cheese has a much higher moisture content that crystallizes when placed in the freezer. Unfortunately, the water content also causes ice crystals to form and leaves your once smooth cheese crumblier than before.
There are many forms of parmesan cheese. Traditional Parmigiano Reggiano comes from Italy and must meet specific criteria to be considered authentic parmesan cheese, including the location it is made, how it is aged, and what the cheese is made with.
It usually comes in a wheel, although people can buy smaller pieces with the rind still attached. There is also grated parmesan cheese and sliced cheese.
The flavor profile of these cheeses is similar and doesn't have to be stored much differently, so can you freeze parmesan cheese at home? Browse through these tips for freezing parmesan cheese to keep it fresh as long as possible.
Can You Freeze Parmesan Cheese?
Freezing cheese is something that most people prefer to avoid if possible, while it is okay to freeze mozzarella cheese. However, not everyone can use all their food before it expires. This is when learning how to freeze parmesan cheese comes in handy.
Prepare the Appropriate Portions When Freezing Parmesan Cheese
Instead of trying to thaw frozen cheese every time you need it, consider separating the cheese into separate portions that you can grab each time you need some, like when you need frozen sliced cheese.
This way, you don't have to freeze the cheese all over again, and your cheese is already prepped and ready to use. Some people prefer to freeze the entire block, and others grate the cheese ahead of time.
How to Freeze Parmesan Cheese
To freeze cheese without drastically altering the texture, do your best to keep air away from the block, including keeping the cheese in the original packaging, using an airtight container or freezer bag, or wrapping it in extra parchment paper or plastic wrap before storing it in the freezer. Freeze raclette cheese this way, as well as a variety of other cheeses.
Labeling When You Freeze Cheese
Freezing cheese doesn't do any good if you don't label your food. Make sure to write the expiration date and the date you put it in the freezer on a piece of tape before sticking it to your plastic container.
When you pull it out, you know exactly how old it is before you use it. You'd be surprised how long hidden objects sit in freezers before we find them again. This storage method is the best way to prevent eating old food.
Other Options for Storing Parmesan
It's usually best to keep your parmesan in its original packaging until you open it. Once opened, you have to find a better way to wrap your cheese.
Many people think that plastic wrap is the best option. Unfortunately, plastic doesn't allow the cheese to breathe when it is stored in the fridge.
Use breathable materials like aluminum foil or wax paper if you hope to hold a block of parmesan in the fridge. Wrapping it in breathable material also helps to keep unpleasant odors from absorbing into it and affecting the flavor.
Using Cheesecloth
Consider purchasing some cheesecloth or cheese paper if you have cheese in your house at all times.
These products are composed of a breathable material that you wrap around your hard cheeses. Once you cover it, store the cheese in the crisper drawer inside your fridge to extend the shelf life.
How to Store Grated Parmesan
Grated cheese is best stored in some type of airtight container when you freeze cheese. How long does grated parmesan cheese last in the freezer? Grated parmesan will not last as long as an entire block. Make sure to double-check the expiration date on the packaging before storing it.
How to Thaw Frozen Parmesan Cheese
The moment of truth arrives when you must thaw your frozen cheese. Set your frozen cheese on the kitchen countertop at room temperature for an hour, or place it in the fridge to start the thawing process that lasts for several hours.
If there is excess moisture, blot it with a paper towel. If there are any weird smells or textures, refrain from using it.
Cooking with Frozen Parmesan
We love nothing more than grabbing a simple ingredient and making it the star of a dish. We all know how versatile parmesan cheese is. Many of us use it to stir into soups or on top of sandwiches.
However, few take this ingredient and base an entire meal around it. In a simple pasta dish, add as much or as little cheese as you want.
You could also add some chicken and broccoli or serve it with a side salad to incorporate some extra nutrients. Either way, the cheese flavor shines in this dish.
Melt two tablespoons of regular butter in a skillet over medium-high heat. Stir in the garlic and cook for one minute until it becomes fragrant. Stir in the chicken broth, milk, and uncooked pasta and season with a pinch of salt and pepper.
Bring the cold contents of the skillet to a boil before reducing the heat and allowing it to simmer for 20 minutes. Once the dry pasta is cooked, stir in the parmesan.
If the sauce is too thick, slowly mix in a little bit more milk. Finally, fold in the chopped fresh parsley and serve immediately.
Parmesan cheese is a staple in refrigerators around the world. Though it doesn't last forever, there are ways to store it without throwing the whole block out.
While freezing cheese and other dairy products isn't the best storage option, it is still possible and safer for many other kinds of cheese on the market.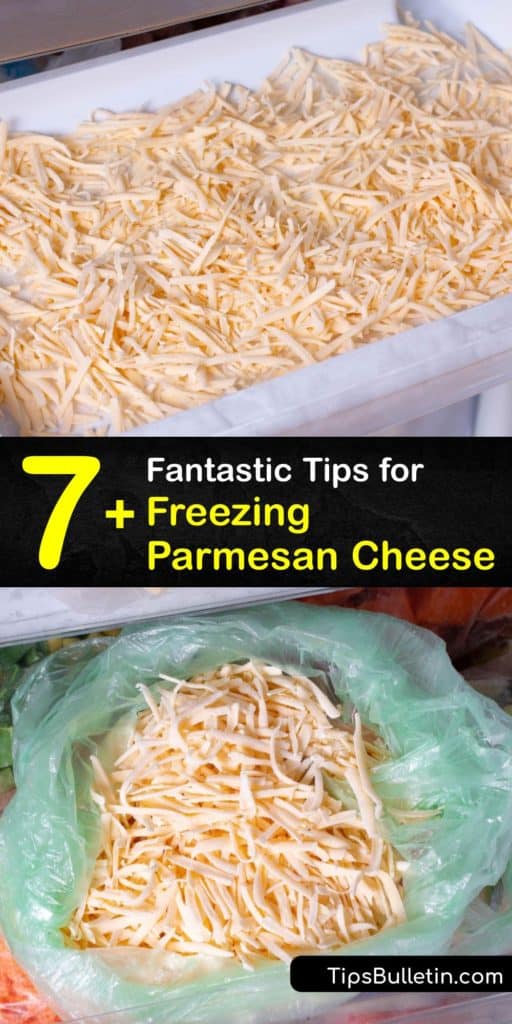 If asking yourself can you freeze parmesan cheese has helped you learn your cheese storage options, share these helpful tips for freezing parmesan cheese on Facebook and Pinterest.