One famous dish comes to mind when combining al dente pasta, Italian dressing, sweet cherry tomatoes, red bell pepper, and other fresh vegetables, and that is pasta salad. This side dish is so versatile and delicious that it's common to make too much, so can you freeze pasta salad to store leftovers?
Imagine a salad that is simple to prepare, and you make it with so many different ingredients that no two dishes are alike.
A macaroni salad may call for cooked chicken, sour cream, cheddar cheese, and peas, while another recipe needs rotini, broccoli, Parmesan cheese, olive oil, and seasonings. While they are both pasta salads, one of them freezes better than the other.
A salad that contains dairy products such as mayonnaise or sour cream does not hold up well during the freezing process.
While a salad prepared with a light salad dressing is not only lower in carbohydrates and better for your cholesterol, it's also the perfect candidate for storing in the freezer to lengthen its shelf life.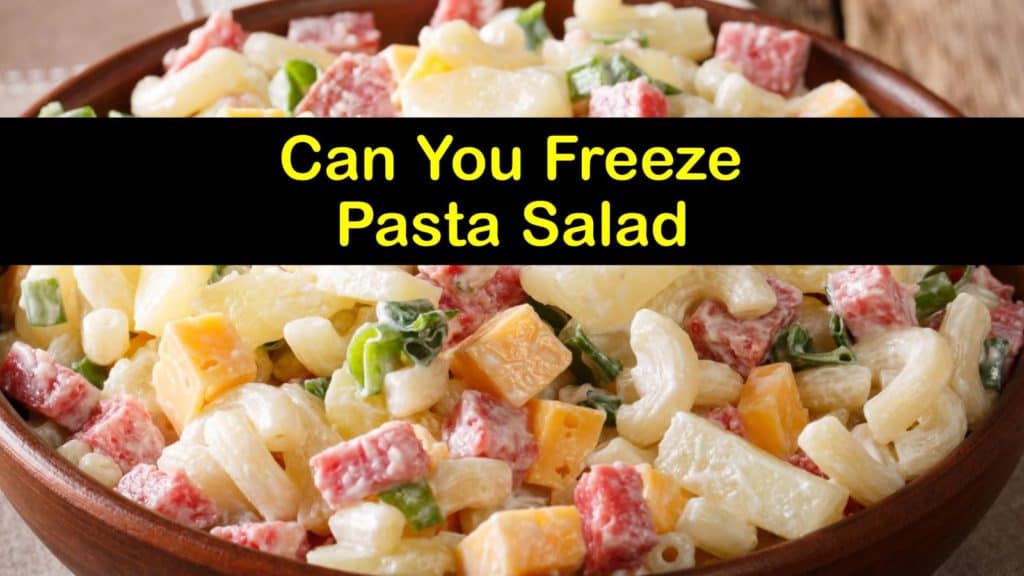 Preparing, Storing, and Freezing Pasta Salad
The main thing about freezing pasta salad is the ingredients, so it's important to determine if your favorite side dish includes dairy in the recipe. These dressings are easy to freeze, but they do not hold up well and often separate during the thawing process.
Fortunately, salads prepared with other dressings such as Miracle Whip, olive oil, or Italian dressing are perfect for freezing and taste just as delicious after thawing.
We show you how to store your dairy-based salad, how to freeze pasta salad that contains non-dairy ingredients, and the ideal recipe for optimal freezing results.
Can You Freeze Pasta Salad, or is it Best in the Fridge?
Can I freeze pasta salad, or is refrigeration the way to go? Can you freeze potato salad? While it is possible to freeze certain types of pasta salad or freeze tuna salad with specific ingredients, we first show you how to refrigerate pasta salad properly if you intend to eat it within three to four days.
If you prepare your salad for an outdoor gathering, make sure to keep it in a cooler packed with ice cubes until you're ready to eat it. Otherwise, scoop the leftover pasta salad into an airtight container and secure the lid in place.
Keep macaroni salad in the refridgerator, at the back, where the temperatures are steady and cold, rather than the front of the fridge or in the door. Keeping salad with dressing in the fridge ensures it lasts just a little longer.
If you purchase your salad from the grocery store, transfer it from the plastic container to a Tupperware container with a lid to help the salad last a bit longer.
Avoid covering your dish with plastic wrap, a plastic bag, or aluminum foil to prevent the salad from absorbing other refrigerator odors.
Freezing Pasta Salad and Ways to Thaw it
Can you freeze macaroni salad to enjoy later? If you make an extra large batch of pasta salad and cannot possibly eat it all before it spoils, freezing pasta salad is the way to go. Can you freeze chicken salad the same way? Yes. Here is the simplest way to freeze salad leftovers and how to thaw frozen pasta salad when you're ready to eat it.
The best way to freeze pasta salad is to store it in the freezer right away. Scoop the salad into a freezer-safe container and seal the lid shut. For single serving sizes, consider spooning the mixture into separate freezer bags.
Use your hands to press as much air out of them as possible, and seal tightly. Don't forget to write the name and date on each package before placing them in the freezer. Frozen pasta salad lasts up to three months if you use the right method.
To defrost the pasta salad, remove the bag or container from the freezer and set it in the fridge overnight. After thawing, spoon the salad out of the container into a bowl and stir it gently to restore the texture.
Consider adding a few fresh veggies or more dressing and seasonings to spruce it up if it loses its initial appearance or before you reheat a warm salad in a slow cooker.
How to Freeze Pasta Salad using the Best Recipe
When does macaroni salad go bad? Unfortunately, this salad favorite does not last too long in the fridge. Freezing is the best way to preserve it.
Now that you know how to freeze pasta salad leftovers, consider making a dish that contains ingredients that can handle the freezing and thawing process. Here is our favorite recipe with frozen pasta salad for meal prepping.
Bowl a pot of water and cook the pasta according to the package directions. Four minutes before the cooking time expires, add the broccoli and carrots and cook for the remaining time.
Pour the pasta and veggies into a colander to drain the boiling water and rinse them with cold water. Pour the cooked pasta, broccoli, and carrots into a large bowl, and then add the beans, bell pepper, and chicken pieces.
Drizzle the Italian salad dressing over the top and stir the ingredients to coat them evenly. If you prefer, substitute the same amount of olive oil for the dressing and add your favorite seasonings.
Divide the salad into servings using a large spoon to scoop single sized portions into each freezer bag. Press the bag flat on the counter and push out the air before sealing it.
Place them flat on the freezer shelf and after a couple of hours, shake the bags gently to prevent the ingredients from clumping together as they freeze.
Can you freeze salad dressing? Of course, you can also make your pasta salad and freeze the pasta and dressing separately. After thawing, mix the two to serve.
There is nothing better than having a homemade freezer meal stocked away for a day when you do not want to cook. Not only is it easy to freeze pasta salad, but frozen pasta salad is simple to thaw in the fridge and eat whenever you get the craving.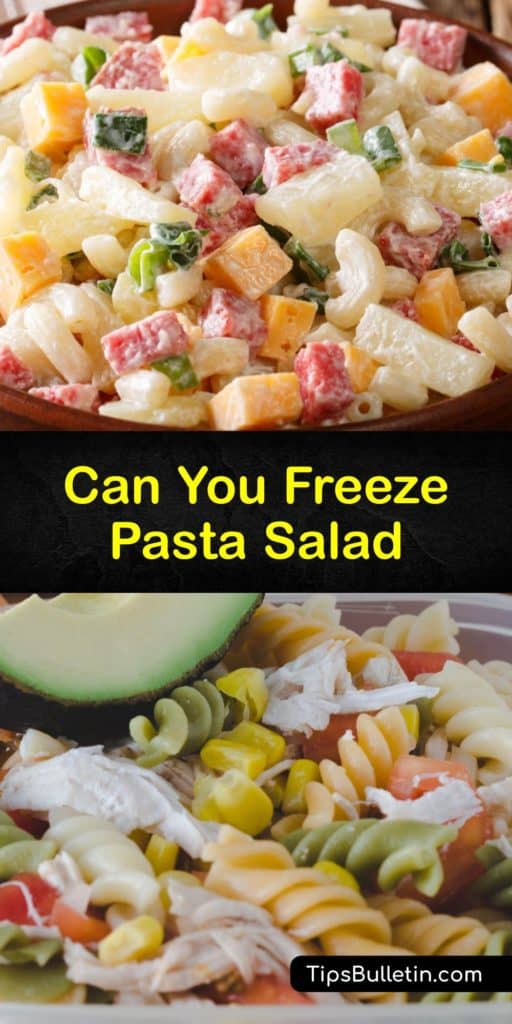 Can you freeze pasta salad is a common question, so why not share the answer and our pasta salad freezing guide and recipe with your circle of family and friends on Facebook and Pinterest?