Potato salad is a trendy side dish, and everyone seems to have their favorite recipe. Therefore, it's not uncommon to have a bunch of leftover potato salad after a BBQ or family gathering. No one wants this delicious food to go to waste, but can you freeze potato salad?
While we often store leftover potato salad in the refrigerator, it doesn't have a very long shelf life due to the dairy ingredients. Common potato salad components include sour cream, tartar sauce, or mayonnaise, and they spoil quickly under the wrong conditions.
Storing your salad at room temperature encourages bacterial growth, and keeping it on the counter too long may even lead to food poisoning.
The refrigerator is a temporary form of food preservation and lasts up to five days if you store it properly. But, does potato salad still taste good if you freeze it?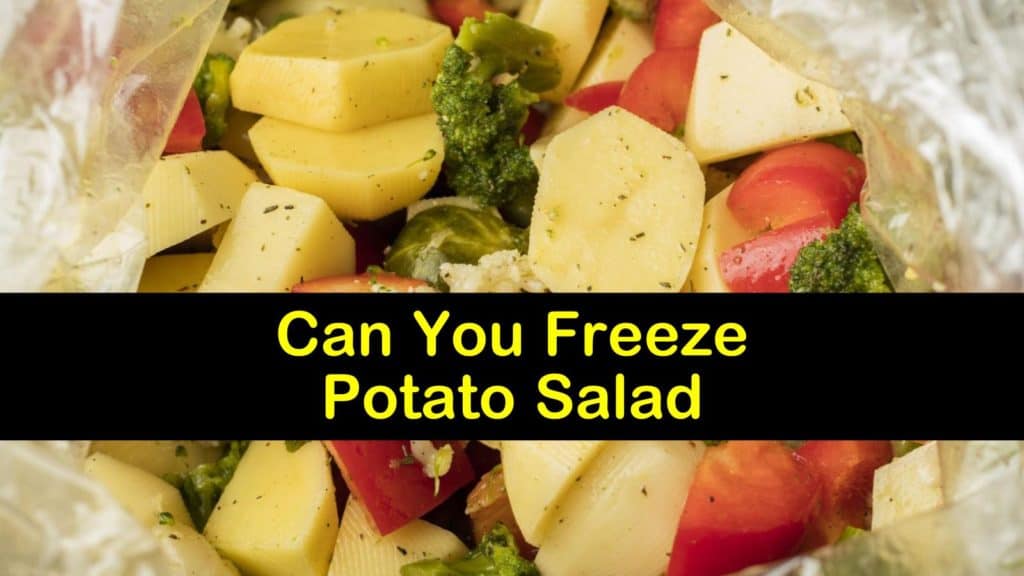 Does Potato Salad Hold up to Freezing?
After you learn how long to boil potatoes for potato salad and make the delicious mixture, you need to know how to preserve the goodness.
The fridge is often the first place we turn to for storing leftovers, and it works well, at least for a couple of days. What about potato salad? This salad is the perfect candidate for the refrigerator for short-term storage.
However, freezing is the "go-to" method of longer food preservation. After all of your guests leave your house, and you stand staring at a large bowl of leftovers, you undoubtedly wonder, can potato salad be frozen like other food items?
While almost everything is easy to freeze, some food items hold up better to the process than others.
Potato dishes, such as mashed potatoes, handle freezing quite well. Some sides made with different types of potatoes require special storage methods, though. The ingredients of creamy salads separate after freezing, which alters the taste and texture.
However, German potato salad freezes better since you make it with a non-dairy vinaigrette. That said, freezing potato salad is definitely an option to prevent you from throwing away food and letting it go to waste.
Can Potato Salad be Frozen if it's Dairy-Based?
Can potato salad be frozen? How long does potato salad stay fresh in the freezer? The answer to these common questions depends on the type of potato salad.
Most potato salads contain some form of dairy product that gives them a signature flavor, and it's best to refrigerate potato salad. However, salads that are dairy-free or oven-baked are perfect for freezing.
Potato Salad Storage
How long is potato salad good for? The risk of bacterial growth increases between 40 and 140 degrees Fahrenheit, so do not keep your salad at room temperature for more than two hours.
If you have a dairy-based potato salad, scoop it out of the original container and put it into a clean, airtight container. This is especially important if the salad is from the supermarket since store containers do not keep out air very well.
Place the container on the refrigerator shelf for three to five days. Avoid placing it near the back wall of the fridge where the temperatures may cause partial freezing.
Can You Freeze Potato Salad?
Yes, all types of potato salad are safe to freeze. While we highly recommend freezing potato salad without dairy products, the choice is up to you.
Know that thawed potatoes' flavor is different from the original, with a mush like texture. Here is how to freeze potato salad in a few easy steps.
Spoon the potato salad into a freezer-safe container and close it tightly. If you use plastic bags, fill them with the salad and press as much air out before sealing them closed. Store the bags and containers in the freezer for up to three months.
Now that you have bags of frozen potatoes in your freezer, here is how to thaw frozen potato salad. Thaw potato salad in the refrigerator overnight and stir it gently before serving.
Do not thaw on the counter at room temperature to lessen the chances of bacterial growth. If the salad tastes bland, try sprucing it up by adding a bit of fresh dressing and freshly boiled potatoes.
Making the Best Recipe for Freezing Potato Salad
As we mentioned, freezing potato salad containing dairy, such as mayonnaise, is the best type for freezing. Therefore, it's only right that we offer you a good potato salad recipe for freezer storage.
Scrub the potatoes clean and prepare them by slicing them into quarter-inch rounds. Place them into a large pot of water, add the salt, and bring them to a boil for about six minutes. Prod them with a fork or knife to check for tenderness.
If you like, you can change the recipe a little to add some other favorites. Drop in some different spices for variety.
Scoop out a quarter-cup of the potato water, pour it into a cup, and set it aside. Strain the remaining boiling water from the potatoes and place them into a large bowl to cool.
Add the green onions, parsley, garlic, olive oil, lemon juice, mustard, salt, and pepper into a food processor or blender and blend the ingredients to finely chop the herbs. Add the reserved potato water and mix until smooth.
The starch water helps the vinaigrette bind together. Pour the herb oil over the potatoes and gently mix to coat the slices evenly. Fold in the celery and let the salad sit in the fridge for about half an hour before serving.
Refrigerate this recipe for up to two days or store it in the freezer. The best way to freeze potato salad is to spoon it into freezer bags, press out excess air, and seal them shut before setting them on the freezer shelf.
What will I make for dinner tonight? This infamous question plagues us all, and having a batch of frozen potato salad on hand solves part of the problem since it's easy to thaw as a side dish for your evening meal. The key is to know which salads are best for freezing.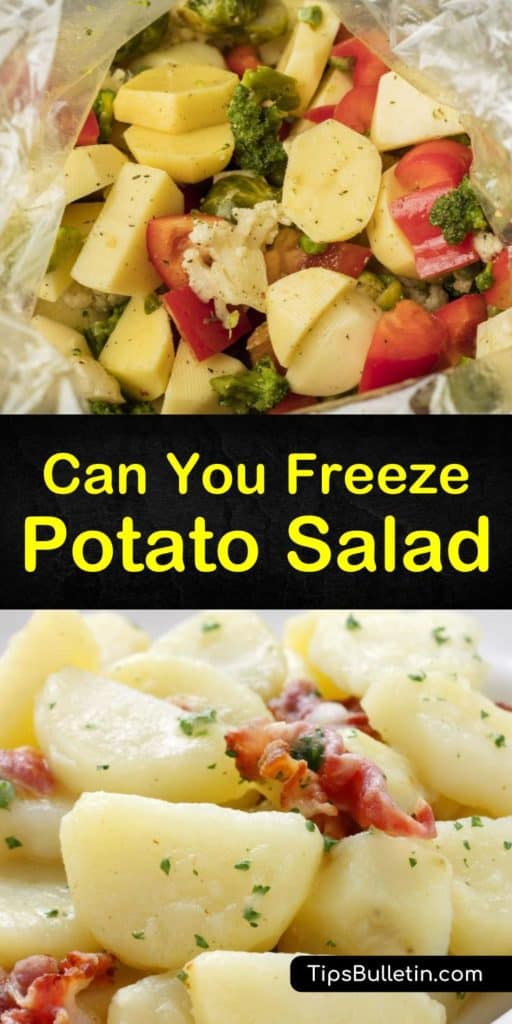 Can you freeze potato salad is an excellent question, especially if you have leftovers, so why not share the answer for freezing potato salad with your circle of friends and family on Pinterest and Facebook?