If you have spent any time inside the kitchen, you have probably asked, "Can you freeze ricotta cheese?" Ricotta cheese is an ingredient that you only use occasionally, not usually something you shop for regularly. The soft, creamy cheese is often found in Italian dishes, such as lasagna, but you will also find you need it in many desserts.
When recipes call for a small amount of cheese, you often find yourself with a lot of leftovers. Most of us want to know what we can do to keep it longer, so we wonder about freezing ricotta cheese. One of the problems with using ricotta cheese is how quickly it spoils, especially if it hasn't been stored properly.
Rather than throwing out container after container, you need to learn how to store ricotta cheese. If you are wondering, "Can I freeze ricotta cheese?" the answer is yes, it's possible, but there are several things to keep in mind to make sure you are freezing ricotta cheese correctly.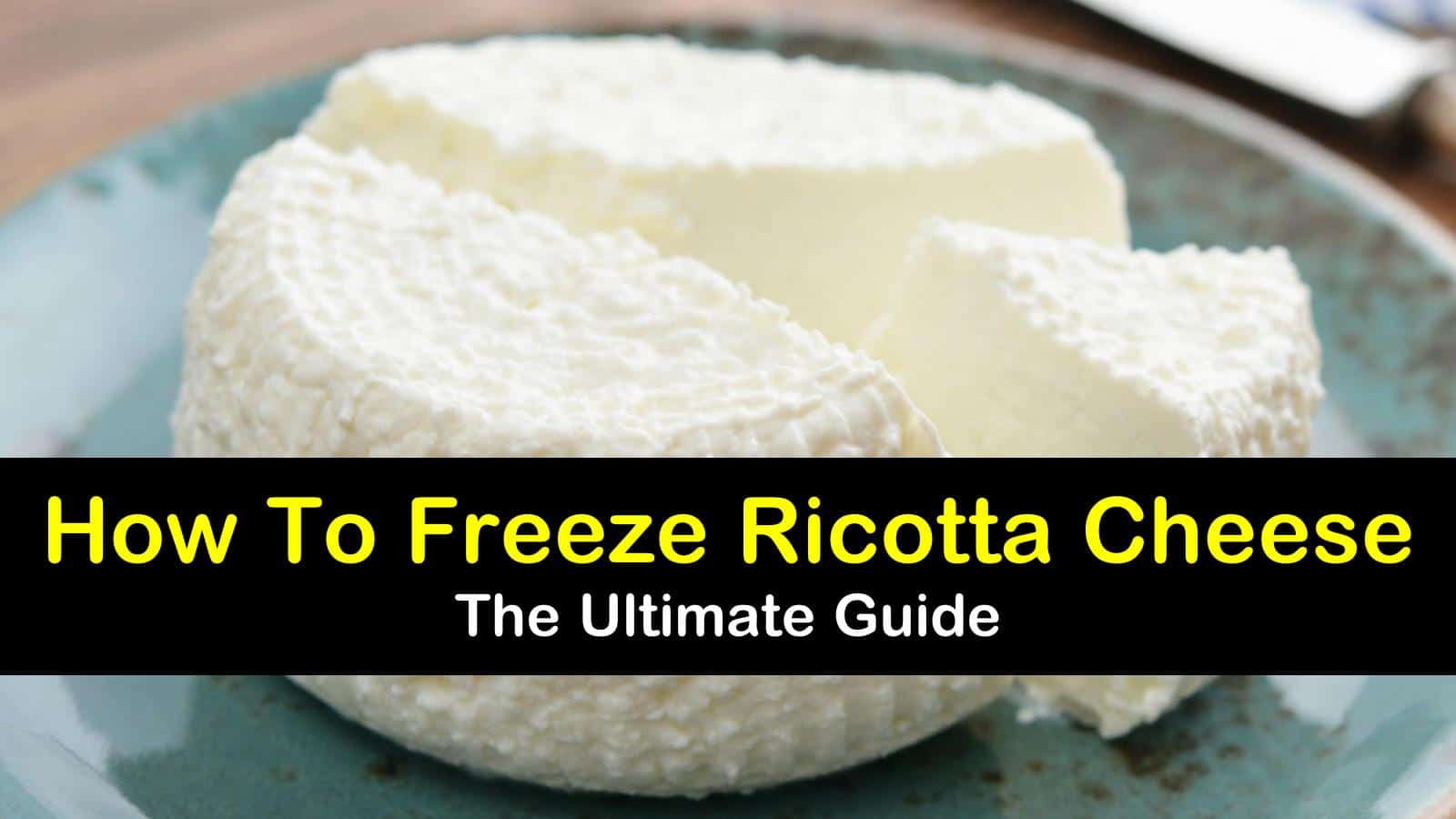 What is Ricotta Cheese?
Ricotta is a fresh cheese made from skim or whole milk with a sweet taste and a smooth texture. It is often compared to cottage cheese, as the creamy curds are the same pearly white color but ricotta is smoother.
Good ricotta cheese is firm and made up of moist, fine granules, so it is easy to understand why people wonder can you freeze ricotta cheese? The same basic principles apply if you want to learn how to freeze cream cheese, too.
Can I Freeze Ricotta Cheese?
Many people wonder if you can freeze a variety of different products that you may have gotten on sale at your grocery store. Freezing helps in keeping cheese fresh until you are ready to use it. Learning when does cheese go bad in the fridge can help you decide whether or not to freeze it beforehand.
You can freeze most items, from fruit to dairy products, to save them for future use. Can cream cheese be frozen? Can sour cream be frozen to use later?
Freezing cottage cheese works the same way as freezing ricotta cheese or sour cream. Since ricotta and other cheeses are natural cheese, yes, you can freeze them to extend their shelf life and save them for use in a recipe at a later time.
It's important to note that while the taste won't be affected by freezing cheese, the texture will be altered from its original state. This is also the same principle for freezing feta cheese or when storing blue cheese in the freezer. As one of the soft cheeses, ricotta has high moisture content, and that moisture turns icy when frozen.
Can sliced cheese be frozen? Definitely. Wrapping each slice individually helps preserve this type of cheese.
The ice damages the structure of cottage cheese and ricotta cheese, but the change won't be noticeable until you thaw it. Once thawed, you will see that the whey and curds separate. This separation creates a dry and crumbly texture that is often not salvageable for eating as is.
The texture will never be the same no matter how much you stir. To work around this, only use the thawed cheese in a dish rather than the main component in a recipe.
How to Freeze Ricotta Cheese
For those wondering the best way to freeze ricotta cheese, there is no one answer. Several methods are useful for freezing ricotta cheese, so choose the one that works best for you. Unopened packages can be frozen directly, but leftover ricotta cheese needs to be frozen in a suitable airtight container or freezer bag.
No matter how you plan to freeze your leftover cheese, you need to stir it to ensure it freezes evenly. You also need to drain as much moisture from the cheese as possible. Do so by pressing the cheese between paper towels.
When freezing inside a freezer bag, separate the dairy product into smaller portions. The smaller pieces allow you to thaw what you need. Wrap each part in plastic wrap and place inside the freezer bag.
Remove air, seal the bag and place inside the freezer. This method also applies to how to freeze shredded cheese. Removing the air from the bag and double-sealing it helps to prevent freezer burn and keeps you from having a tasteless cheese when you are ready to use it.
If using an airtight plastic container to freeze your leftovers, follow much of the same process using a freezer bag. Separate fresh ricotta cheese into smaller portions, wrap it in plastic wrap and place it inside the container. Put the filled container inside the freezer.
Other ways to freeze ricotta cheese include spooning cheese into an ice cube tray. Once frozen, transfer the blocks of cheese into bags or containers for further storage.
Aluminum foil can also be used to freeze extra cheese but is not as airtight as freezer bags or containers. You can also make your favorite dishes, such as ravioli, ricotta calzones, manicotti, etc., and freeze those dishes in smaller portions for ready-made meals.
When does ricotta cheese go bad after freezing? How long your leftovers last in the freezer depends on the temperature. Freezing and storing leftovers at 0°F or lower keeps food safe indefinitely.
If freezing above those temperatures, how long does ricotta cheese last? Leftovers keep for about six months. After one month the cheese deteriorates; while it's safe to eat, the texture and color will change.
Not only can you freeze different types of cheese, but you can also preserve your fruits and vegetables in the freezer.
Freezing butter can be done when the butter is in sticks or if it is whipped. Securely wrapping the package or putting the container in a zipper freezer bag ensures that the butter will not get freezer-burned.
How to Thaw Frozen Ricotta Cheese
How to thaw frozen cheese is simple. The best way to soften ricotta and thaw frozen blue cheese is to place the cheese inside the refrigerator. Don't leave it on the counter until softened as that encourages bacteria growth. Always use thawed ricotta cheese within two days.
Once defrosted, the cheese should not be frozen again. While softening the cheese inspect for freezer burn, yellowing, or foul odors. If you see any of these, do not consume the cheese.
Can You Make Ricotta Cheese?
Freshly made ricotta cheese offers a creamy, smooth texture that stores nicely in the refrigerator for up to one week. Using just four simple, everyday ingredients, you can make homemade ricotta cheese that tastes better than anything you buy in the store.
Dump cream and milk into a large pot. Bring mixture to a boil using high heat and remove from heat as soon as it boils. Stir in salt and lemon juice and allow curdling for ten minutes.
Layer four pieces of cheesecloth in a sieve and place the colander over a bowl. Add curdled milk into the strainer and let drain for two hours. Draining separates the curds and whey and leaves you with thick ricotta cheese. Place inside an airtight container and until ready to serve.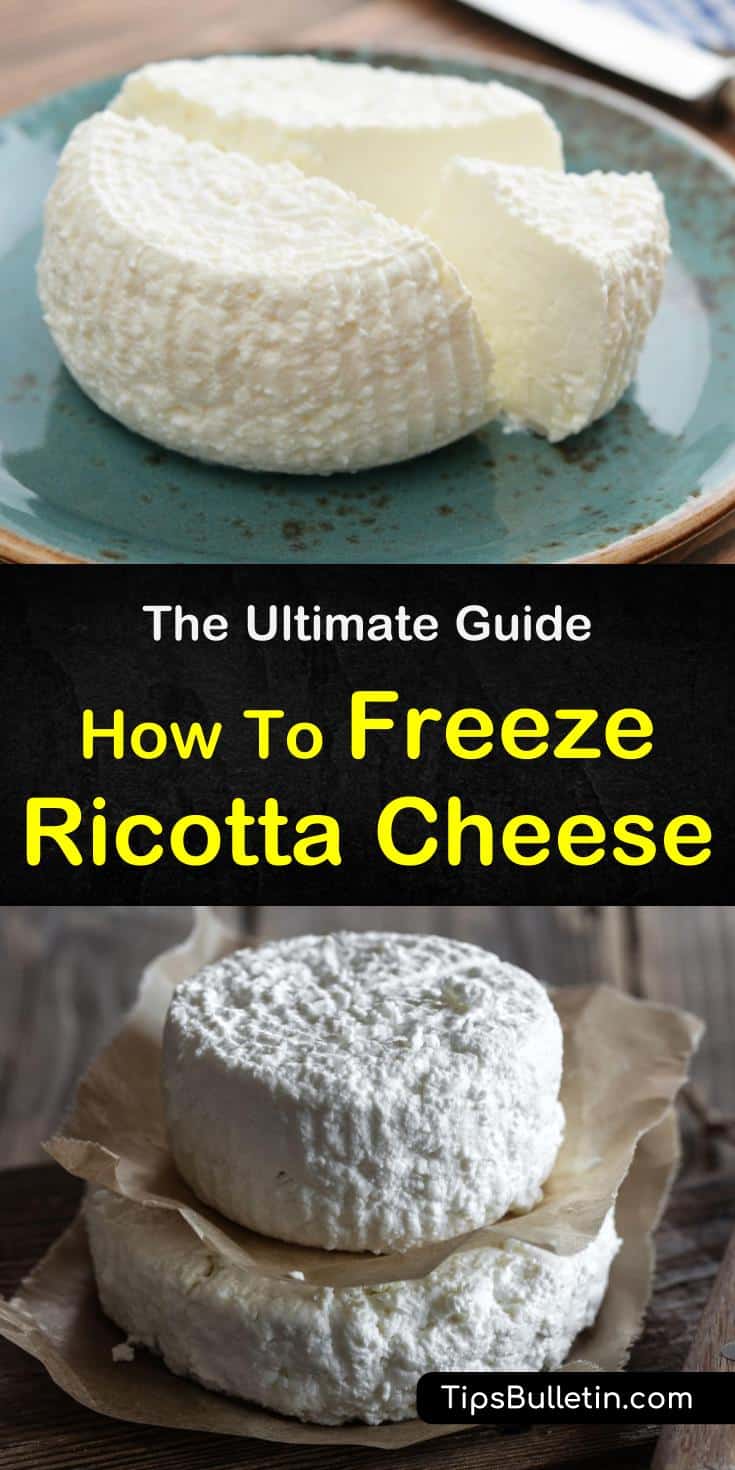 Thank you for taking the time to learn how to freeze ricotta cheese. If you found our ideas for freezing ricotta cheese helpful, take a minute to share our ricotta freezing tips with others on Facebook and Pinterest.