Can you imagine your life without salad dressing? No vinaigrette on your salad greens, nothing to dip your radishes in, and no ranch condiment alongside fried foods. Life is quite boring without this versatile dressing, but can you freeze salad dressing?
There are so many uses for salad dressing. You drizzle it over a bed of lettuce, tomatoes, and cucumbers and use a ranch dressing as a dip for veggies.
Not only that, but these condiments also taste great when you mix them with cream cheese or sour cream for a delicious pasta salad or potato salad.
There are many types of salad dressing, and some last longer than others. A store-bought dressing contains preservatives and has a long shelf life at room temperature if you don't open it.
On the other hand, a homemade salad dressing has a limited shelf life, especially if it contains dairy products. Therefore, it's vital to use the right food storage method for food safety and retain flavor.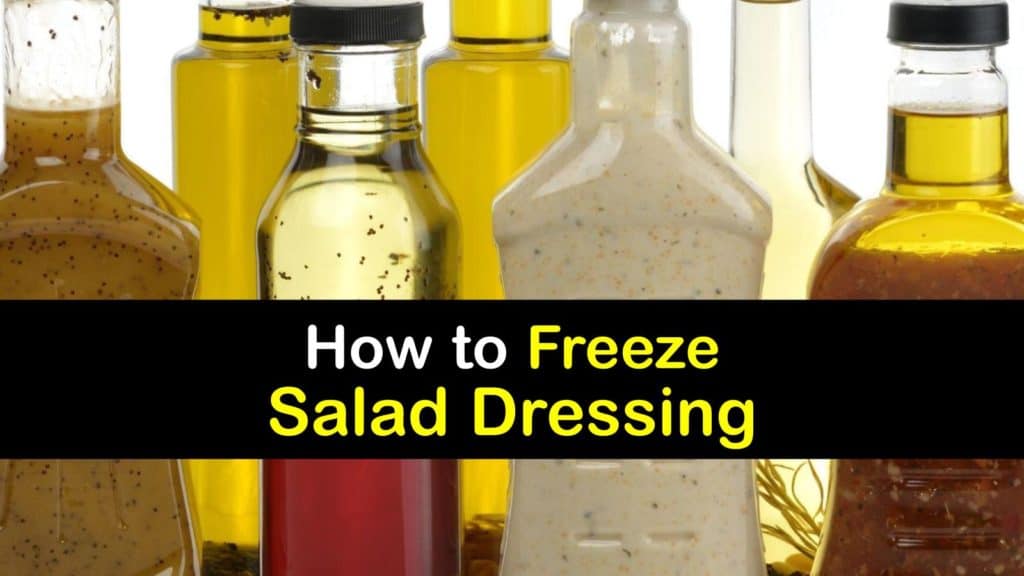 Refrigerating and Freezing Salad Dressing
Storing salad dressing in the refrigerator is a common practice, and freezing salad dressing is a great way to enjoy it even longer.
However, not all dressings are created equal, and knowing which ones are worth freezing is the difference between a mouth-watering salad and one that ends up in the garbage. The shelf life of potato salad or another favorite salad type depends a lot on the dressing mixed in it.
Thinking that everything and anything is freezable is a common mistake. Can you freeze salad? What about salad with dressing on it?
While tossing your favorite food into the freezer is easy, some ingredients do not hold up well to the freezing process.
We show you the ideal way to refrigerate your dressing and how to freeze salad dressing, as well as an excellent recipe for freezer storage.
Safe Refrigeration Storage before Freezing Salad Dressing
While freezing salad dressing is the way to go if you cannot eat it in a safe amount of time, it's essential to know how to refrigerate salad dressing properly after opening the bottle or making it from scratch.
How long does salad dressing last? If you make a salad dressing with olive oil and vinegar and use it throughout the day, it lasts for several hours at room temperature, and you do not need to keep it in the fridge.
However, the way to keep salad fresh and as well as a dairy-based salad dressing is refrigeration. As soon as you open the bottle, place it in the refrigerator door and use it before the expiration date.
If you make a homemade dressing, pour the liquid into an airtight container and set it on the refrigerator shelf. Make sure to keep the lid in place during storage to prevent spills and odor absorption.
A simple dressing with oil and vinegar lasts up to 12 months, and a creamy dressing with fresh ingredients lasts up to a week.
Can You Freeze Salad Dressing and Which Type is Best for Freezing?
Can I freeze salad dressing? Many types of dressing are simple to freeze, but not all are good choices for storing in the freezer. It's important to understand which ingredients your dressing has before attempting to freeze and thaw it.
Most salad dressings are an emulsion of two or more ingredients, such as olive oil and vinegar or lemon juice. Others incorporate dairy products, egg whites, and freshly chopped ingredients.
Know what your dressing contains before storing it long term in the freezer. We do not recommend freezing dairy-based dressings since the texture alters significantly after you freeze it, and no amount of stirring brings back its smoothness.
A vinaigrette based dressing fairs well in the freezer and lasts up to six months. However, the consistency changes after thawing, and giving the dressing a good whisk is necessary.
How to Freeze Salad Dressing
Whipping up a large batch of homemade salad dressing is great, but what if it's not possible to consume it all before it goes bad? Here's how to freeze salad dressing using a couple of different methods to extend your favorite recipe's shelf life.
The best way to freeze salad dressing for quicker thawing time is to use ice cube trays. Pour the dressing into the tray cubes and set it in the freezer until frozen solid.
Pop them out of the tray and move them into freezer bags. Press out the air, seal the bag shut, and return them to the freezer.
To freeze a large batch of salad dressing, pour the liquid into a freezer-safe plastic container, leaving space at the top of the container to allow for expansion, put the lid in place, and set it on the freezer shelf.
Making Homemade Salad Dressing for Freezing
The best way to freeze dressing is to start with a good salad dressing recipe to ensure that the ingredients handle the freezing and thawing process. Here is how to make the perfect dressing and how to thaw frozen salad dressing.
Pour the basil leaves, pine nuts, and garlic into a processor and pulse until coarsely chopped. Add the olive oil and lemon juice and blend the ingredients until smooth.
Salt and pepper to taste, and then pour the dressing into a storage container before freezing it. To liven up the recipe, consider adding your favorite spices and herbs, such as smoked paprika and cilantro.
To defrost the dressing, take it out the night before and place it in the refrigerator. If you need it thawed quicker, try reheating it by placing the container in a large bowl of lukewarm water.
Since you now know the best way to freeze dressings, you can freeze tuna fish salad or your favorite chicken or pasta salad with ease.
Salad dressing is the most versatile condiment, whether you enjoy it on watermelon salad, use it to liven up pasta, or as a steak marinade.
Unfortunately, refrigerated dressings only last so long before they go bad. However, freezing salad dressing is an easy and convenient way to extend its shelf-life.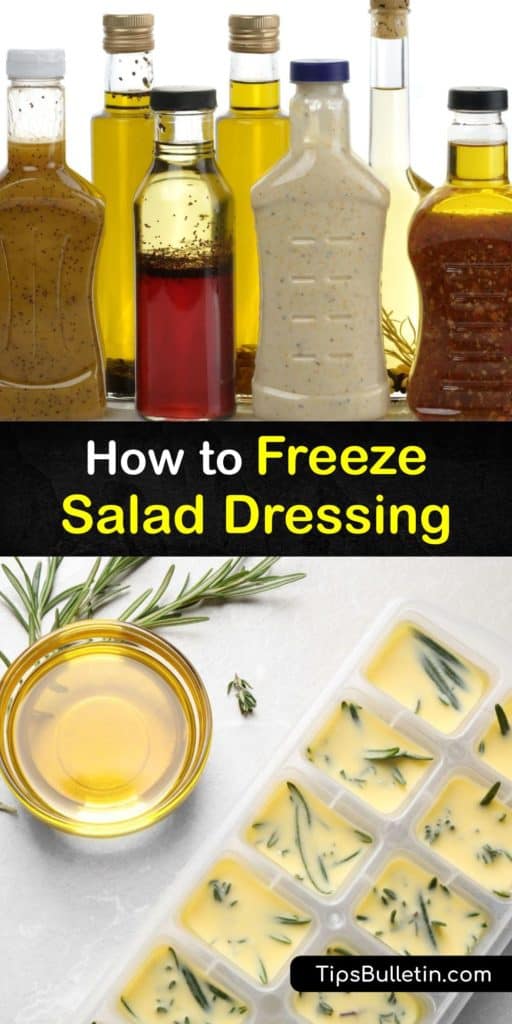 We hope that knowing the answer to, "Can you freeze salad dressing?" fills your freezer with homemade dressings to enjoy in the future, so why not share our salad dressing freezing methods and recipe with your friends and family on Pinterest and Facebook?