The freezer is one of the greatest inventions in the modern kitchen. The average freezer temperature is 0°F, which makes it ideal for preserving all types of food, from meat and vegetables to leftovers. So, this brings us to the question, can you freeze salad?
While it is possible to freeze just about everything, that doesn't mean it's the best idea. Some foods are perfect for the freezer and taste just as good when you thaw them six months later.
Other foods do not handle the freezing process well, and the thawed result is undesirable and inedible. There are a couple of things to think about when deciding whether to freeze salad.
What type of salad is it, and what are its ingredients? The term salad is very broad. Some salads contain pasta and meat, while others have leafy greens and veggies, and all these foods handle freezing temperatures differently.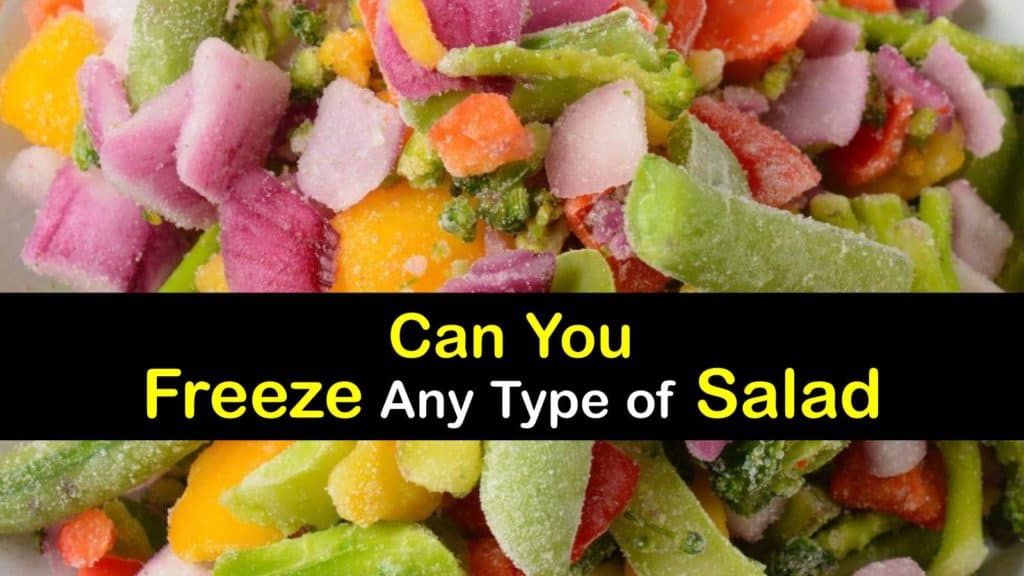 How to Store and Freeze Different Salad Types
We all have a favorite salad recipe, and it's easy to make more than is possible to eat before it spoils, especially if you prepare it for a large family gathering.
While the fridge works nicely for keeping your salad fresh for a few days, freezing salad is an optimal way to store leftovers long term.
Unfortunately, not all salads take well to freezing and end up in the trashcan after thawing. Storing salad the right way ensures you can eat it later. We explain which ingredients are fine for the freezer, which ones to avoid, and how to freeze salad in a few simple steps.
Can You Freeze Salad, or Should You Refrigerate it?
Can I freeze salad, or should I refrigerate salad? It depends on the ingredients. Some foods' water content is too high, and other foods contain dairy, which separates during the freezing process. These salad types are only suitable for refrigerating short term.
Refrigerating Salad
If your salad contains lettuce, tomatoes, celery, or cucumbers, consider refrigerating rather than freezing. These vegetables have high water content and turn to mush after thawing.
Also, avoid freezing salads with a salad dressing made with mayonnaise or egg whites since these separate in the freezer.
To refrigerate these salad types, always use an airtight container, whether homemade or from the grocery store. If it is a garden salad, avoid adding the salad dressing until right before you are ready to eat it.
Place the salad in the container, put the lid in place, and set it near the front of the fridge since the back area is usually colder and may cause freezing. Use the salad within three to five days for optimal freshness.
What to Know before Freezing Salad
It's a good idea to know if your recipe is a good candidate for the freezer before freezing salad. Learn about the different types of salads and which ingredients hold up well to freezing temperatures.
Freezing leafy greens is not always the best idea. Lettuce leaves and other salad greens have a high water content, and ice crystals form on the plant cells, which causes the cell walls to rupture. Therefore, frozen lettuce ends up lifeless and mushy.
Other vegetables to avoid are tomatoes, cucumbers, radishes, and celery. It's okay to freeze celery for use in soups, but it doesn't keep its crunch in a salad.
However, several frozen vegetables are great candidates for freezing in salads or stir fries, such as carrots, peas, broccoli, peppers, and onions.
Meat, hard cheeses, and pasta are all great choices for adding to a salad and handle the freezing process quite well. You can freeze tuna salad and a variety of other salads, too.
However, soft cheese such as cream cheese does not keep well in the freezer, and fried foods or salads with a bread crumb topping become soggy after thawing.
If you make a chicken salad with sour cream, mayonnaise, or other dairy product, it is best to keep it in the fridge. But, dressings made with Miracle Whip or oil are suitable for the freezer.
It's a great idea to freeze fruit salad if you have leftovers, again depending on the ingredients. Avoid mushy fruits like watermelon.
How to Freeze Salad
Once you determine that your favorite salad has the right ingredients for long term storage, it's time to get freezing. Here is how to freeze macaroni salad or another favorite salad for the most extended shelf life and defrost it for future meals.
While we don't recommend freezing lettuce, it is possible to freeze thick-leafed types such as romaine.
The best way to freeze salad leaves is to blot all moisture off the leaves with a paper towel before placing them into a freezer bag. Press out all the excess air, seal the bag shut, and set it on the freezer shelf.
To freeze salad dressing, it's important to freeze it separately from the greens. Pour the dressing into an ice cube tray and freeze until solid. Pop the frozen cubes out of the tray and seal them in a freezer-safe plastic bag or storage container.
You can freeze potato salad and other similar salad types like when you freeze chicken salad by scooping the mixture into an airtight container and pressing the lid in place. Set the salad in the freezer and use it within six months for the best food quality.
After freezing your favorite recipe, you probably wonder how to thaw frozen salad. The safest way to defrost your salad is to remove it from the freezer and place it in the refrigerator overnight. Avoid keeping it at room temperature to prevent bacterial growth.
We all hate to waste food, especially when it's a favorite recipe. Unfortunately, not all foods are made equal, and thawing frozen food only to find that it is inedible is a disappointment.
Understanding which ingredients handle the freezing process is key to filling your freezer space with delicious leftovers.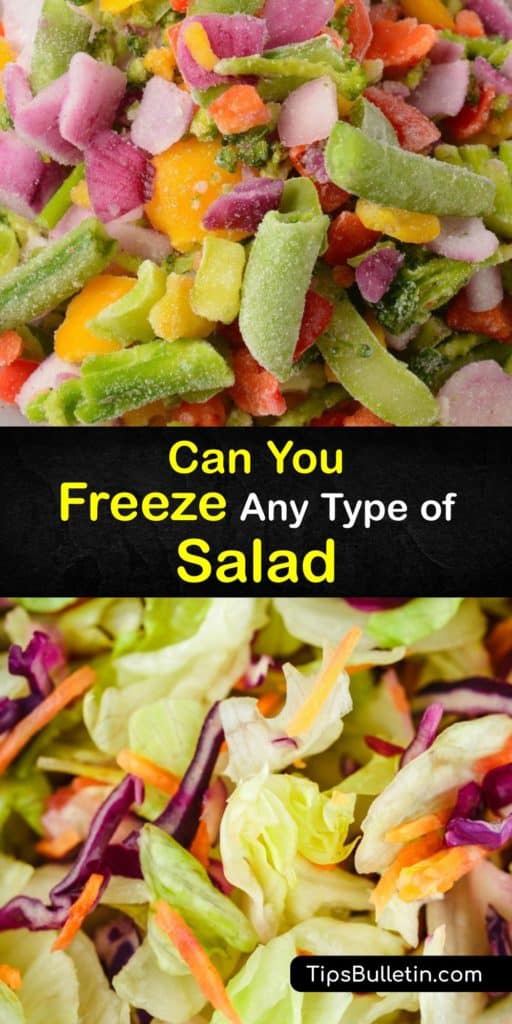 Can you freeze salad is a question many have, and knowing the answer helps you prevent food waste and save money, so why not share our salad storage and freezing guide with your community on Facebook and Pinterest?