Many grocery stores offer sales too tempting to pass up, leaving us with more food than we can consume in a short amount of time. Equally, the promise of buying items in bulk has its allure, especially when we know we will use the food eventually. In both circumstances, freezing and storing food packages you do not intend to use right away gives you the freedom to buy larger quantities, while saving you money.
This method is common practice when preserving meats and vegetables, but does it work on other foods with limited shelf lives too? For example, can you freeze shredded cheese? The answer is a resounding, "Yes!" Freezing shredded cheese will salvage a food item that too often goes to waste.
Perhaps you misjudged the amount of cheese needed to bake casseroles during the holidays or keep putting off making your famous mac and cheese dish. If this sounds familiar, chances are your cheese will expire before you can use it. Freezing it gives you time to decide how and when you want to use the extra shredded cheese.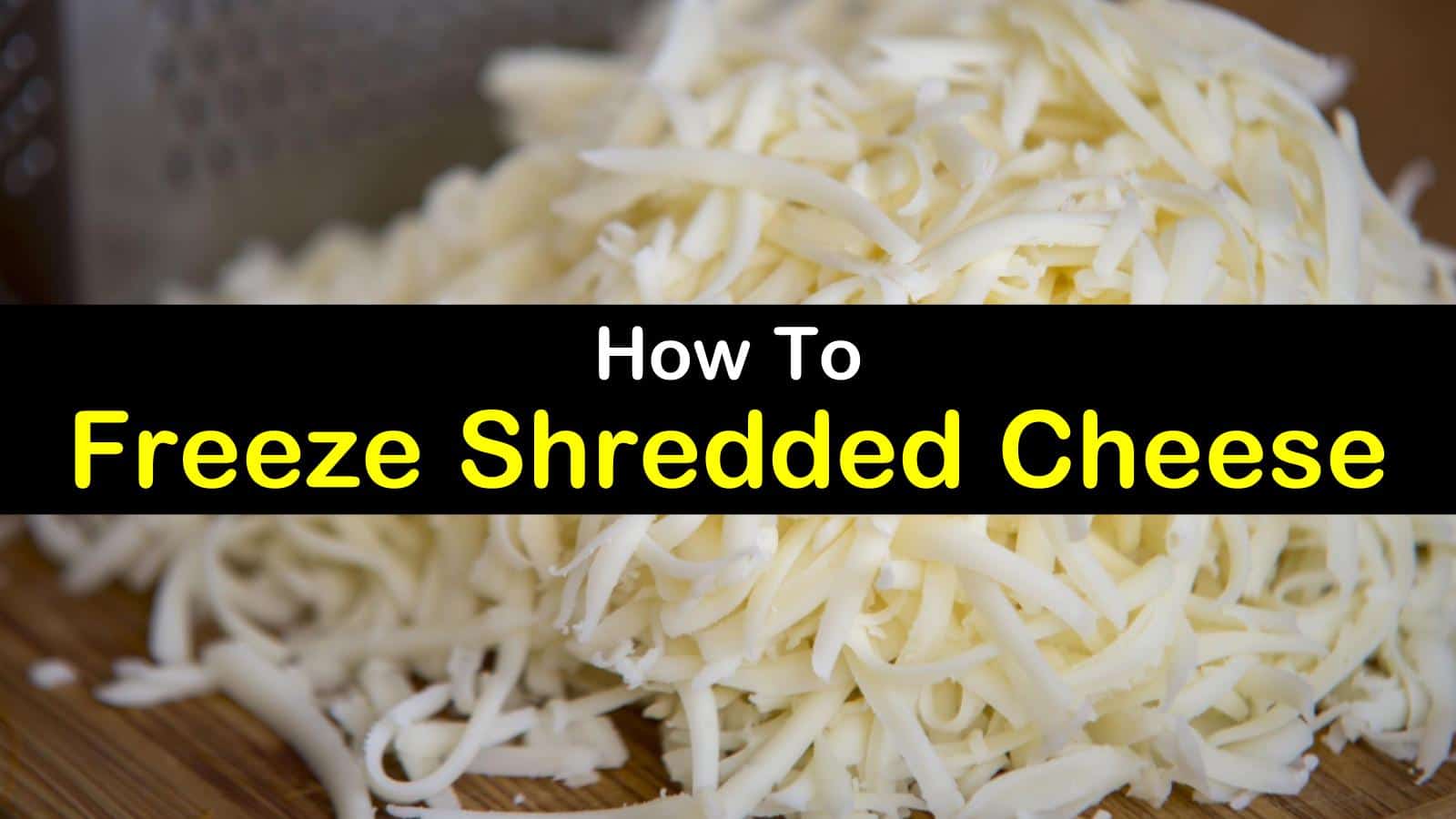 Freezing Shredded Cheese – The Basics
Many people do not realize that you can freeze a variety of products that you buy at the grocery store to use later. You can freeze dairy products like cheese and milk. Can you freeze butter? Yes, you can, so stock up on that special sale this week.
Does Freezing Shredded Cheese Cause It to Lose Flavor?
Freezing cheese is a helpful way to salvage food that may otherwise go to waste. The drawbacks are that frozen cheese often loses texture and flavor in the process. This side effect will only be a problem if you plan to prepare the food to be eaten separately.
Cooking the cheese in soups, casseroles, and other similar dishes after it has thawed will leave no noticeable changes in taste. Even freezing cheddar cheese that is sharp retains its unique flavor when melted and added to a favorite recipe.
Can I Freeze Shredded Cheese of Any Kind?
Most cheeses can be frozen, but the type of cheese may change how you freeze it. Can you freeze Swiss cheese or sharp cheddar? Hard cheeses like cheddar, Swiss, and Monterey Jack are the best candidates for freezing. These types of cheese are most likely to retain their texture and flavor than other varieties of cheese.
Freeze cheese slices or shred the cheese for convenient use later or package the entire block to store in the freezer. You have several choices on the best way to handle it.
Soft cheeses like cream cheese or double creme should not be frozen. It's also not the best idea to freeze brie cheese. While it's possible, the taste diminishes.
Mozzarella cheese, on the other hand, is a soft cheese that can be frozen but has a reduced shelf life compared to that of cheddar cheese.
You can also freeze goat cheese and many other kinds of cheese, but note that the texture of the cheese often changes during the freezing process. Rather than eating them alone, using this kind of cheese in a recipe is your best option.
It's important to learn how to thaw frozen goat cheese, the best way to thaw frozen cottage cheese, and all other types of cheese properly so that you can use them in your favorite recipe.
How Can You Freeze Shredded Cheese? Make Cheeses Last Longer
Freezing and storing cheese is a relatively straightforward process that requires minimal effort on your part in most circumstances. Can you freeze mac and cheese, too? Yes, as long as it is packaged properly. Here is what you may need throughout the freezing process.
While you may not need every item, it is a good idea to keep them handy. The best way to freeze shredded cheese is to treat each situation by the type and condition of the cheese.
Preparing shredded cheese varies from how you would package block cheese or cheese slices. All of them are mentioned below and explain which materials work best.
How to Freeze Shredded Cheese
By asking how can you freeze shredded cheese, you are already a step ahead. Shredding cheese is one recommendation to start the freezing process. Block cheese can be frozen and still retain some texture and taste, but shredding the cheese makes it easier to store and use during thawing.
Smaller pieces of cheese, and individual small fruits like strawberries, all freeze better than bigger items. Slicing or grating makes it even better.
If you are starting with block cheese, how to freeze shredded cheese requires using a cheese grater to shred the cheese first. Whether in blocks or already shredded, separate opened packages of cheese into ½ pound bundles. Repackage opened bags of shredded cheese in airtight food saver or freezer bags.
For blocks of cheese or cheese slices bought at your deli, wrap each individual block and slice in parchment paper. Keep out moisture by adding a layer of foil around each item. Afterward, stack them in an airtight container or Ziploc bag before placing them in the freezer.
How to Store Shredded Cheese
Unopened bags of shredded cheese are much simpler to store. The small packages you purchase at the stores can be tossed directly into the freezer without additional preparation.
The same goes for smaller blocks of cheese, which should be kept in their original packaging for optimal preservation. For added peace of mind, wrap them in parchment paper and aluminum foil to keep them clear of ice crystals.
Store cheese for only a few months. Do not keep hard cheese past 6 months, where cheeses like fresh mozzarella and feta cheese should be thrown out after 3 months. Keep cheese toward the front of the freezer to avoid forgetting about it.
How to Thaw Frozen Shredded Cheese
Thawing frozen shredded cheese is easy, as well. One option is to move the frozen cheese to the fridge where it can defrost and slowly be brought back up to room temperature. Let the cheese thaw out overnight, or for at least 12 hours.
Another option is to cook the cheese into whatever you are making. Melting frozen cheese in a crock pot is an excellent start to making delicious queso dip. Frozen slices can also be placed directly into cheese sandwiches, then heated together on the stovetop to make grilled cheese.
These thawing options can also apply to other types of cheese and dairy products, too, like how to thaw frozen sour cream or yogurt. How to thaw frozen feta cheese, for example, can be done in the same way as shredded or cream cheese and tastes delicious in all kinds of recipes that call for cheese.
Favorite Shredded Cheese Recipe Alert: These Cheesy, Bacon Stuffed Mushroom Bites are Incredible!
Whatever your reason to freeze cheese, you can bet the result will be delicious. If you are still having a hard time deciding how to use your frozen cheeses, here is a recipe for you!
When the usual mac and cheese recipe just won't cut it, and you want something heartier than grilled cheese or nachos, try these Cheese and Bacon Stuffed Mushroom Bites!
Preheat your oven to 350°F. Cook the bacon in a pan then drain, crush, and save for later. Separate the stem of the mushrooms from the caps and finely chop up the stems.
Add them to a saucepan with the minced garlic and either a tablespoon of olive oil or butter. Continue to fry the ingredients until any remaining moisture is gone. Remove from the heat and let the chopped stems cool.
Afterward, stir in the cream cheese and bacon. Sprinkle additional spices like onion powder or cayenne pepper to make the flavor sizzle. Scoop the blend into the mushroom caps and top with shredded cheese.
This recipe makes 12 servings and is the perfect appetizer for football games, holidays or whenever your tastebuds crave these decadent morsels.
Now you will never have to throw out another bag of shredded cheese! Well, almost never. Understanding how to preserve each different type of cheese, and bundling open packages properly ensures your success in increasing the shelf life of your cheeses. So, let the cheese freeze with ease knowing you have all the tools necessary and know the right way to keep cheese fresh and tasty longer.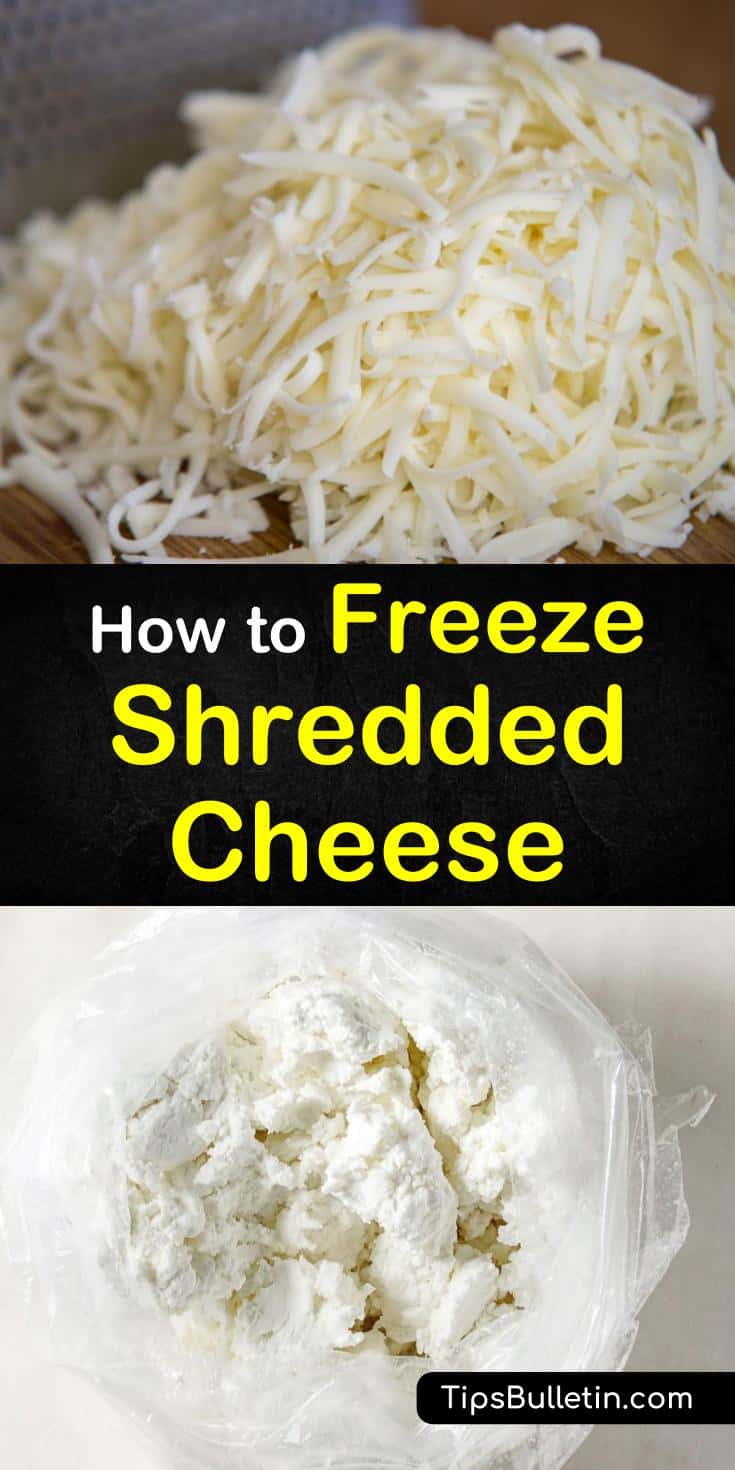 If you found this freezing shredded cheese article useful, share these food storage tips on Facebook and Pinterest.