Soy milk, almond milk, coconut milk, and all other milk alternatives have become all the rage with increasing numbers of vegans and people who have lactose intolerance. With the popularity of soy milk on the rise, more and more people wonder, can you freeze soy milk?
Freezing soy milk isn't the preferred storage method, but it is possible. If you want to know how to freeze soy milk, there is a lot to learn about these types of non-dairy milks. Traditional cow's milk contains two proteins called whey and casein.
People with lactose intolerance have an immune system that sees these proteins as an allergen. That allergen causes the body to release histamine, a chemical that causes symptoms of an allergic reaction.
These symptoms include bloating, nausea, gas, diarrhea, and cramps. Switching from regular dairy milk to soy milk is a healthy alternative for anyone who wants to avoid dairy.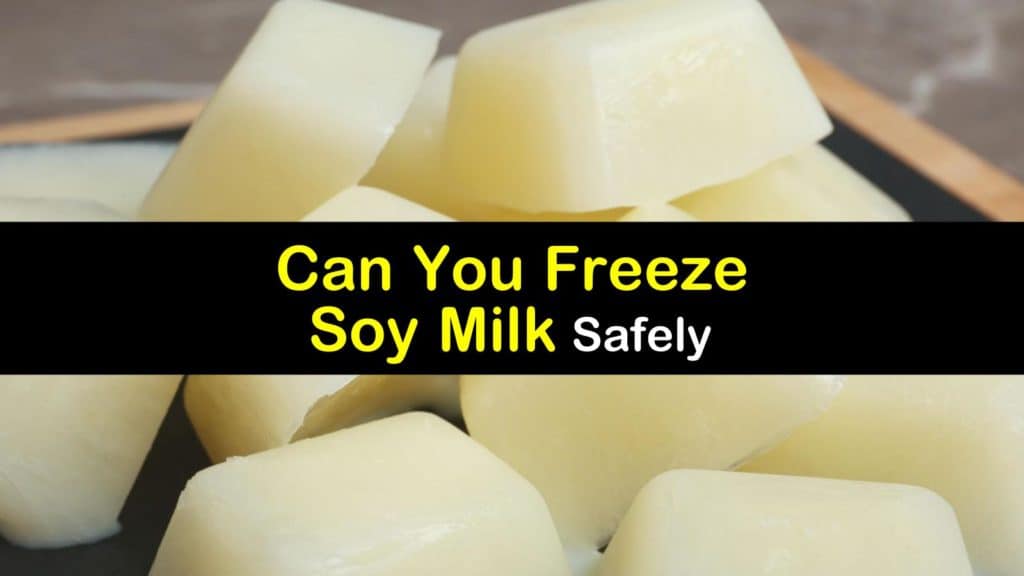 About Soy Milk
It wasn't so long ago that most of us poured a bowl of sugary cereal and drowned it in cow's milk. Today, dairy-free milk sales are skyrocketing, and it's easy to preserve fresh milk, whether it is soy or another variety.
Fresh soy milk is made from soybeans that are soaked in water and then blended and strained. It has plenty of health benefits, as well.
One cup of unsweetened soy milk has a nutritional value of around 80 calories and 4 grams of fat and carbohydrates. On the plus side, there is a full 7 grams of protein in it.
Because soy milk is made only from plants and lactose-free, there is no cholesterol or saturated fats.
Soybeans and the milk it's made into are excellent sources of calcium, potassium, and vitamins A and D. The only real downside to soy milk is that some people may have an allergy to it.
Freezing Soy Milk
Can I freeze soy milk? Of course, you can freeze soy milk, but before you learn how, you need to know what to look for at the grocery store. Most places have options between either refrigerated or shelf-stable soy milk.
Shelf-stable milk is stored on shelves at room temperature until opened, while refrigerated must be kept cold from the get-go. Shelf-stable milk tends to have fewer ingredients, and the refrigerated kinds have more added preservatives and oils.
Whichever milk you choose, make sure you follow the storage directions listed on the packaging and always refrigerate soy milk after opening.
You can also freeze almond milk and other types of milk as long as you follow the proper storage techniques.
Can You Freeze Soy Milk?
Many people are interested in freezing their milk to make it last longer and stop it from spoiling. Can you freeze soy milk safely? What about freezing coconut milk? Freezing soy milk or coconut milk is safe but not highly recommended. The freezing process creates severe texture changes.
What once was smooth and creamy may be clumpy and separated after you thaw it. If you don't store it properly, frozen soy milk might absorb odors from other food and alter the overall flavor.
Regardless, if you desire to learn how to freeze soy milk, are looking at freezing as a way to store coconut milk, or how to freeze milk of other types, don't be afraid to give it a trial run and see how the texture and flavor end up.
How to Freeze Soy Milk
Finding the best way to freeze soy milk isn't too tricky. Freezing milk of any kind requires nearly all the same steps. Only try freezing soy milk if it is about to expire. The expiration date is printed on the outside of the packaging.
If you think your soy milk has gone bad, make sure to double-check before freezing it. If the soy milk has a strange odor or funny texture, it's probably bad.
Fresh soy milk is a creamy white color, while spoiled milk is darker and lumpy. Sometimes the carton even expands. If the soy milk is still safe to drink, pour the remainder of your milk into an airtight container or freezer bag.
If you decide to use a freezer-safe bag, leave about an inch of headspace at the top so it has room for expansion. The type of storage you use must be airtight so that fewer odors are absorbed in the freezer.
Soy Milk Ice Cubes
Soy milk ice cubes are an even better strategy for freezing soy milk or as the way to freeze condensed milk and most other milk types. Pour the soy milk into an average ice cube tray and put the tray in the freezer overnight.
Once frozen, store soy milk by putting the milk cubes in a freezer bag and removing as many cubes as desired for thawing. If you have trouble removing the cubes from the tray, try flipping it over and running the tray under cold water for 30 seconds.
How to Thaw Frozen Soy Milk
Thawed soy milk tends to separate. The best strategy for thawing soy milk is to put it in the refrigerator to defrost for several hours. After a few hours, move the milk to room temperature and stir it back to its normal consistency.
Shelf Life of Soy Milk
The shelf life of refrigerated soy milk and frozen soy milk is much different. Most types of soy milk last around ten days in the fridge after you open the carton.
How quickly does almond milk go bad after opening? The same time frame applies to almond milk as it does for soy milk.
How long does soy milk last after freezing? If you decide to freeze soy milk, it lasts an additional three months in the freezer. If you're ever unsure if your milk is about to spoil, always smell it and check the color to see if anything seems off.
Homemade Soy Milk
Soy milk is one of the easiest kinds of milk to make and is much cheaper than traditional dairy milk. Try adding your favorite sweeteners or dates to the recipe for an even tastier flavor.
Add the soybeans and water to a large container and cover them in tap water. Let the beans soak for at least 12 hours. Drain the beans through a strainer and remove the outer skins if you like a smoother texture.
Blend the skinned beans with three cups of water and then strain it through a cheesecloth into a saucepan. Add the remaining cup of water and bring it to a boil. Stir the milk and remove the foam at the top.
Lower the burner heat to medium and continue to stir it for 20 minutes. Remove the milk from the heat and let it cool to room temperature. Add the vanilla extract and mix it once more before storing it in an airtight container in your refrigerator.
Soy milk is one of the most famous milk alternatives to date. It is versatile and tastes similar to dairy milk. Better yet, it's safe to use when baking desserts, cooking a curry, or even turning it into ice cream.
Learning how to freeze soy milk is pretty straightforward once you understand everything that could happen during the freezing process.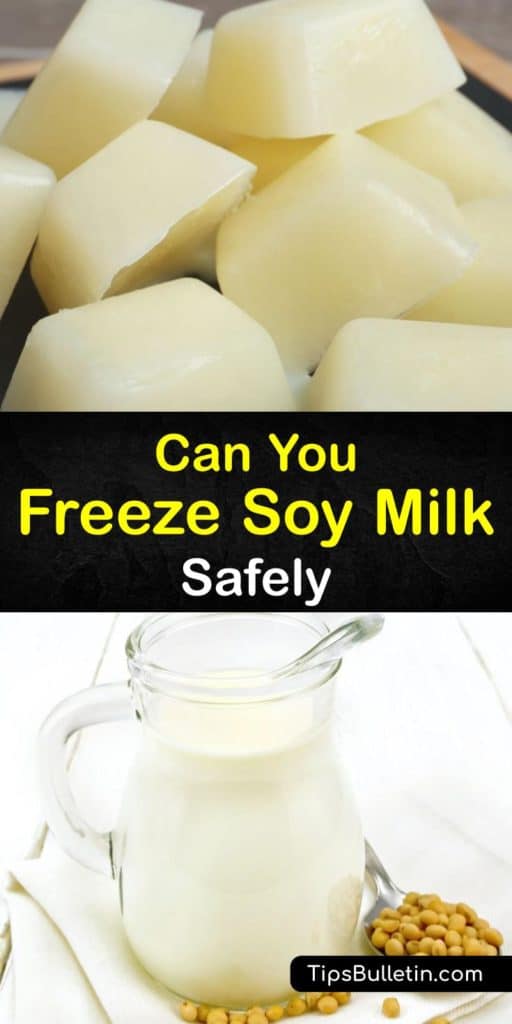 If you've been asking can you freeze soy milk, share this guide on how to freeze soy milk on Facebook and Pinterest.