While stocking up with a basket full of seasonal sweet potatoes, you may wonder to yourself, can you freeze sweet potatoes? We are pleased as sweet potato pie to inform you that the answer is yes. Freezing is an excellent way for you and your family to enjoy sweet potatoes year-round.
Similar to white potatoes, sweet potatoes are a starchy tuber that you can find at your local market throughout the year, although they are typically in season between October and December. They are rich in fiber, minerals, and vitamins, and are used in a variety of dishes.
Many people mistake yams for sweet potatoes, but they are not the same. While a sweet potato has a slick-like appearance in its outer skin, the yam has a more bark-like surface. Sweet potatoes are also sweeter in flavor and are rich in vitamin A.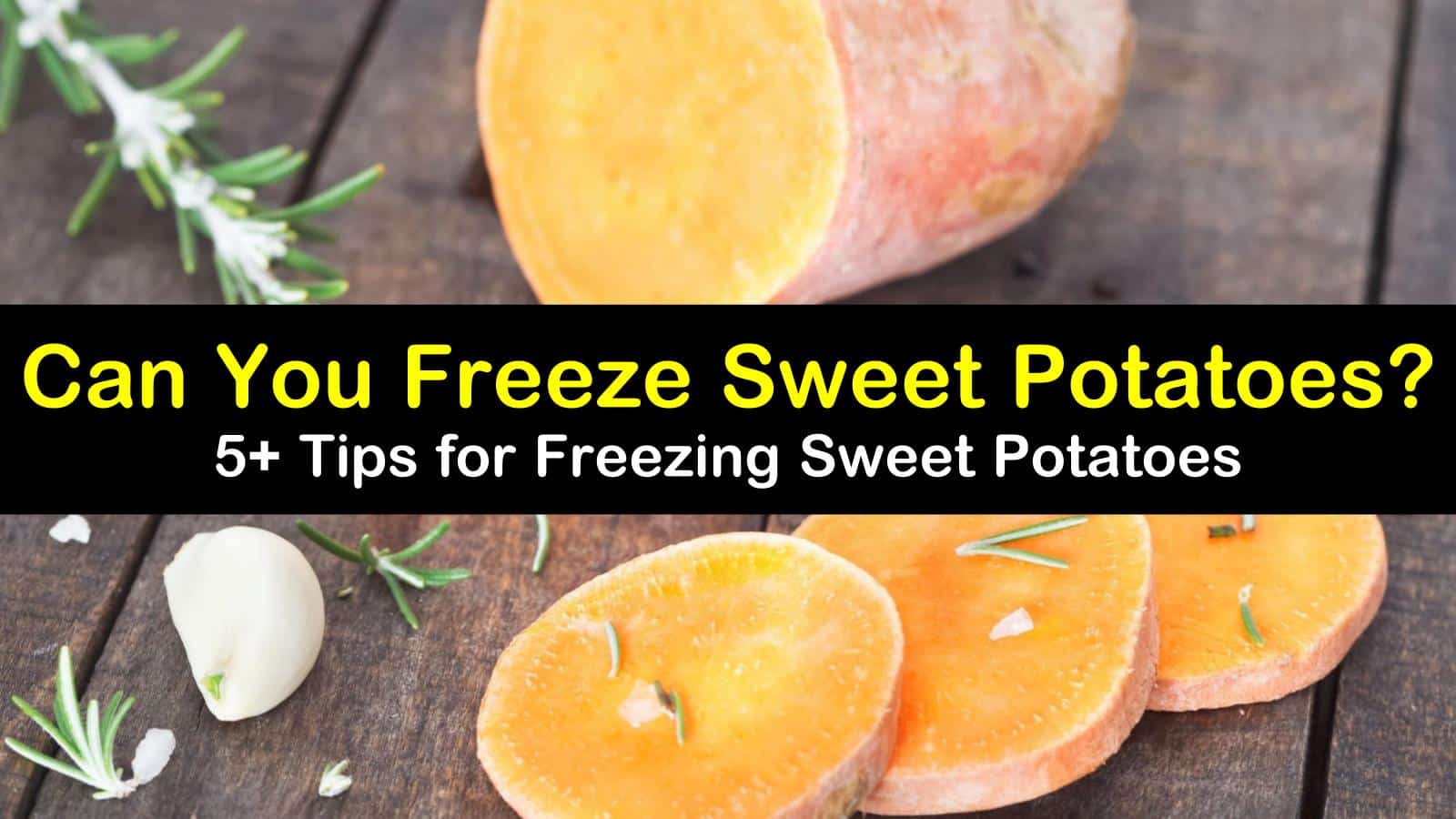 Can You Freeze Sweet Potatoes?
You can find sweet potatoes in abundance during the harvest season. You can buy sweet potatoes in bulk at a low price during this period. How can you preserve them so you don't end up with a whole bunch of bad potatoes?
After cooking all of those sweet potatoes, you may wonder, should potatoes be refrigerated? Yes, they should, but they only last for a few days before spoiling.
We'll show you how to freeze them properly and also how to prepare a sweet potato side dish that you can freeze for later enjoyment.
Freezing Sweet Potatoes after Baking
Preserving potatoes in the freezer is an excellent and simple option. Freezing sweet potatoes after you bake them is a great way to enjoy pre-cooked potatoes whenever you fancy. Can you freeze potatoes that are white? Sure. We'll show you how to bake that potato, freeze it, and then reheat it to enjoy with your favorite meal.
For storing sweet potato pieces or whole, heat the oven to 375°F. Clean the sweet potatoes under warm running water, using your hands or a potato scrubber to rub away any dirt residue. Cut off any blemishes.
Use a fork to poke holes on both sides of each potato. Line the inside of a baking sheet or pan with aluminum foil, place the sweet potatoes on the sheet, and put it on the bottom rack of the oven.
Bake them for an hour and a half, or until you can pierce the potato with a fork easily. Remove the baking sheet from the oven and allow the potatoes to cool completely.
Wrap the cooled potatoes in foil, place them into freezer bags, label each container with the date, and freeze for up to 12 months. You can also refrigerate potatoes for up to five days.
To reheat the potatoes, remove the aluminum foil, and wrap them in a fresh sheet of foil. Place in a 350°F oven for about half an hour. Cut the potato in half, add a slice of butter, and a sprinkle of brown sugar.
Can You Freeze Cooked Sweet Potatoes?
Another question you may have is, can you freeze cooked sweet potatoes that are mashed, and the answer is yes. This recipe is like baked sweet potato preparation with a few extra steps.
Follow the same steps for making baked sweet potatoes by washing them, piercing them with a fork, wrapping them in foil, and baking them in an oven at 375°F for an hour and a half. Once the potatoes are cool, peel their skin away with your hands.
Place the sweet potatoes into a large bowl and mix or mash them until they are the consistency you desire. Pour in one tablespoon of lemon juice for each pint of potatoes to prevent browning. You can add some maple syrup or another sweetener before scooping the potatoes into freezer bags.
Lay the bags on the kitchen counter and push out as much air as possible, and then label them with the date. To reheat your frozen sweet mashed potatoes, place the frozen potatoes in the fridge while thawing. After thawing, squeeze them into a saucepan on low to medium heat for ten to 15 minutes.
How to Freeze Cooked Sliced and Diced Sweet Potatoes
Not only can you freeze baked and mashed sweet potatoes, but you can also freeze them in the form of slices or cubes. This type of preparation provides you with a ready supply of sweet potatoes that you can add to any dish.
Wash the sweet potatoes beneath cold water to remove any dirt and then cut them however you prefer, making sure that they are uniform in size. Bring a pot of water to boil and add the potatoes slices or chunks. Boil for about 15 minutes or until tender.
Remove the potatoes from the boiling water by straining them in the kitchen sink. Cool them at room temperature, and then fill each freezer bag with the potatoes. Try removing as much air as possible without crushing them.
Seal and label each bag and lay them in the freezer. Sweet potatoes can stay in the freezer for up to one year. When you're ready, throw some of those sweet potato slices into a slow cooker or cut them into wedges for sweet potato French fries.
Freezing Raw Sweet Potatoes
If you'd prefer not to cook and freeze sweet potatoes, you can freeze them raw, but they must be blanched first to prevent them from being mushy when defrosting them. Here's how to freeze potatoes without having to go through the trouble of baking or mashing them first.
Blanching and Freezing Sweet Potatoes
Keeping peeled potatoes fresh is easy if you take just a few minutes of preparation time. Peel and slice the potatoes into pieces of one inch or less. Bring a pan of water to a boil and then remove from the heat.
Blanch the sweet potatoes by placing them into the hot water for a few minutes and then move them to a large bowl of ice water for a few more minutes. Place the cooled sweet potatoes into freezer bags, label them, and place them in the freezer for up to six months.
Planning Sweet Potatoes for the Holidays
If you're like many other families, then you probably have many favorite sweet potato recipes that you enjoy making over the holidays. Preparing for a large holiday feast can be time-consuming. Make a sweet potato casserole well ahead of time and freeze it for up to three months.
Place the potato cubes into a pot and fill it with enough water to cover them halfway. Bring to a boil and simmer them for about half an hour or until they are fork-tender. Drain the sweet potatoes and pour them into a large mixing bowl.
Add the milk, eggs, vanilla, granulated sugar, melted butter, and salt and mash all of the ingredients until the potatoes reach proper mashed consistency. Pour the sweet potato mixture into a lightly greased casserole dish.
Add the butter, flour, brown sugar, and pecans into the mixing bowl and use a fork to combine it all. Sprinkle the sweet pecan topping over the sweet potatoes and cover with two layers of aluminum foil before placing it into the freezer.
When you are ready to enjoy your casserole, thaw it in the fridge overnight or place it at room temperature for roughly half an hour. Bake it at 350°F oven for 40 minutes.
How to Make a Frozen Sweet Potato Pie
You can spend more time with your family and friends instead of in the kitchen by preparing ahead. This savory and sweet potato pie filling can be made in advance and stored in the freezer.
Boil the sweet potatoes for 45 minutes or until they are tender. Drain the potatoes and run cold water over them until you can remove the skins. Place them into a large bowl and use a fork to break them into smaller pieces.
Add the remaining ingredients and mix until smooth. Pour the pie filling into a container, seal, and freeze. When you're ready to bake your pie, thaw the filling in the fridge overnight. Pour the pie filling into a premade crust and bake at 350°F for about one hour.
Having sweet potatoes year-round will never be easier now that you know how to freeze them. Reheating sweet baked potatoes or baking a frozen sweet potato casserole will impress your family and save you time.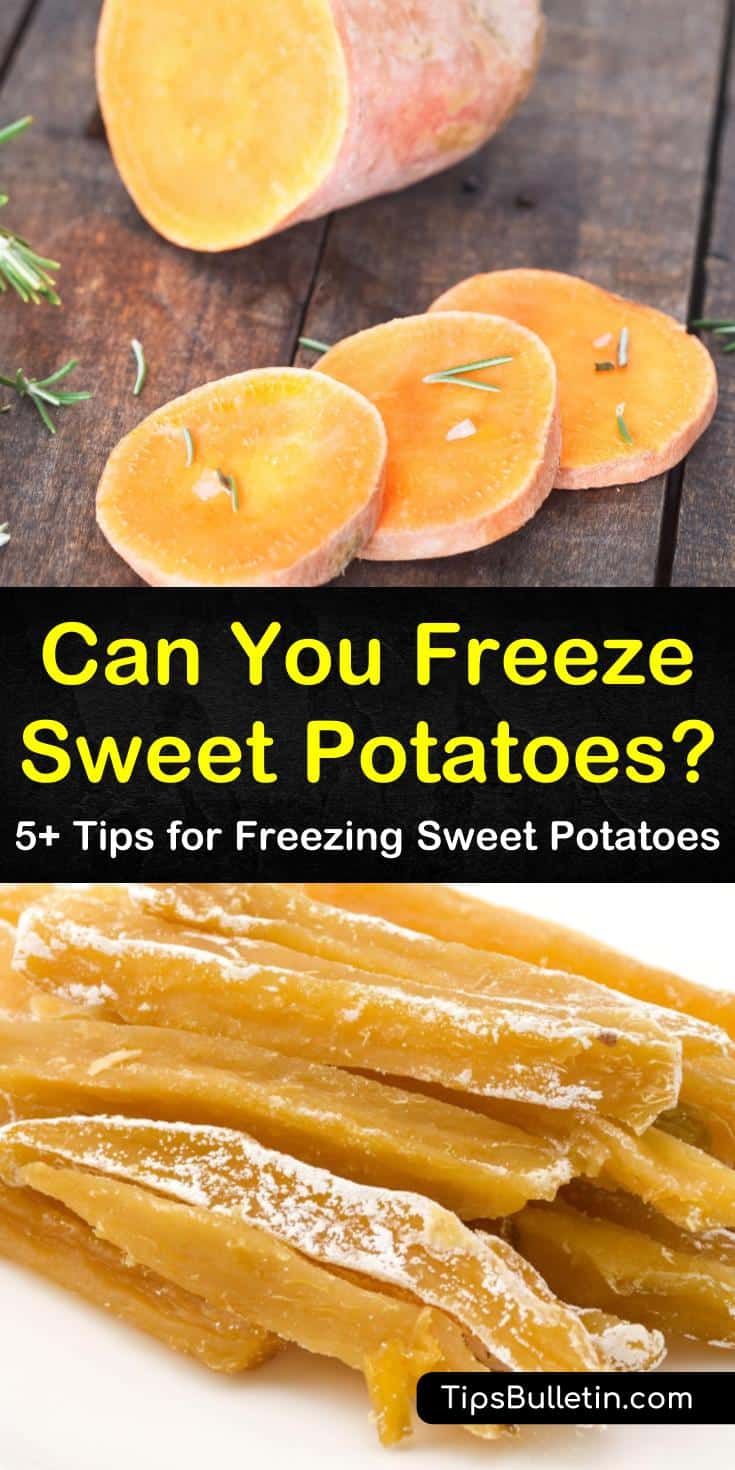 Now that we've answered your question, can you freeze sweet potatoes, you can enjoy their tasty goodness whenever you get the craving, so why not share these sweet potato freezing tips with your friends on Pinterest?