Tuna salad is so versatile that it is suitable in a wheat bread sandwich for your lunch box, as a gourmet cracker topping, or as a healthy side dish with veggies. However, making a large batch of this tasty salad means that it's time to figure out how to store it. Can you freeze tuna salad, and how long does it last?
Everyone has a favorite tuna salad recipe they swear is the best, whether it's a tuna fish salad with olive oil and Parmesan or a creamy tuna salad sandwich with Miracle Whip or cream cheese.
Unfortunately, a salad made with canned tuna has a limited shelf life and requires safe storage methods. There are so many different recipes for tuna salad, and some of them freeze better than others. It all depends on the ingredients.
Salads containing dairy products such as mayonnaise do not hold up as well to the freezing process as those made with a whipped salad dressing or vinaigrette.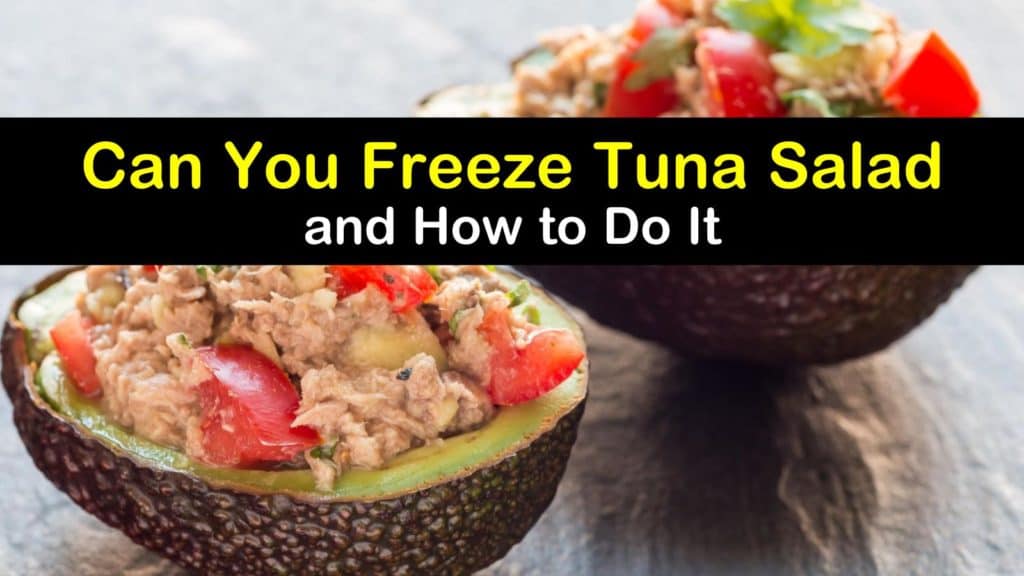 Storing and Freezing Tuna Salad
Tuna is a healthy addition to your diet. It helps lower your cholesterol, is low in carbohydrates, and the nutrition information of tuna salad depends on the dairy and oil content.
Making a large batch of this delicious salad is an excellent way to meal prep, and freezing tuna salad is easy using the right techniques. It's the ideal way to keep salad fresh all week.
However, it's essential to understand which recipes freeze better than others for optimal results. We'll explain how long these salads last, how to freeze tuna salad for long term storage, and the perfect recipe for the freezer.
Can You Freeze Tuna Salad and How Long Does it Last?
How long is tuna salad good for in the fridge? The simplest way to keep your salad fresh is to refrigerate tuna salad, but this isn't always possible if you have more than is desirable to eat before it spoils. So, can tuna salad be frozen, and how long does it stay fresh?
If you have family over for a get-together, it's important to place unopened tuna salad in the refrigerator until you're ready to eat it. This is also the best way to freeze potato salad. Bacteria begin growing above 40°F, so only let it sit out on the table at room temperature for no more than an hour or two.
To store the leftovers in the fridge, place them into a container, and set them on the shelf in the coldest area of the refrigerator. Make sure to use an airtight container for storage.
While it's tempting to keep the salad in the fridge by covering it with plastic wrap, this is not a good idea. Not only does the tuna exchange odors with other food items in the refrigerator, but the plastic also tends to expose the salad to air.
No one likes their cupcakes to smell like tuna salad. Tuna salad lasts three to five days in the fridge. Discard it if it has an off-color or unpleasant smell.
If you cannot eat the tuna dish right away, consider freezing it. Frozen tuna salad has a shelf life of one to two months and is easy to defrost for future meals.
How to Freeze Tuna Salad
Tuna has a relatively short shelf life in the refrigerator, and often, freezing is really the only way to go to prevent your salad from going bad. Here is how to freeze tuna salad using a couple of different storage methods.
The best way to freeze tuna salad is to place it in a freezer-safe plastic bag or container. Use a gallon freezer bag for the entire dish or make individual portion sizes by scooping it into smaller freezer bags to make thawing easier for single servings.
Push as much air out of the zip lock bag as possible after filling it and seal it shut. Don't forget to write the name and date on each bag before placing them in the freezer.
Making and Freezing Tuna Salad
Freezing tuna salad is an ideal way to keep your salad tasting great for a more extended time, whether you use canned or fresh tuna. However, some recipes freeze better than others, and this is one of our favorites.
Open the canned tuna and drain all the liquid into the sink. Slice the avocado in two, remove the seed, and spoon out the inside.
Combine the tuna and avocado in a bowl using a fork to mash the two ingredients together, and then add the seasonings, lemon juice, and salt and black pepper to taste.
Stir everything together, and then scoop the salad into a freezer bag or freezer-safe container. Write the date and name on the top and place it in the freezer for no more than two months for the best flavor and prevent freezer burn.
If you're wondering how to thaw frozen tuna salad, take it out of the freezer the day before you plan on eating it and set it in the refrigerator overnight. Stir the salad to restore the consistency and serve it on bread, crackers, salad, or in a tortilla wrap.
There are so many uses for tuna salad that it's hard not to keep a batch on hand at all times.
It's a creamy condiment for spreading on crackers or bread and a healthy side dish to complement any meal. Luckily for tuna salad-lovers, this dish holds up well in the freezer to extend its shelf life.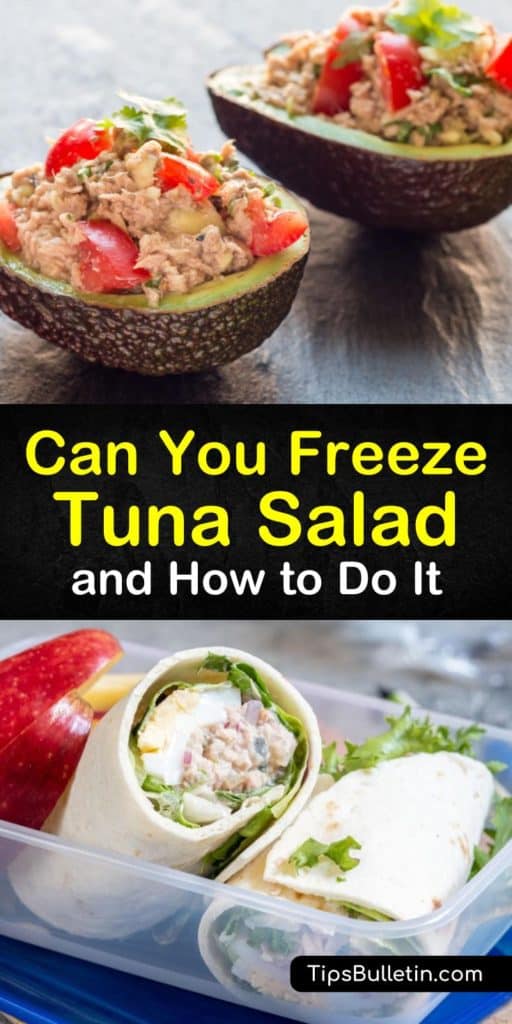 Can you freeze tuna salad is a common question. Knowing the answer keeps your recipe tasting great longer, so why not share our tuna salad freezing tips and recipe with your meal prepping friends and family on Pinterest and Facebook?