If you have a mattress topper, you've probably wondered, "Can you wash a mattress topper in the washing machine?" The most promising approach to improve the comfort and support of your mattress is using mattress toppers. They are an affordable and easy way to achieve the ideal amount of comfort. However, you can't just throw mattress toppers in the washer and dryer.
There are specific guidelines for washing a mattress topper in the washing machine; to clean it properly and safely, you must take the necessary precautions. Don't destroy the mattress topper you spent time and money choosing by being careless when cleaning.
If you're thinking about putting a mattress topper in the washing machine, it's important to determine what material your topper is made from. Certain materials, like foam, are unsuitable for machine laundering, while others, like cotton and vinyl, tolerate it well. Explore information on laundering your mattress topper in the washing machine, and achieve the finest results.
Putting a Mattress Topper in the Washing Machine
Can you wash a mattress topper in the washing machine? Many wonder if cleaning a futon mattress in the washing machine will work. Some mattress pads are machine washable, and others are not.
You consulted the best mattress buying guide and invested in your ideal topper. These items are part of your sleep foundation. Protecting your investment by learning about cleaning your mattress topper or if you need to clean a mattress at home helps you make excellent choices and avoid accidentally destroying it by washing it incorrectly.
Can You Wash a Mattress Topper in the Washing Machine?
Machine washing is a convenient way to care for many items. Several mattress topper varieties are suitable for washing in the washing machine.
If you're unsure about your topper's ability to withstand a wash, try spot cleaning first.
Are There Toppers That Can't Be Machine Washed?
Though most of today's mattress toppers are made to be machine-washable with convenience in mind, some types are not compatible with tumbling around the washing machine.
The foam structure is incompatible with most modern washing machines' heat and tumbling motion. The foam cells break down and begin to tear and separate if subjected to the stresses of a wash cycle. If you have a memory foam topper, clean it without traditional laundering.
Tips for Washing a Mattress Topper in the Washing Machine
Choose a mild detergent. Harsh laundry detergent may damage your mattress pad. Following a few simple tips when you machine wash your best pillow or mattress topper helps avert disaster. Read the care instructions on your item carefully. If unsure, set your washer to the delicate setting on low heat.
Check the label, and follow the instructions if your clean mattress topper is safe to tumble dry. If your mattress topper cannot go in the tumble dryer, hang it outside or in a well-ventilated space where it can dry naturally. Use a slightly damp cloth to wipe your bed frame before remaking the bed, and sleep well in a clean bed.
What to Do if Your Mattress Topper Does Not Fit in the Washing Machine
Spot cleaning is a simple solution if your topper doesn't fit in the washing machine or you have a foam pad or another non-machine-washable topper. While a foam topper won't hold up to a spin in the washer, white vinegar offers an effortless way to clean your best mattress topper without ruining it.
Spray the vinegar mixture on the stain on your topper, let it sit for a few minutes, and blot it. For general cleaning and deodorizing when you wash a waterproof mattress protector, lightly spritz the white vinegar solution over your mattress topper and let it dry naturally. Follow the same process for mattress mold removal or if you find moldy spots on your mattress cover.
Consider investing in a waterproof mattress protector if you have a foam mattress pad, so you don't have to spot clean a mattress cover as often. Mattress protectors keep harmful liquids away from your mattress and even lock out pests like bed bugs and dust mites.
Before putting a mattress topper in the washing machine, it's crucial to find out what kind of topper you have and how to wash it. While several types of mattress pads are fine with machine cleaning, some do better with spot cleaning to preserve their structure.
A waterproof mattress cover helps to reduce the need for cleaning. It extends the life of both machine-washable and non-machine-washable mattress toppers.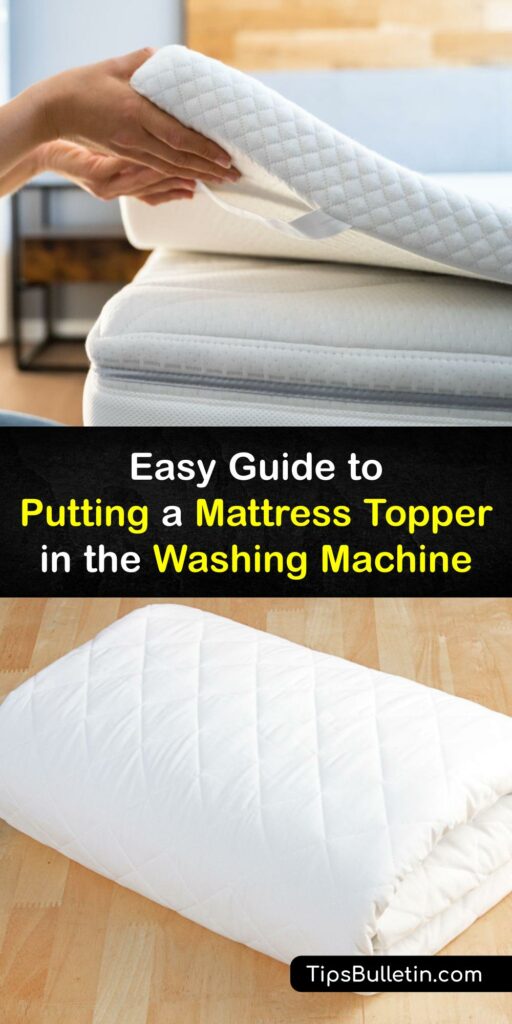 If you loved this article discussing can you wash a mattress topper in the washing machine, please share these brilliant tricks for washing a mattress topper in the washing machine with your friends and family who have mattress toppers on Pinterest and Facebook.