Beets make our meals brighter, so that's why it's essential to have a good process for canning beets. There's nothing quite like a beet to make our salads and side dishes sing, and their striking color and texture are unmistakable. At this time of year, it seems like we'll never run out of beets, but when wintertime comes, we want to continue to enjoy the flavor and texture that beets add to our meals.
To make sure that we have beets all year long, we need to know how to prepare and preserve our beets for long-term storage. In this article, you'll learn everything you need to know on how to can beets so you can have them across the seasons.
We show you the best method to prepare your beets for canning, and we also show you several different ways of preservation. You'll find out about the many health benefits that beets have to offer, and you'll even get our favorite recipe with pickled beets.
We also answer the question, "Are canned beets good for you?" Before you know it, you'll be able to reach for beets any time of year, and your family will thank you for it.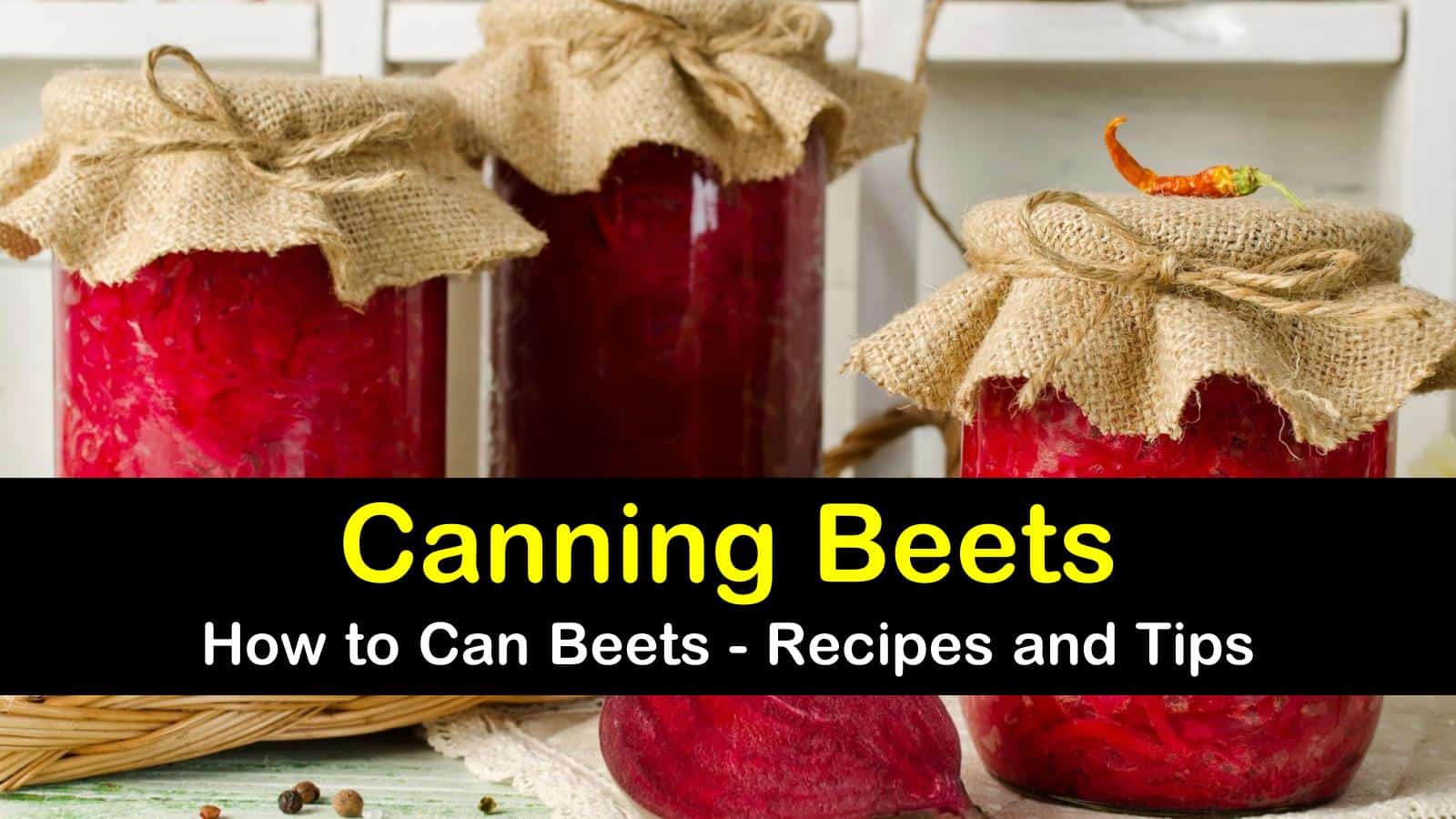 How to Prepare Beets
Whether you decide to plant beets yourself or buy them, it's good to know what to do with them after harvest.
You're going to put some effort into your beet canning process, and so you want to make sure that you get consistent and predictable results every time. When you're canning pickled beets, the last thing you need is to open up a jar and discover that the food has spoiled.
Having a tried-and-true preservation method is the key to making sure that your vegetables and fruits stay happy and healthy in their jars for a long time. Canning is not difficult but it is labor-intensive so doing it right is important.
How to Can Beets
This section takes a look at the beet preparation and preservation process. You'll learn how to find out which beets are right for canning and which ones should be for immediate use, and you'll encounter more than one great canned beets recipe; you should have multiple canning recipes on tap for different situations.
We start with a simple, basic canning method, and then you'll discover an excellent beet canning method that includes sugar. Finally, we close out the section with an amazing roasted beets canning recipe for storing beets in your refrigerator until you are ready to use them.
Preparing Your Beets for Canning
To make sure that your beets taste fresh the first time and every time you open a jar, use only the highest quality ingredients when you pickle beets or for canned banana peppers or other vegetables and fruits. Only choose the newest and most perfect beets and veggies for your canning process.
Make sure that all of the roots are firm and undamaged, and check for bruised or soft areas. Any beets with bruises or other discolorations should be used immediately rather than preserved.
Get your beets ready for preserving by first sending them through a deep wash. Run them under a cold water faucet, and use a potato scrubber to clean away all dirt. After the beets are clean, remove the greens with a sharp knife. Let an inch or so of the stem remain to make sure that you don't cut away any of the beet itself.
Canning Beets
Because beets are low in acid, they are not suitable for canning using a boiling water bath canner when home canning. Low-acid foods are susceptible to contamination from dangerous agents such as botulism and should never get processed in anything other than a pressure canner. The pressure canning process sterilizes the containers and gets them ready for long-term storage.
Never substitute a pressure cooker for a pressure canner. For all of the recipes, make sure to sterilize your empty and unlidded jars in boiling water for at least ten minutes, and leave your seals and lids in hot, soapy water.
Your processing time in the pressure cooker hinges on your jar size and altitude, so check the National Center for Home Food Preservation so you can determine how long to process your jars. An adequately prepared jar will have an indented seal that will not flex when you press on it.
Tomatoes are also not suited for a simple water bath canner. Pressure canning tomato sauce and fresh tomatoes are the best ways to ensure that the fruit is not only delicious when you open the jar, but safe to eat, as well.
Put the beets in a large pot and fill with enough hot water to cover the beets. Cook on medium heat until tender, about forty-five minutes to an hour. When you can pierce the beets with a knife, remove them from the heat.
Drain the beets, and let them cool. After the beets have cooled, remove skins and beet tops, and slice the beets to your desired size for canning. Refill the saucepan with water, and place it over high heat.
Add about a teaspoon of pickling salt or canning salt to each empty jar. When you've sliced all of the beets, fill the jars with them. Add cloves, allspice, cinnamon sticks, or any other flavors that you wish.
Pour the boiling water into your jars, leaving about ¾ to 1-inch headspace at the top of the jar. Seal the containers and tighten them. Process the jars in a pressure cooker, allow them to cool, check their integrity, and store them.
This process is similar to the way to can cabbage except that you do not have to cook the cabbage ahead of time. This recipe can be adjusted for virtually any vegetable you have on hand.
The best way for how to pickle beets is to add the beets to a large pot and cover with four to eight cups of water. If any beets are too large, quarter them before adding them to the water. Bring the water to a boil.
Cook the beets until tender. Drain the beets, and reserve about two cups of beet water. When the beets are cool, peel them and slice any larger beets into smaller pieces. Small beets don't need to be sliced.
Fill the jars with beets, and add a few whole cloves to every container. Combine the beet water, sugar, vinegar, and pickling salt in a saucepan.
Bring the mixture to a high boil, and pour the pickling liquid over the beets, leaving about 1-inch headspace. Seal and tighten the jars and process them.
The process for canning beets with sugar is quite similar to how to can pickles, particularly bread and butter pickles, since sugar is involved. There are even some recipes for pickled beets, much like the recipe below. Pickling produce adds a nice bit of sweetness and tanginess to the end product that changes it just enough for a little added variety for your meals.
When canning different fruits and vegetables, you can sometimes substitute honey for the sugar required in the recipe. Of course, the proportions won't be the same but honey is a nice addition to canned produce. Canning pears with honey, for example, is a nice twist and gives the pears a delicious flavor.
Line a large baking sheet with aluminum foil. Place the beets on the foil, fold the foil over the beets, and seal the foil into a package. Bake the package at 350°F for 25 minutes.
Turn the package over and bake for another 25 minutes. When you can pierce the largest beet with a knife through to the center, they are ready for the jars. Skin and slice the beets, and then place them into the canning jars.
Combine the water, vinegar, garlic or ginger, and salt, and pour the mixture into each jar, leaving about ½ inch headspace. Seal and tighten the jars and place them in the refrigerator. Because this method does not involve a pressure canning process, never leave your pickled roasted beet jars at room temperature.
You can also use this recipe as a way to can jalapenos if you have a surplus of this spicy veggie. Pickled jalapenos are delicious on their own or added to your favorite recipe or salad. Make pickled peppers of all varieties to add some zing to your favorite main dishes and sides.
Many vegetables are suited for this type of preservation. Learn how to can cauliflower by pickling, as well as a variety of other favorites.
Why Preserve Beets?
Are canned vegetables good for you? You bet they are. There is nothing like opening a jar of preserved fruits and veggies that you canned yourself to eat right from the jar or to add to a favorite recipe.
The world is full of veggies and fruits, and it takes time to get all of them into jars, however. So, why do it? Are canned beets good for you? Do they taste any good? What exactly makes beets so unique and warrants their preservation for year-round consumption?
We answer those questions in this section. You'll discover the astounding health benefits that beets offer, including their ability to control blood pressure and combat inflammation.
We also show you how pickled beets make any meal taste better and impart a sweet, earthy, and memorable flavor to all of your dishes. The article closes with our favorite recipe with canned beets that you and your family will love.
Are Canned Beets Good for You?
If you're still wondering, "Are canned beets good for you?" we can put your mind at ease. Beets bring an enormous number of benefits along with them. They not only taste great, but they also benefit your body in all kinds of ways. Perhaps most importantly, beets are low in calories.
There are only 44 calories in 100g of cooked beets, but they're chock-full of minerals and vitamins. You can get most of your entire daily recommended spectrum of vitamins and minerals just by eating beets. That's not all, either. Regular beet consumption lowers blood pressure significantly and improves overall health.
Because beets contain nitrates, they are the ideal fuel for athletes. Nitrates improve physical performance by making mitochondria more efficient, and beets have tons of nitrates. That's why so many athletes include beets in their regular diets.
Beets also contain betalains, which have many anti-inflammatory properties. That means that a beet a day can reduce kidney inflammation and arthritis.
Unique Flavor
If beets tasted terrible, none of their health benefits would make much difference. Luckily for us, beets are delicious. Beets contain lots of healthy, natural sweeteners to add depth to your dishes, they work equally well with savory meals, and they can even work in a soup. Our favorite recipe that includes canned beets, though, is this incredible salad. Your family will be delighted with the mixture of textures and flavors in this dish.
Arrange the mixed greens on a plate to form a bed. Combine the remaining ingredients on the greens to dress the salad. Drizzle the salad with the balsamic reduction in olive oil, sprinkle the pickled beet juice over it, and season with salt and pepper.
We hope that you enjoyed this guide on canning beets. Beets are a fantastic addition to our gardens and our dishes, which is why we would like to have them all year.
This guide shows you the best ways to get your beets ready for canning and how to preserve them for long-term storage. With our help and a bit of effort on your part, you'll be swimming in beets throughout the year.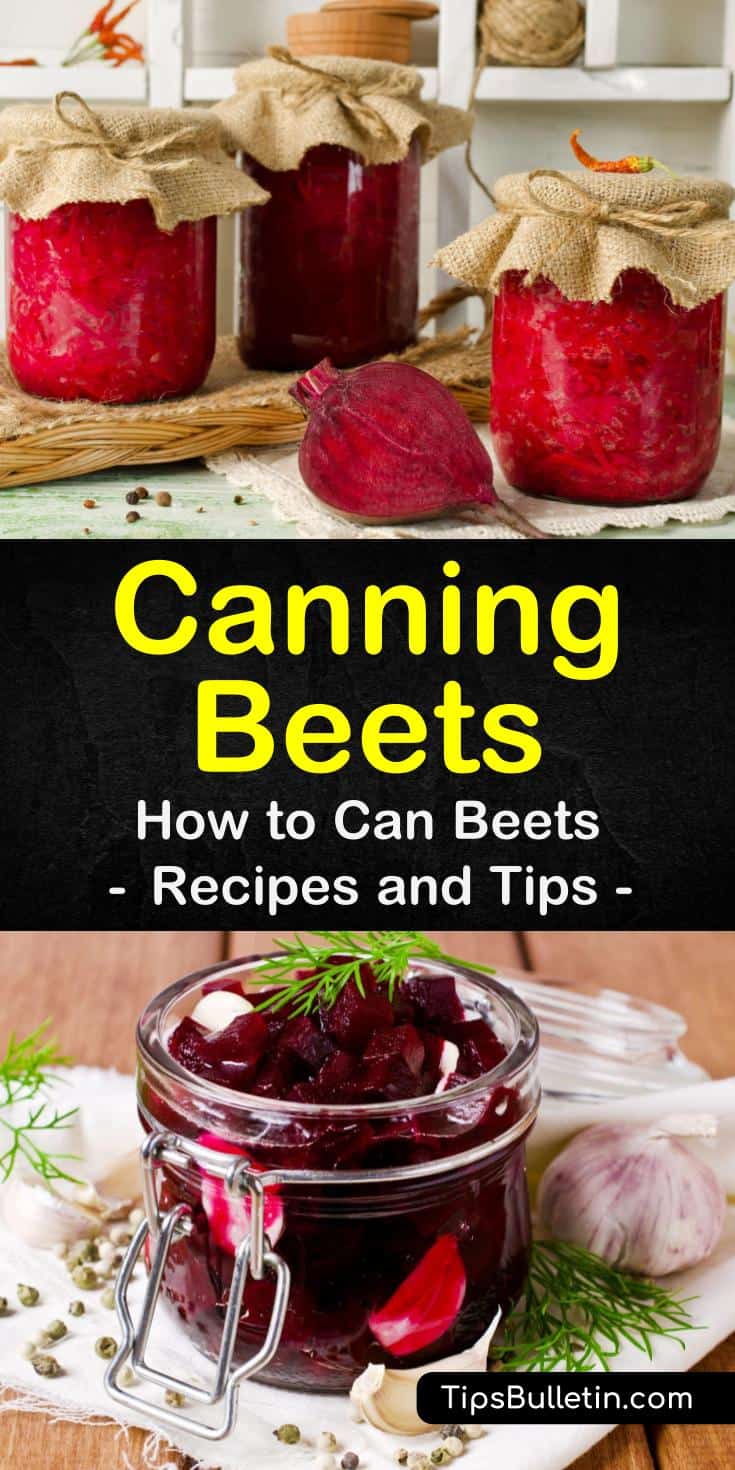 Thanks for reading our important tips on how to can beets. If you found our canning beets guide helpful, we'd love it if you'd share these beet canning tips with your family and friends on Facebook and Pinterest.