Brussels sprouts are delicious veggies with many uses in the kitchen. Canning Brussels sprouts is an excellent way to extend their shelf life if you have a large quantity. In this article, learn how to can Brussels sprouts and discover a few delectable recipes for pickled Brussels sprouts.
Pickling is one of the earliest food preservation methods, dating as far back as ancient Mesopotamia. Vinegar creates a highly acidic environment where harmful bacteria and other microbes can't survive. The acetic acid in vinegar also slows the course of food spoilage.
In addition, there is a wide range of health benefits associated with eating pickled foods. Vinegar helps control blood sugar and cholesterol levels, aids in weight loss, and improves digestive health.
Pickled Brussels sprouts are also low in calories and carbohydrates. Read on to discover all the great reasons to add canned Brussels sprouts to your list of pantry staples.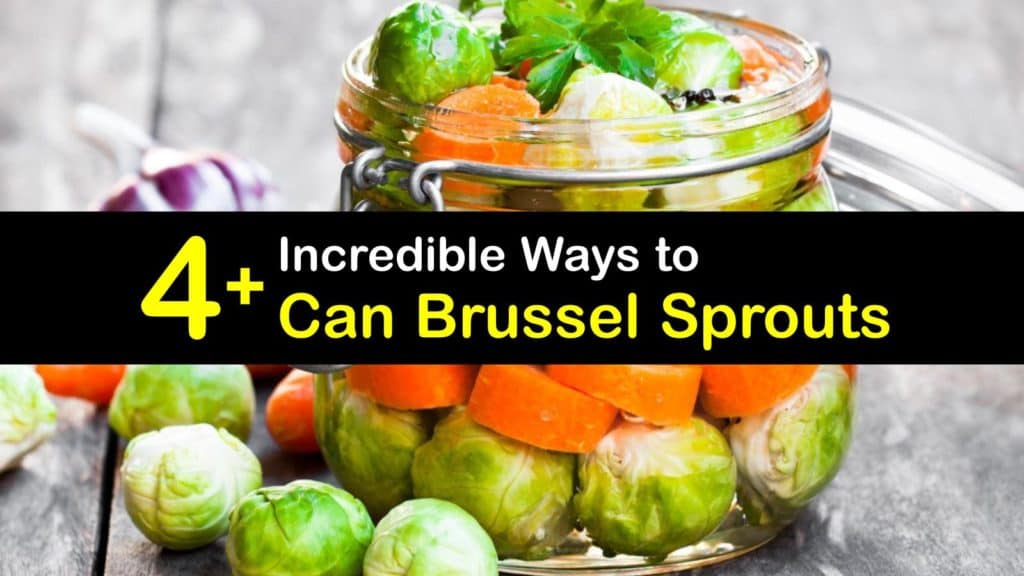 How to Can Brussels Sprouts
Whether you will learn when to plant Brussel sprouts in zone 8 and find the best time to pick them or if you buy them from the store, you need to know how to preserve vegetables like this cole crop.
If you'll be consuming pickled Brussels sprouts right away, there's no need to seal the jars in a hot water bath. However, it's absolutely necessary for extended storage.
Choosing suitable canning jars is quite important. Always use wide-mouth glass Mason jars with self-sealing lids. For large batches, use quart-sized jars. When preparing smaller batches, pint jars work well.
The mechanics behind canning are relatively simple. Food is packed in sterilized glass jars and submerged in boiling water for a specific amount of time. As the jar cools, the air inside escapes along with the heat.
This process pulls the lid down and creates an airtight seal. Most types of canning jar lids have a sealing compound that enhances the integrity of the seal.
Canning Brussels Sprouts in a Hot Water Bath
Place a rack in the bottom of a large stock pot so the jars aren't sitting directly on the bottom. It's best to place the jars in warm water, not boiling. Avoid extreme temperature changes to avoid cracking your jars.
Ensure that there aren't any air bubbles remaining in the vinegar mixture. To get the best seal, wipe the rims with a clean cloth or paper towel. Carefully place the sealed jars in the hot water bath and cover the pot with a lid.
The processing time for canning Brusselss sprouts at sea level is ten minutes. If you live at a high elevation, add one minute of boiling time per thousand feet.
After they've boiled long enough, gently lift the hot jars out of the pot with a jar lifter or kitchen tongs. Set them on a clean towel where they'll remain undisturbed while they fully seal.
Like when you can carrots without a pressure canner, you'll hear a pop when the inner lid secures itself. If any jars don't seal, re-immerse them in a hot water bath or use them within several weeks.
For the best flavor, cure your pickled Brussels sprouts for a week before eating them. For a softer texture, blanch the sprouts in boiling water for a few minutes before pickling or take care of blanching Brussel sprouts for freezing.
If you enjoy a little spicy heat, you'll love this pickled Brussels sprouts recipe with jalapeno peppers. Feel free to incorporate other veggies like onions, green beans, or zucchini slices. These spicy pickled Brussels sprouts make an unusual and delicious Bloody Mary garnish.
To pickle Brussels sprouts, prepare your pickling brine by simmering the water, vinegar, peppercorns, mustard seed, and salt in a saucepan for several minutes until the salt completely dissolves. For a slightly sweeter brine, add one or two teaspoons of sugar.
Fill your Mason jars with sliced Brussels sprouts, a few pepper slices, and a bay leaf. Allow a 1/2 inch of headspace at the jar's top for liquid expansion.
Pour in the hot brine, wipe the rims clean, and seal the jars. Refrigerate immediately or process the jars in a hot water bath for longer storage.
Storing Canned Brussels Sprouts
Store canned Brussels sprouts in a cool, dark location. If sealed in a hot water bath, they're safe in your pantry.
Otherwise, keep them refrigerated and consume them within four to six weeks. How long are Brussels sprouts good for when canned? Water bath canned Brussels sprouts keep for up to 18 months when properly stored.
How to Sterilize Canning Jars
For hot water bath canning, it's essential to sterilize your canning jars thoroughly. The temperature in a pressure canner makes pre-sterilization unnecessary.
Remove the lids from your canning jars. Place the empty jars inside a large stock pot or boiling-water canner. Fill the pot with hot water (not boiling) up to an inch above the tops of the jars.
Bring the water to a strong rolling boil, then start your timer. The baseline for sterilizing canning jars is ten minutes. Add one minute for every thousand feet of elevation since water's boiling point is lower at higher altitudes.
Carefully remove them and drain any remaining water. Begin canning within one hour to ensure sterilization.
Pressure Canning Brussels Sprouts
Pressure canning uses pressurized steam to create extremely high temperatures that kill any harmful microorganisms. A pressure canner is a large metal pot with a locking lid and a pressure-regulating gauge.
Pressurized steam reaches much higher temperatures than boiling water and is a more reliable food safety tactic. Low-acid foods like meat, soup, and unpickled vegetables must be preserved with a pressure canner.
The vinegar in pickled Brussels sprouts makes the hot water approach safe. Furthermore, many people caution against pickling foods in a pressure canner because the extreme heat ruins the texture and flavor.
Pickled Brussels sprouts make a refreshing side dish, salad addition, or on-the-go snack. Try this quick and easy pickled Brussels sprouts recipe.
Prepare your Brussels sprouts by trimming off the outer leaves and stem ends. Blanch the sprouts in boiling water for four minutes, then drain.
Combine the water, vinegar, celery seed, red pepper flakes, turmeric, salt, and sugar in a saucepan. Boil uncovered for two minutes.
Place four peppercorns, one garlic clove, and one dill head in each jar. Pack in your Brussels sprouts and pour the hot vinegar mixture over them, maintaining a 1/2 inch headspace.
Wipe the rims with a clean dish rag or paper towel before screwing on the lids. Refrigerate the jars or seal them for long-term storage.
Home Canning Safety
The golden rule of home canning is never to alter the heating time. To ensure food safety, canned goods must be exposed to high temperatures for a specific length of time to kill harmful microbes.
Always follow USDA-approved canning methods when preparing food for long-term storage.
Inspect your canning jars' seal before using, and discard any lids with a compromised seal. Use sterilized jars, and re-sterilize them if they sit out for more than an hour.
When considering how to can Brussels sprouts, the best approach depends on how long you're planning on storing them. If you're using them within four to six weeks, they don't require additional preparation.
For long-term storage, a boiling-water canner or hot water bath works best. Pickled Brussels sprouts make delicious condiments and garnishes and are so easy to prepare.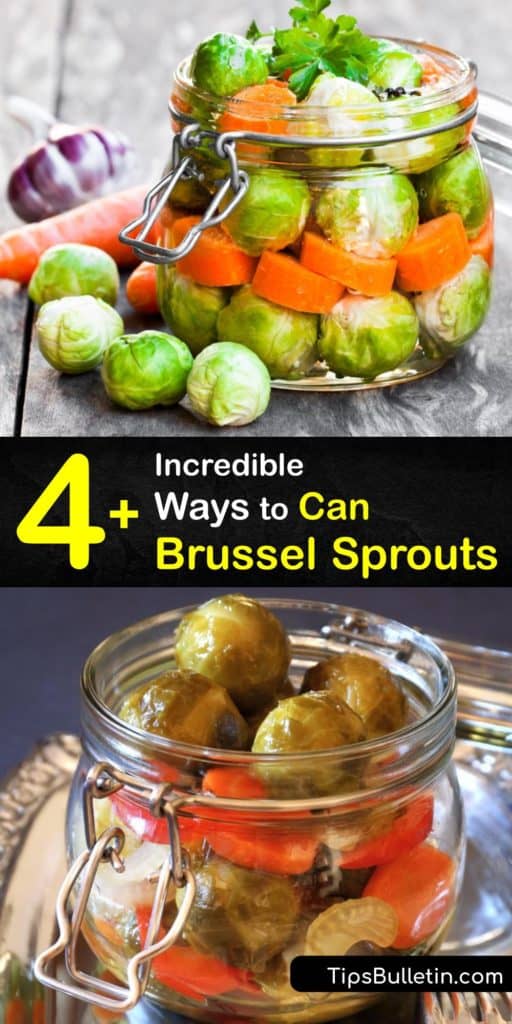 If you found these pickling tips useful, please share this article about canning Brussels sprouts with your fellow foodies on Facebook and Pinterest.