We all have a favorite squash recipe, but spaghetti squash is unique with its stringy pasta-like texture. This versatile squash makes the perfect low carb, gluten-free spaghetti dish. It has a fairly long shelf life, and canning spaghetti squash keeps your pantry well-stocked for years.
This winter squash is like vegetable spaghetti in a bowl, and it is packed full of nutrients, including beta-carotene, fiber, and folate.
Its fun texture and mild, neutral flavor make it the perfect side dish for just about any entree. Top it with your favorite marinara sauce, and you have a healthier version of pasta.
Safe food preservation is vital to storing fruits and veggies long term, especially if you are homesteading. While there are countless canning recipes, not all foods are safe for the process.
Can you can spaghetti squash? While the answer is yes, it's not common practice, and there is a right and wrong way to do it.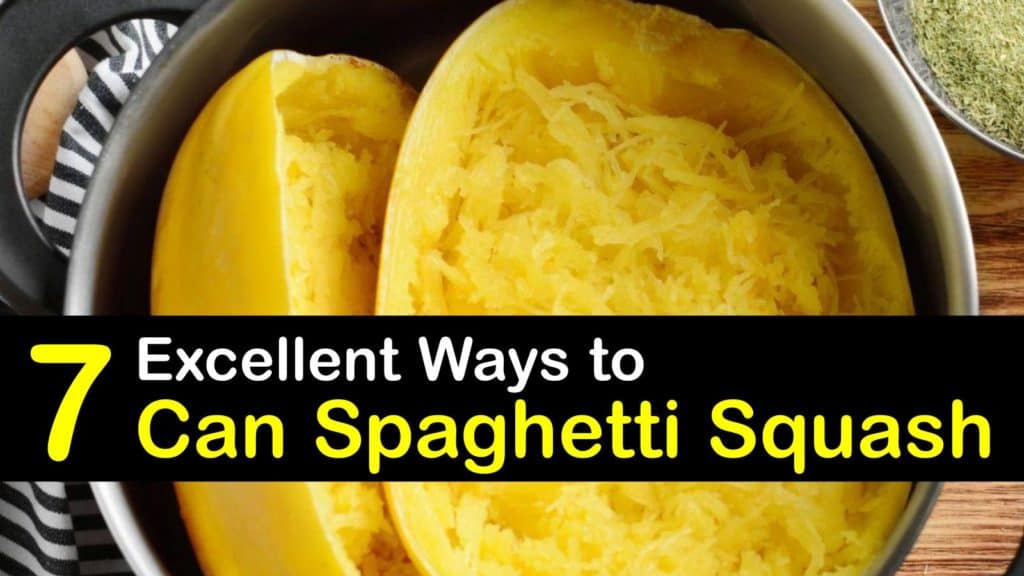 Preparing and Canning Spaghetti Squash
Home canning is a rewarding experience, but it's vital to know which foods are safe for preserving in a water bath canner or pressure cooker to prevent food spoilage and botulism.
Here is how to prepare your spaghetti squash for canning and ways to make canned squash, whether you grow spaghetti squash plants yourself or find a great deal at the supermarket.
Things to Know about Canned Spaghetti Squash
While you can keep spaghetti squash fresh in the fridge for a few days, you may want to consider longer preservation options for a lot of squash.
Most winter and summer squash types are suitable for canning as a form of food storage. How long does cooked butternut squash last after canning? Canned food often lasts several years.
However, there are a few things to understand about canned spaghetti squash before going through the canning process.
Canned Squash
While you may store fresh spaghetti squash in the fridge for a couple of days, the best way to preserve squash by canning is to use a pressure canner or pressure cooker. Water bath canning spaghetti squash is not advisable since this is a low-acid food.
While it's common to can yellow squash and butternut squash, spaghetti squash is usually not canned, but it is possible.
The USDA has a guide for canning food, and they describe how certain foods are not acidic enough to prevent bacterial growth during a hot water bath process. Pressure canning using the right processing times is necessary for safe food storage.
Preparing Spaghetti Squash for Canning
Before learning how to can spaghetti squash or canning yellow squash, it's a good idea to know how to prepare this veggie for canning. It's common to cut veggies into pieces and pack them into jars, but spaghetti squash requires a bit more preparation.
Place a small spaghetti squash into the oven and bake it for about 20 minutes to soften the rind for easy peeling. Allow it to cool, slice it in half, and remove the seeds.
Consider saving the seeds for roasting just like you do pumpkin seeds. Remove the skin with a veggie peeler and slice the squash into 1-inch cubes. Note that you can freeze cooked spaghetti squash at this stage, too. Sterilize the canning jars and lids in a large pot of simmering water for ten minutes.
How to Can Spaghetti Squash in a Pressure Canner
While a water bath canner is the easiest way to can food, pressure canning spaghetti squash is essential since it is a low-acid vegetable. Here is how to can spaghetti squash using a pressure canner.
Pour two quarts of water into the canner and begin heating it. Pack the prepared squash pieces into quart or pint jars, leaving a half-inch of headspace.
Boil a pan of water and pour the boiling water over the top of the veggies to cover them while maintaining the headspace.
Use a utensil to remove air bubbles and screw the lids in place until they are fingertight. Set the jars in the canner with the weighted gauge set to ten pounds pressure. Process quart-size jars for 90 minutes and pint-size jars for 55 minutes.
Making Puree after Canning Spaghetti Squash
Canning whole spaghetti squash is a great way to stock up on squash, and it's also handy for making a puree with brown sugar or your favorite seasonings. If you love your food with a bit of spice and flavor, this squash puree recipe is the one for you.
Strain the cooking liquid from the canned squash, place the pieces into a blender and blend them until they are the desired consistency.
Add the avocado oil, ghee, salt, garlic powder, and pepper flakes, and use the pulse feature on your blender to combine them. Serve the puree warm and top it with green onions and bacon crumbles.
Can You Pickle Spaghetti Squash?
While pickled spaghetti squash is not typical, Yakisoba is a Japanese noodle stir-fry dish with a slight tang similar to pickling. This canned spaghetti squash is perfect for keeping in the refrigerator for a couple of days.
Slice the squash in half, set it flat side down on a plate, and microwave the squash on high for ten minutes. Use the prongs of a fork to shred the squash into strings and set them aside.
Set a large pan on high heat and add the oil and onions. Saute them for three minutes, add the coleslaw mix and cook for two more minutes. Toss in the mushrooms and saute for two minutes.
Add the scallions, spaghetti squash, and sauce, and cook for two more minutes as you stir everything to evenly coat the veggies. Plate the Yakisoba, top with sesame seeds, and serve.
To save the squash, allow it to cool, scoop it into a Mason jar or storage container and refrigerate it for up to two days.
Using Canned Spaghetti Squash to Make Cheesy Bread
Now that you have all of those cans of spaghetti squash, how do you plan on using them? If you're tired of making the traditional pasta dish alternative, consider making this delicious cheesy bread.
Drain the jar of squash, use a cheesecloth to wring out excess moisture, and place them in a large bowl. Use a fork to gently separate the chunks into strands. Canned spaghetti squash does not have the same stringy texture as fresh, but it still works.
Add the eggs, Parmesan, cornstarch, garlic, oregano, and one cup of mozzarella and stir.
Line a cooking sheet with foil, spray it with cooking oil, and scoop the mixture on the pan, patting it down into the shape of crust. Bake it in an oven preheated to 425° for 25 minutes. Sprinkle the rest of the mozzarella on the top and bake it for another eight minutes.
Making Spaghetti with Leftover Spaghetti Squash
While most squash types have creamy flesh, spaghetti squash has a unique texture that works perfectly as a pasta substitute. This recipe uses spaghetti squash and a tomato marinara sauce to create the perfect non-pasta dish.
Cut the spaghetti squash in two, remove the seeds, drizzle the halves with olive oil and salt and pepper to taste. Spread a parchment paper sheet on a cooking sheet and place the halves, flat side down, on the pan.
Set it in an oven preheated to 375° for about an hour or until it's easy to shred with a fork.
After baking, use the sharp end of a fork to shred the squash into stringy pieces. Plate the squash and drizzle your favorite heated marinara or spaghetti sauce over the top. Consider adding meatballs to the dish to make it heartier.
Stocking up on veggies such as zucchini, sweet potatoes, butternut, acorn, and spaghetti squash is a great idea, whether you buy in bulk from the grocery store or grow them in your garden.
While they have a limited shelf life sitting on the counter, they are easy to preserve with a pressure cooker.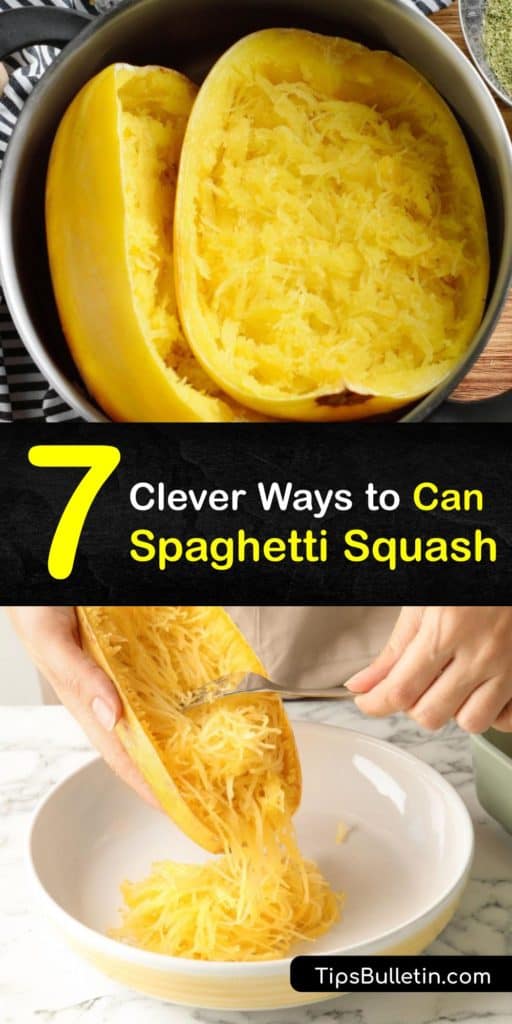 Canning spaghetti squash keeps your homestead pantry shelves full, so why not share our spaghetti squash canning guide with the veggie-lovers in your life on Facebook and Pinterest?