Canning zucchini at home is simpler than you might think.
To successfully can zucchini, here's what you need to know:
Choose fresh zucchini that are firm and free from blemishes for the best preservation results.
Sterilize your canning jars and lids before use to prevent contamination and ensure a safe seal.
Follow tested recipes from reliable sources like the National Center for Home Food Preservation to ensure safe acidity levels.
Process your filled jars using either a water bath or pressure canner, depending on the recipe, to eliminate harmful bacteria.
After processing, allow jars to cool undisturbed for 12 to 24 hours, checking seals before storage.
Canning zucchini is very effective and cost-efficient, making it a practical choice for long-term storage. Let's go through the main steps to take this from start to finish:
Firstly, make sure your work area and tools are clean to prevent any spoilage. You'll need a canner, fresh zucchini, jars, lids, and any other ingredients prescribed by your recipe. Secondly, meticulously follow your chosen recipe, which should be from a reputable source, to avoid low-acid-related issues. If water bath canning, fill your jars with the prepared zucchini, leaving the appropriate headspace.
Seal jars with lids and rings, then process in a boiling water bath for the time specified by the recipe. If you're pressure canning, prepare your zucchini per the recipe and process in a pressure canner at the correct pressure for your altitude and time stated in the instructions.
After processing, let the jars cool, then store your canned zucchini in a cool, dark place. Always label your jars with the contents and canning date. Enjoy your preserved zucchini in various tasty dishes throughout the year!
Canning zucchini is accomplished in several unique ways. A common misconception about canned zucchini is that it is challenging and nearly impossible. However, we provide you with the correct tips and tricks for canning zucchini in many ways.
Whether you are canning plain zucchini, pickling zucchini, or making a relish, we show you how to preserve your zucchini correctly for a long shelf life. These canning tricks are beneficial if you have never canned zucchini before.
If you have been searching for a fantastic canning recipe for your extra zucchini from your garden, look no further. In addition to providing excellent preservation processes for your zucchini, we also give you delicious recipes.
These recipes are a great side dish to any lunch or dinner. Zucchinis are tasty veggies that pair nicely with a variety of main dishes. Knowing how to cook zucchini is painless and does not take a lot of time.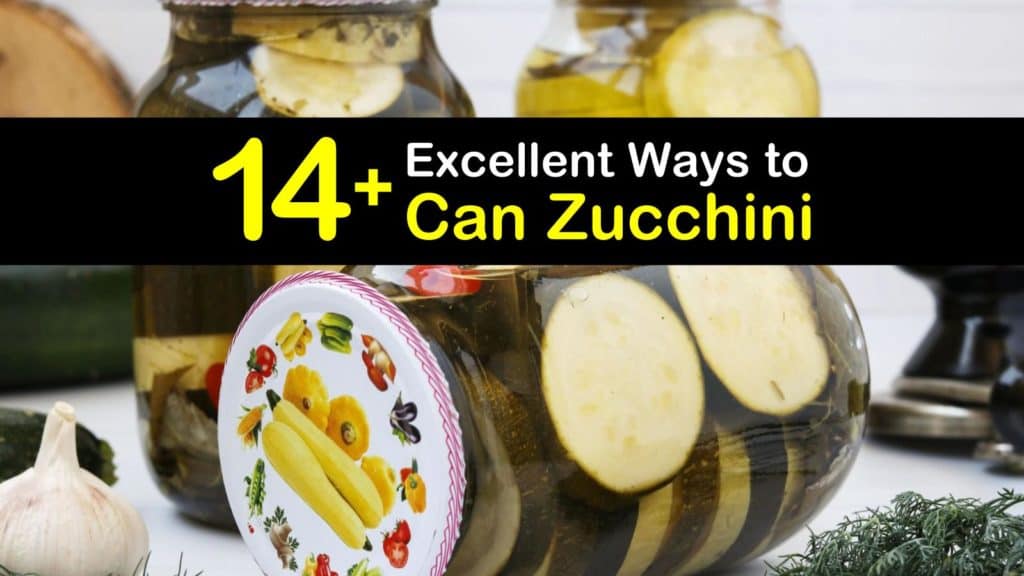 The Importance of Canning Zucchini Correctly
Unfortunately, fresh zucchini doesn't have a very long shelf life. How long is zucchini good for? Without preservation, zucchini only lasts about a week.
Learning how to can zucchini contains several steps that require careful attention. When does zucchini go bad after canning it? Incorrect canning leads to botulism. Some symptoms of botulism include blurred vision, slurred speech, and muscle weakness.
These symptoms are caused by a rare germ that grows on low acid foods like zucchini. Low-acid vegetables cannot stop the growth of the bacteria.
The National Center for Home Food Preservation follows USDA guidelines for canning and pickling. To learn how to correctly prepare your canning jars before using them, consult the National Center for Home Food Preservation's website.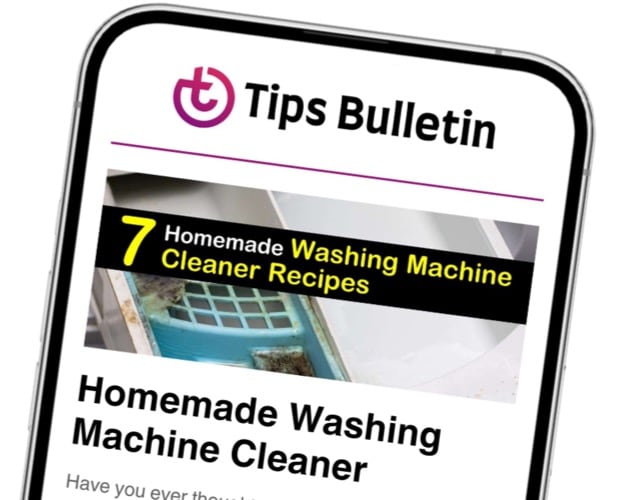 Finally, an email that Transforms Your Home.
Get the latest home and garden tips from our experts, delivered straight to your inbox.
Using a Water Bath Canner Appropriately
Water bath canning uses high heat and boiling water to force out the air within the food and packaging. As the water boils, it creates a vacuum in the hot jars and seals the lid tightly.
It is best to use water bath canning to can pickles and high-acid foods. We recommend checking the National Center for Home Food Preservation for a recipe authorized for water bath canning.
As you fill your recipe into canning jars, leave about one inch of space from the top. Ensure the jar's rims are clean, so the sealing is safe and free of air bubbles. Place the lids on your jars and set them into the water, with at least one inch of water above them.
Process your canning jars in boiling water for the allotted time on the recipe. Knowing how to can zucchini pickles with a water bath canner is a straightforward food preservation method.
Canning Zucchini with a Pressure Canner
The safest way to can low-acid foods such as vegetables is to use a pressure canner. Pressure canning zucchini or pressure canning cauliflower requires a particular piece of equipment that heats your canning jars under pressurized steam. The high temperature cooks the food at a rapid pace.
Fill up the canner so the water sits about three inches above the jars. Using a jar lifter, set the canning jars with the lids secured on the pressure canner's racks.
Follow the time on the recipe to make sure the food is canned correctly. Let your canning jars cool naturally for 12 to 24 hours.
How to Can Zucchini Relish
Zucchini relish is a delicious addition to hot dogs, hamburgers, or sandwiches and is a great way to store fresh zucchini. This sweet taste of seasoning adds a kick to any dish. A water bath canner is the best tool to make zucchini relish.
Combine your chopped onions, peppers, and zucchini into a large bowl before sprinkling a little salt over them. Cover the veggies with ice cubes and water for two hours. In a large pot, place the rest of your ingredients and bring them to a boil.
Once the contents are boiling, add your veggies and stir for ten minutes. After removing your jars with a jar lifter, spoon in your relish. Leave a ½ inch of space from the top.
Replace the jars into the water bath canner after putting the lids on and process the jars for ten minutes. Processing times may differ based on the heat of the water bath canner.
Canning Zucchini and Tomatoes
Combining sliced zucchini with tomatoes and carrots provides a quick and easy side dish for dinner. This canning technique uses a water bath canner. Water bath canning zucchini uses a heating pattern to drive out the excess air.
Pour the water, sugar, salt, and vinegar into a large pot and bring the ingredients to a boil. Fill your canning bath until about one inch of the jars is above water. Let the water boil before adding an even amount of veggies.
Pour the syrup you boiled earlier into the jars. Wipe the rims of the canning jars and twist on a lid. Place the jars in the boiling water for eight minutes before letting them cool at room temperature for 12 hours.
Learning How to Blanch Zucchini
If you are planning to freeze your zucchini or other summer squash, you must blanch the veggies. Blanching gets rid of all germs and bacteria on the food. When you kill all the remaining germs on your veggies, it preserves the taste and vitamins.
Blanching sliced, grated, or whole zucchini is possible. Place your zucchini into boiling water to destroy the harmful enzymes. Boil your zucchini until it is tender to the touch.
After cooking the veggies, place them into a bowl with ice cubes to cool. Finally, drain your summer squash. Place the zucchini into a freezer bag and squeeze out as much air as possible before freezing.
Pickling Zucchini
Did you know that you can also use your favorite canning recipe for cucumbers with other veggies? Zucchini pickles are a fantastic homemade alternative to store-bought versions. Not only are zucchini pickles delicious, but they are also easy to make and require few steps.
We recommend using pint jars to fit a lot of sliced zucchinis. Canning zucchini is easy when you have the correct tools.
Divide your dill sprigs, garlic cloves, black peppercorns, and mustard seeds evenly between three-pint jars. Next, boil a mixture of water, vinegar, sugar, sea salt, and dill seed in a large pot.
Place the zucchini in your jars and pour over the liquid mixture. Cool the jar for 30 minutes and refrigerate for one day before eating. This technique also works for canning whole zucchini.
How to Freeze Shredded Zucchini
If you do not want canned zucchini, freezing it is a great alternative. Shredded zucchini is perfect to use for soup, muffins, or zucchini bread. We recommend freezing shredded zucchini in small portions so it is readily available for cooking.
To freeze shredded zucchini, rinse your zucchini with cold water to get rid of any dirt, and blanch your veggies to eliminate all bacteria. If bacteria remains on your zucchini before freezing, it will harm the overall taste.
Shred your zucchini and put it into either airtight containers or freezer bags sealed tightly.
Canned Zucchini with Pineapples
Learning how to can zucchini pineapple is straightforward and requires little effort. Zucchini pineapple is best for desserts and salads as a healthy, sweet topping. Although this recipe seems strange, it is a USDA approved canning recipe.
Place ingredients into a large pan and bring it to a boil. Let the mixture simmer uncovered for 20 minutes. Using a ladle, pour the solution into canning jars and leave a ½ inch of space.
Pop all the air bubbles inside before wiping the rims and placing the lids on. Process the jars in the water bath for 15 minutes for half-pints.
Understanding How to Ferment Zucchini
One way to preserve foods for a long time is to ferment them. Fermented zucchini lasts up to six months in the refrigerator. Fermenting zucchini is also great because it is straightforward and only requires a few ingredients.
Fermenting is an old system for preserving veggies that is still used today. Slice your zucchini into thin spears and place them in a canning jar.
Cover your veggies with a saltwater brine before putting a towel over the top. Place a rubber band over the towel. Set the zucchini in a dark and cool place for a couple of weeks to let the veggies ferment.
Learning How to Dehydrate Zucchini
If you have an excess amount of squash, creating dehydrated zucchini chips is a great way to use them up. Dehydrating food takes all of the moisture out of the product. Additionally, dehydration of zucchini concentrates the flavors.
Start by washing your zucchini to get rid of any dirt on the veggie. Slice your zucchini or yellow squash into thick pieces about ¼ inch. We recommend leaving the skin on the zucchini; however, peeling them is also an option.
On your dehydrator's tray, space out the pieces so they are not touching one another. Set the dehydrator's temperature to 135℉ and dry the zucchini until it is crispy, about six hours. Dehydrating zucchini is an excellent alternative to canning summer squash.
Making a Delicious Turmeric Zucchini Soup
Turmeric zucchini soup is a healthy soup that goes great with a sandwich or salad. This recipe does require a few more ingredients than other zucchini recipes. However, making the soup is quite simple and does not take very long.
Sauté the onion until it is golden brown; around five minutes. Add the salt, zucchini, turmeric, curry powder, and pepper. Stir the contents thoroughly to mix the flavors.
Add the coconut milk, fish sauce, and stock. For ten minutes, let the ingredients boil. Add the lime juice and stir the contents before garnishing with cilantro.
Tasty Garlic Parmesan Zucchini Bites
One fantastic way to add a mouth-watering side dish to your meal is to make zucchini bites. This recipe is also remarkable because it only takes a few steps to make this side dish.
Heat the measured oil in a skillet over high to medium heat. Add the garlic to the pan until it gives off a strong fragrance. Add in your zucchini and oregano and cook for ten minutes.
Finish by seasoning the zucchini with pepper, salt, and crushed red peppers. Before serving, add grated Parmesan.
Recipe for Crunchy Shredded Zucchini
Transforming extra shredded zucchini from your home garden is also yummy as a crunchy alternative to potatoes. Breading the zucchini with bread crumbs and topping them with cheese add a great tasting addition to pasta.
Place aluminum foil on a baking sheet before preheating your oven to 425℉. Make sure to dry out your shredded zucchini before using it.
In a large bowl, mix zucchini and the other ingredients. Create small, round balls out of your zucchini mixture, flatten them, and set them on the baking sheet. Bake the shredded zucchini for 20 minutes until the mounds are golden brown.
Magnificent Sauteed Shredded Zucchini
Sauteed zucchini is a simple and inexpensive way to use up extra shredded zucchini you have in your freezer. Before sauteing the shredded zucchini, completely dry out the veggies so there is no excess water.
To remove excess water, transfer your shredded zucchini to a colander and add a little salt. Set the zucchini on a clean dish towel to absorb the moisture.
In a large skillet, heat olive oil before adding shallots and zucchini and stir the mixture often. Cook until the zucchini is tender and season with black pepper before serving.
How to Tell if Canned Veggies are Spoiled
Understanding how to can zucchini correctly is vital to prevent any dangerous foodborne illness. If your canning jars are leaking, swollen, or abnormal in any way, it is a sign that the canned veggies are potentially spoiled.
If the can is discolored or has any mold on it, throw it out. If you notice that there's any damage to the jar, toss it, as well.
Zucchini are very diverse foods that can be stored in several ways. Pickling, canning, and freezing zucchini are effective ways to preserve your leftover zucchini to keep it fresh for long periods.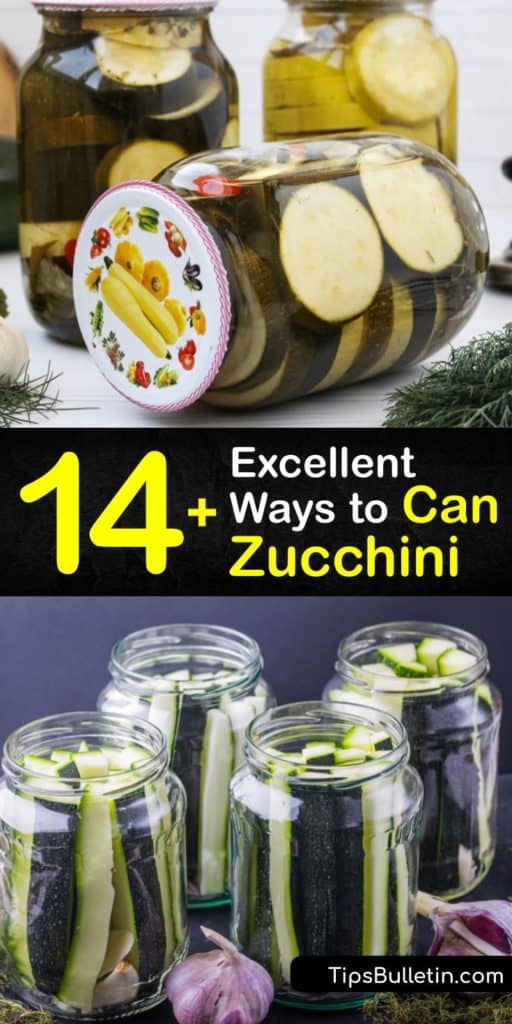 If you discovered how simple canning zucchini is, share these recipes and tricks about canned zucchini on Pinterest or Facebook with your family and friends.