Driving in a musty-smelling car is an unpleasant experience as musty air bombards your senses. This strange smell is usually due to excess moisture in the car carpeting and upholstery or car AC. Luckily, there are ways to freshen your vehicle's interior if your car smells musty.
There is nothing quite like a new car smell. However, you may experience a variety of other car odours during the vehicle's lifetime, some of which are entirely expected, like those from cigarette smoke. Others may indicate a problem that requires car maintenance at the auto repair shop, such as a gas smell or a rotten egg odor from the car battery.
Fortunately, not all odors are cause for concern. After turning on the air conditioning, a musty odor is often mildew from moisture condensation in the evaporator. Or the musty odor could be from leaving your car windows open during a rainstorm, saturating the car interior.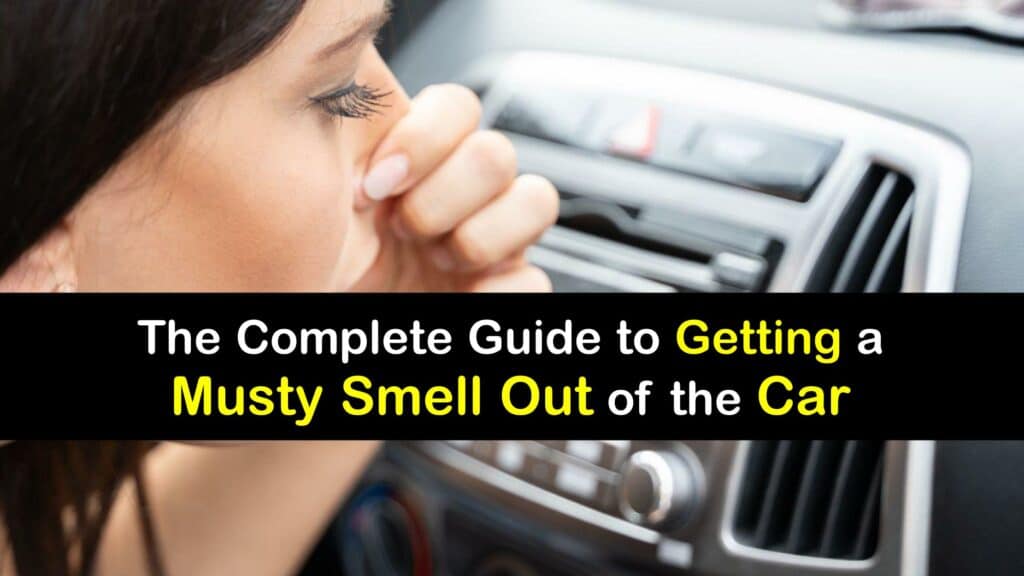 Removing a Musty Smell From a Car
If you're experiencing an unpleasant smell that isn't from a gas leak and doesn't smell like burnt toast, you may be dealing with a mildew problem. It's important to know how to get the musty smell out of a car to prevent mold growth.
While opening up the car windows to allow fresh air to flow lessens the severity of the odour, it's only a temporary fix. Learn how to keep the new car smell for longer by removing musty smells from a car by identifying the cause, cleaning the interior, and using DIY odor absorbers and air fresheners.
Identifying Why a Car Smells Musty
Before getting a musty smell out of your car, it's wise to understand what is creating the odor in the first place. Here are some common causes for musty smells or if your car smells like mildew to help you determine the next course of action.
Musty Car Odors
Occasional mustiness in a car is not unusual, especially if you live in a region with high humidity. However, a car odor that has a rotten egg smell or burning smell is another issue altogether, and it's vital to have your car checked by a mechanic.
The air conditioner is one of the most common reasons for a musty odor in your car. Humid conditions and moisture condensation or water leaks in the unit cause mildew in the AC, and you may notice a smell like sweaty gym socks when you turn it on.
Another reason for musty smells is damp carpet and car seat upholstery. Perhaps you left the window open, and it rained overnight, have a door or sunroof leak, or experienced flooding. Without proper air circulation, the fabric begins to grow mildew and mold.
How to Get the Musty Smell Out of a Car by Cleaning
The typical reason for a bad smell in the car is moisture, and the odor seeps into the fabrics, leaving the car interior with a foul odor. Here is how to get the musty smell out of a car by cleaning the carpeting, upholstery, and other surfaces.
The first step in cleaning your vehicle is removing trash and any extra items you carry. Make a homemade cleaning solution for car interior with vinegar, water, dish soap, and baby oil. Use rags to clean and condition the dashboard, steering wheel, and other car surfaces.
Skip the baby oil and use the rest of the ingredients to get rid of a musty smell in the basement. Add a few drops of your favorite essential oil for a pleasant scent.
Use a vacuum hose to clean the carpeting and upholstery in the front and back, including the trunk. Steam clean the same surfaces by starting from the front and working your way to the rear if your car carpet smells like mildew. Perform this cleaning routine on a sunny day and open all the windows to allow airflow inside your car.
How to Remove Musty Smells From a Car
Even after you clean the entire car, there may still be a lingering odor, and the best way to eliminate the smell is to use an odor absorber. Discover how to remove musty smells from a car with a homemade air freshener.
The simplest way to absorb odors in your car is to open a box of baking soda and position it in the cup holder or sprinkle the powder over the floor before vacuuming. If you prefer something with more of a scent, make a car air freshener by filling an old sock with fresh coffee grounds, tying it shut, and placing it beneath your seat.
To make a homemade car spray, fill a plastic bottle with water, add about ten drops of aromatic essential oil, or blend different oils. Shake the container well and mist it over the carpets and seats as needed.
Ways to Prevent a Car From Getting Musty
We all want the pleasant experience of getting into a fresh-smelling car. Follow these tips to keep your vehicle free from mold odor and bad air conditioning smells.
After removing musty smell from car air conditioner, open windows while driving during pleasant weather and use your air conditioning on hot and humid days to allow air circulation and prevent moisture build-up.
Always close your windows after driving and repair window and sunroof seals to prevent leaking. Fix the car problem as soon as possible if the musty odor results from a mechanical issue, like a clogged AC drain or leaking heater core.
It's relatively easy to eliminate a mildew smell in your car, whether from the air conditioning system or excess moisture in the car seats and carpeting. However, it's vital to take your vehicle in for maintenance if the smell resembles burnt paper or rotten eggs.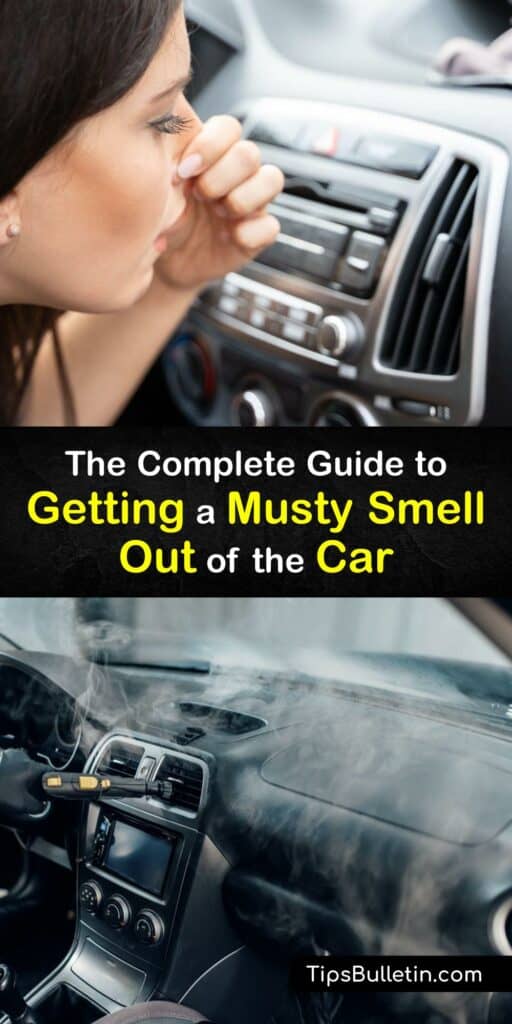 We hope that knowing why your car smells musty and how to remedy the issue keeps your vehicle smelling fresh, and we'd love it if you'd share our musty car care tips and odor eliminators with your family and friends on Pinterest and Facebook.