If you're like most car owners, you probably tend to focus on cleaning the exterior of your car, while ignoring the interior, leaving it to accumulate dirt, dust, and food residue. It's important to have a car upholstery cleaner you can rely on to get the job done.
Your car's upholstery tends to take a beating, especially if the majority of your life is spent on the go. If you have kids and pets, your auto upholstery can get downright disgusting. Your car's upholstery is likely marred by different spills, stains, and grime, so it's probably time for you to roll up your sleeves and get to work.
Learn how to effectively clean your car's interior with these useful car upholstery cleaner recipes. Getting your car's interior clean shouldn't cost you an arm and a leg. It also should consume the better part of a day.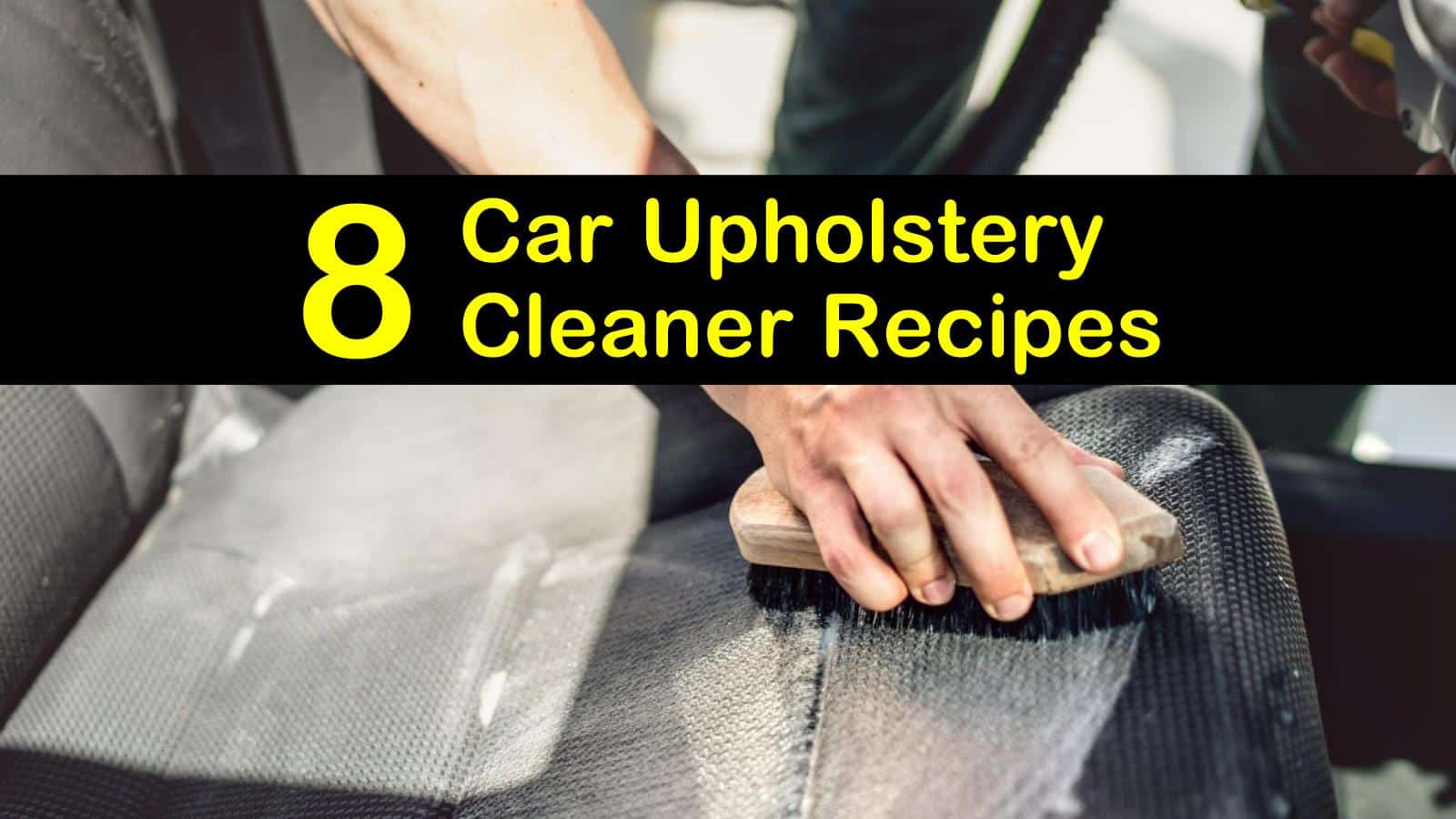 Not only are commercial upholstery cleaners expensive but they contain harsh chemicals that can be dangerous as well as bad for the environment.
For that reason, we focused on our DIY upholstery cleanertips before and now more specifically on cleaners for your car interior. Here are multiple amazing DIY car upholstery cleaner recipes to use next time you clean the interior of your car.
How to Clean Car Upholstery
Before you can tackle the stains on your seats and car interior, you have to remove all the garbage and personal items from the car and vacuum all the surfaces of your vehicle. Vacuuming will allow you to pick up the loose dirt and debris that is littering the interior.
Using a wet/dry vacuum, like a Shop-Vac, vacuum underneath your seats and in between creases. Be sure to push the seats forward and recline them to ensure you get everything. If you have a car seat in the back, make sure to remove it so you can get all the food crumbs and other pieces of dirt that it may be hiding.
If your car is filthy, you can rent a steam cleaner to give the upholstery and carpet a deep clean. Steam cleaning the carpet and upholstery will help to extract embedded dirt using hot water and suction.
Mix the hot water and distilled white vinegar and add it to the steam cleaner. Use to clean your car upholstery according to the manufacturer's instructions. Check out our tips onhow to clean car carpet with more detailed recipes on getting your car carpet like new.
How to Clean Fabric Upholstery
The spills and messes in your car can embed in the fabric of your upholstery if left for too long. When you make a mess, it's best to treat it immediately to help prevent stains and odors from taking over the interior of your car.
To clean car upholstery, start by spraying your upholstery with the following homemade all-purpose cleaner, making sure to work on one area at a time.
Using a nylon brush, scrub the upholstery gently, but firmly to ensure that you remove all the grime and stains. Next, with a microfiber cloth dipped in warm water, run it gently over the upholstery to pick up dirt.
Rinse the cloth as you collect dust, so you don't spread it around further. Once the area is clean, use a new rag to dry off the upholstery.
If your seats are made of a microfiber fabric, it can be a little more challenging to clean, as you don't want to get the surface too wet. Cleaning a microfiber car seat is just as easy as taking care of other types of upholstery, you just need to watch the amount of moisture you apply to the seats.
You can use a DIY microfiber cleaner that minimizes water exposure to your seats but gets them bright and clean by checking out a few of our recipes in the link.
To get the dirt and grime out from the seams of your upholstery, use an old toothbrush to clean the area. Finally, spray the upholstery with a fabric protector to help repel future stains and water.
In a small bowl, mix the dish soap and borax, and then pour the boiling water over it. Stir thoroughly to distribute the borax. Allow the cleaner to cool to room temperature.
Pour the solution into a spray bottle. Spot test the cleaner on an inconspicuous area to ensure it won't discolor the fabric.
How to Clean Car Floor and Mats
If the floor and mats of your vehicle have seen better days, you can use this simple auto upholstery cleaner recipe to fight stubborn stains and eliminate dirt and grime.
The combination of vinegar and alcohol will effectively kill any germs and remove stains, while the essential oil will leave your car smelling clean and fresh. Here's how to clean auto upholstery with three simple ingredients.
Combine the ingredients in a spray bottle. If you chose to use citrus-based essential oils, be sure to place them in a glass spray bottle, so they don't eat away at the plastic.
Before using this interior cleaner on large areas of upholstery, be sure to test it in an inconspicuous place to check for colorfastness. Spray the surface of the fabric and allow it to sit for several minutes, be sure not to let it dry.
Using a sponge or clean towel, scrub the upholstery vigorously, then allow it to dry. Repeat the process when dealing with stubborn stains.
The combination of vinegar and rubbing alcohol will have an overpowering scent at first. However, once the solution dries, the only smell will be from the essential oils that you've added to the cleaner.
Spot Cleaning Upholstery with Baking Soda
The cleaner that you use to clean the interior of your car doesn't have to be expensive. You can make an effective upholstery cleaning solution with a few everyday ingredients that you find in your home.
This DIY upholstery cleaner uses white vinegar for its antibacterial properties and baking soda for its ability to remove odors. Use this solution to get rid of juice stains, for coffee stain removal or to eliminate those sometimes unidentifiable spots from who knows what.
Combine the baking soda and white vinegar to form a thick paste. Using an old toothbrush, work the paste into the stained area. Allow the paste to dry completely, and then vacuum up the residue. If the stain isn't eliminated completely, repeat the process until it is gone.
If you need to know how to get blood out of upholstery, merely switch the white vinegar for hydrogen peroxide and follow the same method. The hydrogen peroxide will work to bleach the blood stain without breaking down the carpet dyes.
The Best Way to Clean Leather Upholstery
Once again, before cleaning the leather upholstery in your car, you want to thoroughly vacuum to remove the dust and debris that has collected in your vehicle. To avoid scratching the leather, don't use metal vacuum attachments.
If there are stubborn stains on your leather upholstery, pretreat the area with a leather conditioner, then rub the stain with a leather stain remover. After 30 seconds, wipe away the stain remover and then proceed with cleaning.
Apply your homemade leather cleaner to a small section of your upholstery. Using a microfiber cloth, rub the cleanser into the leather. Rinse the cloth with water and run the towel over the leather to remove the dirt and cleaner. Whenever you are cleaning leather, allow it to dry afterward. Move to the next section and repeat the process.
Once the leather has dried, apply a leather conditioner to the upholstery using a microfiber cloth. The purpose of the leather conditioner is to replace the oils in the leather leaving it smooth and supple. Wipe off any excess conditioner and wait at least 20 minutes before using your car.
Combine the ingredients in a small bowl. Dip a cloth into the mixture, thoroughly wring it out until it is just damp. Wipe down the entire surface of the leather upholstery. Wipe off any excess condition and allow to air dry.
Combine the cream of tartar and lemon juice to form a thick paste. Test the stain remover on an inconspicuous area to check for colorfastness. Apply the mixture to the stain and allow it to sit for at least ten minutes.
With a damp cloth, gently wipe away the excess. Repeat until you eliminate the stain. Wipe the area with a damp cloth to remove any residue and allow to air dry.
In a small container mix the vinegar and olive oil. Add in the essential oil and stir to mix. The vinegar works to gently clean the leather, while the olive oil breaks up stains and dirt while conditioning the upholstery.
Dip a paper towel into the cleaner and test it in an inconspicuous area. Let dry, then check the leather for discoloration. Working in small sections at a time, apply the cleanser in gentle circular motions. Using a dry paper towel, wipe down the leather to remove any remaining oil.
How to Remove Water Stains from Car Upholstery
There are many reasons water spots develop on car upholstery. The stains often discolor the upholstery, leaving a dark stain that is very noticeable.
Fortunately, removing water stains from your car upholstery is relatively easy and uses inexpensive ingredients that you probably already have in your pantry.
Combine the ingredients and pour into a spray bottle, shaking to mix the ingredients. If the stain is fresh, use a paper towel to absorb as much water as possible. Sprinkle a thick layer of baking soda over the stain. Allow sitting for 20 minutes.
The baking soda is a natural absorbing product that will help to pull moisture out of the upholstery. Vacuum up the baking soda.
Liberally spray the stain remover over the stained area and let sit for 10 minutes. Using a clean cloth or scrub brush, scrub the stain using a circular motion. Repeat the process until the stain disappears. With a damp cloth wipe the area to remove any residue.
>> More car cleaning tips: Best way to clean car window
Your car seats see daily use, that's why it is just as important to keep the inside of your car clean as it is to keep the exterior clean. Keeping it clean doesn't have to cost you a fortune. With a few simple ingredients that you can find in your pantry, you can keep the inside of your car looking like new.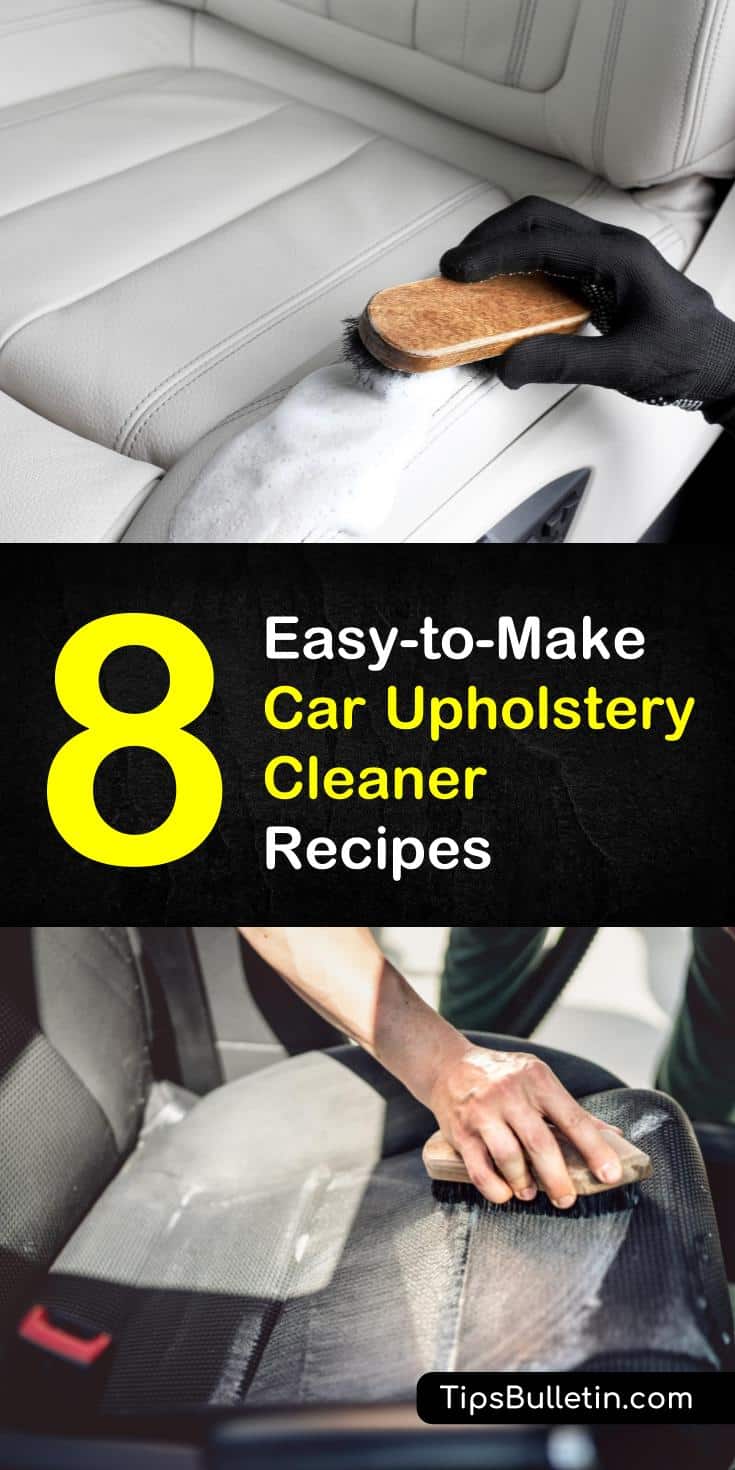 I hope you enjoyed reading about how to properly clean and maintain the interior of your car and learning about how to make a homemade car upholstery cleaner. If you found this information useful, please share this article with everyone you know on Pinterest and Facebook.