If you're bored of the same old plants and are looking for something with a bit more drama, look no further. Carnivorous plants are both fascinating and weird-looking and are sure to add a touch of flair to your home.
There are many different types of carnivorous plants with unique qualities that are easy to grow under the right conditions. Carnivorous or insectivorous plants are native to poor nutrient habitats, such as bogs, and grow in almost every continent, including North America and South America.
They thrive in wet, open, and sunny areas where other plants struggle and are adapted to poor conditions by acquiring a bizarre eating habit. These types of exotic plants are fun to grow and are a great addition to your home if you have an insect problem.
Flies, gnats, and other flying pests are a nuisance, especially if they get trapped inside your house. Carnivorous plants take care of the problem and are more attractive than hanging sticky fly traps around the house.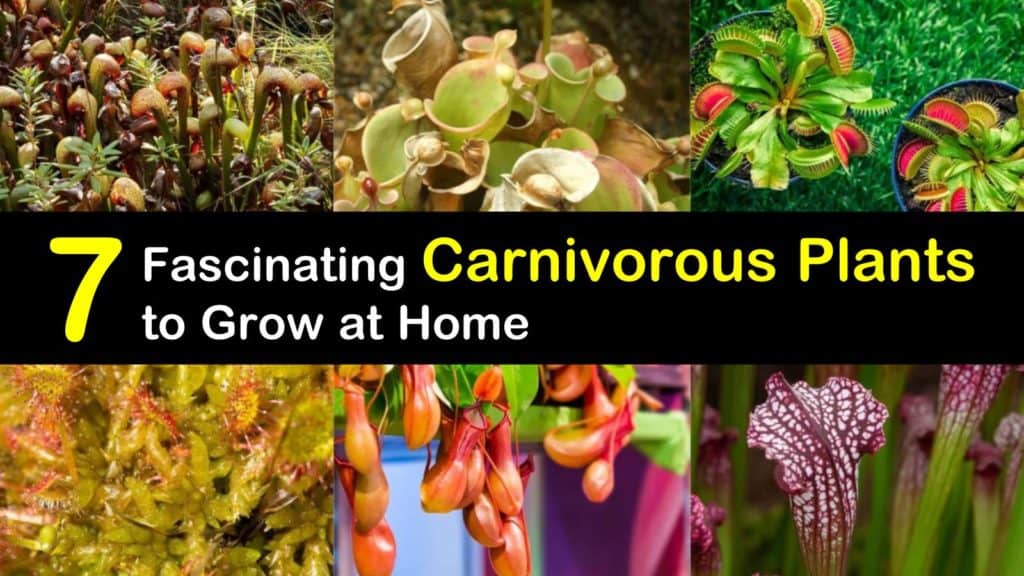 Grow Some Interesting Flesh-Eating Plants
Carnivorous plants are easy to grow, but there are a few things to understand before growing them. There are a few different types of these plants to choose from, and they require a slightly different maintenance plan than a traditional houseplant.
What are Carnivorous Plants?
Carnivorous plants are exactly what the name implies. Plant carnivory is a life adaptation or evolution that plants need to survive in poor nutrient environments.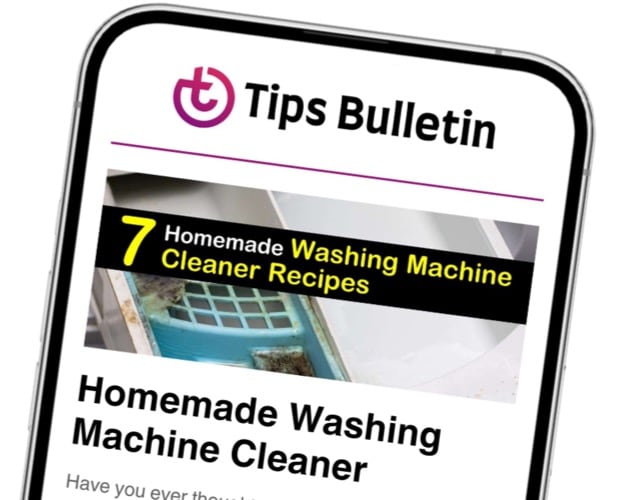 Finally, an email that Transforms Your Home.
Get the latest home and garden tips from our experts, delivered straight to your inbox.
Unlike traditional plants that get their nutrients from the soil, plants such as Bladderworts (Utricularia), and the Waterwheel plant (Aldrovanda vesiculosa) have a diet that consists of insects, crustaceans, spiders, and other water-living and soil protozoans and invertebrates.
How do Carnivorous and Insectivorous Plants Work?
These plants use traps to capture animal organisms and kill flies outside with specialized leaves and tentacles to entice, lure, and trap unsuspecting insects.
Once the insect is trapped, the plant uses glands to secrete digestive enzymes and acids to dissolve compounds and proteins. The plants then absorb the life-giving nutrients from the prey.
Are there Different Types of Carnivorous Plants?
There are various groups of these plants, and each plant has its own style of luring and trapping prey. Pitfall traps such as the Australian Pitcherplant (Cephalotus follicularis) and Brocchinia reducta have a simple bucket-like receptacle that contains digestive fluid.
The insects fall in and are trapped while the plant extracts nutrients. Snap traps, like the Venus flytrap, have a leaf blade that resembles a leg trap rimmed with fine trigger hairs and trapping teeth.
If an insect touches the hairs more than once, the trap quickly closes, and digestion begins. Sticky flypaper traps, such as rainbow plants (Byblis), have colorful foliage lined with a gluey fluid resembling honeydew and use that stickiness to get rid of bugs naturally.
Bladder traps, like the bladderwort plant, have small bladder-like organs throughout the root system that catch tiny invertebrates. Corkscrew traps, such as Genlisea, evolved from bladder plants by adding a corkscrew trapping mechanism.
Are these Plants Hard to Maintain?
Many types of plants, such as tropical pitcher plants and the Albany pitcher plant (Cephalotus) are easy plants to grow, and since they are carnivorous, they do not require standard plant food to thrive.
When growing these plants, the main ingredients required are a damp or wet environment, mineral-free soil, and lots of light. Add some outside on your patio, not as a natural repellent for flies, but to draw them in as food for these attractive and unusual plants.
American Pitcher Plants (Sarracenia)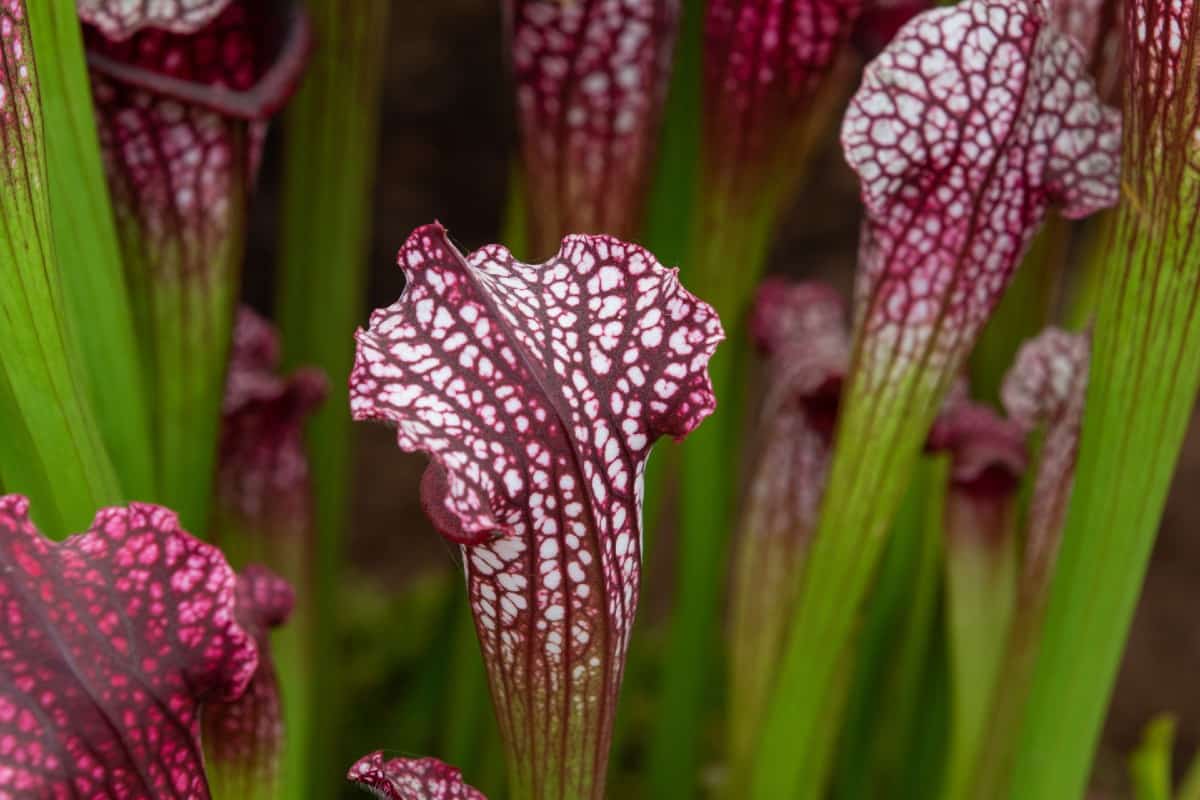 American pitcher plants have vibrant colors in shades of purple, red, yellow, and green. These plants are pitfall traps that grow 6 to 8 inches long. They thrive well outdoors in a pot or inside on a sunny windowsill, and require medium humidity and moist, wet soil.
If you find a centipede in the house, bring it outside to your pitcher plant and use its carnivorous nature as one of the natural ways to kill centipedes that travel where they aren't supposed to.
Monkey Cups (Nepenthes) – Carnivorous Plants with a Pitfall Trap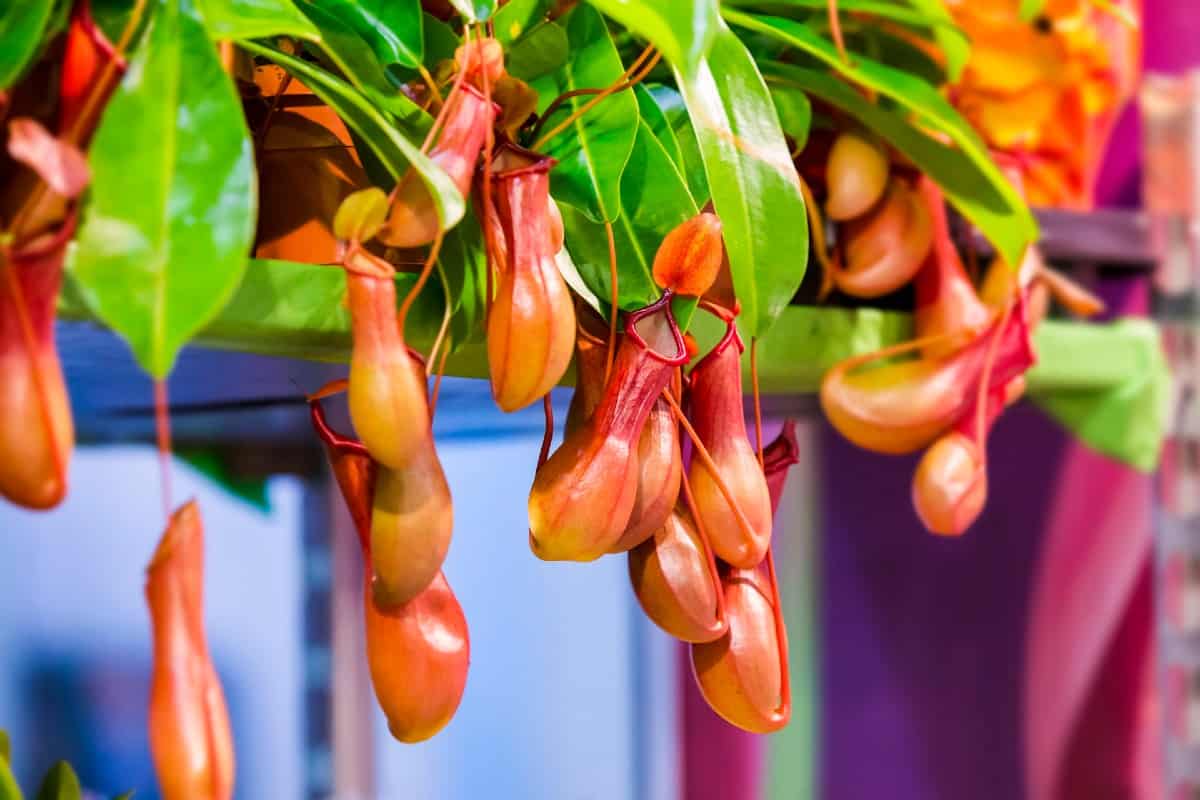 This Asian pitcher plant traps its prey with a colorful pitfall trap that grows in shades of red, purple, and green.
They require direct sunlight and damp soil to thrive. Set potted monkey cups in front of a sunny window or on the patio and watch as the insects disappear. This plant is one of the best remedies for gnats in the house or on the front porch.
Sundews (Drosera)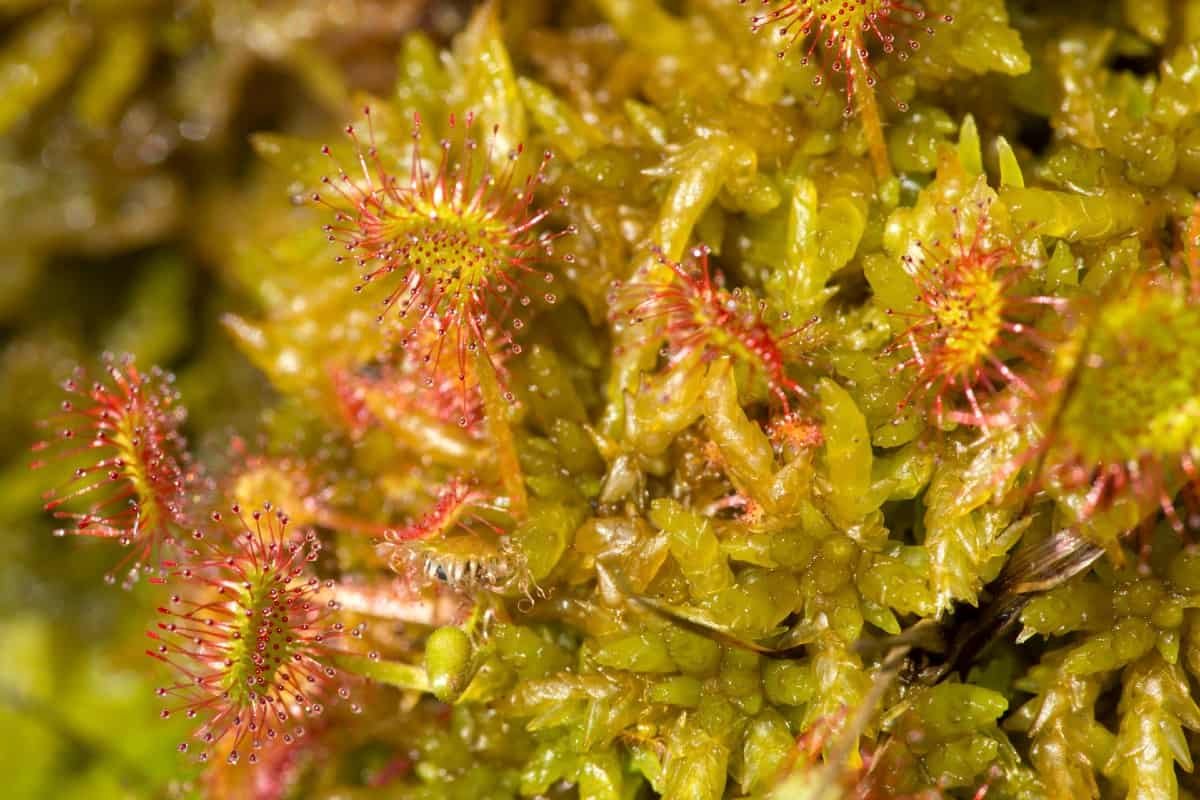 Sundews are a flypaper trapping plant that attracts insects with colorful hairs covered in sticky dew. There are many varieties of sundew, with some that are heat tolerant and others cold-hardy. They range from penny-sized to bush-sized.
Butterworts (Pinguicula) – Plant with a Flypaper Trap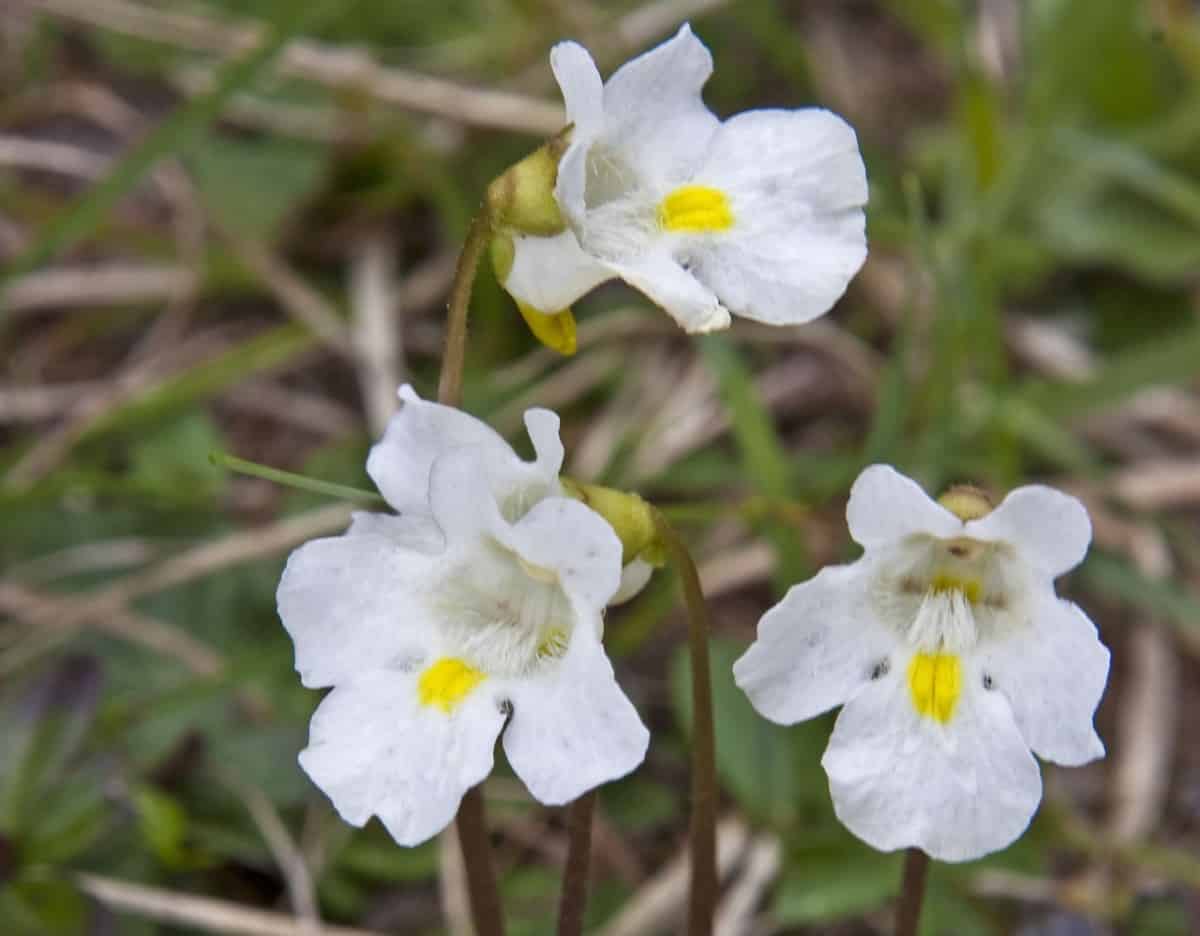 The bright yellow/green leaves of the butterwort plant are star-shaped, appear flat to the ground, and produce upright flower stalks of purple or white flowers. They exude a sticky fluid that draws insects in before trapping them in slowly curling leaves.
Sun Pitcher Plant (Heliamphora)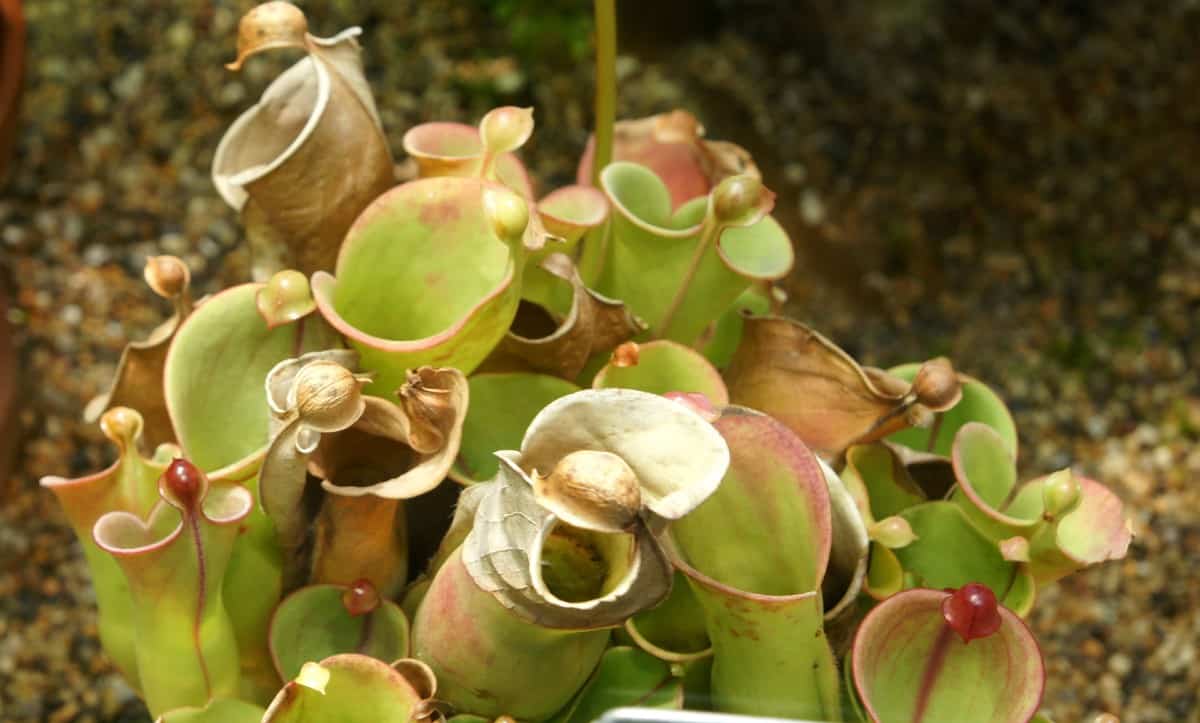 This exotic pitcher plant is native to South America. It is a pitfall trap with a streamlined appearance in solid hues of dark purple, green, and red. It produces beautiful white/pink flowers and thick, squat pitchers with a nectar spoon above the opening.
Cobra Lilies (Darlingtonia californica) – Pitcher Plant that Resembles a Cobra Snake
Darlingtonia californica is native to Northern California and Oregon and is a pitfall trap that resembles a hooded snake.
The curved head of the pitcher opens downward, with a forked leaf at the mouth. It has green, yellow, and red coloration and produces flower buds at the base.
Venus Flytrap (Dionaea muscipula)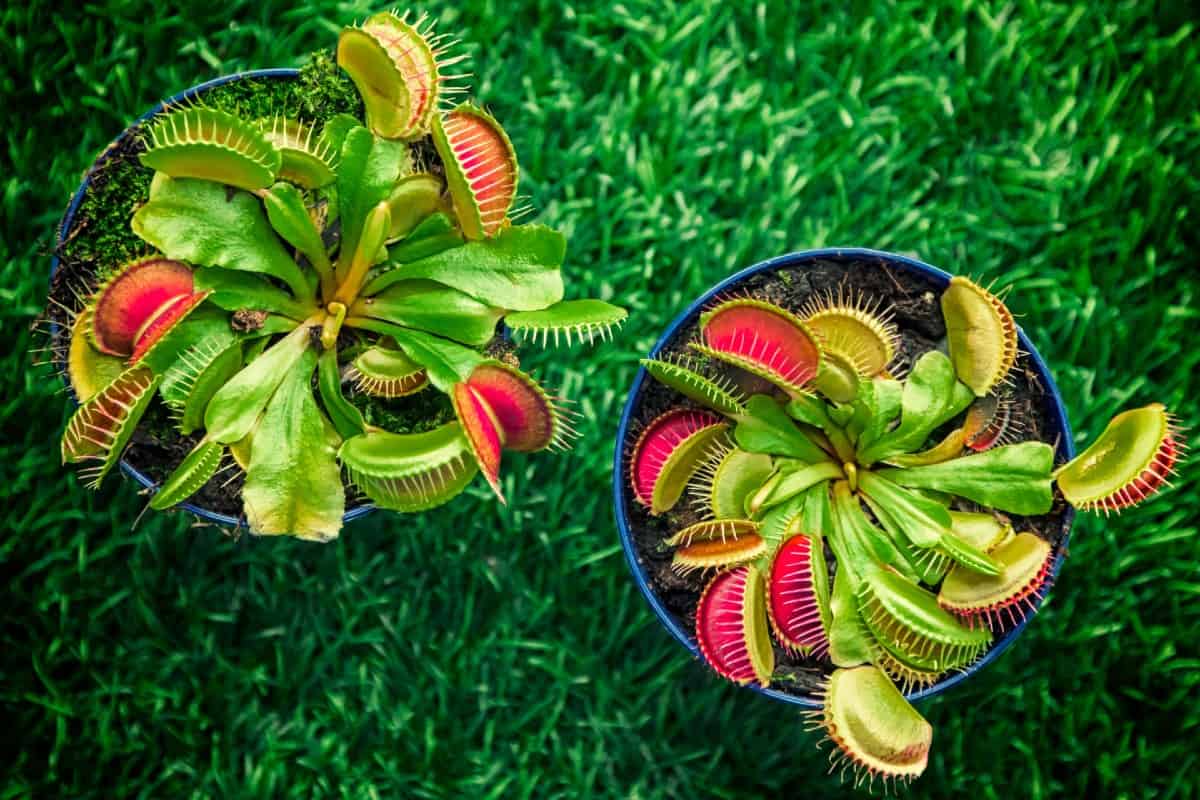 Dionaea muscipula is a popular plant that grows naturally in North and South Carolina. It is a snap trap with a slow digestive system and a limited number of lives. The traps grow to roughly 5 inches in diameter and 1 inch tall, with leaf edges lined with teeth.
There is an interesting variety of carnivorous plants to choose from, and many of them grow naturally throughout the United-States. These plants are intriguing and exotic with their unique appearance, and their strange growing habits and appetite keep annoying insects at bay.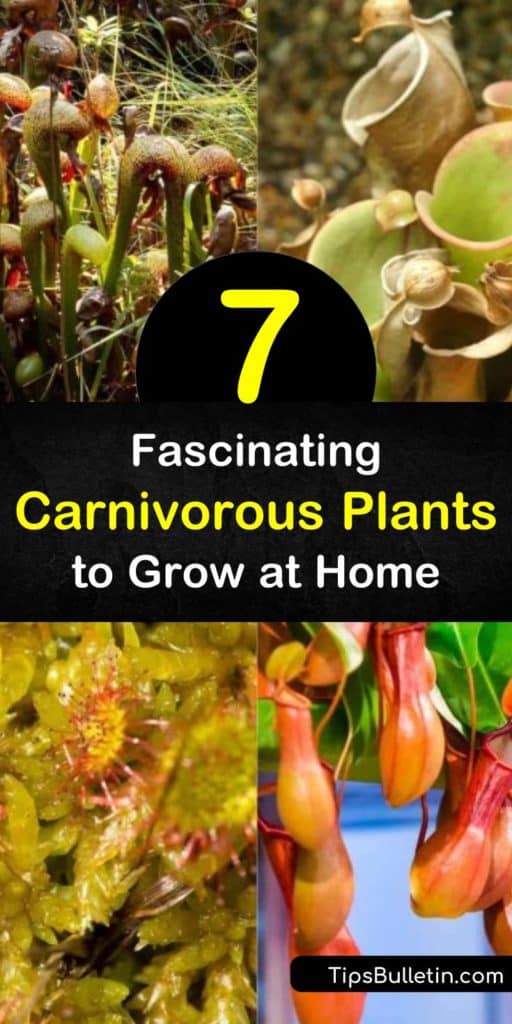 Not only are carnivorous plants easy to grow, but they are fascinating to watch as they do what they do naturally, so why not share our insect-eating plant guide with your friends and family on Pinterest and Facebook?