Cauliflower is a cool-season vegetable that produces a central head of tightly packed flower buds, similar to broccoli. The plants are sometimes a bit challenging to grow because of their particular environmental needs and susceptibility to a few common pest and disease issues. In this article, discover practical ways to treat and prevent cauliflower disease and pest attacks.
Taking a few preventative measures against the potential spread of plant diseases in your garden goes a long way to set yourself up for success when planting cauliflower. Always sterilize your garden tools between uses, and ensure that your hands, gloves, and footwear are also clean when working with your plants.
Leave ample space between plants to facilitate air circulation. Many bacterial and fungal pathogens thrive in warm, moist conditions. It's helpful to keep the leaves dry when watering by using a soaker hose or drip irrigation. Read on to learn more straightforward ways to keep your cauliflower problems to a minimum this growing season.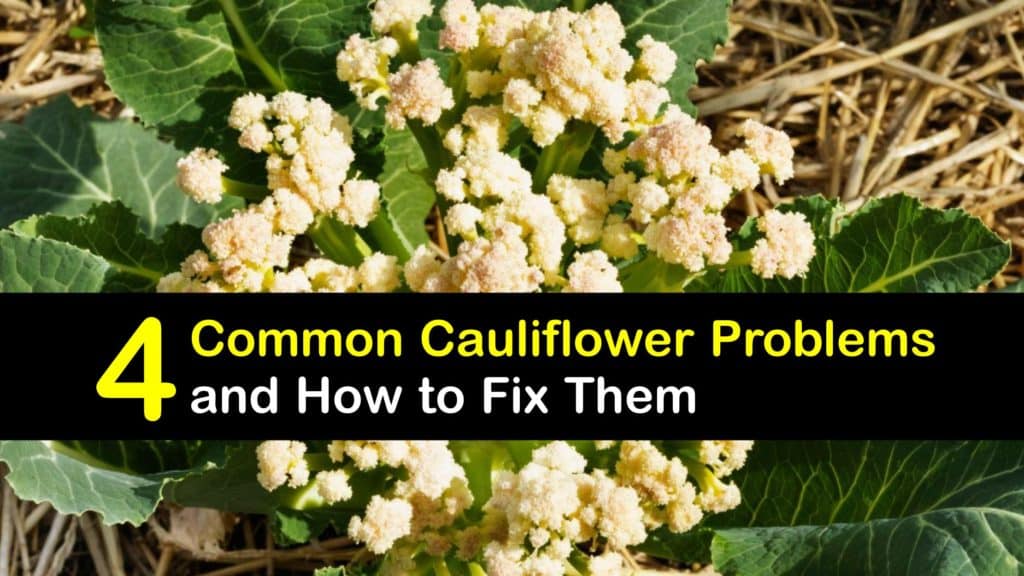 Solutions for Frequent Cauliflower Problems
Cauliflower, or Brassica oleracea var botrytis by its botanical name, belongs to the Brassicaceae or cabbage family of plants. It's closely related to broccoli, Brussels sprouts, cabbage, kale, kohlrabi, turnip, radish, and rutabaga.
Collectively, Brassica plants are referred to as cruciferous vegetables or crucifers. The name refers to their flowers, which have four petals in the shape of a cross.
Healthy plants are considerably more resilient against insect damage and bacterial or fungal infections. It is also best to preserve fresh cauliflower that does not have evidence of pests or disease.
The most effective defense against attacks from cauliflower bugs and diseases is providing them with appropriate amounts of light, nutrients, and water.
Cauliflower requires cool temperatures between 50-70℉. Heat stress usually induces buttoning, where the plant develops small button-sized heads instead of a singular floret. Most growers plant cauliflower in the spring and fall so they can go through the proper cauliflower growing stages when the weather is not too hot.
Water is another critical factor for growing cauliflower. The plants flourish when grown in nutrient-rich soil that's well-draining, but also consistently moist.
Give them around two inches of water per week or more during hot or dry periods. Avoid overwatering or letting the plants dry out too much.
Cauliflower plants require regular feeding with organic fertilizer throughout the growing season to produce a satisfactory crop.
Use a balanced, all-purpose fertilizer every four to six weeks according to the instructions printed on the product's label. It's also helpful to enrich your soil with organic compost or well-rotted manure.
Bacterial Cauliflower Disease
Determining which pathogen is causing problems for your cauliflower plant is sometimes challenging, as the symptoms are often similar for various conditions.
Bacterial soft rot, black leg (Gangraena emphysematosa), and black rot (Xanthomonas campestris) are bacterial infections that regularly occur in wet weather conditions.
Bacterial soft rot creates water-soaked lesions that are tan, white, or translucent and surrounded by a dark ring.
Black leg appears as a blackened, slimy decay around the stem's base. Plants affected by black rot develop blackening leaf veins along the midrib, followed by soggy, light-colored patches.
Unfortunately, no effective remedies exist for these conditions. If possible, purchase certified disease-free seeds and plants. Otherwise, pre-treat seeds with hot water to kill bacteria before planting.
Be sure there's enough space between plants for adequate air circulation and that your garden soil drains well. Practice crop rotation with rot-resistant crops like beans, beets, or corn.
Use caution not to damage plants during garden maintenance tasks like weeding and harvesting. Harmful bacteria most often enter the plant tissue through leaf or stem wounds.
Fungal Cauliflower Diseases
Fungal infections may spread to your garden via crop debris, nearby weeds, splashing water, or wind. Another common source is transplanting infected seedlings.
Alternaria leaf spot begins with dark-colored lesions on the cauliflower plant's lower leaves. Eventually, entire leaves turn yellow and fall off.
Although Alternaria leaf spot primarily affects foliage, sometimes the cauliflower head or curd also shows signs of damage. Treat with an organic copper fungicide.
Clubroot, caused by the soil-borne fungus Plasmodiophora brassicae, primarily affects cole crops in the Brassica family.
Affected plant roots become swollen and distorted. They cannot properly absorb water and nutrients, causing the plants to grow weak and stunted.
Damping off is a result of the soil fungi Pythium and Rhizoctonia. It primarily affects seeds and seedlings, which rot and die within a few days. Sterilize seeds with hot water before planting and avoid overwatering or overcrowding.
Downy mildew and powdery mildew spread via windblown spores and affect both seedlings and mature plants. The first symptom is usually yellowing spots on the leaves that eventually turn brown and develop fuzzy-looking mold.
Downy mildew spores typically develop on the bottom of the leaf. In contrast, powdery mildew spreads over the leaf and stem surfaces. Treat with an organic copper or sulfur fungicide.
Sclerotinia sclerotiorum is a soil-borne fungal pathogen. It generates plant diseases like blossom blight, crown rot, watery soft rot, and white mold.
It attacks numerous different plant varieties. The first signs are pale gray, brown, or black spots on the stem near the soil line. These get covered by fuzzy white mold.
Once infected, the plant leaves quickly begin wilting, yellowing, and dropping off. Any fruit or flowers present also drop, and the plant soon dies. Treat with an organic copper or sulfur fungicide as soon as you notice symptoms.
Prevalent Cauliflower Bugs
Some of the most common cauliflower bugs include cauliflower and broccoli aphids, flea beetles, cabbage loopers, cabbage worms, and thrips. These insects feed on the plants' foliage and central head or curd, damaging the crop.
When transplanting nursery-grown seedlings, carefully inspect the plants to avoid accidentally bringing home unwanted pests.
Protect tender young plants with floating row covers to keep insects from laying their eggs on them in the springtime.
At the first signs of an infestation, thoroughly spray all parts of the affected plants with an organic pesticide like insecticidal soap or neem oil. It's easy to make a neem oil spray for plants, whether for cauliflower or your roses.
Refrain from using harsh chemicals in your veggie garden whenever possible. This DIY insecticidal soap kills most types of soft-bodied insect pests.
Combine the ingredients in a clean spray bottle and shake vigorously to blend. Add 15-20 drops of insecticidal essential oil like citronella, eucalyptus, peppermint, or tea tree if desired.
Nutrient Deficiency in Cauliflower Plants
Cauliflower plants tend to be heavy feeders and benefit from regular applications of organic fertilizer throughout the growing season. Without sufficient nutrients, plants become stunted and don't produce a satisfactory crop.
There are three primary macronutrients present in plant fertilizer: nitrogen (N), phosphorus (P), and potassium (K).
Nitrogen enhances leaf growth, phosphorus advances flowering and fruiting processes, and potassium promotes healthy root systems.
Nitrogen deficiency is another cause of cauliflower plants buttoning instead of forming one central head. However, too much nitrogen leads to the premature development of flower buds, resulting in a loose head with a granular texture.
Cole crops are also heavy boron users. Boron is an essential micronutrient that plays a key role in critical plant processes like cell wall formation, movement of sugars throughout the plant, pollination, and seed set.
Boron deficiency results in a hollow stem and a brown, bitter-tasting cauliflower head. Worm castings are an excellent source of boron as well as other micronutrients like calcium, iron, sulfur, and zinc.
Cauliflower has earned a reputation for being rather tricky to grow. However, by taking a few preemptive actions, you'll be able to ward off some of the most frequent cauliflower problems.
Prevent common diseases by ensuring sufficient air circulation and drainage. Keep your veggie garden free from weeds, and clean up crop debris at the end of the growing season.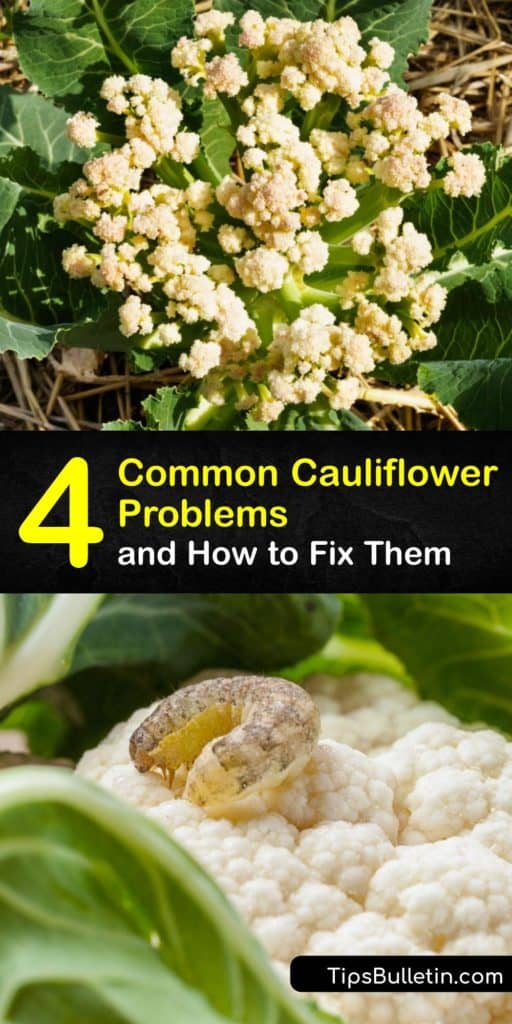 If you found these plant care tips helpful, please share this article about cauliflower disease and pest solutions with your fellow gardeners on Facebook and Pinterest.