It's easy to see why people think cherry and grape tomatoes are the same, considering both types are small, sweet, and delicious. However, growers are quick to point out that there are differences between the two fruits. We discuss the flavor, appearance, and nutritional values of cherry vs grape tomatoes and how to store and use them in recipes.
There are so many types of heirloom and hybrid tomatoes in various sizes and colors. Regular tomatoes, such as large beefsteak tomatoes, are great for slicing on a sandwich or hamburger, while Roma and plum tomatoes are ideal for making sauce.
What about grape tomatoes and cherry tomatoes? These small tomato varieties are perfect for snacking straight from the garden, and the sweetness of the pulp bursts in your mouth with every bite.
They are also the perfect size for sliding on skewers to make kebabs and adding to salads, but are grape and cherry tomatoes the same thing?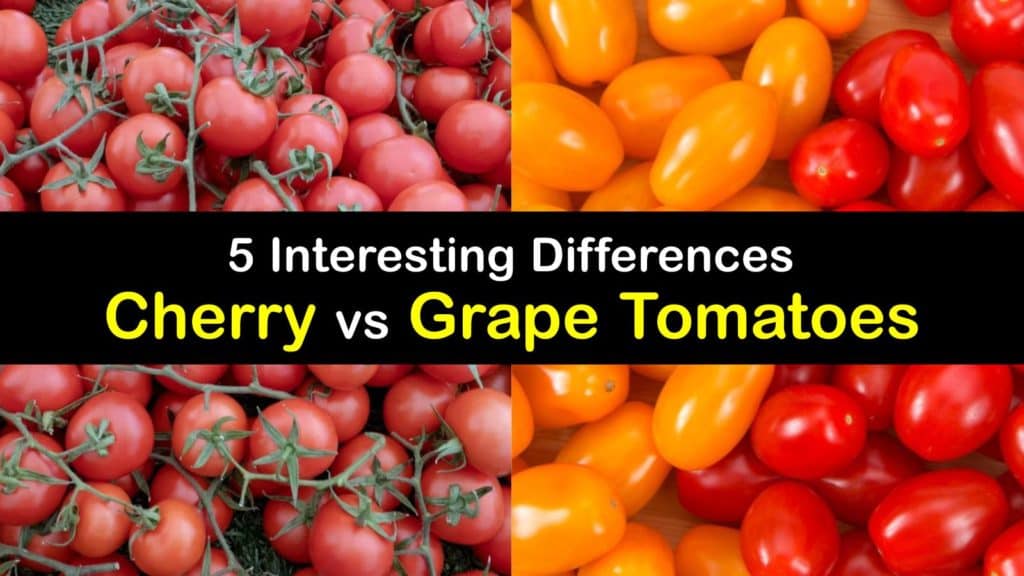 The Similarities and Differences of Cherry and Grape Tomatoes
There are so many tomato varieties at the grocery store, and it's often confusing which ones to pick. Learn how cherry and grape tomatoes differ, why they are healthy for you, and ways to keep them fresh for your favorite recipe.
Note that you can grow an indoor cherry tomato plant just as easily as a grape tomato plant. They have similar needs and you will have tasty fruits almost on demand. If you grow them in the garden, it's important to learn how far apart to plant cherry tomatoes to keep them from spreading diseases and allow the plants room to expand.
Growing beefsteak tomato seedlings is the same as those for grape and cherry tomatoes but the results are much larger.
Difference Between Grape and Cherry Tomatoes
While browsing the produce section of your grocery store, you notice several varieties of small tomatoes and wonder what the distinction is between them. Here is the difference between grape and cherry tomatoes, their flavor, and their appearance.
While a popular New York City Distilled partner and chef prefer cherry tomatoes over grape since they have a nuanced flavor and texture, it all comes down to personal preference.
The first thing you'll notice when comparing a cherry to a grape tomato is the shape. Grape tomatoes have an oblong shape, while cherry tomatoes are round.
In addition, the grape varieties are usually red, and they have thick skin and meaty flesh. In contrast, cherry tomatoes have thinner skin, juicier flesh, and grow in red to yellow and orange shades, such as the Sungold variety.
Cherry tomatoes are quite sweet with an almost candy-like flavor. They are incredibly juicy, and popping one straight into your mouth rewards you with a crisp rush of tomato deliciousness. This usually applies to the best heirloom cherry tomatoes as well as hybrid varieties.
Grape tomatoes have a rich, mildly sweet flavor with the perfect sugar-to-acid balance. Their meaty crunchiness is similar to that of a traditional garden tomato.
Are Grape Tomatoes a Substitute for Cherry Tomatoes?
Are grape tomatoes a good substitute for cherry tomatoes and vice versa? These tomatoes are interchangeable in recipes, although they have some differences in firmness and juiciness.
Tomato Substitute
Both tomatoes are great replacements for each other, but it's important to keep in mind that grape tomatoes are smaller and meatier, with a thicker skin than cherry tomatoes. Grape varieties are a better choice for cooking.
Nutritional Value of Cherry vs Grape Tomatoes
Are grape tomatoes the same as cherry tomatoes when it comes to nutrition? They do contain similar nutrients, and you get nearly the same health benefits from both. Learn about the nutritional value of these delicious tomatoes.
When you pick cherry tomatoes or grape tomatoes from the vine or the store, you'll find that both types of tomatoes are rich in lycopene, a cancer-fighting compound that helps with blood clotting and inflammation.
In addition, they contain high levels of vitamin A and vitamin C that help build a strong immune system and heart while promoting healthy skin and good vision. These tomatoes also contain potassium and phosphorus for bone health and electrolyte balance.
Ways to Use Grape and Cherry Tomatoes in Recipes
While the difference between grape and cherry tomatoes is not significant, one is better for certain recipes than the other due to their skins and pulp. Here are some examples of our favorite recipes for cherry and grape tomatoes.
Recipes vary when it comes to cherry and grape tomatoes vs regular tomatoes due to the size difference. Both cherry and grape tomatoes are bite-size, making them ideal for adding to a salad of lettuce, cucumbers, and other veggies.
The thick skin, oblong shape, and low water content of grape tomatoes make them a good choice for making kebabs, adding to a pizza, or tossing into a stir fry.
The thin skins and juiciness of cherry tomatoes are tasty in a cold pasta salad, bruschetta, and watermelon salad.
What's the Best Way to Store Cherry and Grape Tomatoes?
A grape tomato is an excellent substitute for cherry tomatoes, but do they both store the same?
Yes, tomato storage is the same whether they are slicing tomatoes, Romas, cherry, or grape tomatoes. Here is how to keep your tomatoes fresh and how to pickle them for longer storage. Growing green cherry tomatoes or grape tomatoes adds a little extra zing to this recipe.
If you plan on eating your tomatoes soon, it's best to keep them at room temperature for optimal flavor. Keep them in a bowl or container and set them in a dark area of the kitchen.
However, it's safe to keep them in the fridge if you can't eat them fast enough. To give your tomatoes a longer shelf life, consider pickling them.
To pickle your tomatoes, start by piercing them once or twice with a toothpick and pack them into the large Mason jar or container. Add the red pepper, dill, garlic, and mustard seeds to the jar and set it to the side.
Pour the cider vinegar, water, sugar, and salt into a medium saucepan, bring it to a boil, and simmer the liquid while stirring it to dissolve the sugar and salt.
Take it off the heat and bring it to room temperature before pouring the cool brine over the top of the vegetables. Put the lid in place and store the pickled tomatoes in the fridge for up to a month.
Both cherry and grape tomatoes are the perfect treat for adding to your diet, whether you purchase yours from the grocery store or grow them in the garden. They are sweet and succulent, taste great raw or cooked, and provide many health benefits.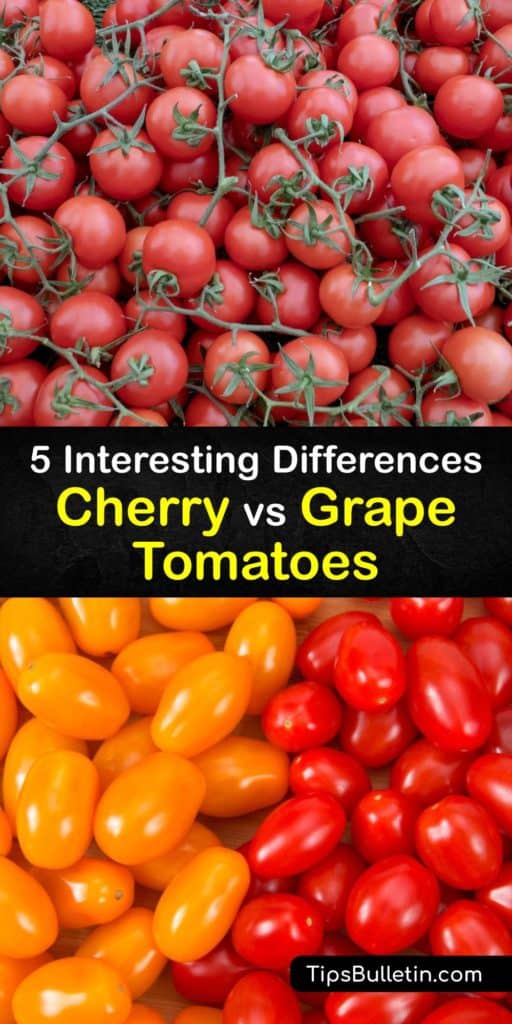 Now that you know the facts surrounding cherry vs grape tomatoes and how they are different yet similar, why not share our grape and cherry tomato guide with the tomato-lovers in your life on Pinterest and Facebook?