Cracking open your favorite cookbook and browsing through the recipes usually requires at least some basic understanding of cooking and food. Many recipes throw around words like chives, spring onions, scallions, and green onions, and for plants that all look and taste so similar, it's hard to know which is which. Comparing chives vs green onions may lead to some surprising results.
Are chives and green onions the same? Just because these two plants are similar doesn't mean they are even remotely the same.
To put it simply, the main difference between green onions and chives is that one is an herb and the other is a vegetable. With that said, there are a few other differences that you should know about.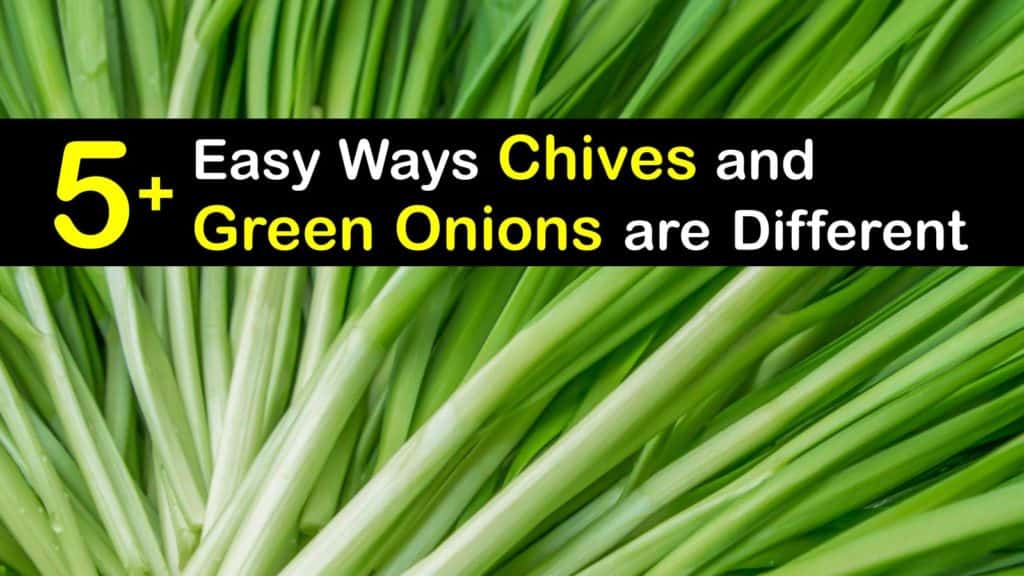 Are Chives and Green Onions the Same?
If you want to know the real distinctions between the two, stick around to learn the characteristics of each of these plants and how you should use both in your cooking.
The biggest difference between green onions and chives is that one is a vegetable and the other is an herb. Before we jump into comparing chives vs. green onions, let's take a moment to understand how these two types of plants differ.
A vegetable is a plant, including the leaves, stems, and roots, that people eat and use. They are unlike fruits, where only the seed-bearing part of the plant is used for food.
What are herbs? Herb plants have flowers, seeds, or leaves used to add flavor to food. Herbs are also used for medicinal and aromatic purposes.
Since both plants are for eating, why is it important to know how chives vs green onions compare to one another?
Onions like scallions vs green onions are most often used during the cooking process. Technically you could use chives for cooking, but they are delicate, and most people like to eat them raw for a subtle flavor addition instead of mixing them into the entire meal.
Planting green onion seeds indoors or outside is just as easy as growing chives. You can also plant garlic seeds or bulbs the same way. They are a great addition to any garden.
The Main Differences between Chives vs Green Onions
If you're at the farmer's market and stuck contemplating which one to bring home, there are a few more differences you should know. Browse this list to make an informed decision about chives vs scallions or green onions and which is the right choice for you.
What are Green Onions?
You might already know that regular onions are in the Allium cepa onion family. Compare shallots to onions and leeks. These onions have a stronger flavor compared to green onions, called Allium fistulosum.
Green onions also known as spring onions or scallions, are bunching onions or young onions that haven't fully developed their bulb. When growing green onions indoors or outside, green stems shoot up from the young bulb or the white part on the end of the plant with white roots sticking out.
Green onions still have the oniony flavor we love. They are popular in Asian cuisine and make a good substitute for chives. To grow your own, learn how far apart to plant green onions for the healthiest crop. Growing green onions from seed or regrowing them from scraps is easy.
What are Chives?
Chives, or Allium schoenoprasum, are a different species but still closely related to regular onions. These plants have tubular green leaves with pretty purple flowers that bloom on the green tops in the summer.
Basic chives have a milder flavor than spring onions. They are primarily added for flavoring as a garnish.
Sites like EatingWell and Food Network recommend sprinkling fresh chives over a stir-fry, omelets, baked potatoes, and mashed potatoes with sour cream. For more interesting flavors, switch up the variety of the chives and use garlic chives instead.
The Nutritional Difference between Green Onions and Chives
You might consider the differences in nutrition on your next trip to the grocery store if you're trying to add more vitamins and minerals into your diet. Although similar in calories, the most significant difference in nutrition is in vitamins.
Green onions give your body over 260 percent of your daily value of vitamin K. This is only slightly higher than chives.
Chives provide 250 percent of your daily value of vitamin K, but they have higher folate and vitamin B levels. No matter which one you go with, both plants are an excellent addition to your pantry.
Uses of Chives and Green Onions
Chives and green onions have unique purposes in the kitchen. Green onions are great for adding flavor and bulk to a dish.
They get their best taste after being sauteed in a little bit of oil. They are nice as a garnish but even better when cooked with other ingredients.
Use chives to add flavor to a meal without the bulkiness of extra food. They are almost always used as a garnish. If you plan to cook with them, only add them to the pan at the last minute, or they become overcooked, and their flavor disappears.
To get the full experience of chives, celebrate the Lunar New Year and make some delicious pork and chive dumplings.
Add the oil, ginger, and garlic to a hot skillet and cook them over medium heat until they start to sizzle. Stir in the soy sauce and chives and cook them for about two minutes until they are aromatic.
Remove the frying pan from the heat to cool for a few minutes before stirring the mixture into the ground pork.
Place your wonton wrappers on the counter and fill them with two teaspoons of pork filling. Dab your finger in some fresh water and rub the edges of the wrappers.
Fold the dough in half and press the edges together to seal them. Make pleats in the dough, or use a fork to indent and further seal the edges.
To cook the dumplings, bring some water to a rolling boil and work in batches to drop in the fresh dumplings and let them cook until they start to float. Drain the dumplings or dry them on paper towels before serving.
Buying Chives and Green Onions
Aside from the flavor, you may be curious to know how chives vs green onions compare when you buy them at the grocery store.
Darker leaves of green onions indicate that the plant is older. Look for the lightest green leaves unless you prefer tougher and more pungent onions.
Chives are similar to green onions. Fresh greens are light or medium colored and are crisp and free from marks or discolorations.
Of course, you can grow shallots, green onions, and chives at home, too. They are quite easy to plant and care for and you will have a zesty plant whenever you want it.
Storing Chives and Green Onions
Since they are similar, do chives and green onions have the same storage methods?
Whether you are growing scallions in pots or chives outside, know that both chives and green onions are safe to store in the fridge, but the green onions might last a day or two longer.
Wrap both plants in a moist paper towel and then set them in an unsealed Ziploc bag in your crisper drawer.
The biggest storage difference is that green onions are easy to regrow. Fill a small glass with a few inches of cold water and drop the root of the green onions in the water.
Set the glass in a sunny windowsill and clip off the green tops whenever you're ready to use them in a side dish.
Knowing the difference between green onions and chives is sometimes confusing. They have similar looks and tastes, but there are more differences than similarities when you break it down.
At the end of the day, both plants are used to flavor our favorite meals, and we should eat them regardless of how they differ.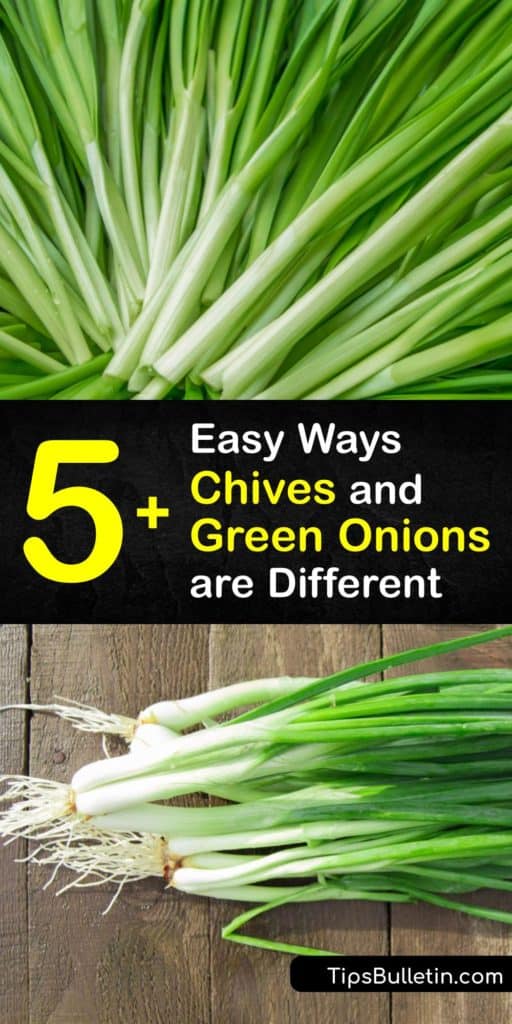 If learning the comparison of chives vs green onions has helped you make more informed decisions at the grocery store, share this list of differences between chives and green onions on Facebook and Pinterest.