Oven cleaning is one of the household chores that may make you want to say, "But, do I have to?" While you may want to reach for a commercial cleaner for cleaning ease and power, those products have harsh chemicals that can be harmful to the environment. Believe it or not, you can clean an oven with vinegar steam.
Using vinegar as an oven cleaner and a little bit of elbow grease will take care of all that build-up grime on the inside of the oven, including the oven door, oven racks, bottom of the oven, and the heating element.
It can even be used safely on stainless steel. Here are our favorite cleaning tips for cleaning those dried food splatters using vinegar.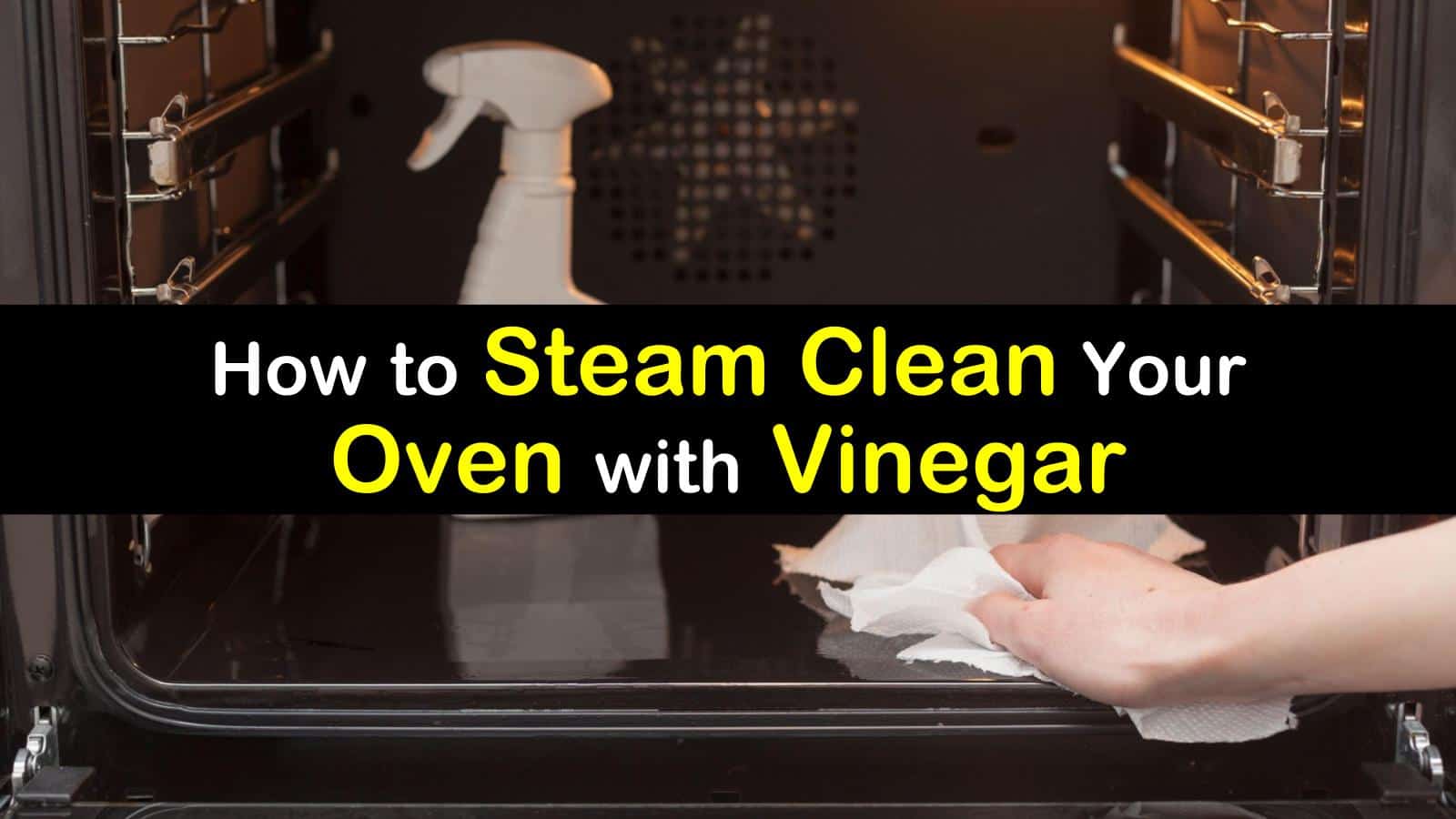 Clean an Oven with Vinegar Steam
White vinegar is one of our favorite kitchen items. The versatility of this liquid is almost mind-blowing. If you don't have vinegar in your kitchen, we recommend that you get it as soon as you can.
It may surprise you when you learn what you can do with it! You can even clean your oven with it. We'll show you how to clean an oven with vinegar and water in a few simple steps.
We'll also show you how to steam clean your oven with white vinigar. Just like you can clean a couch with a steam cleaner to eliminate stubborn stains, steaming is an excellent way to loosen dried gunk and stubborn stains from the inside of a dirty oven.
However, in the case of the oven, no fancy equipment is required. The oven steaming process eliminates the need for back-breaking scrubbing while breathing in harsh chemicals.
While there is not really a quick way to clean an oven, our recipes include solutions where you mix up a concoction and let it sit for a while to release its cleaning powers. The only time you spend cleaning is applying the cleaner and removing food residue.
How to Steam Clean Your Oven with Vinegar
Although this process is a bit lengthy, it will get the job done without having to work harder than you have to. It uses the efficiency of hot steam and vinegar to do the hard work for you.
Unfortunately, there is a price for having the muscle taken out of the job, and that is time. You'll want to make sure that you set enough time aside when you clean an oven using this method.
To clean your oven with baking soda and vinegar, first remove the grates from the oven. Fill a large tub (or use the bathtub) with hot water. Add a natural, all-purpose cleaner or dish soap and soak the grates in the soapy water for as long as you can.
Mix the baking soda and lemon juice into a paste, and use a scouring pad to scrub away the food residue. Rinse the grates thoroughly and set aside to dry.
Use a spatula to break up crusty food on the bottom of the oven and any that has spattered onto the sides and top. Vacuum out any loose food debris from inside the oven and replace one of the grates in the bottom rack. Place the baking dish on the rack and fill it with the vinegar and some warm water.
Close the oven door and heat the oven to 350°F. Once the liquid begins to boil and steam, turn off the oven. Leave the door closed for approximately half an hour.
Once the oven has cooled enough to clean without burning yourself, remove the pan. Use a scrubber to remove the loosened dirt and grime. Wipe down any leftover residue with a damp cloth. You can now replace the grates in the clean oven.
If you have stained baking pans, add them to the oven to take advantage of the vinegar steam. This is a great way to clean cookie sheets that have accumulated grease and burn marks from frequent use.
While you can't use this solution to steam clean the stove top, you can use it as a way to clean an electric coil stove top by adding the ingredients to a spray bottle. Spritz the cleaner on the stove, let it sit for a few minutes and wipe clean.
How to Clean an Oven with Vinegar and Water
Many oven cleaning products contain corrosive ingredients that can cause eye, skin, and nasal irritation. These side effects are unnecessary when other natural cleaning solutions work just as well.
Even heavy duty oven cleaning can be done with the right know-how. The following method can also be used when cleaning oven racks with vinegar.
Remove the oven racks from the oven and set aside. Fill the spray bottle with vinegar and spray the entire inside of the oven, including the top and sides. Sprinkle a layer of baking soda onto the wet surfaces.
Place the oven racks into a tub and follow the same procedure as the inside of the oven for cleaning. Allow the oven and racks to sit for three hours. After the oven and racks have set, respray the surface with the vinegar.
This homemade oven cleaning solution will create a bubbling, and fizzing action as the baking soda and vinegar begin to do their job of loosening dirt and grime. Using a damp sponge, wipe down all of the oven surfaces, being sure to remove leftover residue and rinsing the sponge as you wipe.
Stubborn stains may require a repeat application. You can use an oven glass cleaner to remove any stains from the oven door window.
How to Clean an Oven Naturally
Here we have a natural method that can be used for cleaning a dirty oven. This method uses the acidity of vinegar and lemon juice in combination with the alkalinity of baking soda to dissolve those burnt food areas.
The only downfall is that it has to sit for several hours, so you will want to plan ahead of time if you need to use the oven for cooking. Better yet, how about taking advantage of the situation and treat yourself to dinner out?
To make this simple vinegar and Dawn based oven cleaner recipe, put the baking soda, dish soap, and lemon juice into the small bowl and slowly add the vinegar. Blend until it forms a paste. Slather the mixture onto all areas of the inside of the oven.
You may want to wear gloves for that step, as it is quite messy. Let the stove sit for several hours to loosen baked-on grime and food particles.
Use a damp sponge to wipe all of the food grime and cleaning solution from inside the oven. Use the paper towels to wipe the entire area clean. Areas crusted with old, burnt food may need reapplication.
It's not necessary to run the high-temperature cleaning cycle on a self-cleaning oven to get it cleaned. You don't have to fill your home with the harshness of cleaning chemicals. Oven cleaning with lemon and vinegar can be done quite simply, whether you're using the steam cleaning method or a more hands-on approach. Cleaning naturally doesn't have to be a chore.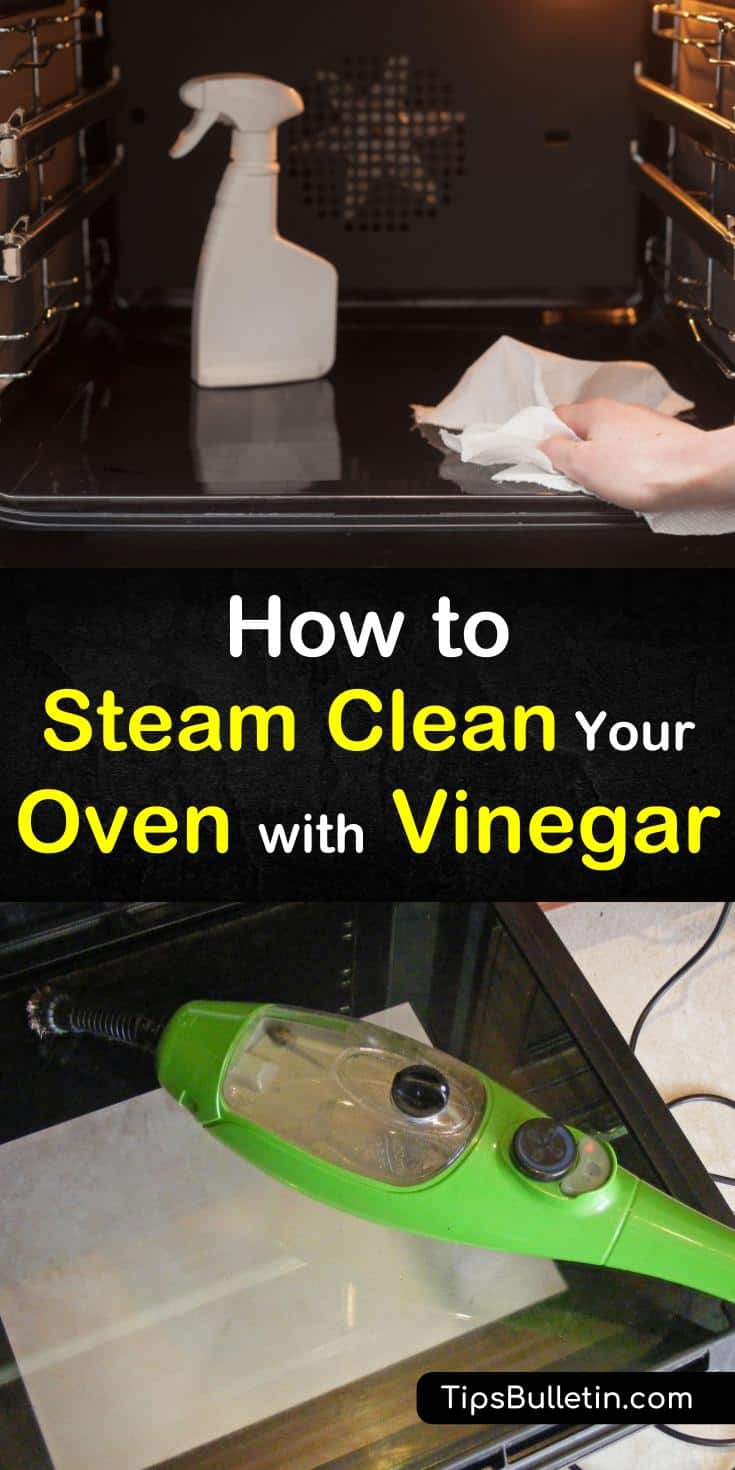 Now that we've shown you how to clean an oven with vinegar steam, we'd love it if you shared these cleaning tips about oven cleaning with your family on Facebook.