Do you find yourself squinting at the road while night-driving? Are you unnecessarily switching your headlights to the high beam to see the road clearer? It may be time to clean foggy headlights.
Don't be shocked if you discover that they are fogged up with a yellow haze. The difference between clean and foggy headlights is comparable to night and day. Headlights are one of the most common parts of the vehicle often forgotten during regular maintenance.
Foggy and yellow headlights are especially common in older cars. Before you run out and buy new headlight lenses and headlight covers, may we suggest some inexpensive alternatives?
There are many ways that you can remove the cloudy appearance and restore them to their original clarity. We've listed six ways to clean headlights using simple ingredients and techniques.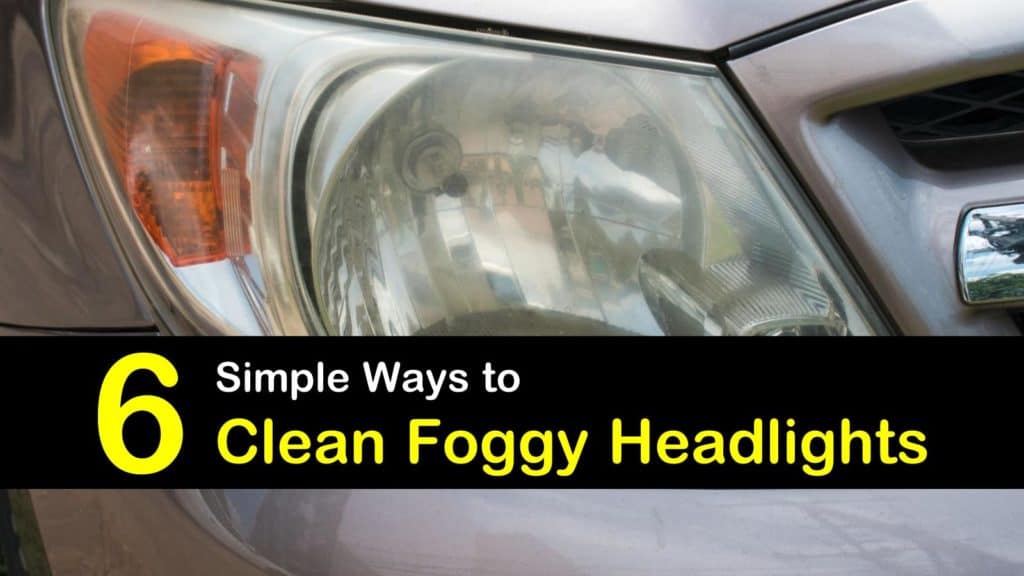 Simple Ways to Clean Foggy Headlights
We tend to remember everything from checking the oil to cleaning a car windshield, yet whoever thinks about inspecting a headlight lens? No matter what kind of vehicle you have, knowing how to clean a headlight lens the right way can save you money and time. You won't have to replace the lens as often and you can safely drive in all kinds of weather conditions, as well as at night.
Vinegar Solution to Clean Foggy Headlights
Vinegar seems to be the go-to when it comes to household tips and tricks. It also makes an ideal homemade headlight cleaning solution. It's inexpensive and readily available at just about any store. This technique is particularly suitable if you do not want to go through all of the hard work of scrubbing.
Remove the plastic headlight covers from your car. Check the owners manual if you are unsure how to do this. Fill a large bucket with vinegar and immerse the covers in the bucket.
Make sure to cover them completely to save time. Allow the headlights to sit for about an hour. Rinse the lights with water and dry them with the microfiber cloth.
Wet Sanding to Restore Headlights
This method is more labor-intensive and requires extra time. It also requires a lot more items to complete, but the result is worth it. Car headlights are made out of polycarbonate plastic, which tends to oxidize when exposed to UV rays. If you have never cleaned your headlights, they may need this method of restoration.
Start by taping off the headlights with the painter's tape, making sure to create a tight seal. Spray the warm water onto the headlight lens and 400-grit sandpaper. Using the spray bottle, be sure to keep both wet as you lightly move the sandpaper against the lens in a circular motion.
Repeat this process using the 600-grit sandpaper. Finally, repeat using the 2000-grit sandpaper. Wipe the lens with a paper towel dipped in the rubbing alcohol to remove natural oils.
After the area has been thoroughly cleaned, put a dab of the rubbing compound on the lens. Use the pad to spread the compound in a circular motion.
Cleaning Headlights with Toothpaste
You brush your teeth every day with toothpaste, but I bet you've never considered cleaning headlights with toothpaste. Toothpaste acts like a gentle abrasive that can polish up those headlight covers like new.
Using toothpaste that contains baking soda works even better for cleaning car headlights. This technique is ideal for mildly foggy headlights. More severe problems require a different cleaning method.
The first thing you need to take care of is a little headlight cleaning. Wipe down the plastic lenses of the headlights with some soap and water to remove dirt and debris. Apply a fingertip amount of toothpaste to the soft cloth.
Rub the cloth in a circle onto the wet headlights and apply more toothpaste if necessary. Wipe the lenses clean using a paper towel.
Clean the Headlights using Baking Soda
Cleaning foggy headlights with baking soda is probably one of the most cost-effective methods. Baking soda soaks up oxides and is a natural buffing agent that works well on slightly foggy headlights. We bet you already have what you need right in your kitchen.
Give those headlights a necessary cleaning to remove debris and dirt. Mix the baking soda with just enough of the warm water to form a paste similar to that of toothpaste. Using the sponge, generously apply the paste to the headlights.
After a few minutes, buff the paste off with a clean cloth and repeat if necessary. The final step is to rinse and dry the headlights, stand back, and admire their new look.
How to Clean Headlights with Bug Spray
Yes, you heard us right. We even have a way for how to clean headlights with bug spray. There are certain chemicals in bug spray that not only remove dirt but some of the UV damage that can happen to outer layers of plastic headlights. This technique is ideal for slightly cloudy headlights.
Spray the bug repellent onto a clean cloth. Rub the cloth onto the headlight lens using some force. The more severe the cloudiness is, the harder you'll need to scrub.
After a couple of minutes of rubbing, use a spray bottle to mist the lens with water. Wipe the plastic headlights with some paper towels.
It's essential to keep the repellent away from the car paint because the chemicals in the spray may damage the paint. If you are concerned about getting the bug spray on the paint, line the headlights with painter's tape.
You can also try to clean headlights with WD40. Spray some of the cleaner on a rag and rub at the foggy headlights. A little scrubbing should remove any fogginess and leave your headlights shiny clean once again.
Cleaning the Headlights using a Restoration Kit
This method is perfect for cleaning and restoring extremely cloudy headlights. If your headlights have a yellowed dinginess that is causing a considerable reduction in the amount of light they give off, then it is time to use one of these kits. They are readily available at any auto parts store.
After cleaning the headlights to remove dirt, apply the headlight restorer to the lens. Be sure to spread a decent amount over the entire surface. Leave the restorer on for a few minutes.
Gently work the dried restorer around the lens with a soft-bristled brush. Wipe away the residual restorer with a clean cloth. Once the lens is clean of all leftover dust, polish it with the compound using another clean cloth.
As you can see, you don't need to waste money replacing those foggy headlights. A little bit of elbow grease and some household items are the only headlight restoration kit that car owners need.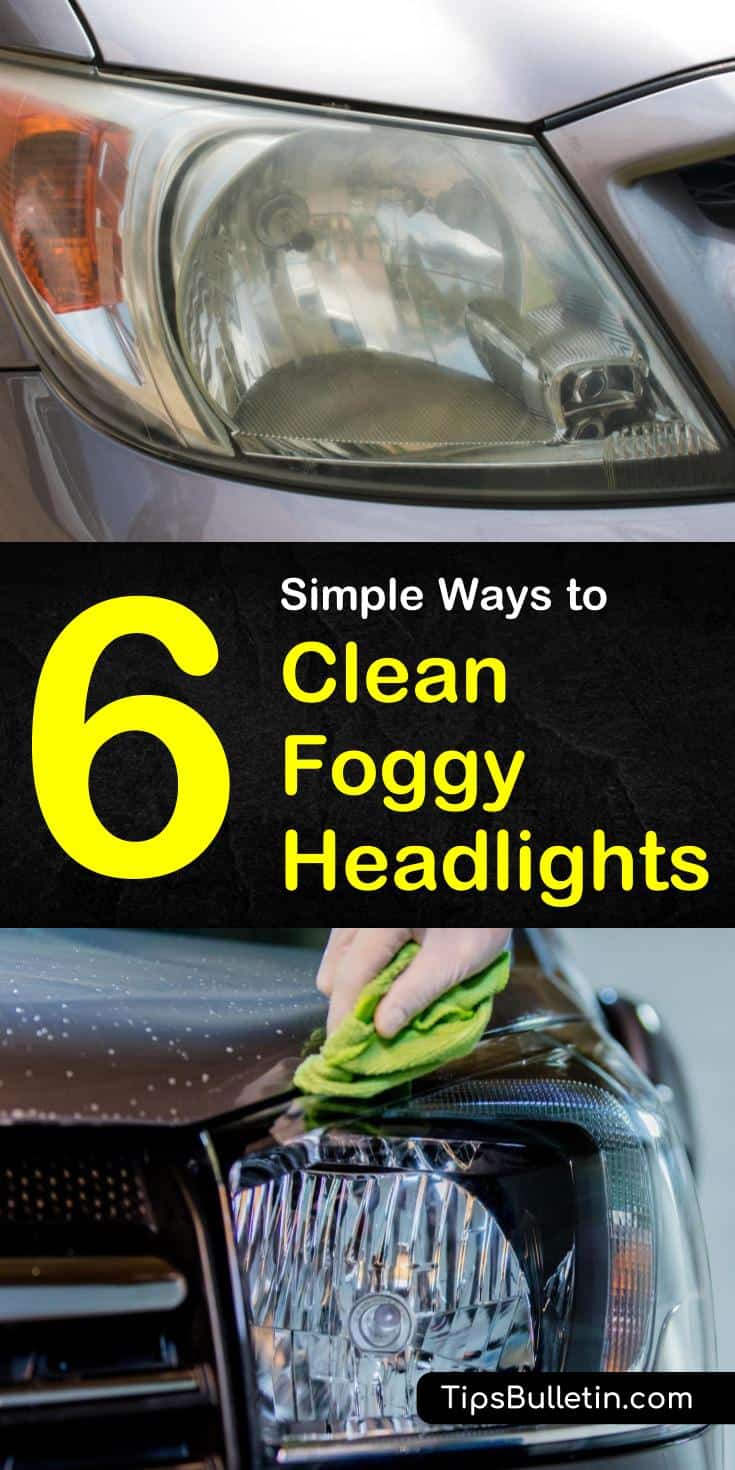 Do you know someone who is driving around with cloudy headlights? Feel free to share these helpful tips and tricks on how to clean foggy headlights with your friends and family on Facebook or Pinterest.