Cleaning automotive glass in your car or truck is paramount for your safety and the appearance of your vehicle. Having a clear view of the road is vital for safety reasons, but it's also unsightly and embarrassing to have dirt smudges on your windshield. Making sure the windscreen is free and clear of particles and dirt is one of the crucial tasks in maintaining the cleanliness of your car and prolonging its life.
Find out how to clean auto glass to have an unobstructed view, and pick up your passengers in a clean car. Many car owners use a natural windshield cleaner made with familiar substances to save on expenses and risk.
Most commercial windshield washers contain harmful substances like methanol and ethylene glycol. Both are extremely dangerous if consumed, which is especially concerning if you have pets or young children. Explore clever tips and tricks to clean auto glass, wash tinted windows, and make a cleaner with things you already have.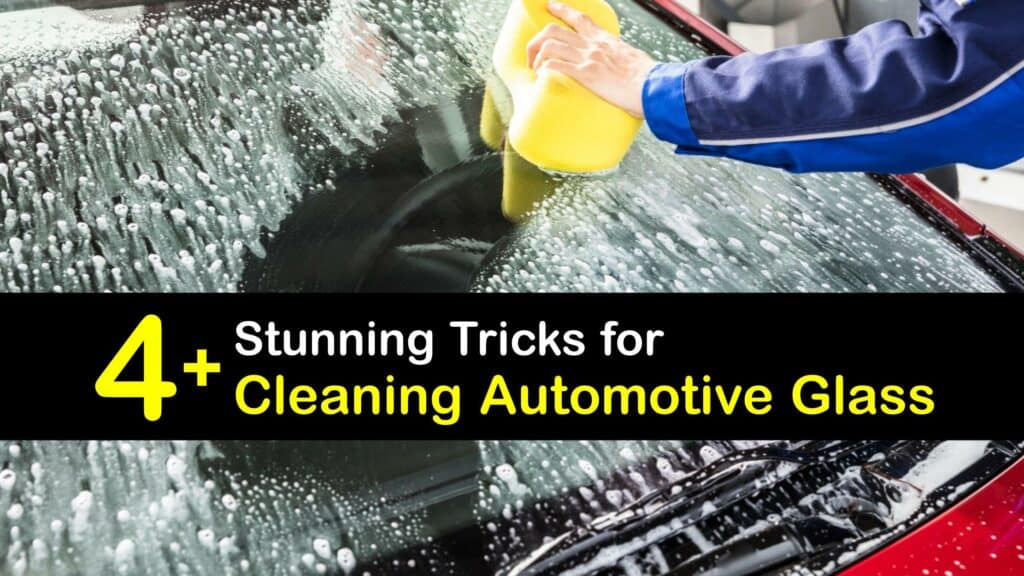 How to Clean Auto Glass with Everyday Items
Regularly cleaning automotive glass improves your safety on the road and saves you money on costly windshield replacement. Driving is a valuable form of transportation, though it often comes with some risks.
Something small, like a streak or spot on your window, impairs your vision and has the potential for severe consequences. Furthermore, dirt buildup degrades your auto glass and wiper blades, reducing their function and causing you to need replacements more often.
Don't use household cleaners on your car's windows. Fortunately, cleaning auto glass doesn't have to be tough. Craft quick and easy cleaning sprays with these simple recipes, and enjoy driving a clean car.
Why is Cleaning Auto Glass Important?
It may be more crucial than you realize to keep the windshield clean on your automobile or truck. Your car's windshield collects dirt that scratches the glass and leaves permanent marks. Regular windshield washing is essential to extending the lifespan of the glass and preventing damage from grime.
Wiper blades are frequently exposed to damaging elements, including dirt and UV radiation. A dirty windshield makes those wiper blades perform less effectively and reduces their lifespan. A dirty windshield might form a blind spot, which could lead to dangerous accidents; a clean windshield improves visibility for the driver.
No matter the weather, a windshield protects you and your vehicle, so it's crucial to clean the glass. Faucet water leaves streaks when dry and reduces visibility. The best way to clean car windows with homemade auto glass cleaners is with distilled water to prevent streaks.
Clean Automotive Glass with a Lemon Based Spray
Lemon juice is an excellent main ingredient for a window cleaner. The juice is all-natural and mildly acidic, so it cleans without causing damage, making it the best auto glass cleaner if you want to avoid chemicals. Grab a spray can and some microfiber cloths and mix this uncomplicated cleaner for your car's windshield.
Shake the ingredients well. Spritz this windshield cleaning solution evenly over the windshield. Make your way across the glass, cleaning in large circles until it's clear and free of streaks or stains.
Mix a DIY Automotive Glass Cleaner
Craft your own auto glass cleaner to leave your car windshield spotless. This spray is perfect for cleaning any glass surface, including interior glass. It leaves you with that coveted invisible glass finish.
Add the distilled water to your empty plastic spray canister first, then the distilled white vinegar, and finally, the alcohol. Give the bottle a thorough shake to combine. Avoid wiping your car glass with paper towels or a squeegee.
Use a microfiber cloth and apply the cleaning solution to the material rather than directly onto the car window. Lift the wiper blade and work the microfiber rag across the front or rear window in a circular motion. Repeat treatment may be required for hard water stains on windshield or side windows so inspect them carefully after cleaning.
Cleaning Automotive Glass Spots with Ammonia
This ammonia cleaner is ideal for the finer aspects of glass cleaning. Removing water spots is crucial to car detailing; sometimes, a general cleaning product isn't enough. Craft this straightforward ammonia spot cleaner and use it directly on water stains instead of your entire windshield.
Use another method to clean your front and back windshield. Finish by applying this ammonia cleaner to any remaining water spots for clean car windows. Only use this liquid outside your windshield, as ammonia damages a tinted window and car paint.
Commercial Products for Cleaning Auto Glass
If you prefer to shop for window spray instead of making it, purchase a cleaner for automotive glass. Household glass cleaner doesn't give the same finish as auto cleaners, and some common window cleaners, such as Windex, may ruin the tint on car windows.
Sprayway glass cleaner is one example of an auto glass cleaner. It's worth noting many car glass products contain toxic chemicals; keep this in mind if you have children or pets who could be exposed to the spray. Pick up a window clean tool and spray based on your preferences and budget, and use them according to the directions.
Knowing how to clean auto glass saves you from costly auto glass replacement by extending the life of your front and rear windshields. Though using them is tempting, household glass cleaners don't do a great job and may even damage your car's window.
It's disheartening to take your vehicle to the car wash only to drive away with a streaky, cloudy window. Use a straightforward recipe to create your own auto glass cleaner with familiar, safe items, and enjoy a clear view while extending the life of your windshield and wiper blades.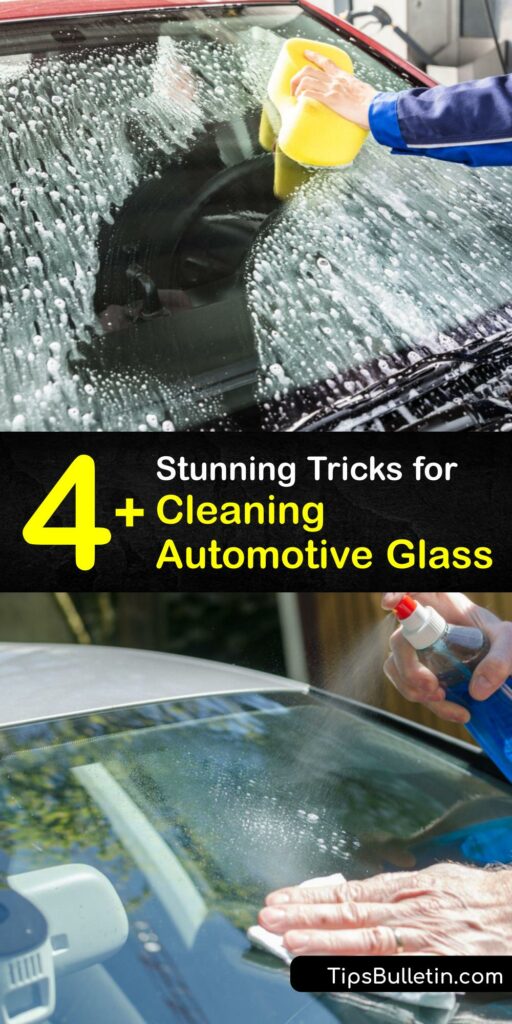 If you loved this article on cleaning automotive glass, please share these remarkable ideas with your friends and family who are involved in cleaning auto glass on Pinterest and Facebook.