We rely on the dishwasher to clean all the food and grime left on our plates after eating. However, dishwashers only do so much when it comes to sanitizing our dishes if we don't keep them regularly cleaned. Cleaning dishwasher with vinegar is one of the best ways to accomplish this task, using a powerful disinfectant that will also leave a marvelous shine on your dishes.
So how to clean a dishwasher with vinegar? Do you have to compile a list of obscure ingredients to fill a complicated recipe, or can you use vinegar all by itself?
This article will answer these helpful questions, and then some, providing you with eight incredible tips and recipes for using vinegar to clean dishwashers. The steps toward a freshly cleaned dishwasher are much closer than you think and require no more than time, elbow grease, and some fantastic cleaning ingredients.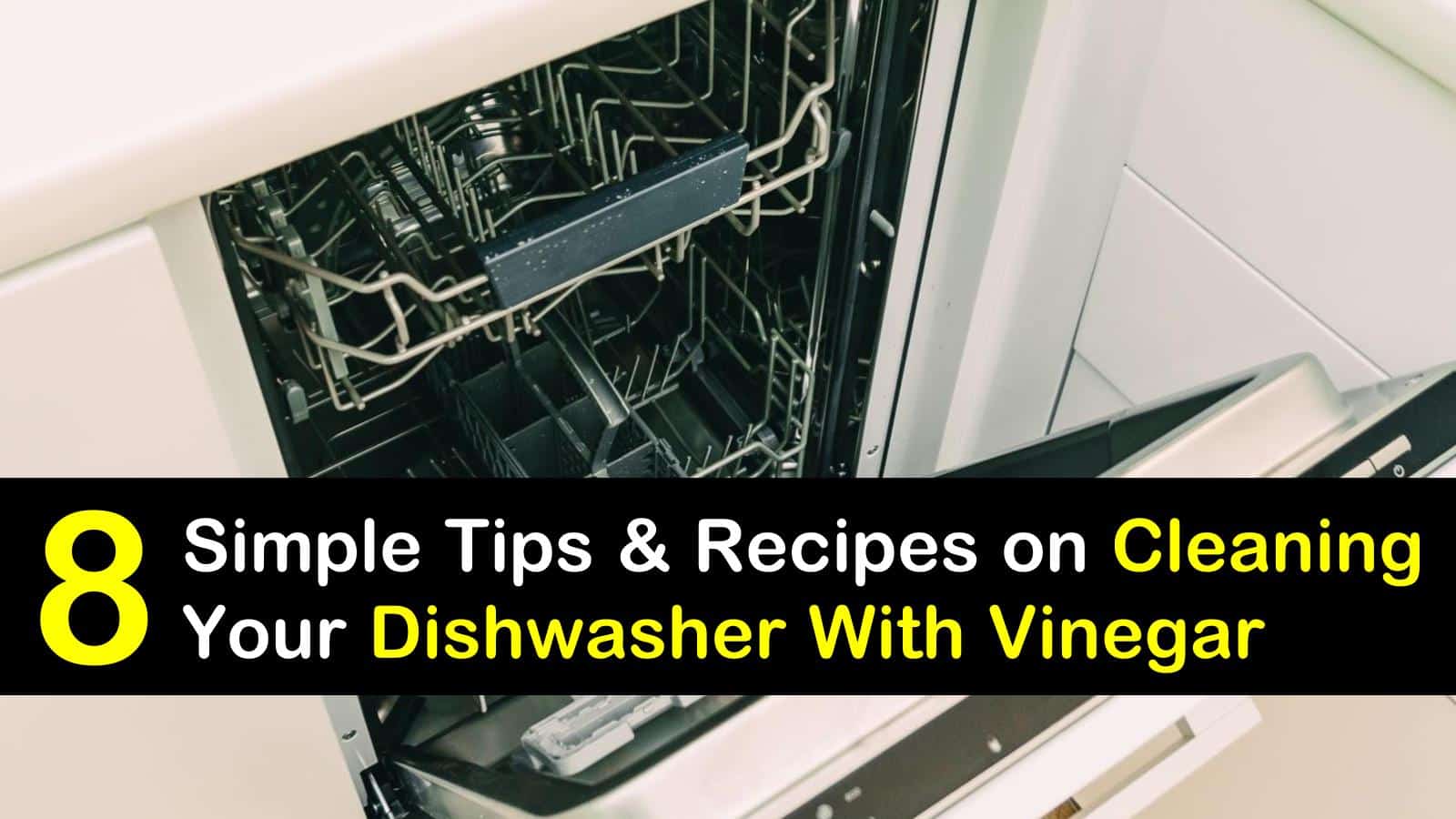 Clean a Dishwasher with Vinegar
Vinegar is a household cleaning and deodorizing champion. This kitchen staple works well on your dishwasher. Discover some of the best methods for cleaning your dishwasher with vinegar in this list. Unsure of where to start? Let us help!
Jaw-Dropping Tips for Dishwasher Cleaning
Begin with what you have in your pantry and work your way onto the more challenging recipes. Otherwise, try each step in order, marking one method off your checklist every time you clean your dishwasher until you find the one you love.
Clear the Filter and Drain Before Running Dishwasher
Here is the best way to clean an old dishwasher filter or even a newer one. Before you begin any cleaning, ensure your dishwasher filter and drain are completely clear of debris and food particles.
No matter how impressive a cleaning agent vinegar is, it won't do you any good if old food and gunk keep filtering back onto the dirty dishes from a blocked filter. Start by removing the rack on the bottom of your dishwasher for easier access to the drain.
Locate the area and scoop out any large food pieces with your hands or a paper towel. This step prevents these extra clumps of dirt and food from clogging your drain and removing dirty water from the basin. Next, work on cleaning the filter in your dishwasher.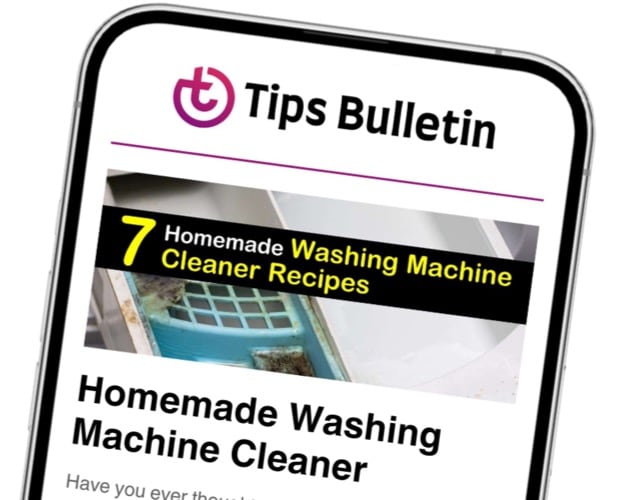 Finally, an email that Transforms Your Home.
Get the latest home and garden tips from our experts, delivered straight to your inbox.
Doing this may require removing the screws holding the filter in place. Once the filter is safely extracted, soak it with a few drops of dish soap in warm water. Leave the filter in the soapy water for approximately ten minutes before rinsing it and returning it to the dishwasher, making sure you put it back in place securely.
Pour some boiling water into the drain to unclog a dishwasher drain hose or use a vinegar and baking soda combination for added loosening power.
Start by Cleaning Dishwasher with Vinegar Only
Vinegar works spectacularly all on its own, so you don't even have to worry about coming up with a complicated recipe to clean your dishwasher. To use vinegar by itself, place one cup of it in the dishwasher inside an open container. Ensure that the container you are using is facing upward to hold the vinegar correctly and that it is also dishwasher-safe.
A glass measuring cup will work perfectly. Settle this container in the top rack of your dishwasher and run it on the hottest cycle you can use. No need to use additional detergent to clean your dishes. Vinegar is a natural disinfectant that kills most bacteria and germs.
In addition to being ideal to clean a dishwasher, you can also clean your washing machine with vinegar, too. Pour a cup of vinegar into the basin and set the controls to hot water and the length of wash you desire. Let it run through a whole cycle to disinfect the machine and get rid of mold or other residue before running your next load of laundry through.
Clean Stainless Steel Dishwashers with Cream of Tartar Paste
If you have a stainless steel dishwasher, cream of tartar is the perfect way to remove difficult stains and spots without scratching the metal. When combined with vinegar, cream of tartar forms a runny paste that works on almost any stainless steel surface.
The vinegar disinfects and lifts greasy bits of food from the inside of your dishwasher, while the cream of tartar provides gentle abrasive power. This ingredient is a great alternative when you want to make a homemade dishwasher detergent without baking soda.
When creating this fantastic cleaner, blend the two ingredients thoroughly in a plastic or glass container. Apply the paste using either an old toothbrush or a cleaning cloth.
Scrub until any clinging particles until they have worn down and disappear. Run the empty dishwasher on a regular wash cycle when finished.
Using Vinegar to Clean Dishwashers
Cleaning a dishwasher with vinegar and baking soda is always an excellent idea. When you add other powerful cleaning agents, like hydrogen peroxide and dish detergent to the mix, the potential for cleaning multiplies.
This technique requires using vinegar to clean dishwasher in a similar way to using vinegar on its own. Instead, you incorporate other cleaners separately to slowly break down tough grease and dirt.
The first step in the process is mixing baking soda with hydrogen peroxide. This combination forms a thick consistency similar to sand and effortlessly molds into balls. Once you have created enough balls from the cleaning solution, place them throughout the bottom of the dishwasher and allow them to settle overnight.
The following morning, place the cup of vinegar on the top rack in a dishwasher-safe container, the same way you would when used alone. To alleviate some of the vinegary smell, and produce a vibrant new fragrance, add in some of your favorite essential oils.
Add another scoop of the hydrogen peroxide balls to the bottom rack and run the dishwasher with the tablespoon of dish detergent. Ensure that your dish washing machine is using the hot-water cycle after you make a natural descaler for your dishwasher. Enjoy the squeaky clean interior.
Use Pure Vinegar as a Rinse Aid and Gasket Cleaner
Another brilliant way to use vinegar for cleaning is by using straight vinegar as a rinse aid. If you love your regular dishwashing detergent but want to give your dishes an extra sparkle, adding vinegar in the rinse dispenser will double the cleaning effect.
It will leave glasses looking spotless. Include vinegar when you make your own dishwasher detergent for extra cleaning and sanitizing power that doesn't include harmful chemicals.
You also don't want to forget to wipe down your gaskets with a little bit of vinegar when you are finished. The gasket is the seal that keeps water from escaping out the dishwasher door during the normal cycle of cleaning.
Gunk and mildew easily collect in between the crevices holding the rubber tubing in place. Using vinegar reduces mold-causing bacteria and keeps your dishes and dishwasher even cleaner.
Unclog Dishwasher Drains With Vinegar and Baking Soda
So you probably removed all the gloop and debris from your dishwasher drain in the first step. But if it still isn't running correctly, it's time to use a drain de-clogger to loosen up clogs. When combined with baking soda, vinegar is all you need to restore the smooth flow of water in your dish washing machine.
Start by creating a compound with the ingredients in a bowl and mixing until thoroughly blended. Run the mixture down the drain, and let it soak for at least 15 minutes. When time is up, pour hot water down the drain to ensure the clog finally dislodges.
Clean the Spray Arm on Your Dishwasher
Sometimes the clogs and malfunctions in your dishwasher have nothing to do with the drains. In some cases, the spray arm that spins at the bottom of your dishwasher clogs up with mildew and bits of food to prevent adequate water from getting on your dishes. In these instances, remove the spray arm to deliver a proper cleaning.
Soaking the spray arm in the sink with a mixture of vinegar and warm water is the perfect solution to loosen up those clogs. Allow them to soak in the mix for at least one hour to thoroughly erase any mineral deposits. If additional cleaning is needed, you can also use a toothpick or wire hanger to pluck any dirt or grime from inside the tiny holes.
How to Clean a Dishwasher with Vinegar and Soap
Another excellent way to create homemade dishwasher cleaners with vinegar is to create ice cube tabs that melt in the washer. Adding exceptional cleaning agents like Castile soap and lemon essential oils improves the cleaning process while still using all-natural ingredients. For this particular recipe, you also will need an ice cube tray to place in your freezer.
Your first step in creating these tabs starts by combining the salt, baking soda, washing soda, and vinegar in a large mixing bowl. Once the vinegar mingles with the dry ingredients, it will cause a reaction with bubbling and fizzing. Wait until this has subdued before stirring.
Once the mixture is well-blended, add the essential oil, citric acid, and one teaspoon of liquid Castile soap. The ingredients should be smooth and even before beginning the next step. For the final step, place the formula in an ice cube tray to freeze.
This process may take several hours, so leave it overnight. Pluck one cube at a time and place it in the dishwasher for cleaning. If one doesn't seem to do the trick, gradually work your way up to more.
The benefits behind using vinegar on your dishwasher are practically limitless. Not only does it disinfect the inside of your dishwasher, but it also alleviates musty odors, especially when combined with fragrant cleaning products like essential oils.
So, are you ready to blast away left over soap scum? How about obliterating those pesky hard water stains? Now, you have plenty of new recipes and ideas to get you started!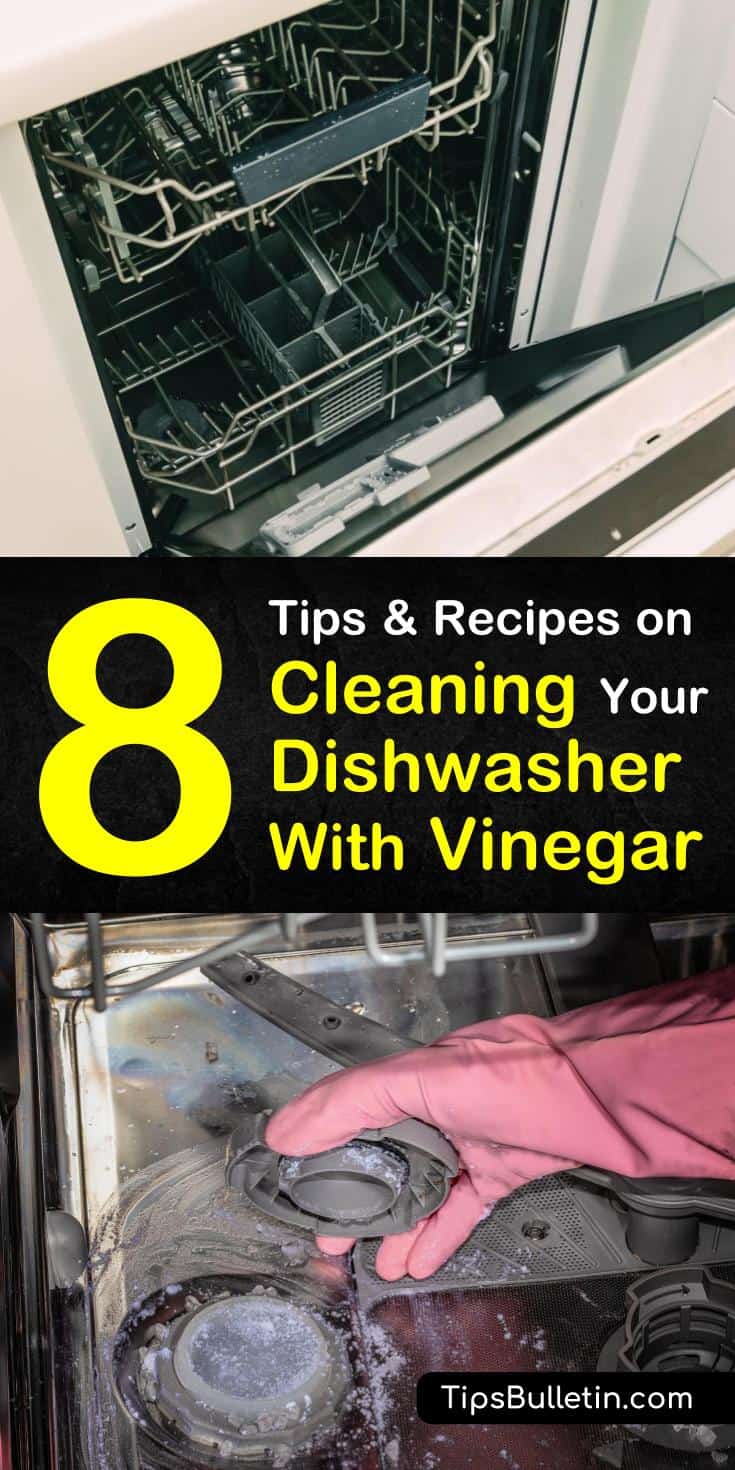 Hopefully, you enjoyed these DIY dishwasher recipes with vinegar as much as you'll love the sparkling clean look in your dish washing machine. If you liked our dishwasher cleaning tips, don't forget to share these profound ways for cleaning dishwasher with vinegar with everyone you know on Facebook and Pinterest.