Laminate flooring adds a beautiful finish to any room. However, they can be tough to keep clean, which is why you've probably been tempted to use a steam mop. Despite what some people may say, cleaning laminate floors with a steam mop is possible.
It just requires a little extra caution, which we'll teach you to apply in this article! There's no doubt that steam mops make cleaning so much easier. Steam mops are designed to tackle grime on tile and hardwood flooring and are more effective than regular mopping or anything you could do with a vacuum cleaner.
Plus, the increased cleaning capabilities help you cut back on elbow grease.While steam cleaning may be among many people's preferred cleaning methods, it is not recommended for every type of flooring. Despite what you may have heard from friends or laminate manufacturers, you can clean laminate floors with a steam mop if you follow our tips and recipes.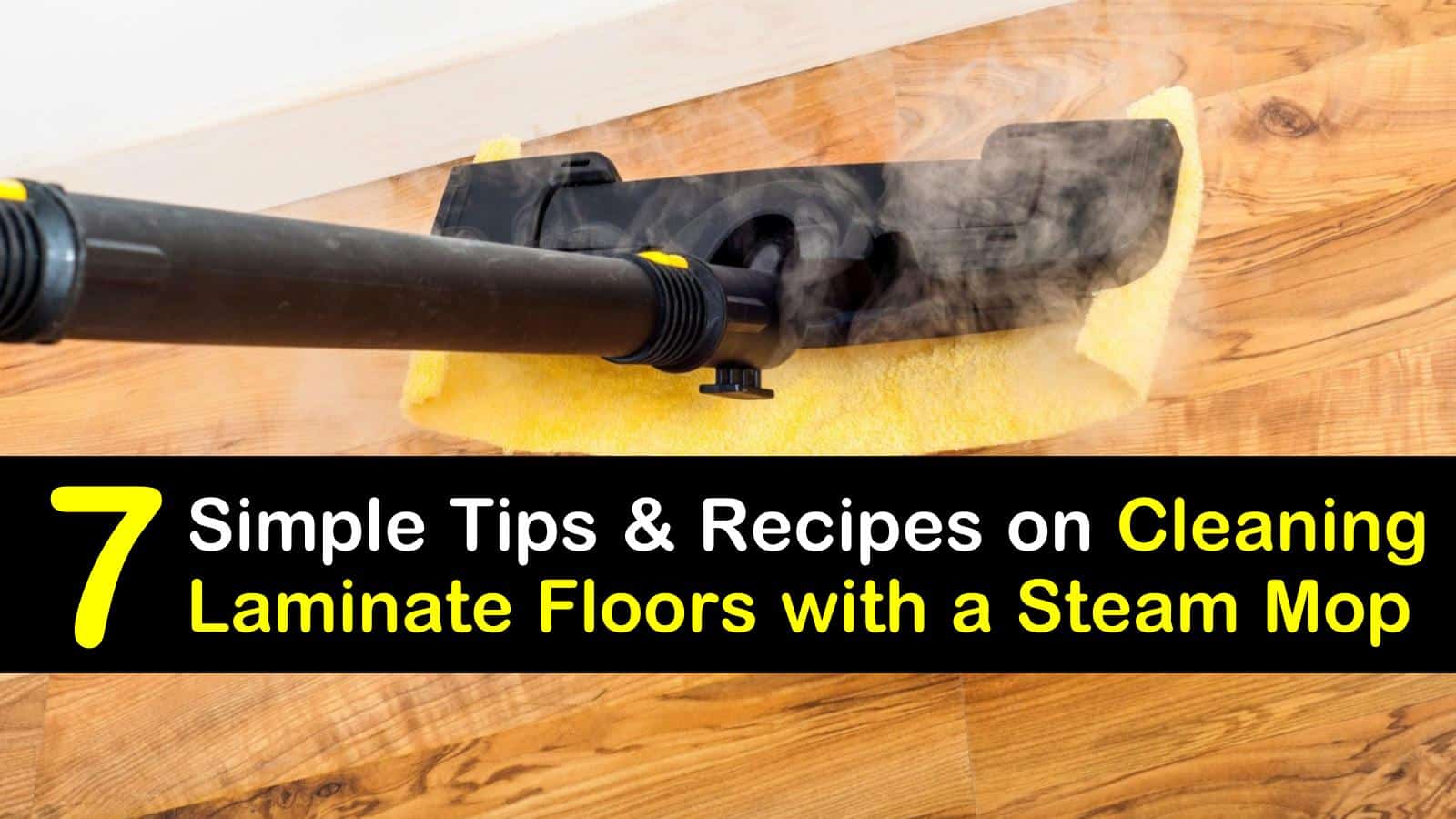 Clean Your Laminate Flooring with a Steam Mop
Steaming is an excellent cleaning method, whether you want to steam clean a couch, the carpet, or your laminate floors. Cleaning laminate floors with a steam mop requires a little extra care than mopping hardwood floors, though. Laminate floors contain natural materials and typically have a shiny topcoat.
This mix means that it could be damaged easily without care. Before using a steam mop on your floor, sweep it using a bristle brush, vacuum cleaner, or mop with a microfiber pad to pick up loose dirt.
However, you can easily steam clean linoleum or vinyl flooring, as long as the water doesn't sit too long on the surface. After cleaning, always dry mop or use a clean towel to wipe up excess water to keep from damaging the laminate.
Can You Use a Steam Mop on Laminate Floors?
Many manufacturers do not recommend using a steam mop on laminate floors. However, it is possible! If you don't have the time to bring out your microfiber mop or Swiffer, then a steam mop can be used.
The reason manufacturers recommend a damp mop over a steam cleaner is because laminate is sensitive to heat and moisture. Too much water can lead to warping or peeling, which will drastically affect the longevity of your hard floor. Though you can get away with using a steam mop with the right laminate floor cleaner, you absolutely cannot use one if your floor is not sealed.
Check if Your Laminate is Sealed
If you moved into your house and aren't sure if the laminate floor is sealed or not, or if you can't remember whether you got sealed or unsealed flooring, there are a couple of ways to tell.
The most apparent indication of a sealed laminate floor is the glossy finish on top of the flooring that gives it a shiny look.If you have some leftover panels or an extra scrap of flooring, scrape the surface to check for sealing. If a clear coating comes off the top, then your laminate is sealed.
Best Steam Mop for Laminate Floors
While it is possible to use a steam floor mop on your laminate floors, you have to be careful about which one you use. The best steam mop for laminate floors is one that has reasonable steam control and doesn't get too hot. You will also want one that doesn't have an overly wet mop head.
Though many manufacturers don't specify the maximum steam temperature, you can gauge this by the time it takes to sanitize the mop. The longer it takes, the lower the heat. One of the mops with the best steam control is the Black & Decker 2 in 1.
The Bissell PowerFresh Steam Mop is an excellent choice as well because it has a low, medium, and high steam setting. For cleaning laminate floors, use the low setting. We also recommend the Shark Steam Mop S1000A because it is lightweight and has a washable, reusable pad.
Add Vinegar to Your Steam Mop to Clean Laminate Floors
Now that you know the answer to the question, "Can you use a steam mop on laminate floors," you can get cleaning! For messes around the house, deep cleaning with white vinegar is almost always one of the most accessible and cheapest cleaning solutions. To get your laminate sparkling, we recommend using a vinegar solution for cleaning floors.
For steam cleaning tile floors or your laminate, mix the water, rubbing alcohol, and vinegar in a mixing bowl and then add in the dishwashing soap. Use a spoon to combine all ingredients and then pour the vinegar cleaning solution into your mop.
Start in the furthest corner and work in sections until the entire floor is clean. Dry mop when finished.
DIY Cleaner for Deep Cleaning with a Steam Mop
Though there are cleaning products that are made specifically for laminate floor cleaning, we like to make our own. This natural laminate floor cleaner is cheap and easy to make.
Mix the ingredients in a bowl and ensure they are combined. Remember to use warm instead of hot water, as heat can damage the laminate seal.
Pour the mixture into your steam mop. This essential oil-soap cleaner also works great as a spot cleaner if you combine the ingredients in a glass spray bottle.
This cleaning solution in the steam mop can even remove paint from a laminate floor. The moisture from the steam can break down even the toughest stains and spots.
Stain Treatment for Clean Laminate Floors
While steam mops do an excellent job of cleaning dirt and grime, some stains might need a bit more attention. If there is a spill on your floor, there are specific tools you can use to eliminate the mess without grabbing your steam mop.Scrape away solid messes like chewing gum with a plastic knife and wipe away the residue with a damp cloth.
A damp microfiber cloth is also perfect for soda and wine spills, or crayon and ink marks. Eliminate tougher stains like nail polish, tar, and shoe polish with some nail polish remover on a cloth.
Noticed a lot of shoe scuffs on the floor lately? Grab an eraser and rub it over the marks. Finally, for grease stains, place a freezer pack on top of the spill and then scrape the mess with a plastic knife after it has hardened.
What to Avoid When Cleaning Laminate Floors with a Steam Mop
There are certain things you should avoid when dealing with laminate floors, especially if you're using a steam mop. First, if you decide not to use one of our homemade cleaner recipes, avoid abrasive cleaners. You do not want to scratch off sealing while trying to clean.
Additionally, you should not allow any water to sit on the flooring. With a steam mop, you may occasionally get some wet spots. Wipe these up immediately.
To ensure you catch any spill, clean the floor in small sections, and dry each section with a microfiber cloth if needed as you go. Finally, never use wax on your floors after cleaning, as this will result in a waxy buildup that ruins the laminate.
You can also use a steamer for steam cleaning carpets, too. It's a great way to tackle dirty carpeting that needs more attention than just addressing a stain or two. Some of these same recipes can be adjusted to use on rugs and carpets for thorough cleaning without resorting to harsh chemicals.
Though laminate floors look great in any home, they are not the easiest to clean. With a bit of extra care and by making your own laminate cleaner, you can safely use a steam mop to maintain shining floors. Remember to follow the tips in our guide, and your floor will look great for years to come!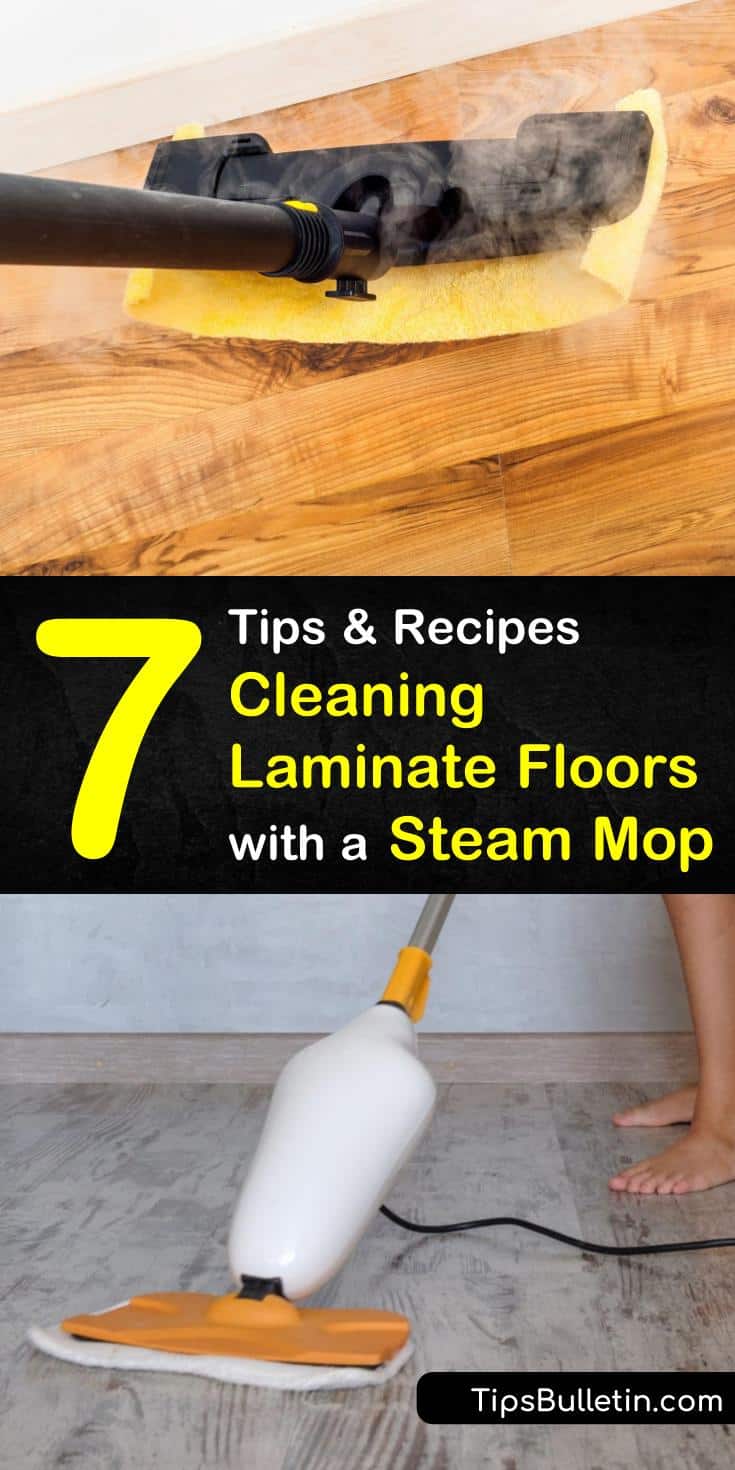 If we answered all of your questions about cleaning laminate floors with a steam mop, then share our tips and cleaner recipes with your friends online!