Slate is a finely textured natural stone, and due to it's bonded state and smooth texture, it does not stain as quickly as other materials. It is because of this benefit that many people opt to have slate floors and countertops installed in their homes during home improvement. While they may be stain resistant, you will still need to know how to clean slate floors.
Slate flooring is a naturally elegant way to spruce up virtually any room in the home from entryways to kitchens. It's best to avoid cleaning products that contain harsh chemicals for stain removal on slate flooring and tiles. These products are unnecessary and can have adverse effects on both your home and the environment.
That is why we work hard to come up with as many cleaning solutions and tips that we can that will get the job done naturally. Regular maintenance and regular cleaning of slate tile flooring should be included on your weekly house cleaning checklist.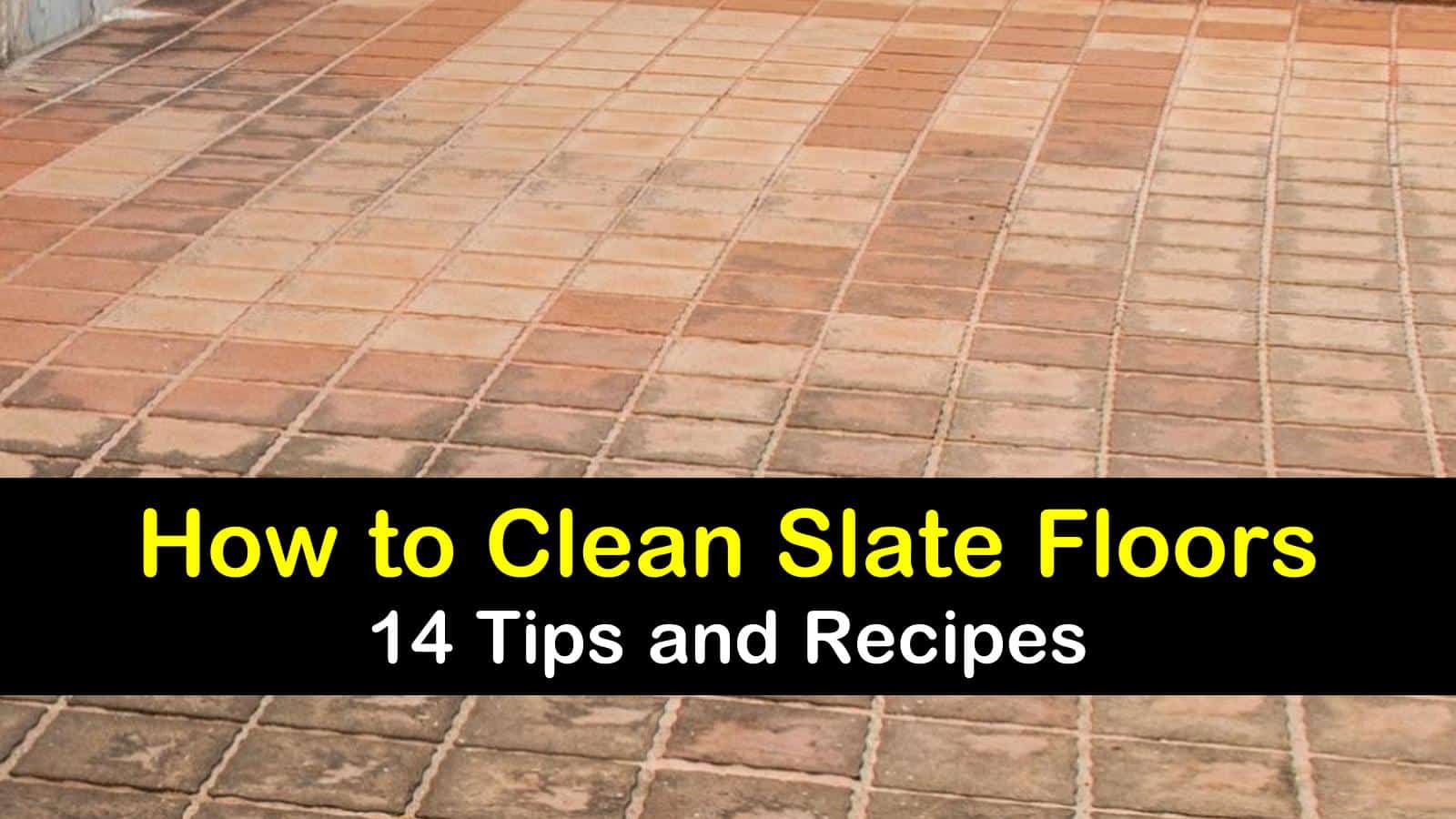 How to Get Your Slate Floors Clean
Cleaning slate floors using a cleaning routine will keep that floor looking rich with color and luster. We've got an extensive list of cleaning tips and tricks, whether you're looking for quick spot floor cleaning or a deep cleaning method for cleaning that slate floor.
Cleaning Slate Floors
Slate floors should be swept or vacuumed several times a week, and daily in areas of high traffic. Because slate is a soft, natural stone, you'll want to make sure to use a broom with soft bristles for sweeping.
Dry Cleaning Slate Floors
Use a broom to gently sweep away dirt from your slate floor. Make sure to get along the wall and cupboard edges as well as along the grout lines.
You can also use a vacuum to clean the floor. Set the vacuum cleaner to the hard floor setting, or use the brush attachment to suck up debris and dust.
Dust Mopping a Slate Floor
Cleaning slate floors with a dust mop is an ideal way of removing everyday dirt from the floor without sending dust particles into the air as a standard broom does. It is also gentler on the floor than a bristle broom, so it is more efficient for use on slate flooring.
Dust Mopping
Make sure that the dust mop is not oil-based. Move the mop in one direction across the floor, gently pushing the dirt forward. Moving the mop at a side to side motion will cause the dirt to be pushed back and forth, which could result in scratching and damage to the floor.
Once the debris is pushed to one area, give the mop a gentle shake to release any debris. Sweep the piled dirt onto a dustpan and discard.
Mopping a Slate Floor
This simple mopping method requires no harsh cleaning products and should be done about once a week, depending on the foot traffic of the areas being cleaned.
Mix the detergent and water into a mop bucket. Be sure to use a gentle cleanser to prevent any abrasion on the floor. You can also use gentle laundry detergent as a substitute.
Dunk the mop into the bucket and wring out the excess soapy water. Use a gentle side to side motion to clean away grime and pick up debris. Make sure to re-dunk and wring the mop regularly to remove dirt.
Use a soft dry towel to wipe the floor dry, making sure to remove excess liquid that may be left behind in the grout lines or crevices.
Slate Tile Floor Cleaner
This slate tile floor cleaner is non-toxic and makes an excellent homemade cleaner for granite or any other natural stone. The following method will clean both the tile and grout while buffing a natural shine back to the stone without scratching the surface.
Put a cup of baking soda into a small bowl and add just enough water and a couple of squirts of the soap to make a paste, and mix well.
As with our other homemade slate floor cleaner recipes, use the sponge to apply the paste to the slate floor and gently rub in circular motions until clean. Rinse the sponge with freshwater and clean away the residue from the floor.
Steam Mopping a Slate Floor
Steam mopping a slate floor is an easy and gentle way to care for and clean tile. It will get into the crevices of the grout lines without causing any damage while leaving the rest of the floor clean. Steam mopping is also ideal because slate floors tend to be uneven in certain areas.
Slate Floor Steam Mopping
Steam mopping should only be used on sealed floors. This form of mopping is ideal for maintenance cleaning, so be sure that it has had a recent deep cleaning. Start by sweeping or vacuuming the area to remove loose dirt and debris.
Attach a pad to the front of the steam mop, fill the water reservoir, and begin mopping as per the manufacturer's instructions. Make sure that you change pads often during the cleaning process and do not allow the cleaner to linger in one spot.
Cleaning a Slate Floor with Castile Soap
This natural floor cleaner will not only get those slate tiles clean but will leave the room smelling fresh. This method is perfect for in-between deep cleaning and can be done once a week.
You may wonder how to clean marble floors as well as those made from slate. You can also use this gentle but effective recipe as a marble floor cleaner. The Castile soap won't harm the floors, whether slate or marble, and the essential oil you choose will leave a nice fragrance in the room.
Mix the water, soap, and essential oil of your choice into the bucket to make the perfect liquid floor cleaner. Try using pine, cypress, lemon, or orange essential oils to leave the room with a fresh and clean scent. Dunk the mop head into the cleaning solution and wring it out.
Gently clean the floor in a side to side motion. Be sure to wring the mop head regularly while cleaning to prevent sliding dirt and soiled water around. Use a dry mop to wipe down the floor when finished to prevent watermarks and so that it will be safe to walk on.
Cleaning Slate Stone Tile Grout
While simple mopping will clean surface dirt and grime, there will be times when that is just not sufficient for cleaning the grout. A quick and straightforward grout cleaner is hanging out right in your kitchen.
Mix the baking soda and water in a small bowl. Use the sponge to spread the mixture onto the grout and allow it to sit for about ten minutes. Use the soft cloth to wipe off the baking soda mixture.
Rinse off the sponge with clean water and wring most of the water out. Use the sponge to clean all grout residue from the surface.
Cleaning a Slate Floor with Teak Oil
Using teak oil on a slate floor after a standard mopping is an excellent way to do extra deep cleaning. It is relatively inexpensive and can be found at many hardware stores.
Teak Oil Cleaning
After mopping the floor with a gentle cleanser, allow it to air dry. Use a soft cloth and apply a small layer of oil onto the surface of the slate and gently rub it across the entire floor. Repeat this process about once every three months.
Sealing a Slate Floor
Slate is porous and tends to absorb liquids. Sealing the slate flooring will help prevent liquids from being absorbed into the stone after accidental spills before you have a chance to clean them up.
Slate Floor Sealant
After the floor has been swept, mopped, and cleaned with teak oil, you can begin the sealing process. There are a variety of sealants that can be found at any local hardware store.
If you want to keep the natural look of the slate that it presently has, then it is recommended that you go with a clear, water-based sealer. The sealer directions can vary, so follow the instructions for your particular sealant.
Slate Tile Floor Spot Cleaning
While you may be diligent in regular mopping for cleaning slate floors, there may be times when you need to do a spot cleaning to remove stains. The critical thing to remember is to get to those stains immediately.
Absorbing Stains from a Slate Floor
Before cleaning a stain, remove as much of the liquid as possible. In some cases, wiping a stain may smear it and make it worse. The following method works great to absorb as much of the stain-causing liquid as possible before cleaning.
Slate Floor Stain Absorbing
If you have had an accidental spill from grease, oil, or another liquid that might smear and spread if you try and wipe it up, you can try an absorbent such as cat litter. Sprinkle the cat litter across the stained area and allow it to sit for about ten minutes or several hours for older stains.
Use the brush attachment of a vacuum cleaner to suck up the soiled litter. Follow by using one of the stain cleaning methods below.
Easy Slate Floor Spot Cleaning
This method is the easiest to perform and won't damage colored grout or sealer. You only need a few items you already have in your home and a gentle touch. This spot cleaning works well for those accidents and spills that you catch immediately.
Use a soft cloth to absorb as much of the spot as possible. Fill a bucket with warm water and add enough mild detergent to make the water soapy. Use a brush that doesn't have hard bristles, and dunk it into the soapy water.
Clean a small area using circular motions until the stain is gone. Use a wet mop to remove the soapy residue from the floor.
Cleaning Stains Off Slate
This stain remover works well for tougher stains but should not be used on slate floors with colored grout. This solution works best for removing stains that were either missed or overlooked and have since dried.
Pour the water and hydrogen peroxide into the spray bottle and spray onto the surface of the stain. Allow the cleaning mixture to sit for about ten minutes. Use a sponge to wipe the stained area clean.
Removing Stubborn Stains Off a Slate Floor
If you have tough stains on your slate floor or tile, then we recommend the following cleaning solution. However, do not use this method on slate tiles with colored grout.
Mix a small amount of the hydrogen peroxide and baking soda into a small bowl until it forms a paste. Apply the paste to the stained area of the floor and allow it to sit for a few minutes. Wipe the area clean using a soft cloth.
While this recipe works well to get stains off slate floors, you can also use it for getting rust off concrete in the driveway or the garage. Rust stains can sometimes be challenging to remove but give this solution a try to see how effective it is.
Removing Stains from Slate Tiling with Colored Grout
If you have colored grout, you can use the following method to clean those stains off slate flooring. You may want to try this method on an inconspicuous spot first. Believe it or not, you may have the ingredient for this cleaning method in your home, but it is not what you think.
Spray some of the shaving cream onto the stain and allow it to sit for about 15 minutes. Use the soft towel and warm water to remove the shaving cream and stain residue.
Slate flooring and tiles are beautiful in their own right with their deep, natural colors of red, black, green, gray, and brown. Their stain-resistant durability makes them ideal for bringing the beauty of nature indoors. It's essential to take care of this type of flooring with proper cleaning and care.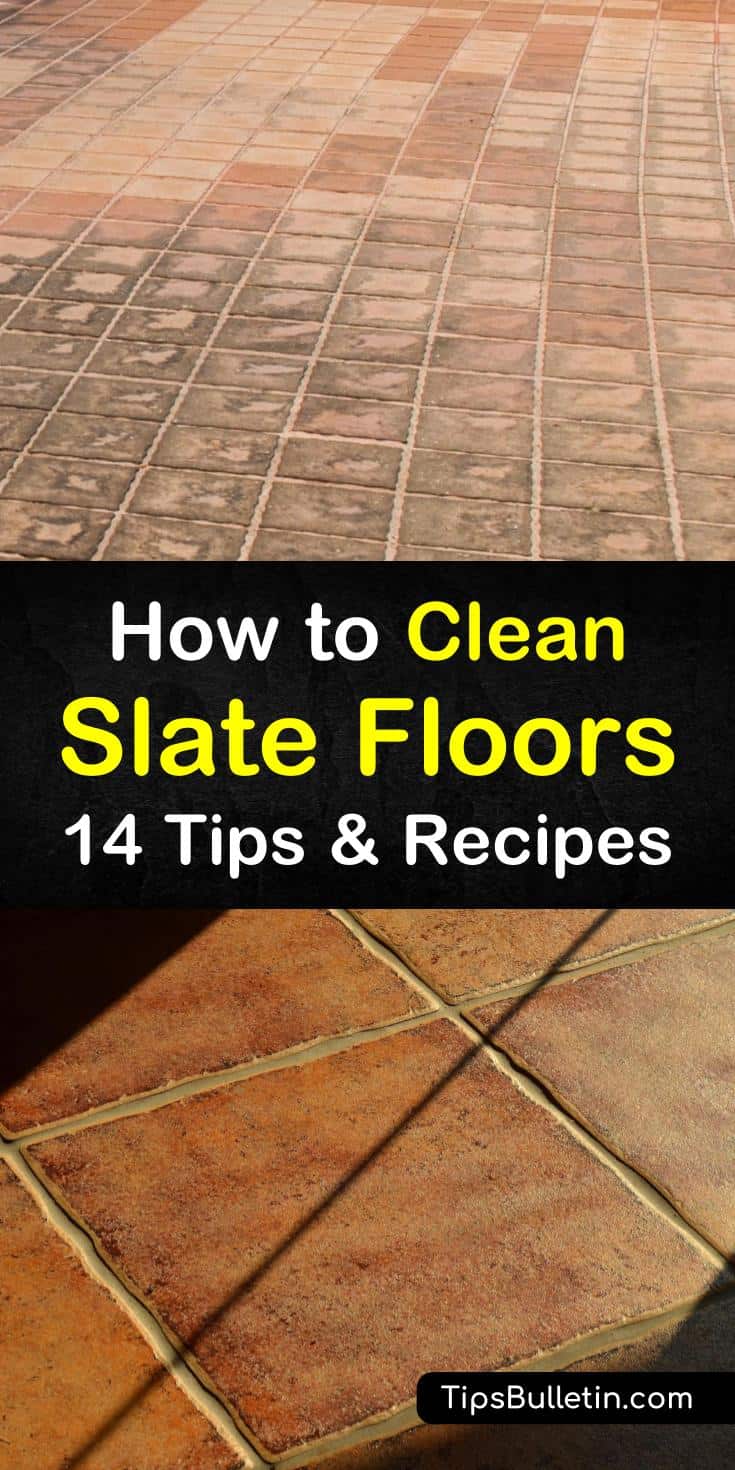 Once you've got the know-how and the right DIY cleaning tools under your belt, you and your tile floor can begin with a clean slate (pun intended). Why not show your friends and family how to clean slate floors by sharing our tips and recipes on slate floor cleaning with them on Facebook and Pinterest?