If you're looking for "green," environmentally friendly cleaning products, you can't do much better than cleaning with vinegar. White vinegar, in particular, is excellent for getting your entire house sparkling clean.
This fantastic green cleaning ingredient is incredibly versatile, and there are a lot of advantages in using white distilled vinegar for cleaning throughout your home. Not only is it an effective and inexpensive natural cleaning product, but it is also safe for the environment and safe to use around your pets and family.
Vinegar is an effective product that you should include in your cleaning arsenal. Not only is it great at lifting stains, but it can clean windows, freshen your laundry, and so much more.
However, vinegar is also an acetic acid, which means it can damage your natural stone floors and granite or marble countertops, so be sure to avoid using vinegar on these areas. Here are some of the remarkable ways to use vinegar to clean almost your entire home.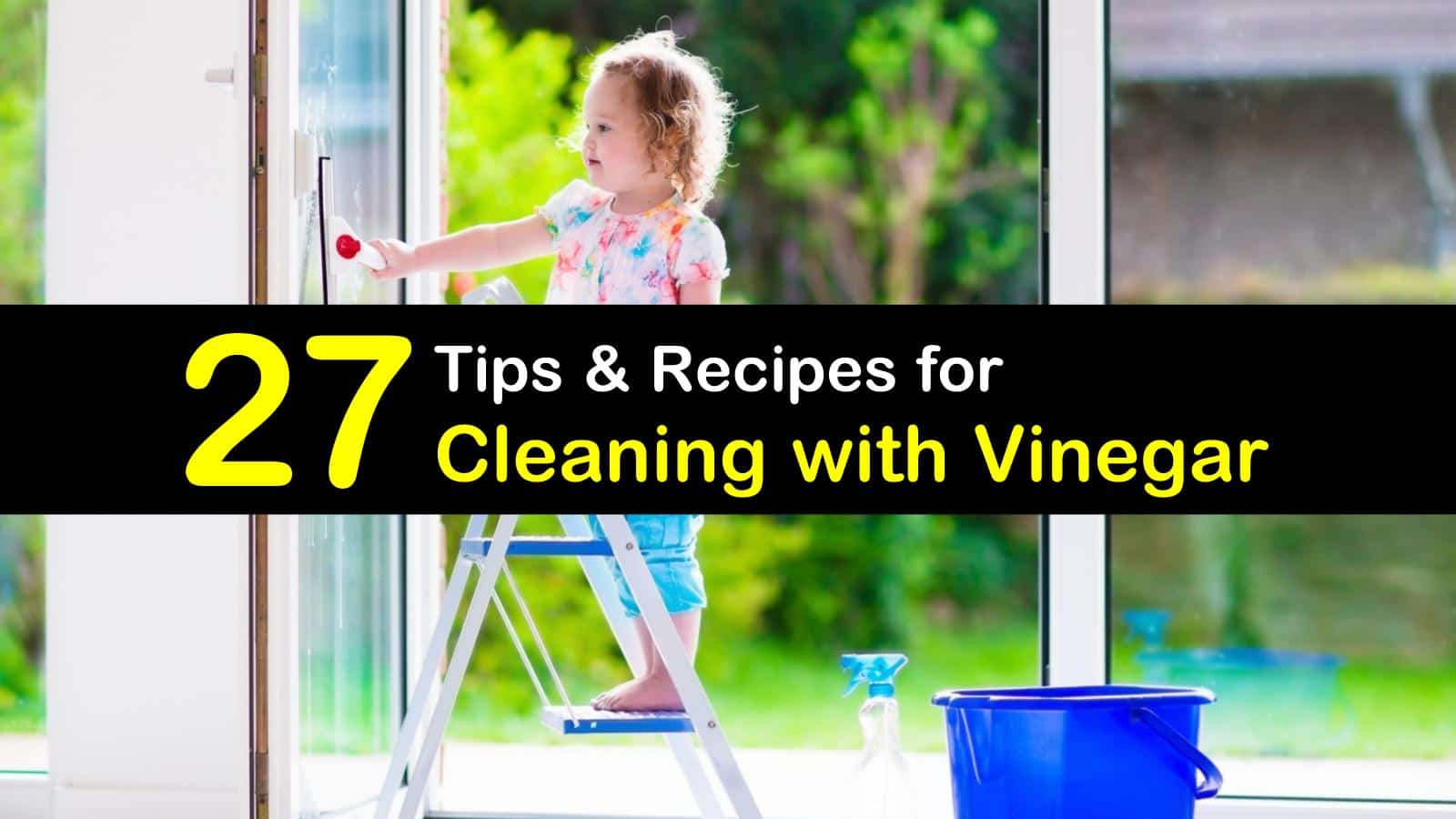 How to Clean with Vinegar
Vinegar is an incredibly mild acid with excellent sanitizing and freshening properties, which makes it an excellent multi-purpose cleaning solution to use in your home. Use vinegar to do everything from unclogging drains to removing stains to deodorizing and disinfecting, and you can even use it to remove stickers that seem to never come off when you want them to.
How you clean with vinegar depends on the surface you are cleaning and what you are trying to remove. For cleaning, use vinegar full-strength, dilute it with water, combine it with baking soda, add a few drops of essential oil to it, or you can use it as an ingredient in a DIY household cleaner for all kinds of surfaces in your home or office.
Grab that gallon jug of vinegar that's on sale and take advantage of its wonderful cleaning properties, whether you need to clean a humidifier with vinegar or have stubborn stains! Here's how to clean with vinegar as a great multi-purpose cleaning solution.
Cleaning the Kitchen with Vinegar
There are many messes that come into play in your kitchen, including everyday spills, the daily wipe down, microwave explosions, grease splatters, and oven disasters that can leave you wondering how to tackle them. If you make cleaning with vinegar your go-to product tackling these kitchen messes, you'll clean them up in no time.
Clean Your Drains
The commercial drain cleaners that you purchase at the store are not only expensive but contain harsh, caustic chemicals. However, in about five minutes you can make a simple drain cleaner with ingredients that you likely already have in your kitchen.
After using this effective cleaner, your kitchen drain will run smoothly and will smell fresh and clean. To clean the kitchen drain with vinegar, pour half a box of baking soda into the pipe, then pour in some vinegar.
The baking soda will fizz. Let all the foam dissipate, then repeat the process until the baking soda is gone. Avoid using the drain for a bit for the maximum effect. The next time you use your kitchen sink, run hot water down the drain to help remove the dirt and debris that the drain cleaner loosened.
Create a Dishwasher Rinse Agent
If you're looking to get your dishes cleaner and dryer and keep them free of water spots, consider using a dishwasher rinse agent, but they aren't cheap. Fortunately, there is a less expensive alternative that works just as well.
The bottle of vinegar sitting in your pantry can be used to replace costly, store-bought dishwasher rinse agents.
If you've used a commercial rinse agent in your dishwasher, make sure that you finish using it before you add vinegar. To create a rinse agent, unscrew the dishwasher's rinse agent dispenser cap and fill it with white vinegar. Replace the lid and run your dishwasher as usual. When needed, refill the dispenser.
Your dishwasher itself also needs periodic cleaning. Get rid of funky smells that may linger after you run a cycle and leave it smelling fresh for your next load. Clean your dishwasher with vinegar in a container that you put on the top rack. Run a regular dishwasher cycle without dishes.
Vinegar is ideal to remove hard water buildup in a dishwasher, too.
Clean the Microwave
This vinegar cleaning solution is incredibly simple to use and eliminates all the baked-on food in your microwave. With a simple solution of equal parts water and vinegar, you can ditch expensive cleaners and save your elbows some work.
To get your microwave sparkling clean, fill a microwave-safe bowl with half water and half vinegar and microwave it for two minutes on high. Then, take a sponge and dip it into the water and vinegar solution and use it to wipe down the microwave's walls.
Not only will vinegar make the interior and exterior of your microwave nice and clean, but it is also ideal for getting rid of the smell in the microwave. If you have that unpleasant odor of burned popcorn or the lingering effects of steamed Brussels sprouts, vinegar can take care of the odor.
Clean Stainless Steel
Stainless steel appliances are a beautiful addition to any kitchen but can be a pain to keep clean. To efficiently clean stainless steel and remove fingerprints from the surface, skip the expensive stainless steel cleaning products and use vinegar instead.
Cleaning and polishing stainless steel appliances with vinegar is not only reliable and efficient, this homemade cleaner can be used on all the stainless steel in your home, and it also makes an effective window cleaner, as well. Clean everything from your microwave to the garbage can to your stainless silverware.
To make this natural vinegar cleaner, add the vinegar and alcohol to a 16-ounce glass spray bottle, then add the water. Replace the cover of the spray bottle and vigorously shake it to combine.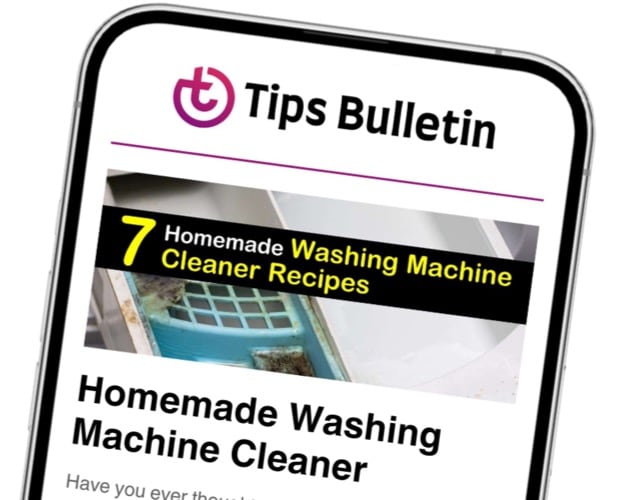 Finally, an email that Transforms Your Home.
Get the latest home and garden tips from our experts, delivered straight to your inbox.
Spray the cleaner on stainless steel surfaces and clean a water cooler with the solution. Wipe off with a paper towel or soft cloth. Your stainless or other surfaces will shine like new.
If you don't like your house smelling like vinegar, add a few drops of your favorite essential oil to mask the smell. Citrus scents are particularly effective. Try lemon or orange.
You can also use this simple solution as one of the ways to wash dishes without dish soap. Vinegar not only cleans but it sanitizes, as well. For stubborn stains, add a little salt to a scrubber and you have a light abrasive that takes care of most food debris.
Clean the Dishwasher
If you aren't already cleaning your dishwasher regularly, you should probably start now so your dishwasher runs correctly. Cleaning a dishwasher with vinegar is super easy, and the reward is years of reliable service.
To remove the soap scum from the inside of your dishwasher, place a cup of distilled vinegar on the dishwasher's top rack and run it through an entire wash cycle. This process removes soap scum, hard water mineral deposits, and rust from the walls of the dishwasher.
Sanitize Your Sponges
The sponges and scrub brushes you use in the kitchen and bathroom to clean and sanitize need sanitizing themselves. To keep them fresh and bacteria free, soak them in a small bowl of vinegar overnight.
In the morning, squeeze them out, and they'll be clean and ready to use. The vinegar kills the bacteria lurking on your sponge while effectively eliminating odors.
Clean the Automatic Coffee Maker
Coffee makers are much dirtier than you might think, and you probably aren't cleaning yours as often as you should. Clean a drip coffee machine with white vinegar and be amazed at the difference in your next cup of coffee.
Dissolve oily build-up and minerals and coffee stains with white vinegar while killing the yeast and mold that grows in these household machines where you might not always see them.
How to clean a coffee maker with vinegar takes no time at all and couldn't be any easier. To clean a coffee pot with vinegar, fill the reservoir with vinegar and run it through a single brewing cycle.
Remove the carafe and rinse the vinegar residue away by filling the reservoir with water and running another brewing cycle. One or two more clean water cycles may be necessary to completely eliminate the vinegar odor and taste.
If you discover a coffee stain on your favorite outfit, vinegar is also the perfect way of getting coffee stains out of fabric. Rub a little vinegar into the stain and rinse with cold water. Repeat treatments may be necessary if the stain is old or large.
You can clean a coffee maker without vinegar, too. Use lemon juice instead of the vinegar and get the same result with a nice fresh scent.
Eliminate Grease Buildup
It can be challenging to remove grease buildup on the stove or countertops if you don't have the right cleaner. Fortunately, you can make a homemade heavy duty degreaser using vinegar to cut through the grease and grime straightforwardly.
Rinse the spray bottle with warm water and add vinegar, baking soda, and dish soap. Next, fill the rest of the spray bottle with warm water. Mask the smell of the vinegar with five to ten drops of essential oil.
Replace the lid of the container and shake vigorously. Spray the degreaser on the greasy surfaces and wipe down with a clean sponge. Dampen a clean dishcloth with warm water and wipe over cleaned surfaces to rinse.
Clean Your Cutting Boards
Clean wood and plastic cutting boards with vinegar. The acidic properties of white vinegar kill any bacteria that lives on your cutting boards, leaving them clean and fresh. Spray a bit of white vinegar on the cutting boards and wipe down with a paper towel, simple as that.
Bathroom Cleaning with Vinegar
When tackling the job of cleaning the bathroom, use products that are tough enough to kill mildew and germs and to cut through soap scum and hard water stains. The products also need to leave your mirrors streak free and your bathroom faucets and tile floors shiny.
What kills mildew and mold spores that can linger in unwelcome areas of the bathroom? Luckily, you can make white vinegar your go-to cleaner for these tasks. These simple to use cleaning tips and tricks using vinegar make your entire bathroom clean and free of germs.
Be sure to tackle every area of your bathroom for the most effective lavatory sanitizing and cleaning to ensure you get rid of all germs, particularly if there has been illness in your household.
Toilet Bowl Cleaner
Cleaning the toilet isn't about using the most expensive cleaner you can buy, but instead using the right cleanser. Vinegar makes the perfect cleaner for getting your toilet bowl clean and germ-free because the acetic acid effectively kills germs, viruses, mold, and bacteria while dissolving tough stains and mineral deposits.
To effectively clean your toilet bowl, add a couple of cups of vinegar to the bowl before you go to bed. In the morning, swish the bowl with a toilet brush and flush. Not only does this sanitize the toilet, but it also removes stubborn hard water stains.
Remove Mold and Mildew
The mold and mildew removers that you purchase at the store are expensive and are incredibly harmful to your lungs. Skip these toxic cleaners and make a highly effective tub and tile cleaner using vinegar.
This vinegar for cleaning recipe is quite easy to make and uses nothing more than water and vinegar. While this simple spray does a great job at eliminating mold and mildew, it also makes a great all-purpose cleaner for many surfaces in your home. However, it can damage natural stone, granite, and marble, so make sure you always spot test in an inconspicuous area before you use it.
Add the white vinegar and water to a spray bottle. Add essential oils if you're using them. Replace the spray bottle's lid and shake to combine. Spray the tub, shower, and tiles with the cleaning vinegar solution and wipe with a clean sponge — no need to rinse.
Clean and Unclog a Shower Head
If you have hard water, it can quickly clog your shower head and keep it from performing well. Hard water can be high in magnesium, calcium, lime, silica, and other materials, that leave behind mineral deposits when they dry.
The good news is you can quickly take care of this problem and get your showerhead flowing at full blast again.
Fill a heavy-duty plastic bag half full with vinegar. Use a rubber band to attach the bag over the showerhead.
Allow the bag sit overnight, then remove the bag, and scrub the showerhead with an old toothbrush. This method also removes mineral deposits from faucets.
Clean and Prevent Soap Scum
If you can't see through your glass shower doors anymore because of all the soap scum, use vinegar to take care of the problem and prevent future build-up from occurring.
To remove soap scum and to avoid build-up, soak a sponge in white vinegar and wipe down the shower doors. The acetic acid will dissolve the mineral build up and get your shower doors clean and looking new.
Using Vinegar in the Laundry Room
Thanks to all the advertisements you see on TV, you probably think you need oxygen boosters, fabric softeners, and stain removers to get your clothes clean. While these things can help get your clothes clean, it can be expensive to purchase these items.
Fortunately, there isn't much that your regular laundry detergent and a bottle of vinegar can't clean, including your washing machine. Here are some easy ways to use vinegar in the laundry to clean and freshen your clothes.
Clean the Washing Machine
You may have never considered washing the washing machine, because it cleans itself every time you wash a load of clothes, right? Unfortunately, just like anything else, washing machines get dirty in spite of frequent use.
They develop build-up from the detergents you use, they start to grow mildew, and if you have hard water, they get mineral build-up after a while, which can lead to clothes that aren't so clean.
Using a vinegar solution or by itself is one of the ideal ways to get mildew smell out of your washing machine and your laundry smelling fresh again.
One of the best ways to clean a front loading washing machine or a top loader is to use vinegar. To ensure the inside of your washing machine is clean, add two cups of vinegar to the tub and run a complete cycle on the longest and hottest setting.
The acid in the vinegar removes mineral deposits from hard water while eliminating odors, detergent build-up, and stains. For even more sanitizing power, clean your washing machine with vinegar and baking soda. This powerful duo takes care of virtually any cleaning issue you may have with the washer.
Clean Wool Clothing
Wool is a delicate fabric that needs special handling when washing. Instead of spending your hard-earned money on the little bottles of specialty wool detergent, use white vinegar to clean your wool.
Avoid ruining your favorite wool clothing, by washing it on the gentle/delicate cycle in the washing machine. Make sure you use cold water with your regular laundry detergent, and add one cup of vinegar to the automatic fabric softener dispenser, if your machine has one, or add it when the rinse cycle starts.
Washing Your Clothes with Vinegar
Vinegar's acetic acid breaks down any soap residue that builds up on your clothing, blankets, towels, and sheets. This leftover residue can irritate sensitive skin. Washing clothes with vinegar eliminates soap build up and leaves clothes cleaner and softer than ever.
Pour a cup of white distilled vinegar into the washing machine at the start of the rinse cycle to get rid of the soap build up on your clothes. When washing towels, blankets, and sheets, add two cups to the final rinse to leave your towels soft and fluffy.
Wash blankets, sheets, comforters, clothing, and more to get rid of static cling without having to use a dryer sheet in the dryer. Vinegar is also adept at eliminating unpleasant odors and has excellent sanitizing properties.
Clean Glass
You most likely have all the ingredients that you need to make your own glass cleaner. This means you won't have to spend money on a commercial cleaner that contains harsh chemicals.
After you make the switch to a homemade glass cleaner, use the spray bottle over and over again, which means less plastic makes its way into our landfills. The following recipe for cleaning windows with vinegar quickly evaporates so that you won't end up with streaky glass.
Fill the spray bottle with the rubbing alcohol, water, and vinegar and shake to mix. Spray the glass cleaner on all your glass surfaces, and wipe down with a microfiber cloth.
You can even use this mixture as one of the ways to clean eyeglasses if you don't have the cleaning solution handy that the optometrist gave you. Make sure to store this cleaner in a cool cabinet away from heat because the alcohol in this cleaner is flammable.
Clean Your Carpets
There's no need to spend tons of money to get your carpets clean. Make a steam cleaning solution and spot remover for a lot less money than you would spend on carpet cleaners from the store. The best part about using vinegar to clean your carpets is that the ingredients are easy to come by and will do just as good a job of cleaning your carpets.
Add the white vinegar and the warm water to the reservoir of your carpet cleaning machine. Add the essential oil of your choice if you want to mask the smell of the vinegar. Follow the manufacturer's instructions to clean your carpet.
Clean and Polish Your Furniture
Keep your furniture clean and glossy with a homemade furniture polish made from vinegar and lemon juice. With these two natural ingredients, you don't have to worry about the chemicals that are in the furniture polish you buy at the store.
The best news is that you can make this recipe quickly and for far less money. Add the same amount of water and vinegar to a bowl or spray bottle. To clean and polish your furniture, use a clean cloth and rub a small amount of the solution into your furniture, then use another cloth to wipe dry.
Clean Your Window Blinds
You can use white vinegar to clean all the blinds in your house. This vinegar cleaning method is especially helpful when cleaning the blinds in your kitchen if you have grease buildup. Plus, this cleaning method will keep from filling the air in your home with dust, and you don't have to spray any harmful chemicals in the air.
You need some vinegar and an old sock. Apple cider vinegar also works, but it might leave some pigments behind on your blinds.
To clean your window blinds with vinegar, pour about one cup of vinegar into a bowl. Place the sock on your hand, and dip the tips of your fingers into the bowl, gently squeezing out any excess. Then, run your fingers along the top and bottom sides of the slats to remove dust.
Rinse the sock with water periodically before applying more vinegar. Make sure you avoid over-saturating wood blinds to prevent damaging them.
Clean Hardwood Floors
The hardwood floors in your home require meticulous care and maintenance. While you can pick up a hardwood floor cleaner at the store, many of the commercial products contain harsh, irritating chemicals.
Clean floors with vinegar more cheaply than store-bought cleaners and reduce the chemical build-up that comes with industrial cleaners. Vinegar is a powerful antimicrobial agent and is one of the best products for cleaning hardwood floors.
You can also use this recipe for cleaning engineered wood floors. Wiping the floor dry after cleaning ensures that the solution doesn't get into the cracks and cause warping of the material.
Combine the warm water, vinegar, and Castile soap in a large bucket. Stir the solution to ensure the ingredients mix thoroughly. Add the cleaner to a spray bottle, and spray your hardwood floors. Working in small sections, scrub the floor in the direction of the wood's grain to remove dirt and grime. Finish by wiping the floor dry with a soft cloth.
Clean Your Tile and Grout
No matter how often you scrub your tile floors and shower walls, inevitably the grout between the tiles gets dirty. The stains and dirt that accumulate between the tiles can make your bathroom and kitchen look dirty, even after you've cleaned them.
To get the tile and grout sparkling clean without using harsh chemicals, make a homemade grout cleaner. This vinegar and baking soda cleaner will get your tile and grout cleaned and looking like new.
Mix the baking soda, ammonia, water, and vinegar in a one-gallon bucket. Use a funnel to add the cleaning solution to a spray bottle.
Spray the cleaner directly on the grout line and let it stand for several minutes. Then, use a scrub brush to lightly scrub the grout to lift stubborn stains and dirt. Use a sponge or damp cloth to wipe the grout clean.
Clean Jewelry
If you have expensive jewelry, keep it looking as good as the day you bought it with vinegar. Don't spend money on expensive cleaners. With just a bit of time and the right ingredients, you can make sure your diamonds and other jewelry pieces shine.
The best way to clean silver jewelry with vinegar is to dust a small amount of diatomaceous earth on the jewelry to prevent tarnishing. Put the pieces that you want to clean in a pot, cover them with vinegar, and allow them to soak for 15 minutes. Make sure to agitate the solution by moving the jewelry around every couple of minutes.
After 15 minutes, remove the jewelry and use a soft-bristled toothbrush to gently scrub the pieces to remove residue and grime. Rinse with water and dry.
Cleaning Coins
If you have a jar of coins that have lost their luster, bring back their shine with some vinegar and salt. Mix ¼ cup white vinegar and one teaspoon salt in a small bowl. Stir the solution until the salt dissolves. Place your copper, brass, or dark silver coins in the bowl in a single layer.
Let them sit for five minutes while the solution is cleaning coins. Remove the coins from the vinegar bath and dip them in a container of denatured alcohol to remove the vinegar. Rinse thoroughly with warm distilled water and dry with a lint-free cloth.
You can also take care of cleaning brass with vinegar or polish other items like copper, and pewter. Vinegar is so versatile that it has hundreds of uses for cleaning and polishing, as well as disinfecting every area of your home.
Clean Pet Stains from Your Upholstery
Pet odors and stains quickly ruin upholstered furniture and your mattresses. Salvage stained upholstery with proper cleaning.
When dealing with pet stains on upholstered furniture, it is essential to soak up the urine quickly before it makes its way to the fill material below the fabric. Make sure you allow the spot to completely dry before you start to clean the stain.
Eliminating urine odor from the mattress or your favorite furniture is easy. Combine the vinegar and water in a small container, stirring to mix. Use a clean cloth dipped in the cleaning solution to gently dab the stain. Use a second dry cloth to lift the moisture.
Repeat the process until the stain is gone. Make sure you don't soak the material because it could drive the urine further into the furniture.
If there is a lingering odor, sprinkle baking soda on the stain and rub it in with an old toothbrush. Let it sit for a while and vacuum up the residue.
If the urine stain is on your mattress cover, you can throw it in the wash with your regular detergent and add some vinegar. Wash a mattress protector just like your other bedding, unless it is made from memory foam. In that case, spot clean it like you do the mattress.
Clean Copper Pans
The easiest way to clean copper pots and pans is with vinegar and salt. Combine one cup of distilled white vinegar and 1 ½ teaspoon of salt in a spray bottle.
Replace the cap and shake to combine thoroughly. Liberally spray copper pots and pans and allow to sit for 30 minutes. Rub the items clean with a dry, soft cloth. If some tarnish remains, repeat the process.
Clean a Steam Iron
If you have hard water, it quickly clogs the iron and causes it to sputter, and it can leave rusty or mineral-filled water spots on your clothing. Unclog the steam vents of your iron with a simple solution of water and distilled white vinegar.
To unclog and clean the inside of your iron or to clean a cool mist humidifier, combine a ½ cup of white vinegar and a ½ cup of distilled water in a liquid measuring cup. Pour the mixture into the iron or humidifier and turn it on. Set the iron to steam and allow the iron to heat up for five minutes.
After five minutes, depress the steam button in and hold for at least 20 seconds until it starts to steam. Repeat the process six times then turn the iron off and unplug it from the wall. When the iron is cold, dump out any remaining mixture.
Can Vinegar Go Bad?
As you move through your house cleaning with vinegar, you may wonder can vinegar go bad? While every bottle of vinegar has a "best before date" stamped on the container, the shelf-life of vinegar is indefinite.
If you have a bottle of vinegar that is past its expiration date, you can still use it to make homemade cleaning products, but it may have a lower level of acidity. Even with a lower acidity level, vinegar is still one of the best ingredients to use if you're trying to avoid using harsh and toxic chemicals when you're cleaning your home.
Distilled white vinegar is a powerful multitasker that can be used for more than just cooking. It has become an all-around super product for cleaning the house, not only because it is incredibly useful, but it is inexpensive, as well. If you can get past the smell, vinegar is an effective way to rid your home of dirt and bacteria. Thanks to the acidity level, white vinegar is a potent cleaning agent.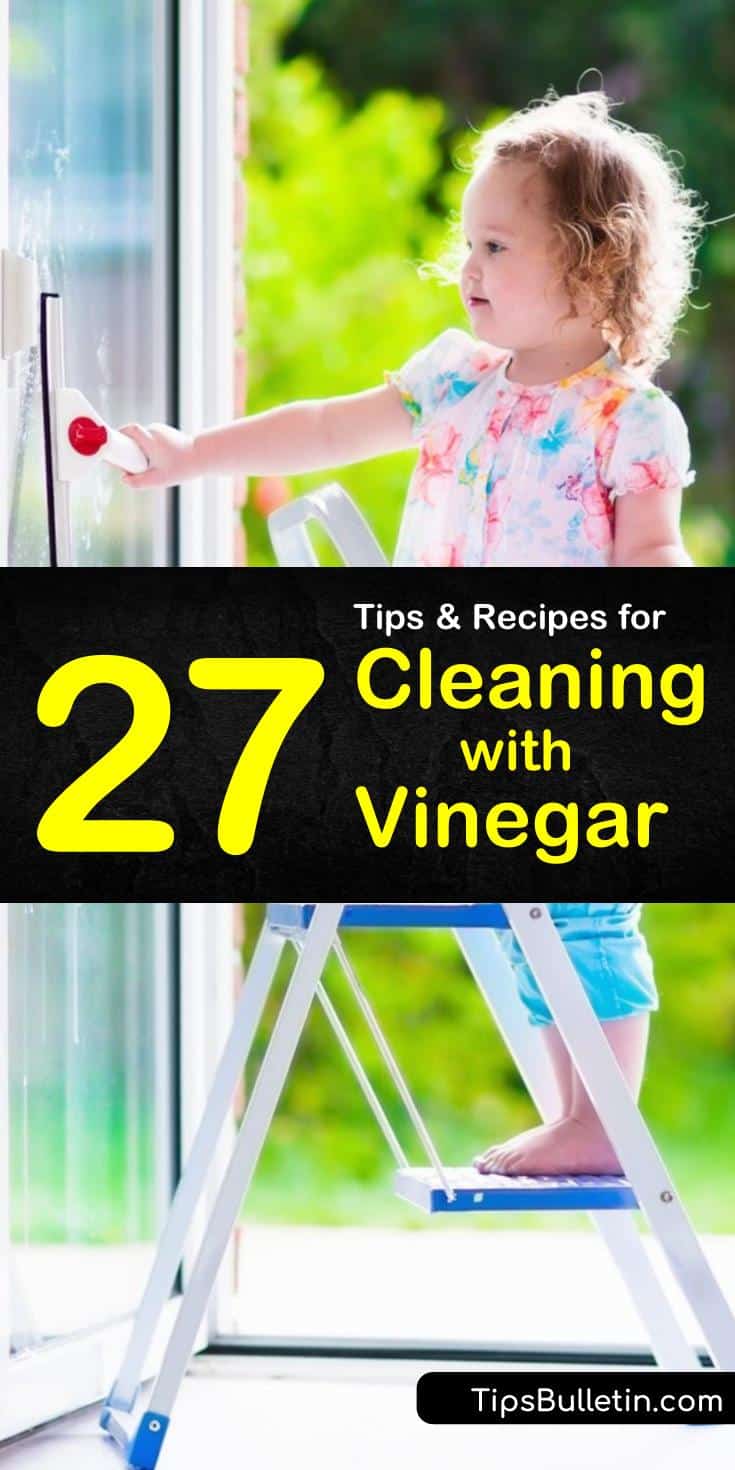 We hope you loved learning about the many different ways you can use vinegar to clean. If you found these white vinegar-based cleaning recipes and tips useful, please make sure to share the information with your family and friends.