Beautiful roses are some of the most popular garden flowers, yet they're often fiddly and prone to diseases. Make your life easier by planting climbing roses, which tend to be more disease resistant.
Imagine an arch draped with white blossoms or a brick wall coated with pink roses. Rambling roses also grow over arches and trellises, but their canes are less rigid. A rambler also only blooms once per growing season.
Try combining ramblers' brilliance with climbers' repeat-blooming flowers and the late-summer glory of clematis to make your garden engaging throughout the growing season. When choosing your rose variety, make sure to keep in mind its hardiness zone and final size.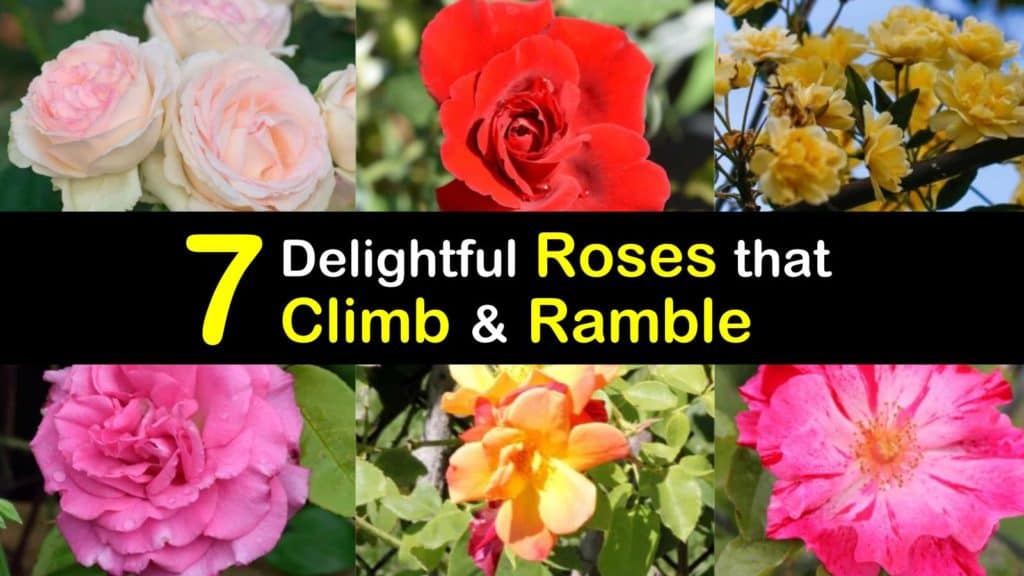 Climber Rose Varieties
A standard shrub rose makes a compact addition to a garden. Climbing roses add vertical interest to your yard without taking up much space, just like when planting climbing ferns.
The difference is where you plant them. Most roses prefer full sun, while ferns like shady locations. Read on to discover your new favorite cultivar of climbing rose.
When and Where to Plant Climbing Roses
Plant bareroot roses—those without soil packed around their roots—in late winter or early spring. Remember that some climbing roses grow horizontally.
If possible, select a location with full sun and eastern exposure to protect the plant from the afternoon sun. Well-draining soil helps prevent fungal diseases like black spot.
Plant climbing roses next to a structure like an arbor or wall. Have the rose climb a trellis instead of a wall to allow adequate air circulation.
How to Plant Climbing Roses
Dig a hole that's large enough for the roots. Move around the soil at the bottom to create space for the roots to grow downward. Carefully place the plant inside the hole with its branches pointing toward the structure that you'd like it to climb.
Ensure that the point where the rose joins its roots is just below the soil's surface. For an ownroot rose, place the pot one inch below the soil level. Fill the hole with dirt, pack it lightly, and water it well.
Growing roses in containers is also an option if you don't have a yard big enough to support all the plants you want to grow. It's also easy to move them around as needed for light requirements and convenience.
Rose Care
If you are a coffee drinker, spread the used grounds around the base of your rosebushes to give them some natural fertilizer.
Aphids can be a problem for some rose varieties. One excellent home treatment for aphids on roses is to blast them with water from the hose. Hold each branch gently while you spray a heavy stream of water on the bugs to dislodge them. Be sure to cover all sides of the stems and leaves.
Neem oil can also be an effective aphid and other pest solution. Using neem oil on roses is easy, rose-friendly, and eliminates the problem quickly.
For bigger, brighter, and more prolific blooms, sprinkle Epsom salt at the base of your roses. Epsom salt works great for climbing roses and other varieties and you probably already have a box or bag in the bathroom.
"New Dawn" Rose (Rosa "New Dawn")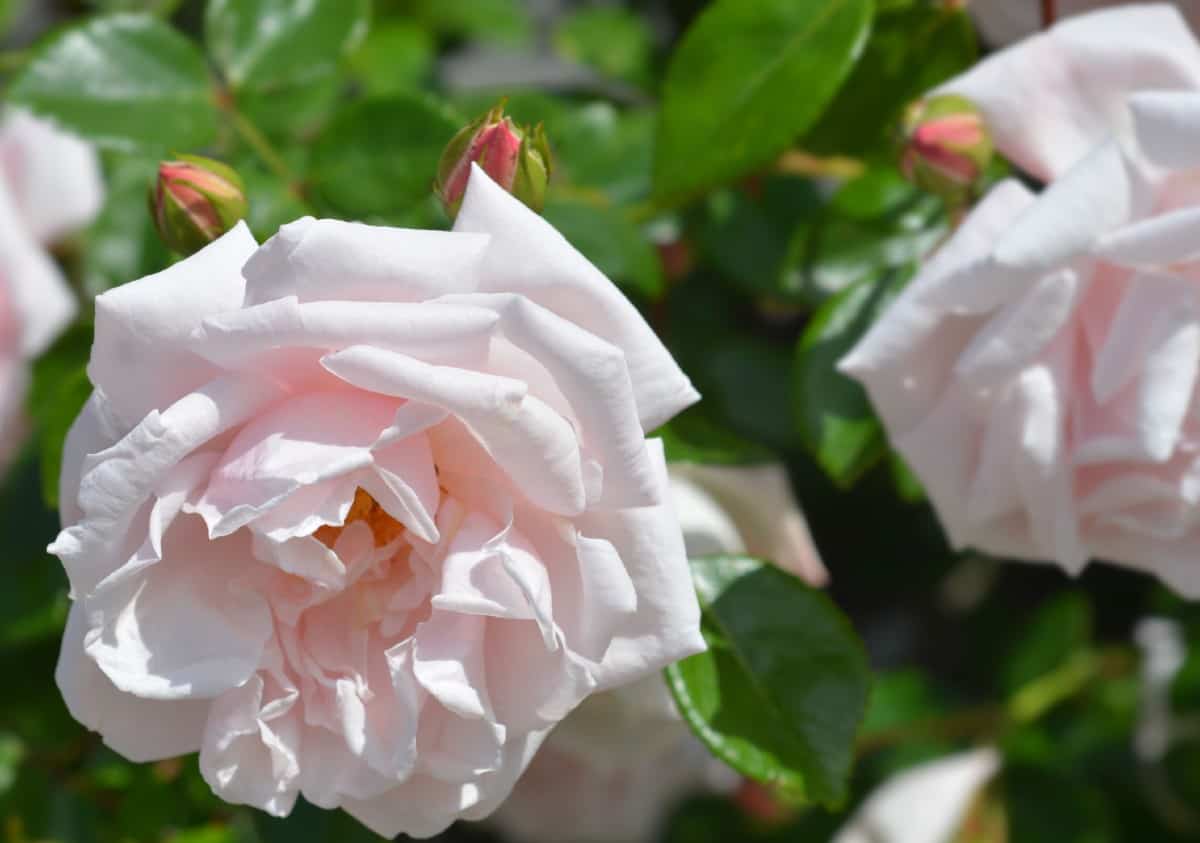 The soft blossoms of the "New Dawn" rose make us think of an English rose garden, although its thorns are less than delicate. During its bloom time from early summer to fall, its pale pink flowers fade to nearly white, emphasizing the yellow stamens.
Plant this rose in late winter or early spring. Aim to plant it in moist, well-drained soil and full sun, although it does manage in partial shade if necessary.
Since this bloomer reaches up to 20 feet tall, make sure to match it with a sturdy support. "New Dawn" needs approximately four gallons of water per week and benefits from the application of fertilizer and mulch.
"Joseph's Coat" Climbing Rose (Rosa "Joseph's Coat")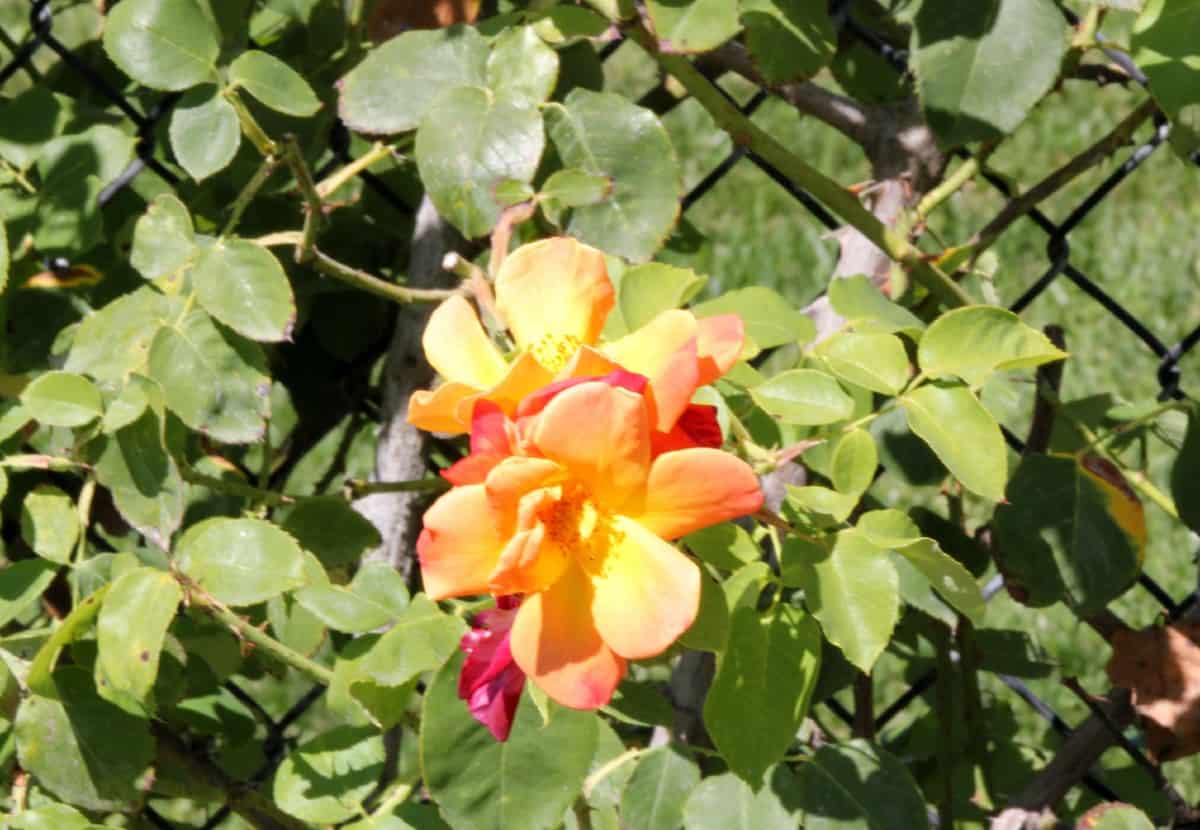 The blooms for this striking rose combine vivid yellow, apricot, and red. They appear in spurts from late spring through to the fall. "Joseph's Coat" has a lower disease resistance than "New Dawn" does.
Make sure to plant these easy care roses in full sun in moist, well-drained, fertile soil. It enjoys receiving water when the earth becomes dry, and needs fertilizer in late winter or early spring and again in early summer. It's well suited for climbing on fences and arbors.
"Eden" Rose (Rosa "Eden")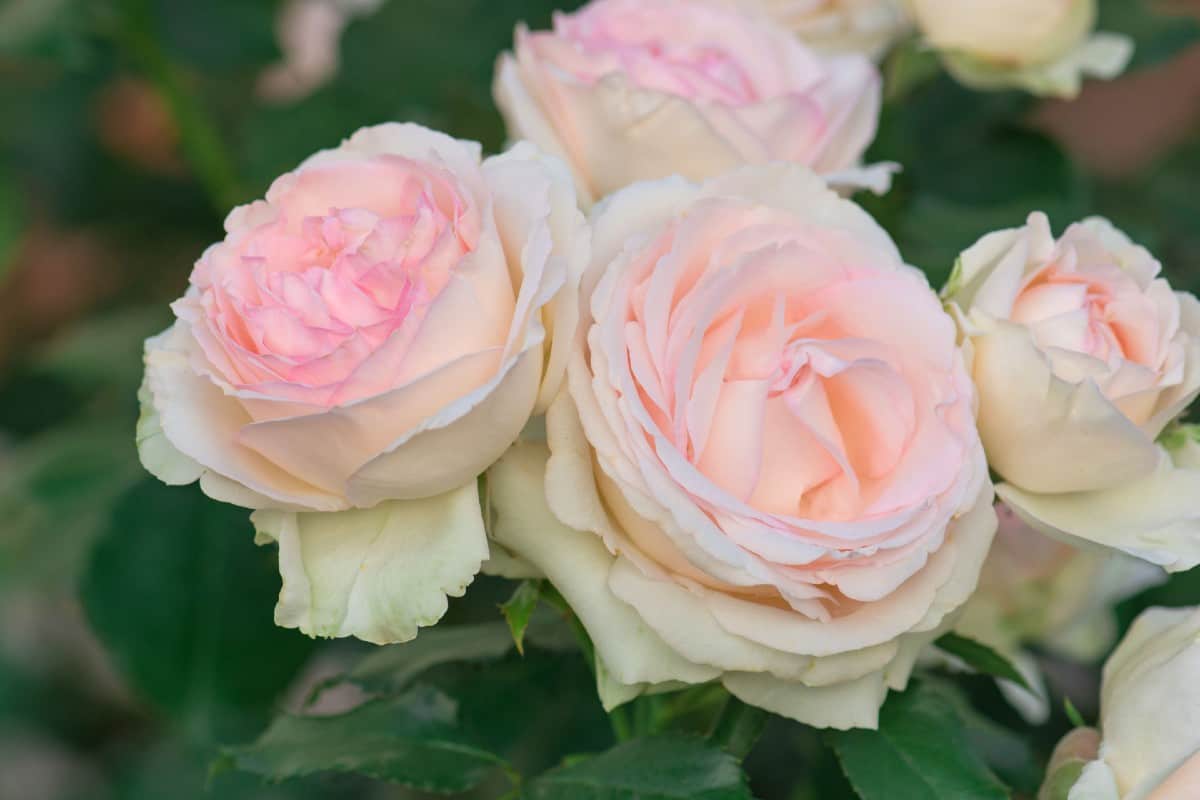 This rose boasts large, heavy flowers that change from creamy white to light pink. Grow it as either a freestanding shrub or a climber. Eden roses grow best in full sun to partial shade conditions and in well-drained soil.
"Eden" does not handle moisture well, so water it at most once a week or every four to five days if it's unusually hot. Fertilize it three times throughout the growing season: in early spring, the middle of the first blooming period, and mid-July.
"Don Juan" Rose (Rosa "Don Juan")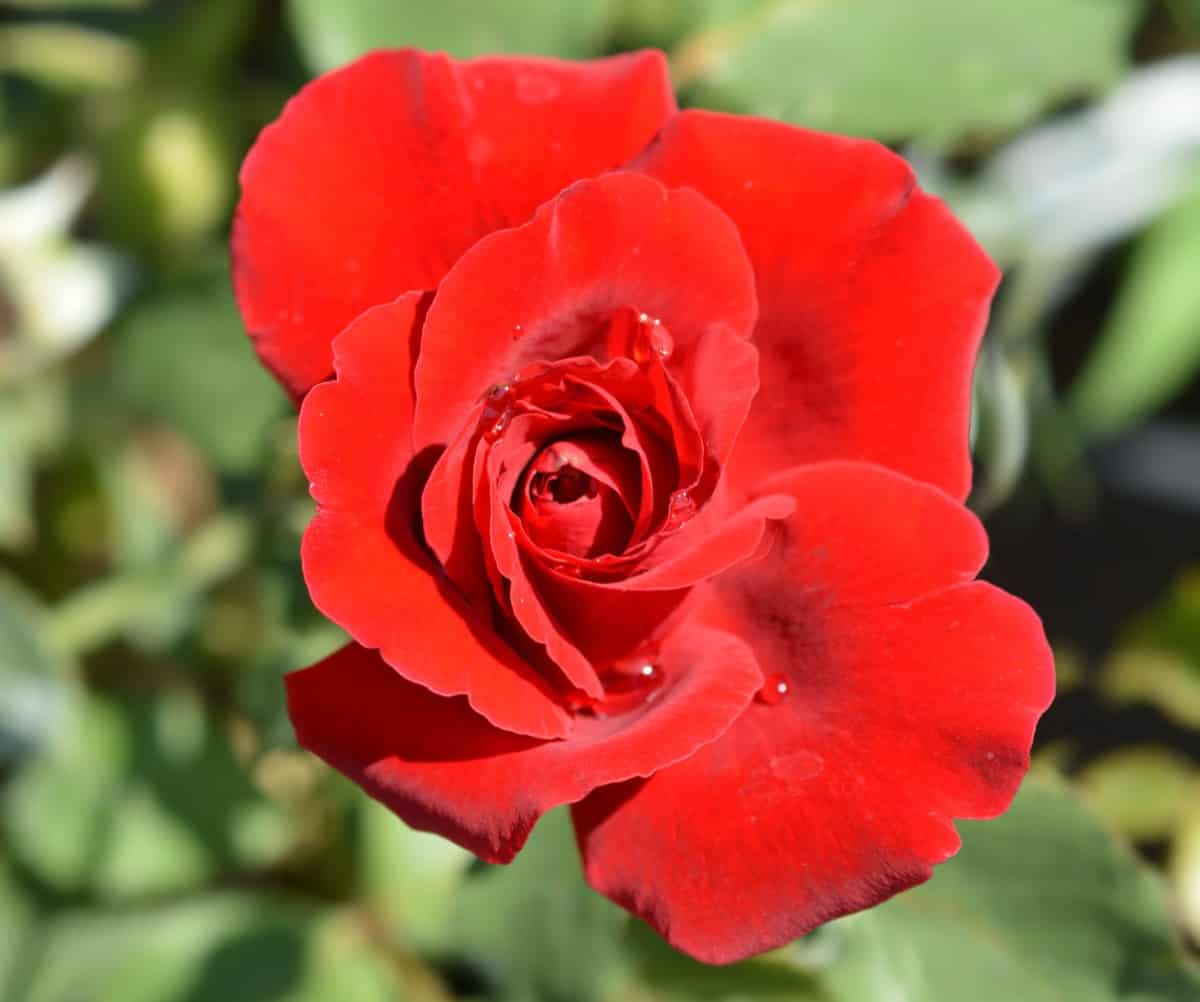 Add sensuousness to your garden with sweet smelling flowers like the "Don Juan" rose. This cultivar produces deep red flowers off and on throughout the early summer. Single flowers make excellent decorations to use around your house.
It should be grown near a support structure like a fence since it's fast-growing. Plant "Don Juan" in full sun in fertile, moist, and well-draining soil.
Don't overwater your plant. Do, however, apply rose fertilizer up to three times per growing season, leaving at least four weeks between each application.
"Zephirine Drouhin" Climbing Rose (Rosa "Zephirine Drouhin")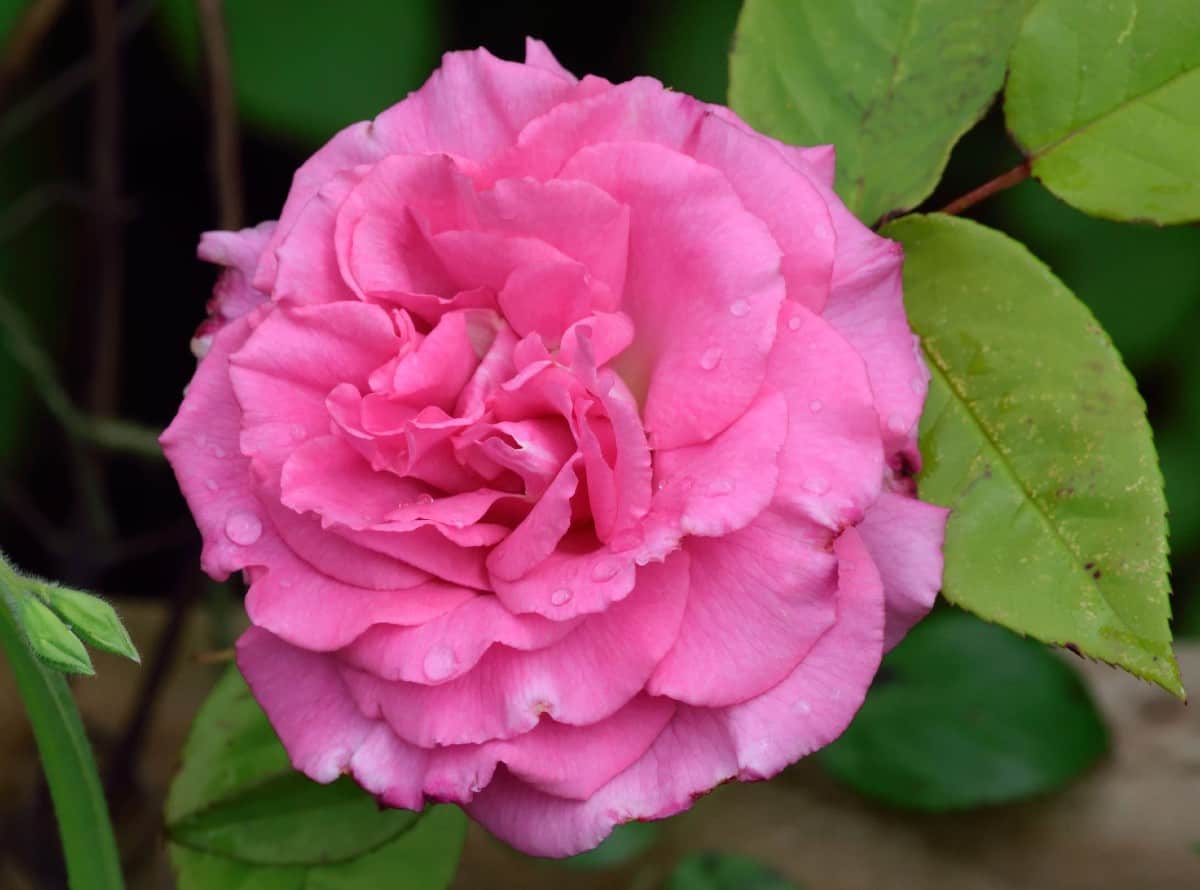 This cultivar's deep pink blossoms fill a garden with the scent of raspberries from late spring until the first frost. You'll be relieved to know that the Zephirine Drouhin is one of the almost thornless roses so it's great to have if you have small children or pets.
Plant this versatile rose as a climber for garden structures like arbors, or as a hedge along borders. Zephirine Drouhin tolerates shade, although it prefers full sun. It enjoys humus-rich, well-drained soil.
Water the rose well in the mornings, making sure to point at the roots. Apply fertilizer twice a year, once before it blooms and once afterward.
"Golden Showers" Rose (Rosa "Golden Showers")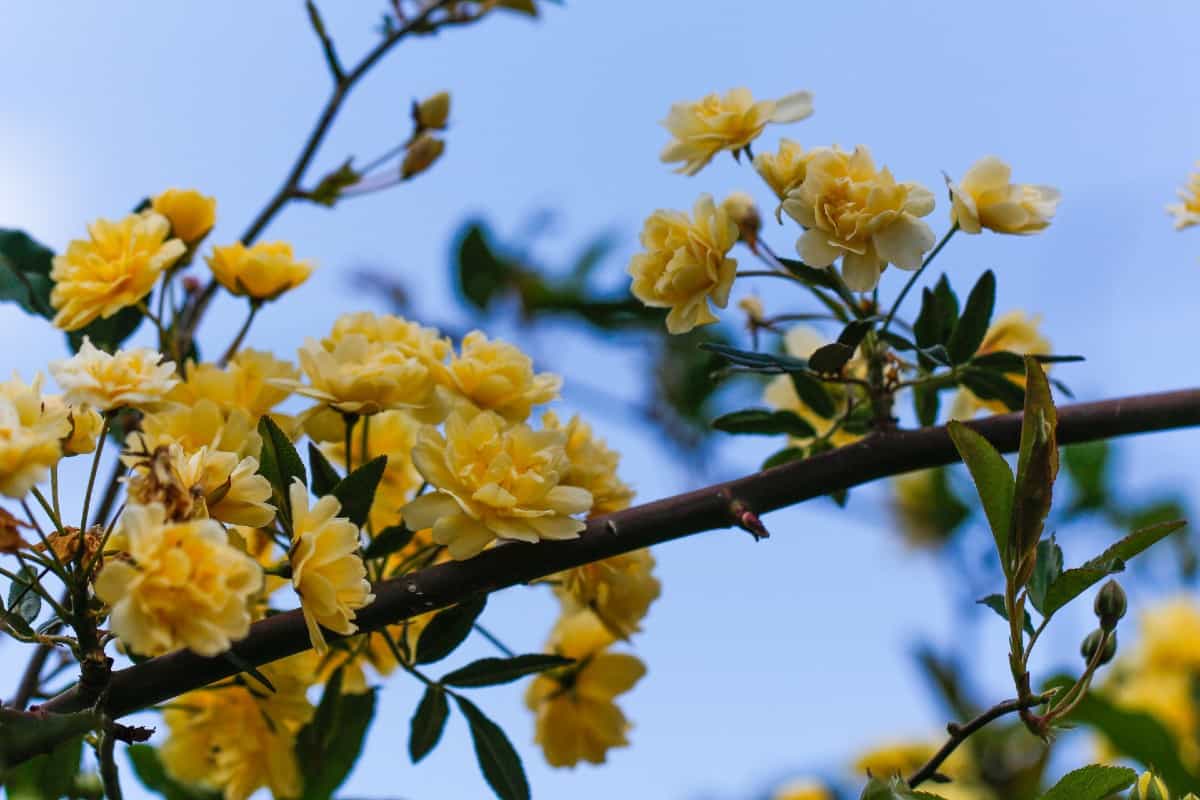 Enjoy sunny yellow flowers from midsummer to early fall with this nearly thornless rose. Its stiff stems help it climb up a wall or arch, or prune it to grow as a shrub. Its compactness fits perfectly in a small garden.
This cultivar prefers full sun and fertile, moist, well-drained soil. However, it survives in the shade and poor-quality soil if necessary. It enjoys receiving regular watering, and doses of fertilizer in late winter or early spring and again in early summer.
"Fourth of July" Rose (Rosa "Fourth of July")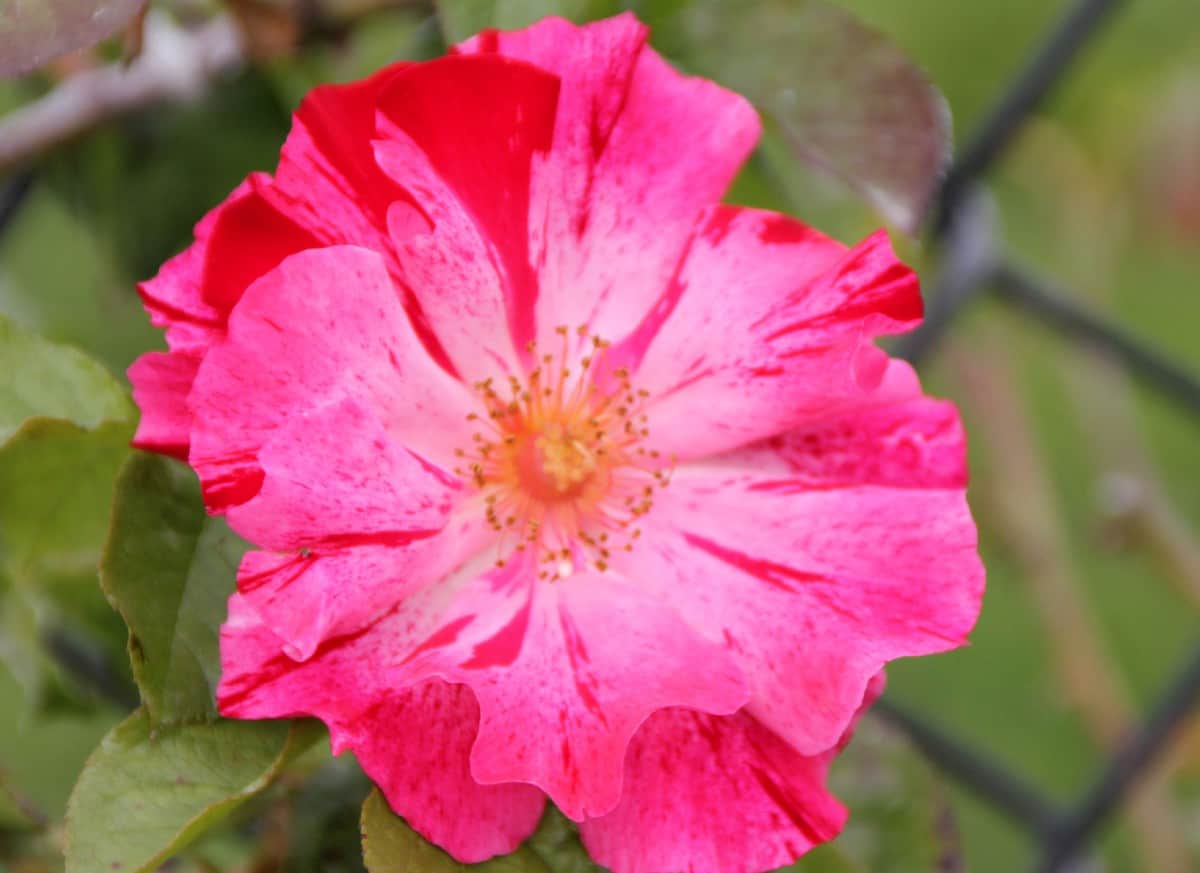 This variety was only introduced in the United States in 1999. The red-and-white stripes radiating out from its blooms' centers bring a patriotic slant. Its thorny stems successfully climb a fence or arbor. Ideally, plant this rose in a well-drained, sunny location.
Unlike some of the other types of roses, "Fourth of July" requires thorough regular watering. Just make sure to water near the roots. Give the plant one round of fertilizer in early spring. Perhaps apply more fertilizer once the flowers are growing and in mid-July.
You now know about a variety of roses that beautify a garden without taking up a lot of space or requiring much maintenance effort. These repeat-blooming, disease-resistant climbers bring the benefits of shrub roses without their inconvenience.
Use climbing roses to fill in gaps in your landscaping. Choose a colorful rose to complement the plants already in your garden or create a stunning conversation piece.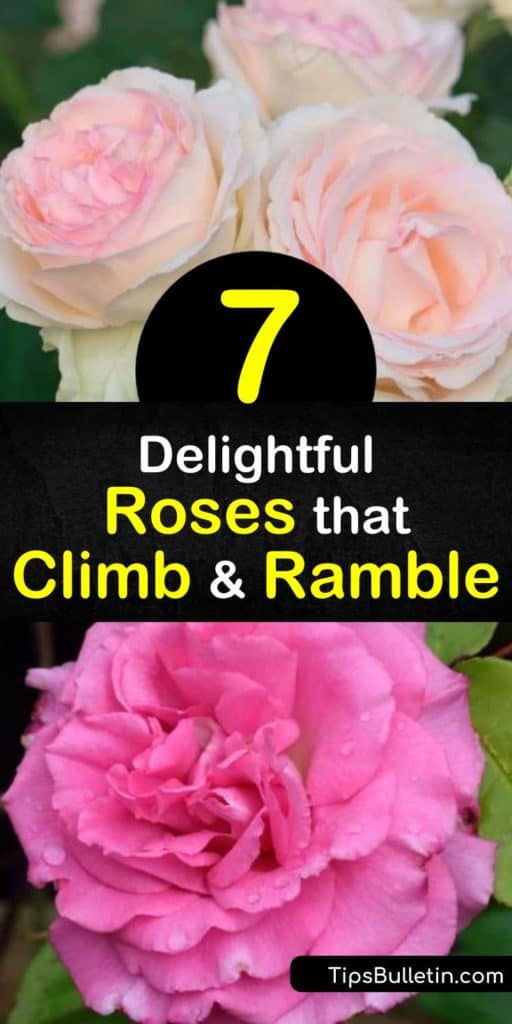 If you found these climbing rose ideas useful, please share these garden tips with your friends on Facebook and Pinterest.