There is nothing more visually stunning than long tendrils of climbing vines as they scale a trellis or mailbox. This effect arises with some easy-to-grow plant species that look fantastic in almost any location.
The best part is there is a wide array of options to choose from when it comes to landing on the perfect selection. Not only are there types of vining plants with gorgeous foliage, but many also produce lovely flowers throughout the year.
One of the most crucial pieces to consider when planting your vines is how fast they grow and the length of their spread. Many of these plants grow at rapid speeds, calling for extra maintenance and pruning to keep them from overtaking parts of your yard.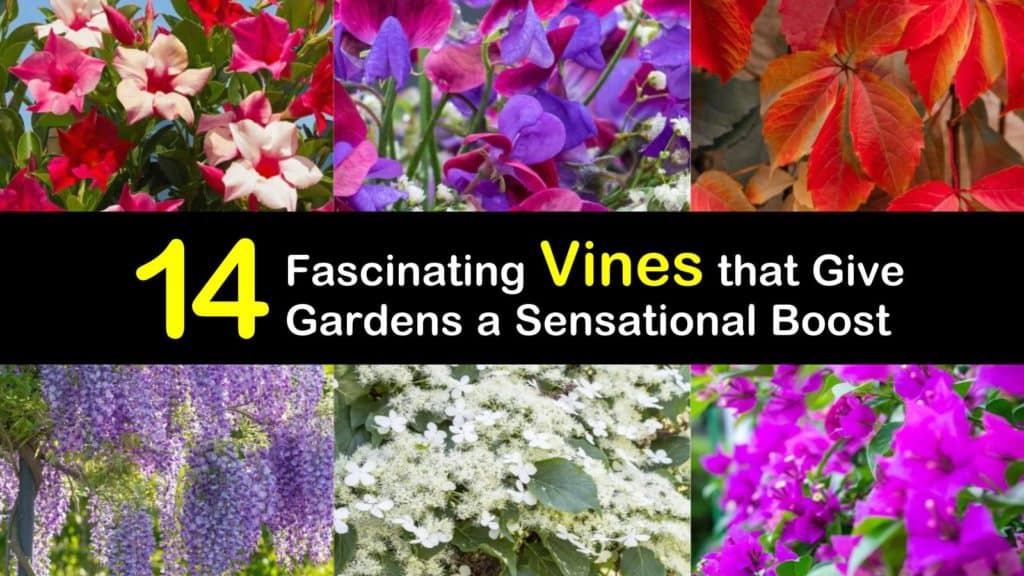 Wonderful Climbing Vines that Offer Unparalleled Appeal
Some plants call for plenty of space to grow, usually with the help of a trellis or pergola. While these may require one additional step to keep your gardens looking immaculate, the rewards are well worth the effort.
To incorporate some exceptional specimens into any garden design, try one or more of these gorgeous species. Another thing to consider when growing climbing plants is what they should cling to when you plant them.
While trellises and pergolas are preferred for displaying these beautiful plants, don't be afraid to get a little creative. Some grow just as well along fences, railings, or to fill in gaps between structures.
If your vining plants have fruit, fertilize grapes or other edibles when planting and periodically through the year for tastier, bigger fruit.
Morning Glory (Ipomoea)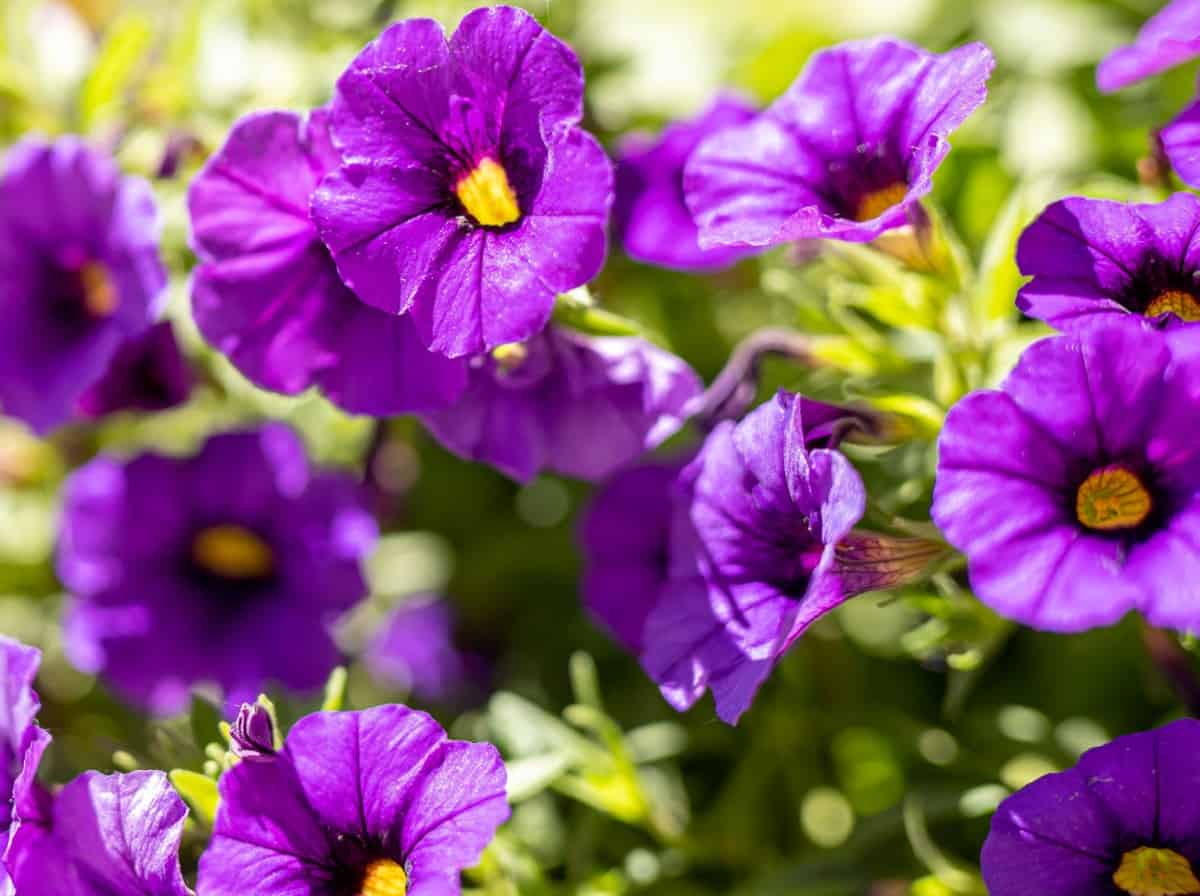 When it comes to one of the most beautiful collections of climbing vines, Morning Glories make a stunning addition. These drought tolerant plants produce more blooms than you could ever know what to do with, though they all don't bloom at once.
Instead, these gorgeous multi-colored flowers with pink, purple, or blue hues bloom for only a day, then fade away to allow new growth. To encourage new blossoms each morning, deadhead spent flowers.
Morning Glories bloom starting in August and last to September. They grow up 15 feet long and reach up to ten feet in just one growing season. These trumpet-shaped flowers look incredible when climbing up a support or along fences and walls.
You can even add Morning Glory to baskets for some of the easiest hanging plants for your front porch or another outdoor area.
Climbing Hydrangea (Hydrangea petiolaris): Beautiful Flowering Vines for Mild Climates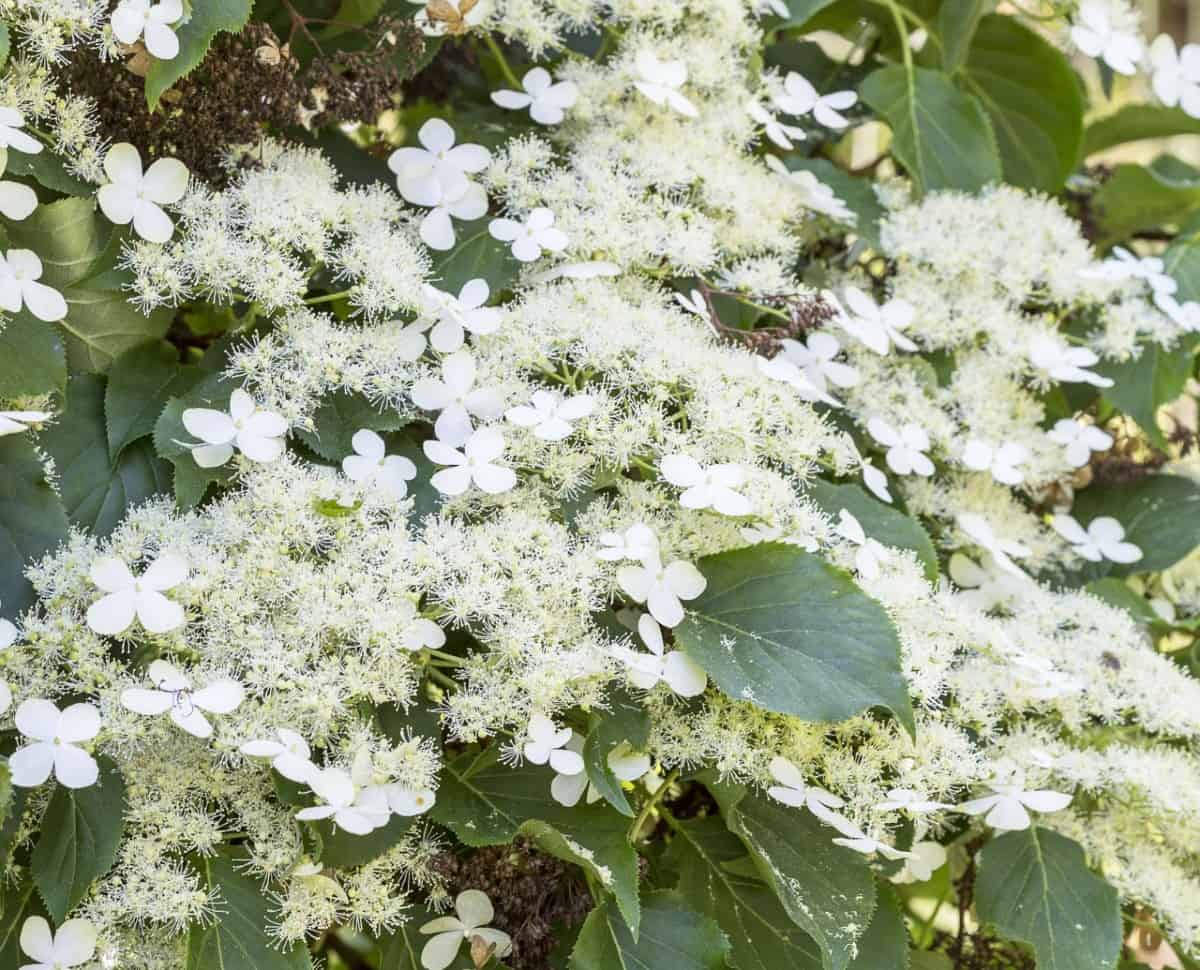 Climbing hydrangeas are other types of flowers that create a stunning effect when grown on wires or trellises. While typically recognized as a shrub, the vining varieties stretch up to 80 feet long and generate just as much curb appeal as in gardens.
Because of their weight and size, they often need a sturdy support system to hold them up. However, climbing hydrangeas also make excellent ground covers for larger areas, such as covering up tree stumps.
These plants even grow along the sides of walls or trees and bloom starting in late summer. Warmer climates allow these large clusters of flowers to bloom even earlier and remain on display until the beginning of fall.
Moderate pruning and compost to regulate the soil are recommended, though not a staunch stipulation.
Purple Passionflower (Passiflora incarnata)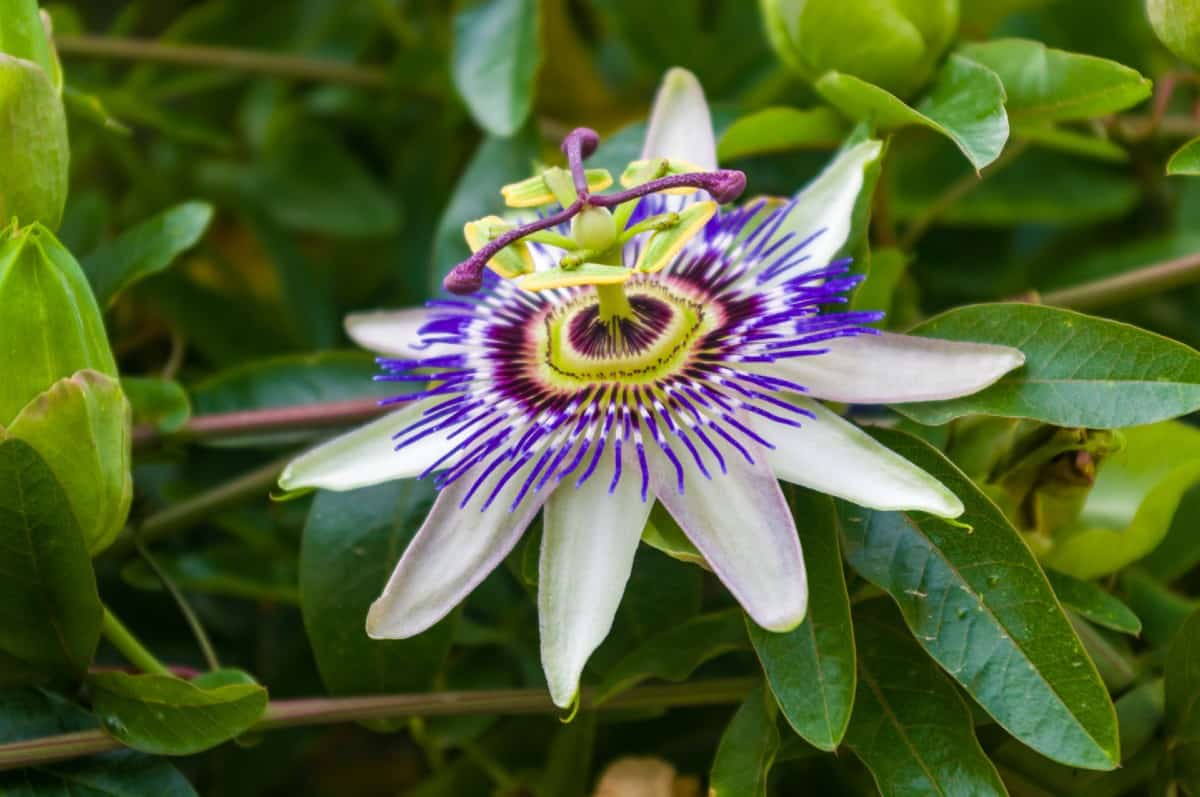 A fantastic candidate to add to your landscape is the purple passionflower. These beautiful vines reach up to 30 feet in height, with long curling tendrils that extend to about five feet in spread.
Starting in June and lasting up until September, the plant produces large, showy flowers that reach several inches in diameter. The striking color looks incredible when set against the plant's glossy, evergreen foliage.
Beyond these impressive blossoms, the vine also produces fruit anywhere between July and October. Fruits typically appear two months after the flowers bloom and reach about the size of an egg.
The flowers thrive in full sun conditions and even grow in potted plants. Many gardeners agree that it comes to its full potential when displayed on a trellis.
Honeysuckle (Lonicera)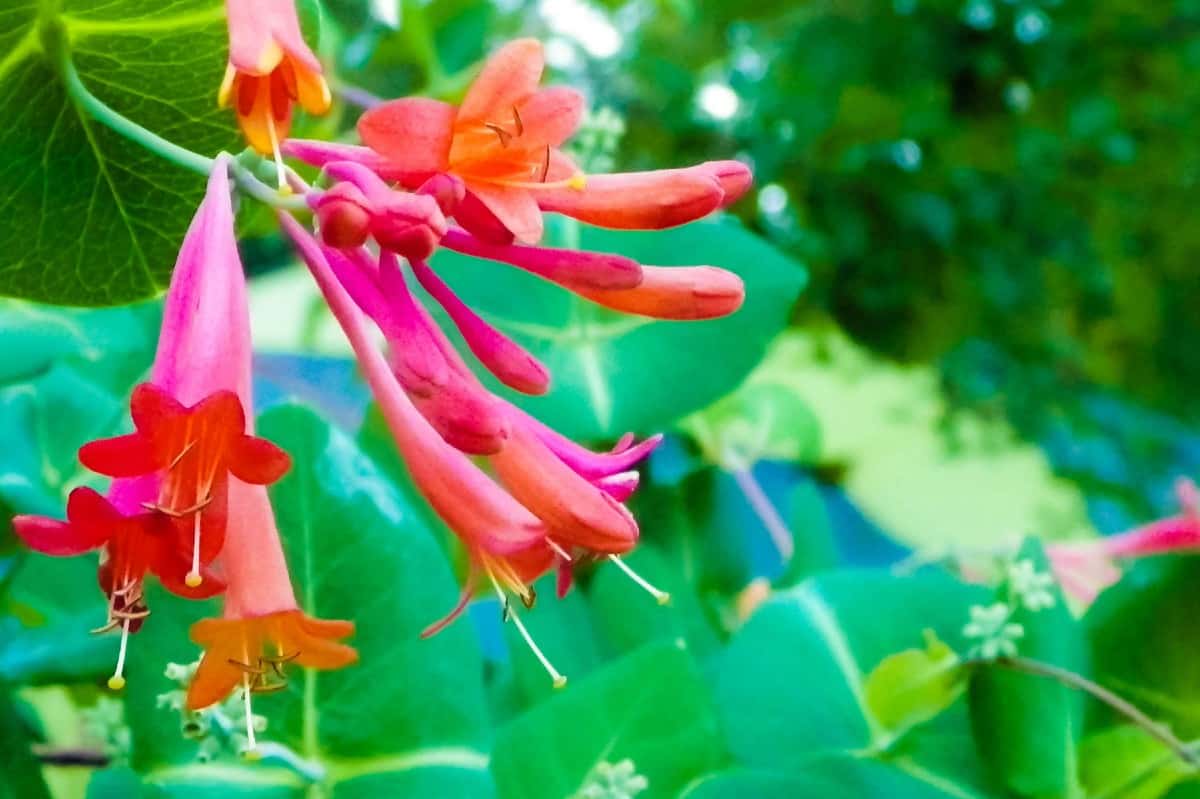 If you love honey and flowers' sweet fragrance, there is no better candidate for your next landscaping project than honeysuckle.
While many also grow into shrubs that reach about 30 feet in height and spread, vines grow up to 80 feet in length, giving you plenty of plants to work with when it comes to your gardening schedule.
In addition to smelling and looking great, the plants also attract hummingbirds with bright red and orange flowers. Flowers begin blooming in spring and generally last into midsummer.
It is crucial to prune back these flowers once a year after every blooming time so that this beauty doesn't become an invasive species. Honeysuckle tolerates partial shade conditions but does not do as well in full sunlight. For fuller, more vibrant blossoms, shower them with plenty of sun.
Boston Ivy (Parthenocissus tricuspidata): Berry Producing Vines that Attract Birds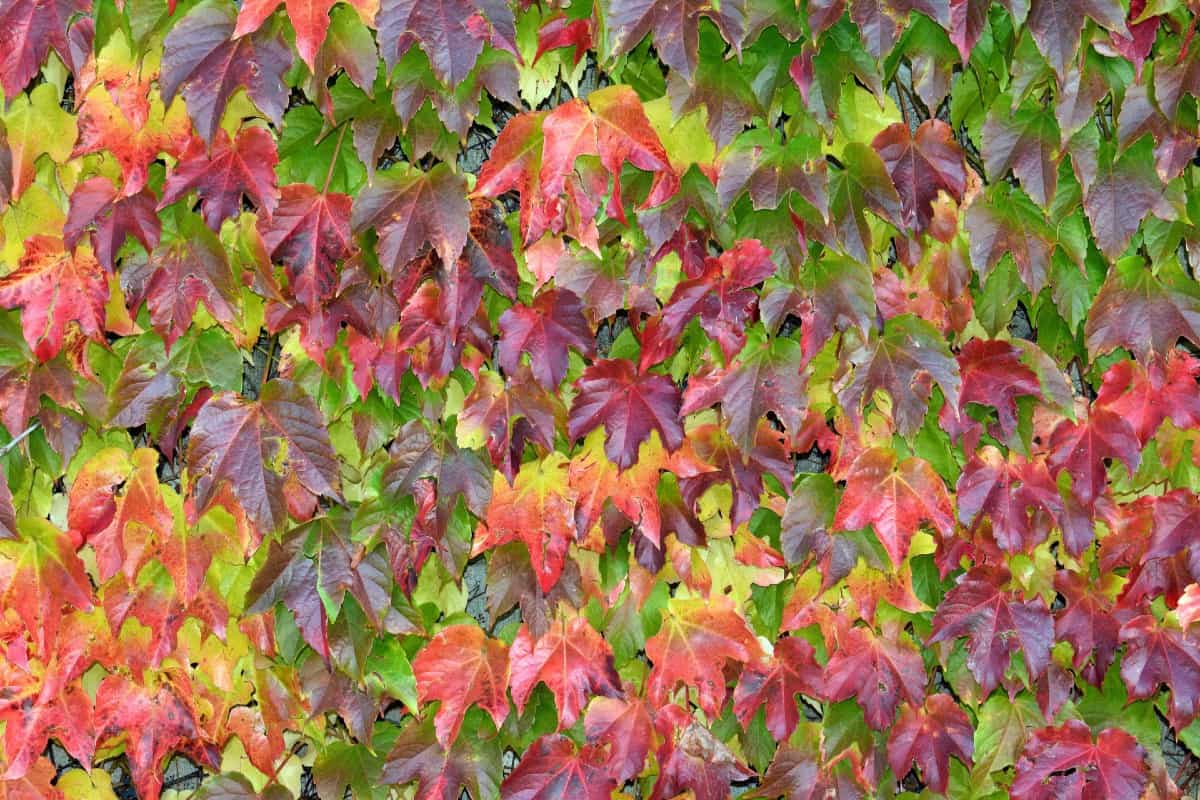 One set of perennial vines that also produces multi-season interest is Boston Ivy. Not only does this stunning specimen display bright red foliage, but it also makes a bluish fruit during the fall months.
Though the plant is a member of the grape family, its fruits are poisonous to humans and pets. Birds enjoy eating them, though. Boston Ivy stretches up to 50 feet in length, with a growth rate of around eight feet per year.
Ideal locations for this deer resistant ivy include walls and fences where the plant receives plenty of sun throughout the day. A wall or fence facing east or north develops the best results for flowers.
Sweet Pea (Lathyrus odoratus)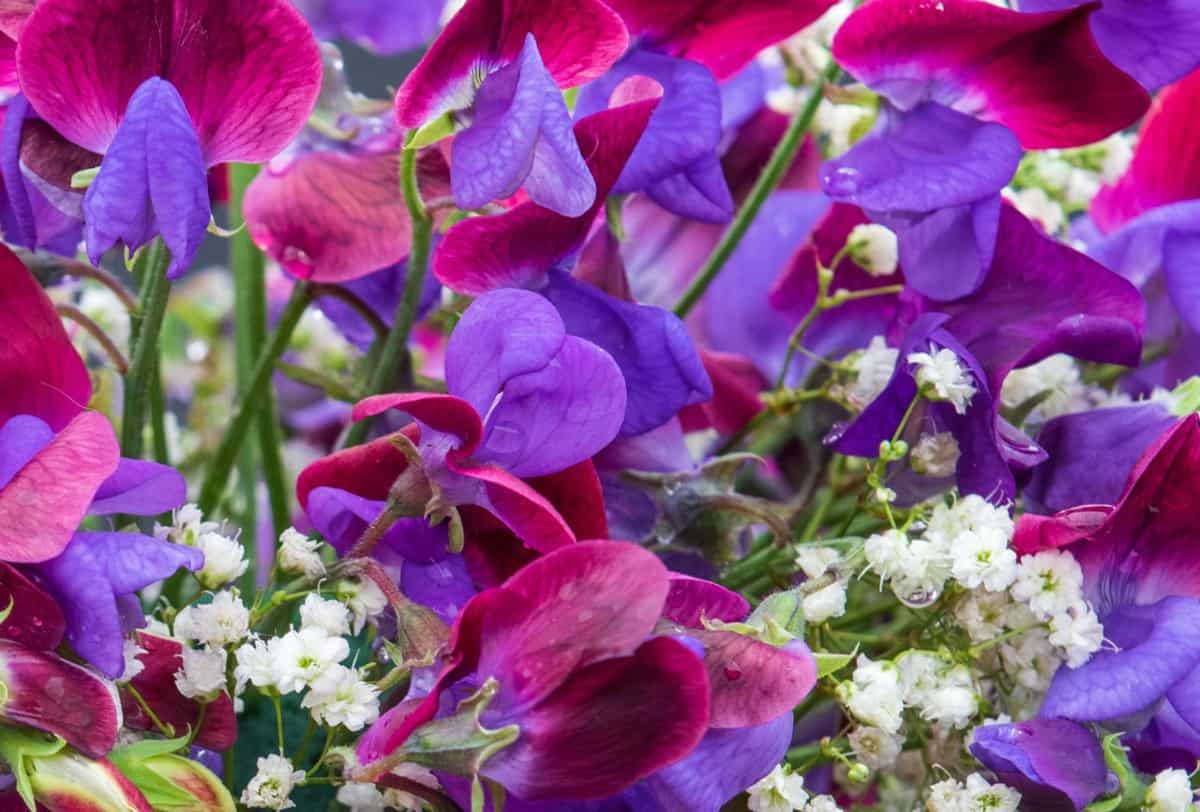 A great idea for a vining plant is Sweet Pea. These vines are considerably smaller than other species on the list but much more manageable. They only spread just over six feet and were a favorite in Late Victorian-era gardens.
Their heady fragrance and bright colors have made them a beloved plant throughout the ages. While most humans adore the scent Sweet Pea produces, flies hate it, making it a natural insect repellent, too.
Alkaline soil works best for encouraging healthy growth. Adding lime to the ground corrects any deficiencies in acidity levels. Plant them in the fall to enjoy flowers in the springtime.
Trumpet Vine (Campsis radicans): Fast-Growing Climbers for Walls and Fences
A creeper plant that is sure to delight is the brightly colored Trumpet Vine. These vines use aerial roots and little suction cups to grip the sides of buildings, fences, or whatever it chooses to cling to when climbing.
Such characteristics allow the plant to climb all on its own, though a little help is always appreciated. Trumpet Vine quickly reaches heights of up to 40 feet and can grow up to 24 inches each week during the growing season.
Flowers are typically bright red, a favorite color among pollinators like hummingbirds. Bloom time begins in summer, with the plant soaking up as much sunlight as possible throughout the day.
Plants are even drought-tolerant, though they prefer moist, well-draining soil all year long.
Virginia Creeper (Parthenocissus quinquefolia)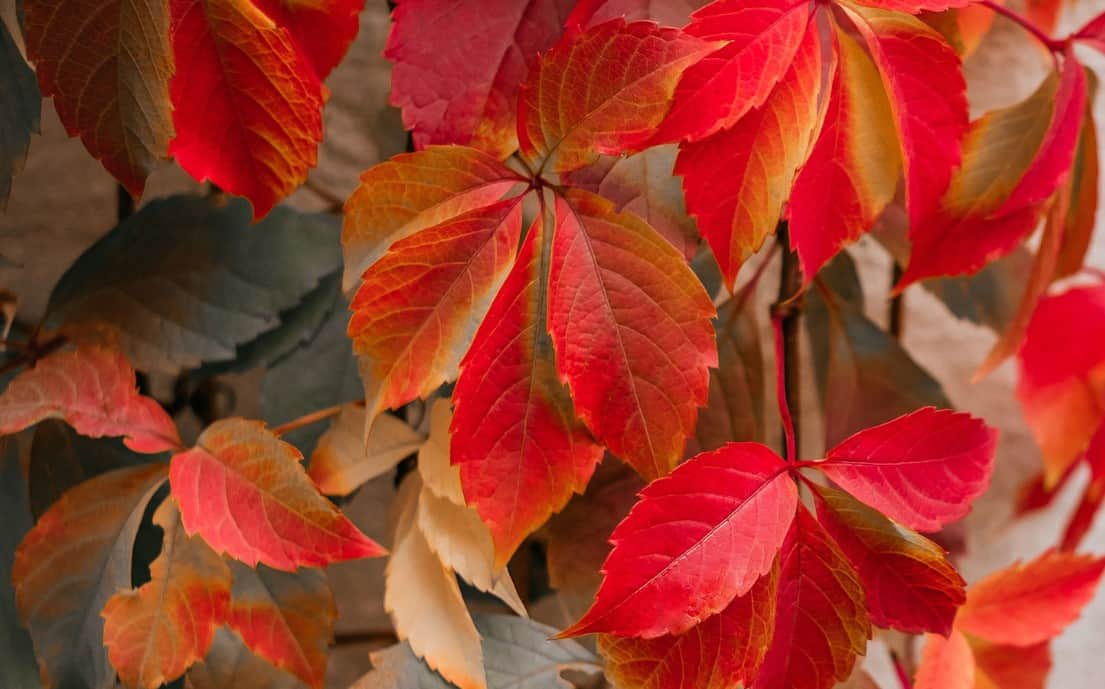 One of the best native plants to add to your landscape is the Virginia creeper. This perennial grows incredibly fast and has even been known to overtake an entire forest habitat in one year.
Because it grows approximately 20 feet a year, topping out at about 60 feet, regular pruning is required to regulate the size. While pests and diseases are not a typical concern for this plant, issues like mildew may be a problem if not properly treated.
Otherwise, the plant easily adapts to most growing conditions and soil types. They even thrive in full sun to full shade conditions.
Climbing Rose (Rosa setigera)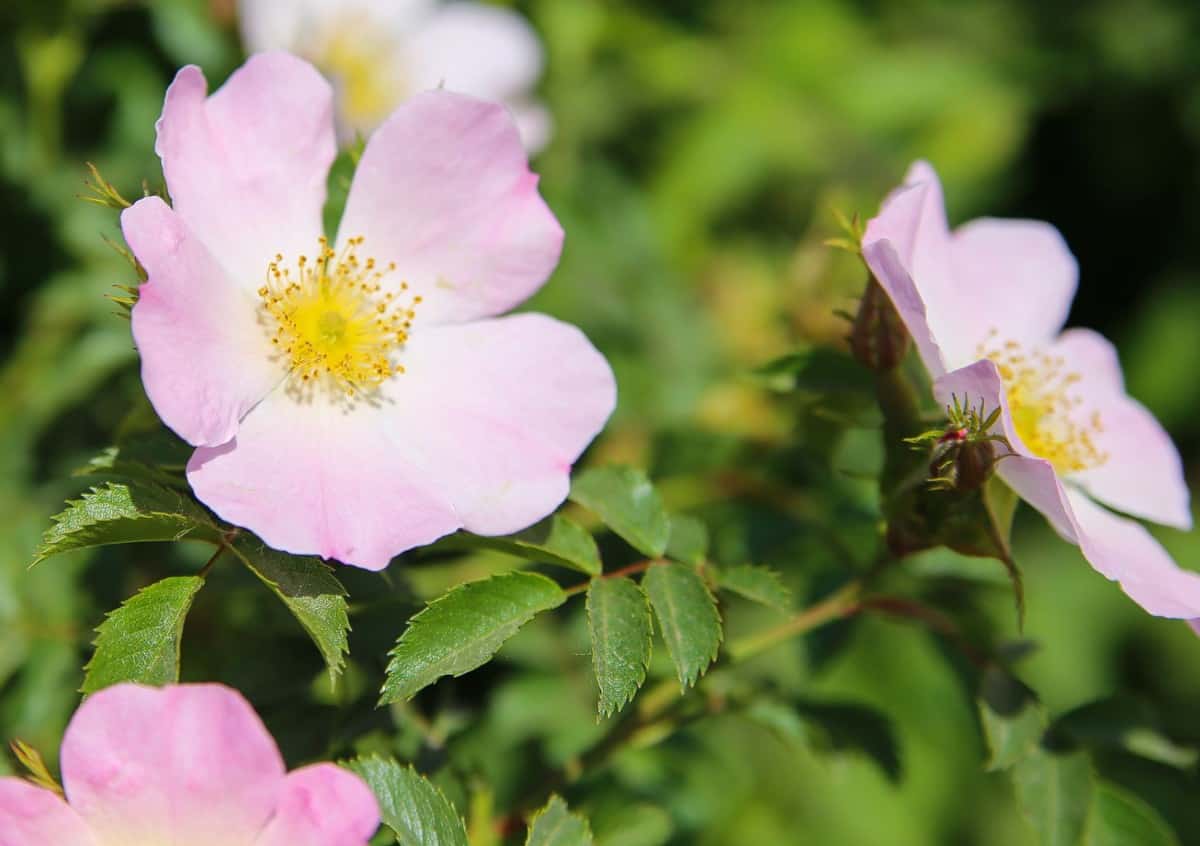 Climbing roses are incredible flowering vines to add to any garden. Their vibrant colors and various uses make them perfect for adorning borders in gardens, trellises, or fences.
They extend to heights of up to 12 feet and spread to around three or four feet wide, though it may take them a few years to reach their full size. Even though these vines don't look the same as shrub roses, they still are classified as shrubs and have similar thorns.
Climbing roses love full sunlight and bloom the best under these conditions. They tolerate light shade when exposure to the sun is too high and might scorch the flowers.
Sweet Autumn Clematis (Clematis terniflora): Remarkable Climbing Vines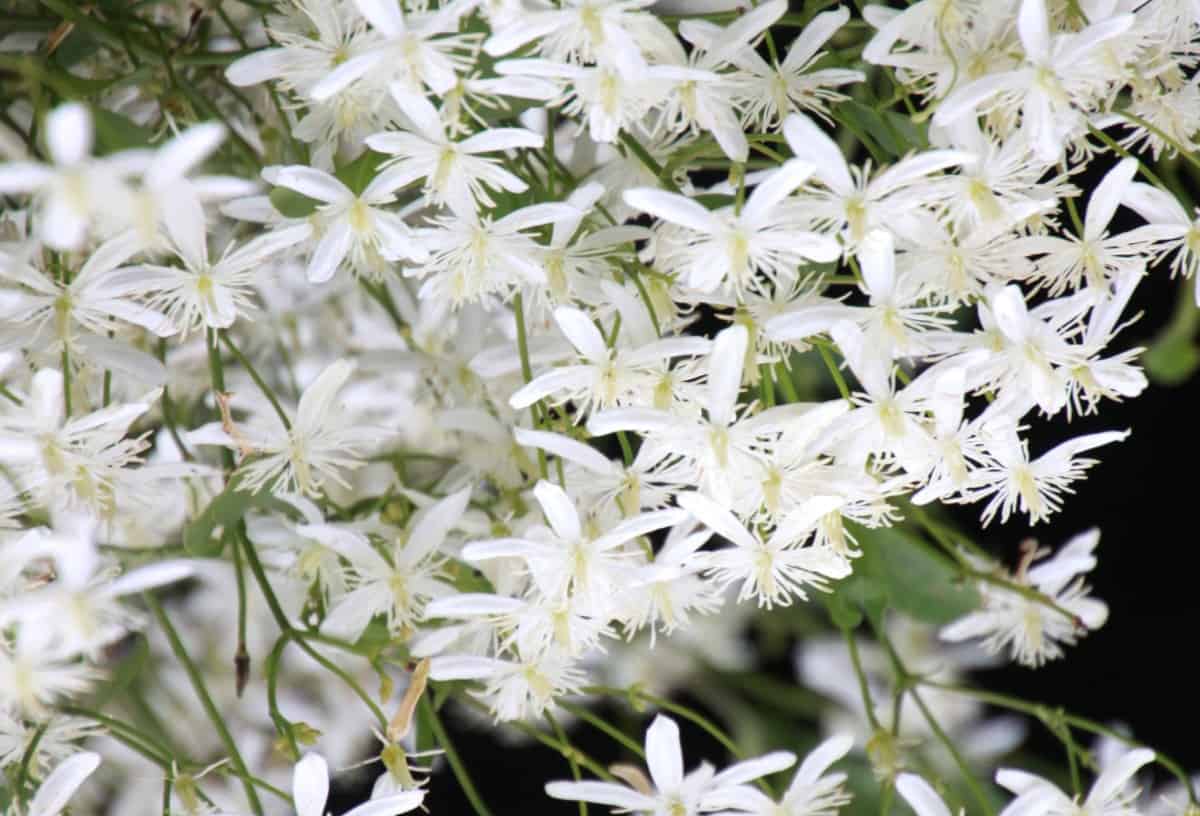 Sweet Autumn Clematis is known for its rapid growth rate, which quickly stretches to 30 feet in just one growing season. Little white flowers appear from August to September and flourish in abundance along the vine.
These delicate blooms are highly fragrant and add a hint of sweetness to any garden. Native to Japan, these plants do best when propagated in USDA hardiness zones 4 to 9 and create a twisting, twining effect with their long stems.
One of the most significant points to keep in mind when taking care of clematis is that they like cool, well-drained soil. Laying mulch around the top of the earth regulates the moisture and temperature to keep your flowers happy and healthy.
Bougainvillea (Bougainvillea glabra)
Some plants seem to be made for trellises, especially when it comes to flowers like Bougainvillea. In order to thrive, a sturdy support allows the flowers to continue spreading at a regular pace. Otherwise, they make excellent ground cover plants.
They also bloom all year round, depending on the climate, for about three to five weeks at a time. The gorgeous flowers of Bougainvillea are only one part of what makes the plant so bright and colorful.
The bracts, a leaf-like piece of the plant that protrudes from the stems, also take on colors from purple shades to salmon and white.
These flowers grow best when kept in full sun for at least six hours a day. Plant them facing north in the southern hemisphere or south in the northern hemisphere for optimum results.
Star Jasmine (Trachelospermum jasminoides): Fragrant Blossoms with Evergreen Leaves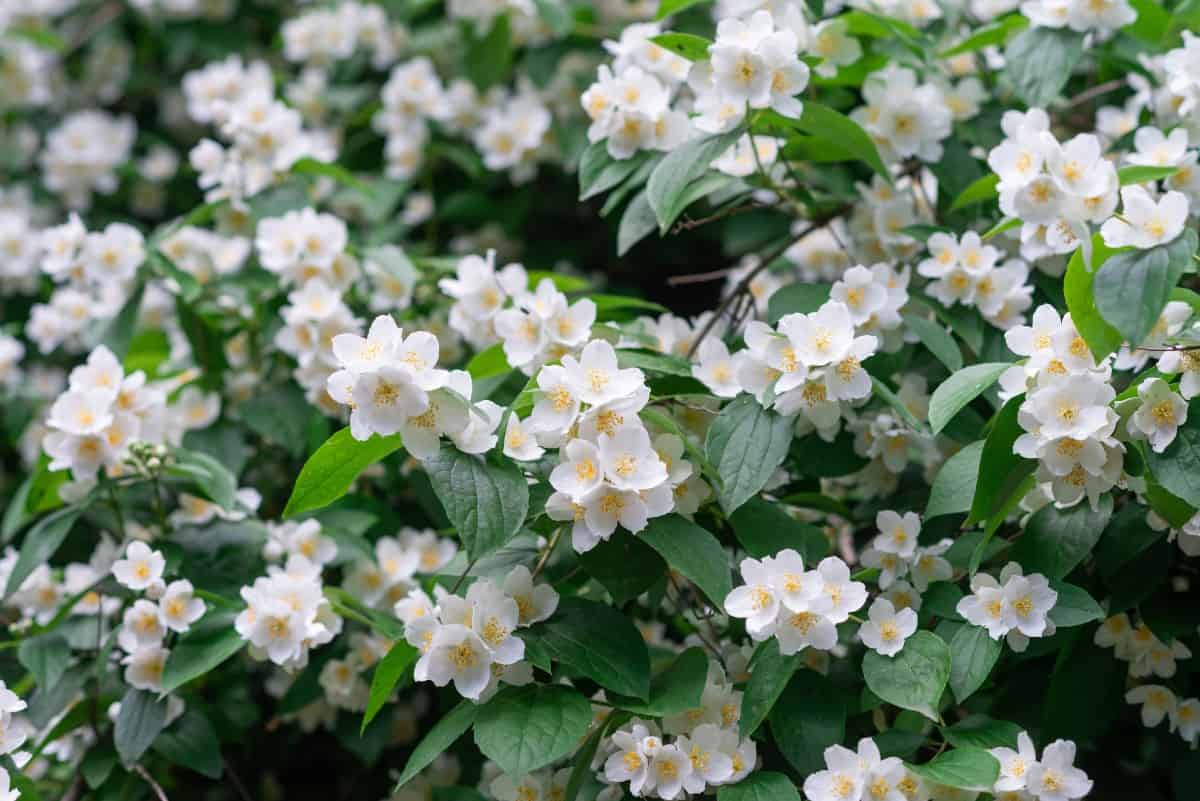 Star Jasmine is a stunning flower that produces hundreds to thousands of small white flowers every blooming season. These blooms are highly fragrant and appear starting in May through the end of June.
Even outside of these months, the plant's evergreen foliage presents an appealing image all year long. Star Jasmine is one of the best flowers for colder regions and is hardy down to 5°F.
However, some protection from extreme cold and winds is ideal for maintaining its best form. Supporting it on a trellis or pergola encourages the plant to spread further than when kept in a container.
Typically, it only grows up to about six feet in height and spends more time in its first year developing a sturdy root system than growing above the soil.
Rocktrumpet (Mandevilla)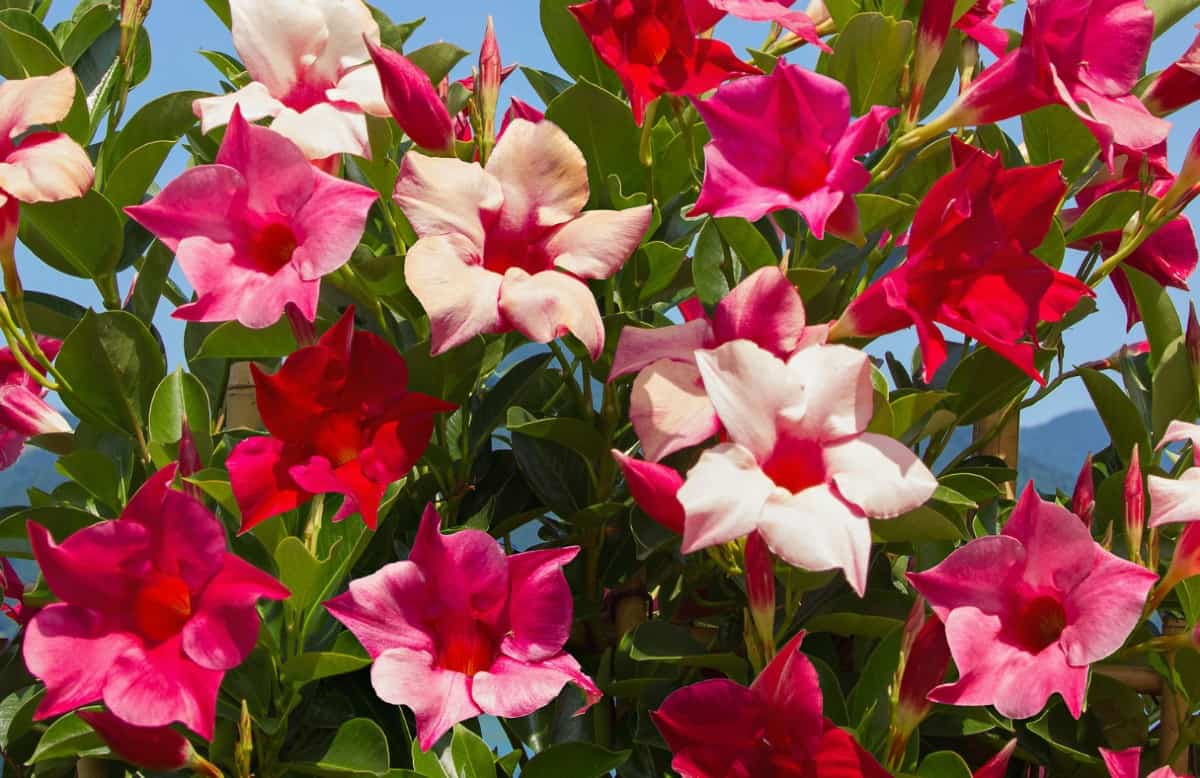 A plant native throughout most of the Americas, Rocktrumpet makes a fantastic addition to almost any garden. It prospers in areas with lighting levels that are not too bright.
They should also be given moderate shade in spots where the hot afternoon rays might scorch their leaves and flowers. The plant develops until it reaches about 12 feet in length, though it may be significantly smaller when pruned regularly.
Some are even grown in pots, with or without the addition of a small trellis. Wherever you choose to plant it, implementing a water-soluble fertilizer every two to three weeks during the growing season is ideal.
Chinese Wisteria (Wisteria sinensis)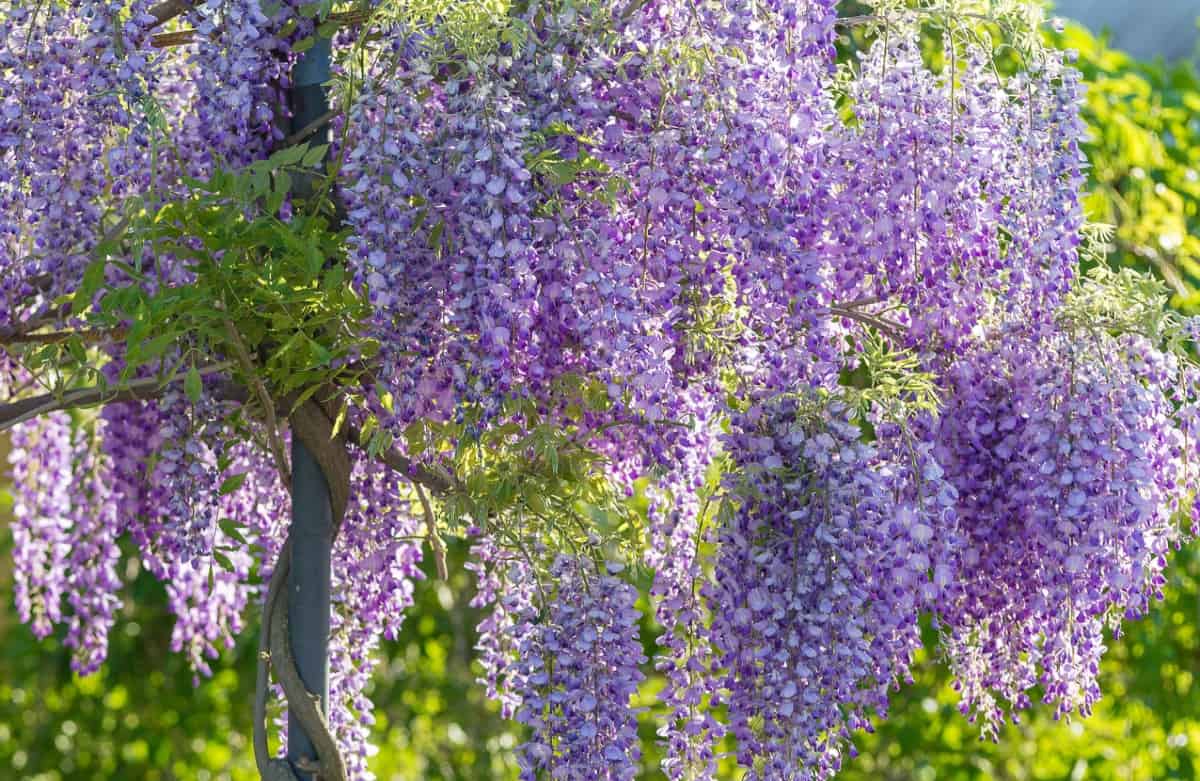 One of the most iconic flowers in weddings and archway displays is Chinese Wisteria. It grows up to 25 feet and possesses a twining, twisting style with its branches, while the lovely clusters of flowers cascade over pergolas and arches with gorgeous tendrils of flowers.
The blossoms of these low maintenance climbing plants begin in mid-May with variations in colors from purple, pink, and white. Because they grow so fast, pruning them back is crucial to maintaining their health.
Placing them along a trellis or similar structures makes them easier to manage in terms of height. Provide them with plenty of sunlight throughout the day and keep their soil moist.
These incredible flowering vines and plants make excellent statement pieces in any yard. Whether you plan to use them around pool areas, enhance patios and garden spaces, or spruce up parts of your front lawn, there is no better choice than these exquisite species.
If you found the perfect vining addition for your landscape on our list, then please remember to share these spectacular climbing vines with everyone you know on Facebook and Pinterest.