Most people have heard of a few of the most common types of mushrooms like portobello and button mushrooms from the grocery store's produce aisle. But the options don't end there.
From simple home-cooked meals to gourmet dishes, mushrooms add an earthy flavor and creamy texture to some of our favorite recipes. Mushrooms are a wonderfully versatile ingredient. They are perfect for grilling, using in soups and sautéed dishes, or eaten raw in salads. Their meaty texture and high nutritional value make them a popular meat substitute for vegetarians and vegans.
Mushrooms are rich in antioxidants, vitamins, and fiber and are also free from fat and cholesterol. Between the different types of mushrooms available, with tastes ranging from mildly sweet to a rich, nutty flavor, the possibilities are endless. Many types of mushrooms also have valuable medicinal properties. Read on to learn all about some of the most common mushroom types around the world, as well as their uses and flavor profiles.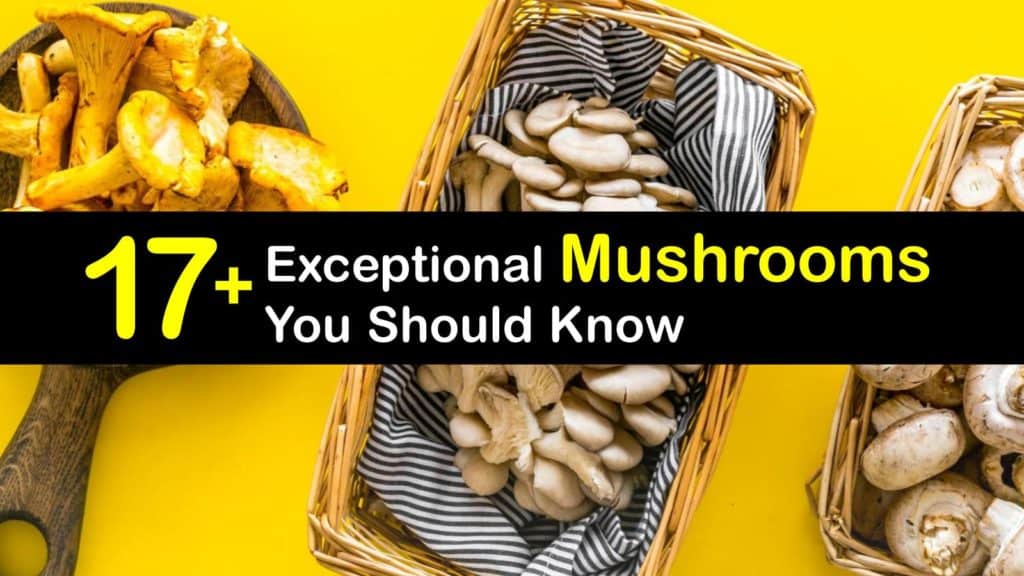 Most Common Cultivated Mushrooms
The most common types of mushrooms are the white and brown varieties of Agaricus bisporus. These gilled mushrooms are native to the grasslands of North America and Europe.
This type of mushroom is so common that its popular name is simply "mushroom." They are often used in everyday dishes like pizza, pasta, or salad.
Mushrooms are a staple ingredient in Asian cuisine. Asian mushroom varieties tend to have a bolder flavor than Agaricus bisporus types. They are also an integral part of traditional Asian medicine.
How long mushrooms last depends on the way you store them.
White Button Mushroom
Thanks to their mild flavor, button mushrooms are the most widely consumed cultivated mushroom.
These indoor edible plants (actually a fungus) are eaten cooked or raw and are a deliciously versatile ingredient in numerous recipes. Sometimes they are also referred to as champignon mushrooms or baby mushrooms.
The Nutty Cremini or Brown Mushroom
The brown variety of Agaricus bisporus has a rich, nutty flavor and a slightly firmer texture than the white variety.
Most often, chefs use them in soup, pasta, or a sauté. Other names for these common mushrooms include crimini or cremini mushrooms, baby bellas, and golden Italian mushrooms.
Popular Portobello Mushroom
Portobello mushrooms are brown Agaricus bisporus mushrooms that are fully mature. With their bold flavor and meaty texture, portobello mushrooms make an excellent meat substitute.
They are ideal candidates for stuffing, baking, and grilling. Some people even use the wide caps as a replacement for burger buns.
Maitake Mushroom or Hen of the Woods
Maitake mushrooms, or Grifola frondosa, are native to the northwestern United States and Japan. While they are called Hen of the Woods in North America, their name means "dancing mushroom" in Japanese.
They have light brown, soft, feathery caps and a delicate texture. Their flavor is strong and earthy.
Fresh and dried maitakes are often available at farmer's markets and specialty grocery stores. In the wild, they typically grow at the base of oak trees.
Common Types of Mushrooms to Grow at Home
Growing your own mushrooms is an easy and fun home gardening project. It doesn't require much space, and you'll find that the rewards are entirely worth the effort.
Depending on the variety you select, the best way to grow mushrooms yourself involves sawdust, straw, wood chips, or another organic mulch material. Grow kits are readily available online, too.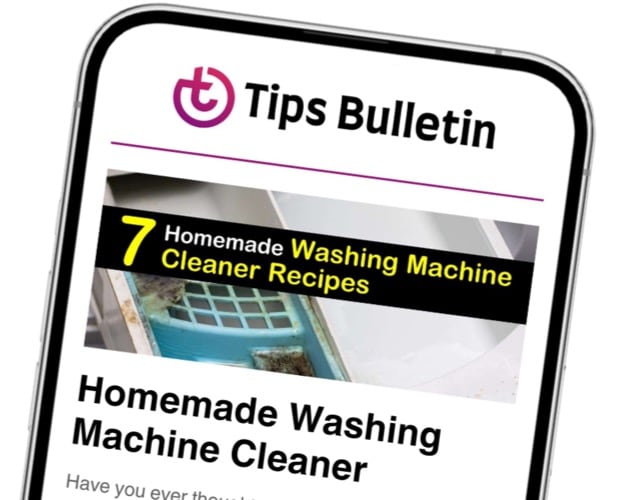 Finally, an email that Transforms Your Home.
Get the latest home and garden tips from our experts, delivered straight to your inbox.
Oyster Mushrooms are Easy to Grow
Also known as shimeji or beech mushroom, oyster mushrooms are some of the easiest and fastest to grow at home. They have a delicately sweet flavor and a light texture.
King oyster mushrooms are larger and have a denser texture. Although they are not unusual to find growing in the wild, most oyster mushrooms at the grocery store have been farm-cultivated.
If you find a sale at the store, learn to make deep frozen mushrooms for later consumption. It's a simple way to ensure you have these delicious fungi on hand.
Shiitake Mushroom
Shiitake mushrooms, or Lentinula edodes, are native to Japan and are the most common mushrooms used in Asian cuisine. In Japanese, shiitake translates to "oak fungus," the host tree where these mushrooms tend to grow in the wild.
They have a smoky, earthy flavor and a satisfying, meaty texture. Shiitakes are often available dried and easy to rehydrate by soaking in water for a few hours.
Enoki Mushroom
Enoki mushrooms, or Flammulina velutipes, have distinctively shiny, small white caps on long, white stems. They are another favorite in Japanese cuisine, especially soups like ramen. They also have a pleasant, firm texture for eating raw.
They are sometimes called velvet shank or enokitake mushrooms. In the wild, they grow near Chinese hackberry, mulberry, persimmon, and ash trees.
Take off the stems from the shiitake mushrooms and thinly slice the caps. Cut the dense base off of the cluster of enoki mushrooms, and cut them into two-inch pieces.
Soak the rice noodles in a bath of warm water for at least five minutes, then drain and cut them into three-inch pieces.
Heat the cooking oil in a large soup pot over medium-low heat and sauté the mushrooms until tender, about three to five minutes. Pour in the broth and bring it to a simmer, skimming off any foam that forms on top.
Add the rice noodles and green onions, and simmer for five more minutes. Incorporate the sake and soy sauce, and season with salt to taste.
Wild Edible Mushroom Types
People have been gathering wild mushrooms as an essential food source for centuries. Mushroom hunting is a rewarding hobby, provided you take the necessary precautions.
Discover several of the most common types of mushrooms gathered in North America. When harvesting wild mushrooms, it's critical to use safe and sustainable practices. Never pull mushrooms carelessly out of the ground.
Instead, use a sharp, clean knife to cut the stem near the base. This way, the underground mycelial network stays intact and keeps producing mushrooms in the future.
When gathering mushrooms, use a wicker basket so that the spores fall to the forest floor as you walk.
Safety Precautions When Gathering Wild Mushrooms
Always hunt for wild mushrooms with an expert. Your mushroom hunting companion should be familiar with both poisonous and edible mushrooms native to your area.
Many mushrooms are nutritious, delicious, and safe to eat. However, numerous mushroom types are dangerous and even deadly.
Aside from well-known poisonous mushroom types like the bright red fly agaric, or Amanita muscaria, many edible wild mushrooms have toxic look-alikes.
Do thorough research beforehand about the mushrooms that grow in your area, go with an experienced partner, and never consume a mushroom you cannot confidently identify.
Some edible wild mushrooms cause stomach upset in certain people. When trying a new type of mushroom, start with a small amount first to gauge your reaction.
Chanterelle Mushroom
One of the most prominent wild mushrooms, chanterelles, are found throughout Europe, Asia, North and Central America, and Africa. There are over 40 species of chanterelles just in North America. They most often grow in mossy, coniferous forests.
The ridges on the undersides chanterelle mushrooms are a reliable indicator for identification. Chanterelles have false gills that are forked at the top and extend down the stem.
Chanterelles tend to be white, yellow, or orange in color. They are ready to harvest once the weather turns cold in mid to late fall.
They have a sweet, peppery taste and a dense, meaty texture. Due to their rich flavor, chanterelles pair well with eggs or in white wine or cream-based sauces.
Porcini Mushroom – A Common Wild Mushroom
Sometimes called bolete or penny bun, the porcini mushroom, or Boletus edulis, is another common wild mushroom that grows across North America, Europe, and Asia.
They feature a reddish-brown cap and a thick, white stem. Popular in Italian cooking, porcinis are often essential ingredients in soups and risottos.
In the eastern United States, porcini mushrooms are harvested during a short period in the early summer. On the West Coast, harvest season is spring and fall.
Boletes tend to grow in evergreen forests near pine, fir, hemlock, or spruce trees. They also occasionally grow near beech, oak, and chestnut trees.
Morel Mushrooms
Morels, or Morchella esculenta, are identified by the peculiar honeycomb appearance of the yellow or brown interconnected ridges on their spongy caps.
Morels grow throughout Europe and the United States but most broadly occur in the East and Midwest. They are popular in French cooking for their tender texture and savory, nutty flavor.
Morel mushrooms typically grow near deciduous trees like aspen, ash, elm, and oak. Sometimes referred to as the "May mushroom," morels tend to emerge in the early spring. Morels are also popular for growing at home.
Rinse the morels with cool water, then drain and pat dry. Melt two tablespoons of the butter in a large skillet over medium-low heat. Add the Cognac, cream, and season with salt and pepper to taste.
Stir well and bring to a boil. Simmer the morels covered in the creamy liquid for ten minutes. Cook the fettuccine noodles in a large saucepan of boiling water for three minutes or until al dente.
While the pasta cooks, melt the remaining butter over low heat in another large skillet. Drain the pasta and stir into the melted butter.
Combine the morel mixture and Parmesan cheese with the buttered fettuccine and toss well to mix. Serve immediately with grated Parmesan cheese.
Truffle Mushroom
There are numerous types of truffle mushrooms that grow natively throughout Europe and North America. Truffles, in particular the black truffle, are prized by gourmet chefs worldwide for their aromatic flavor.
Unlike many other wild mushrooms, it's possible to cultivate truffles as well as wild harvest them. In the wild, truffles often grow among the roots of beech, oak, pine, poplar, and birch trees, and the harvest season is late fall to mid-winter.
Chicken of the Woods
Laetiporus sulphureus, known by chicken of the woods, chicken fungus, and sulfur shelf, are widely distributed wild mushrooms that frequently occur in numerous places worldwide. However, they shouldn't be confused with hen of the woods or maitake mushrooms.
Many people claim that these mushrooms taste similar to chicken, and they have a firm, meaty texture. Chicken of the woods mushrooms grow at the base of dead or dying hardwood trees.
Russula Mushroom
There are hundreds of different russula mushrooms, both edible and non-edible, found throughout Europe, Asia, and North America. However, there are no deadly types of russula mushrooms.
The edible specimens have a mild taste, while the non-edible ones have an acrid, spicy effect. Russulas are colorful mushrooms that occur in a wide range of shades.
The caps and stems have a firm texture, and some people describe it as having a sweetly nutty flavor. Because they are so widespread, the typical host trees depend on the variety.
Lobster Mushrooms have a Seafood-Like Flavor
A common misnomer, lobster mushrooms are actually the result of a parasitic mold, Hypomyces lactifluorum, that grows on certain species of mushrooms.
The most common ones are Lactarius, or milk caps, and Russula. The result is a bright red color and distinctly seafood-like flavor, giving them the nickname.
Medicinal Mushrooms
Various mushroom types have been an integral aspect of traditional Asian medicine for thousands of years. For the most part, medicinal mushrooms are available in powdered form mixed into teas, smoothies, or food.
Shiitake and maitake mushrooms are some of the most common mushroom types used in natural medicine.
Shiitake mushrooms promote heart health and circulation. Maitake mushrooms are sometimes utilized to fight cancer and alleviate the side effects of chemotherapy.
Reishi Mushrooms Contain Soothing Benefits
Reishi mushrooms are rich in triterpene, which has a positive effect on the nervous system and gives them calming and soothing properties.
Reishi supplements help with anxiety, depression, insomnia, focus, and even weight loss. Reishi is also a powerful immune booster.
Lion's Mane Mushroom
Lion's mane mushrooms are supposed to be some of the best brain boosters. This is thanks to their high levels of myelin, which insulates nerve fibers, essential antioxidants, and the bioprotein nerve growth factor (NFG).
Lion's mane works to improve memory and concentration, alleviate anxiety and irritability, and even protect against Alzheimer's and multiple sclerosis.
Chaga Mushroom
Because they are so full of powerful antioxidants, Chaga mushrooms help to decrease inflammation and eliminate free radicals in the body.
Some of the intended benefits of Chaga include helping to reduce skin aging by combating oxidative stress, lowering cholesterol, and even slowing the growth of cancer.
What are Mushrooms?
Although common mushrooms probably are not an unfamiliar food, you may be wondering, "What is a mushroom?"
As you delve into the rich flavors, uses, and health benefits of mushrooms, it's essential to understand the various parts of a mushroom and their function in the environment.
What are mushrooms, anyway? Mushrooms are the fruiting parts of a fungus that produce spores for reproduction.
They typically grow above-ground on soil, wood, or another food source. Most mushrooms have three principal parts: a stem, a set of gills, and a cap.
Mycorrhizal Mushrooms
Mycorrhizal mushrooms have an underground network of nutrient-absorbing fibers, similar to a plant's root system, known as mycelium. These mycelium form vast, interconnected systems among the root systems of plants and trees underneath the forest floor.
In return for feeding on the sugars from the host plant, the mycelia help to transport water and nutrients more efficiently through the plant's roots.
They also promote the overall health and immunity of the surrounding vegetation by facilitating communication between neighboring plants' root systems about pests and diseases affecting the area.
Saprotrophic Mushrooms
Saprotrophic fungi grow on decaying plant matter, wood, and even dead animals. They break tissues down by releasing acids and enzymes to absorb and digest the organic material.
In this way, they recycle dead matter into compost and soil by turning organic waste into nutrients that plants' root systems can absorb.
Parasitic Mushrooms
Parasitic mushrooms function in a similar way to mycorrhizal mushrooms, except that they only receive nutrients from their host without giving anything back in return.
Parasitic fungi do not limit their hosts to the plant world, either. Some varieties also prey on insects.
Mushrooms are a nutritious and delicious enhancement in a wide variety of recipes. They have been an important food source throughout human history and boast a long tradition in both culinary arts and medicine around the world.
After harvesting your mushrooms, learn the best mushroom storage options so you always have fresh mushrooms for your favorite dishes.
If you are a mushroom enthusiast, try growing shiitake, enoki, or oyster mushrooms at home. Or, provided that you can find an expert who is willing to teach you, learn the art of mushroom hunting and discover what wild mushrooms grow in your area.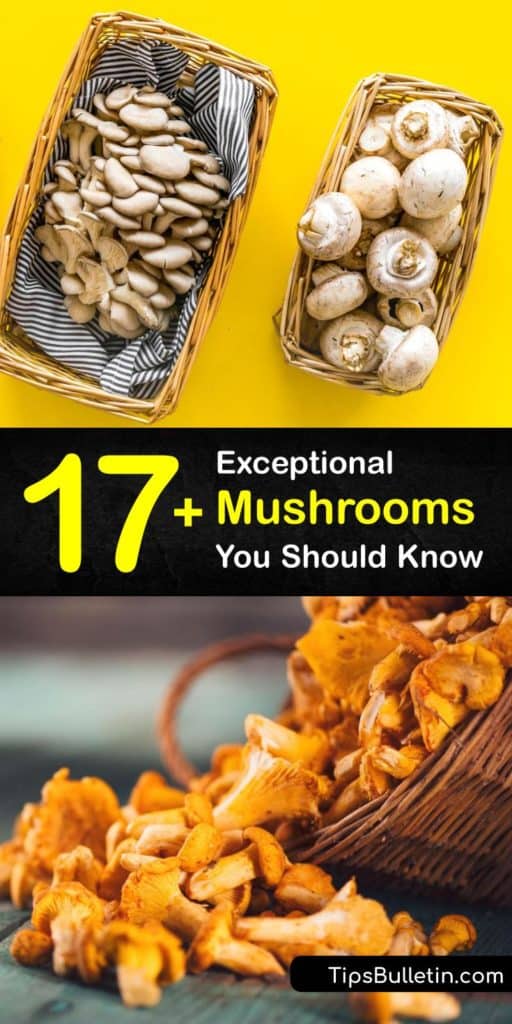 If you enjoyed learning about common types of mushrooms and their uses, please consider sharing this article with your friends and family on Pinterest and Facebook who may be wondering, "What are mushrooms?"