Tomatoes contain many antioxidants that promote a healthy body. Additionally, varieties of tomatoes have vitamin C, potassium, folate, and vitamin K, which reduce the risk of heart disease and cancer. We show you the common types of tomatoes and how to identify each of the delicious tomato varieties correctly.
Different types of tomatoes have varying tastes and looks, and we provide you with the information you need to purchase the correct kind of tomato. Some tomato types include Early Girl, Heirloom, Roma, and Brandywine.
Today, hybrid tomato plants are prevalent. Growers often produce more hybrid tomatoes because they are disease-resistant, hardy, and create similar shapes and sizes.
Some people believe that hybrid plants harm the human body because the plant is human-made.
However, hybrid tomatoes contain a higher amount of nutrients because they utilize the soil more efficiently than typical tomato plants. Throughout this article, we cover 12 of the best-tasting different types of tomatoes found at your local grocery store.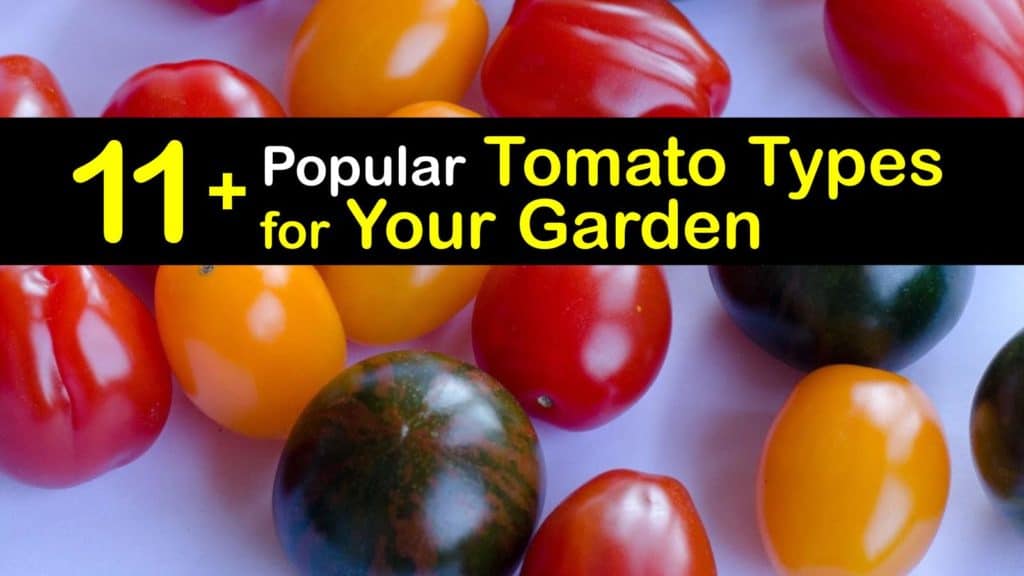 Popular Tomatoes
Tomato plants have a growing season in the late spring and summer because the plant requires a lot of sunshine to thrive. Note that there are distinctive differences between tomatillo vs tomato even though they look similar.
At the peak of the tomato growing season, the fruit produces large quantities, the fruit is less likely to be infested with nematodes, and the fruit tastes better.
When growing tomatoes, be aware of tomato pests and bugs, as well as diseases, that try to destroy your crop. Keeping on top of these issues ensures you have an ample harvest.
Some of the most common types of tomatoes include Roma tomatoes, heirloom tomatoes, and cherry tomato varieties. We give you an insight into different Heirloom varieties and some of the more unusual-looking tomato plants.
Two Common Types of Tomatoes
Whether you are growing tomatoes inside or out, before diving into the specific different types of tomatoes, you must first understand that tomato plants fall into two general categories: determinate and indeterminate.
What is a tomato that is determinate? Determinate tomatoes are grown on a bush and tend to stop growing when the fruit sets on the top bud.
Indeterminate tomatoes continue growing until the plant reaches almost 20 feet tall. Indeterminate plants continue to produce fruit until the first frost kills them.
All tomato types stem from these two categories. Hybrid tomatoes combine the best part of each group to form a plant that can grow in less than ideal weather conditions and is also disease resistant.
Many of the bucket gardening tips for tomatoes also apply to growing tomatoes in the garden or indoors. As long as conditions permit, growing tomatoes is worthwhile and relatively easy.
Beefsteak is One of the Most Common Types of Tomatoes
Beefsteak tomatoes are indeterminate and one of the meatiest tomato varieties. Beefsteak tomatoes are enormous and magnificent for cooking.
Of all the tomato types, beefsteak is the best for making pasta sauces and fresh dips because of the fruit's excessive amount of juice. Beefsteak tomatoes have a mild flavor and harvest some of the largest fruit of the different varieties of tomato plants.
Often growing up to six inches in diameter, beefsteaks are excellent slicing tomatoes for sandwiches. One way to identify a beefsteak tomato is to notice the unusual ribbed shape of the large fruit.
Green Zebra is One of the Unusual Tomato Varieties
Green Zebra tomato plants may look quite distinct from conventional red tomatoes, but the taste is just as good. The tomatoes' acidity makes the fruit is both sweet and tart and a great addition to salsa or Italian salad.
Green Zebra tomatoes are easy to locate because of their unmistakable look. The fruit is one of the types of green tomatoes with light green and yellow stripes. When harvesting a Green Zebra, note that the fruit is very firm compared to other tomato types.
Locating Sun Gold Tomato Types
Sun Gold is one of the common types of tomatoes and includes the popular Cherry tomato. Sun Gold tomatoes are incredibly flavorful and are best enjoyed fresh off the vine or in a garden salad.
Due to their flavor, include Sun Gold tomatoes in your meals at any point in the year. Sun Gold tomato plants grow aggressively because they are indeterminate and continue to produce fruit throughout the entire growing season.
If you hope to grow your own Sun Gold tomatoes, it is helpful to grow cherry tomatoes seedlings early in the growing season to produce the most fruit.
The Wide Array of Heirloom Tomatoes
Heirloom tomatoes are a non-hybrid cultivar and also open pollinated. Insects instead of chemicals naturally pollinate an open pollinated plant.
Because Heirloom tomato varieties are open pollinated, fruit production is genetically more diverse than other tomato types.
Growers utilize the seeds from the best producing types of Heirloom tomatoes to produce the largest yield from season to season. Compared to other common types of tomatoes, Heirlooms have a shorter shelf life and are less resistant to diseases like fusarium.
The correct tomato plant spacing also plays a role in insect and disease prevention. Plants that are too close tend to share problems.
Delicious Brandywine Tomatoes
One kind of Beefsteak tomato is the Brandywine tomato plant. Brandywine tomato plants grow up to nine feet tall and have large potato leaves. The plant requires a lot of rain for proper fruit production – at least two inches of water per week.
The Brandywine tomato is a deep red color and is regarded as one of the best-tasting tomato varieties.
Because the tomato is so large, it is a great slicing tomato for BLT sandwiches. Additionally, Brandywine tomatoes are an excellent topping for a salad paired with other fresh vegetables.
Everything You Need to Know about Roma Tomatoes
Roma tomato varieties go by a few different names. These tomato plants are also referred to as paste tomatoes or plum tomatoes. A Roma tomato is oval-shaped and significantly smaller than Beefsteak tomato types.
Plum tomato fruit has less juice and a chewy exterior flesh, making it great for sauces and canning. These medium-sized tomatoes are among the most common tomatoes at the grocery store because the harvest usually produces many tomatoes at a single time.
If you want to plant Roma tomatoes yourself, know that these tomatoes do not grow well indoors unless the conditions are similar to outdoor conditions regarding temperature. However, you can grow tomatoes in a winter greenhouse if you take care of them properly.
How to Distinguish Grape Tomatoes
Grape tomatoes are incredibly healthy and an excellent topping for salads or enjoyed on their own. These tomatoes contain vitamins that promote eye, skin, and bone health and help the body fight infection.
Before purchasing grape tomatoes, you should know how to identify them in a grocery store correctly. Grape tomatoes are often confused with cherry tomatoes because they are tiny compared to other tomato types.
Grape tomatoes vs regular tomatoes are similar in almost everything except size. Cherry tomatoes are perfectly round, similar to cherries. On the other hand, Grape tomatoes are more oblong, similar to some grape varieties' shapes.
What are Big Beef Tomatoes?
Another Beefsteak tomato type is the Big Beef tomato plant. Big Beef tomatoes are hybrid plants that produce fruit up to six inches in diameter with an abundance of flavor.
Because Big Beef tomatoes are hybrids, the plant is easy to grow and has disease resistance. Commonly mistaken for Better Boy tomatoes, Big Beef produces fruit much quicker than other Beefsteak varieties.
Another benefit of Big Beef tomato plants is that the fruit grows even in undesirable conditions, like cool and wet weather. Big Beef tomatoes are popularly used for sauces and as a sandwich topping.
The Unique Story Behind Mortgage Lifter Tomatoes
The Mortgage Lifter tomato was created in the 1930s by a gardener who sold so many Mortgage Lifter tomatoes that it paid off his entire mortgage! This tomato variety is a popular taste test winner.
Mortgage Lifter tomato plants are indeterminate and grow fruit continuously on a plant that grows up to nine feet tall. The fruit is a large, low-acid, pink-colored fruit of the Beefsteak variety.
Growing the Cherokee Purple Tomato in the Fall
Growers across the country prefer Cherokee Purple tomatoes because they produce fruit in a variety of regions.
This type of tomato is most popular in the summer and early fall. The outside of a Cherokee Purple tomato is a dusky pink, while the inside is a deep red.
Cherokee Purple tomatoes are best enjoyed on a pizza or sauce because their juices are so prominent. When picking Cherokee Purple tomato varieties, pay attention to the top of the stem. When the stem is still a bit green, they are ready to harvest.
How to Know if You Have a San Marzano Tomato
The San Marzano tomato is a type of plum tomato. San Marzano tomatoes are commonly mistaken for plum tomatoes. However, San Marzano tomatoes are longer and thinner than a typical plum tomato.
San Marzano tomatoes have been praised for their flavor, which contains sweetness and the perfect amount of acidity. Because these tomatoes have fewer juices and seeds, they are ideal for sauces to use for lasagna or pasta.
Tomatoes are a tasty addition to salads and sandwiches. Some tomato varieties contain more juices than others, like Amish tomatoes, making them perfect for homemade sauces.
Both tomato plant classes, determinate and indeterminate, produce fantastic fruit that can be enjoyed throughout the year.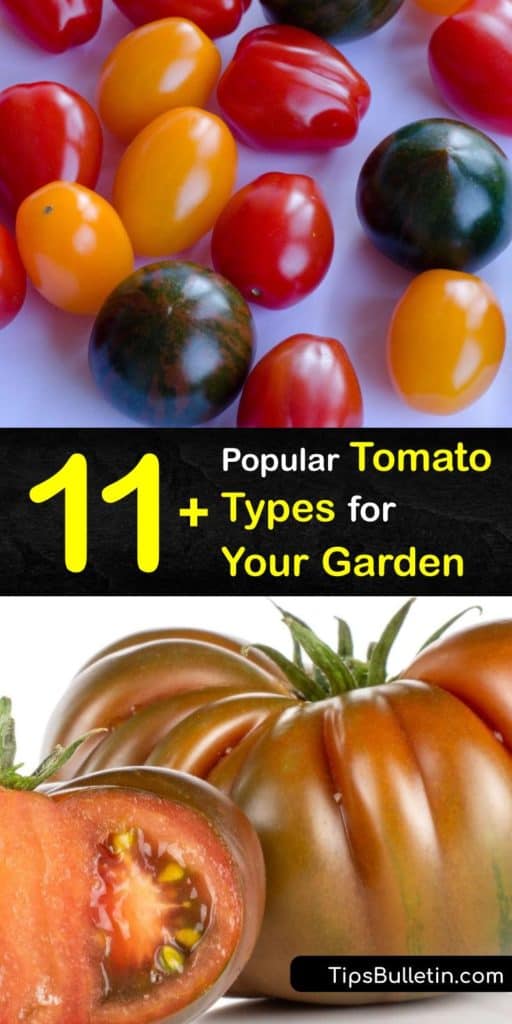 If you learned the most common types of tomatoes here, please share this article about different tomato types on Pinterest or Facebook with your friends and family.