We want to avoid pesticides and insecticides when growing fruits and veggies at home. However, this makes gardening challenging since harmful insects love broccoli just as much as we do and destroy the crop if left unchecked. Fortunately, companion planting broccoli with other vegetables, herbs, and flowers is a natural way to promote a healthy garden.
There is no better way to enjoy organic food like broccoli and other veggies than to produce it at home. Still, gardening takes time, effort, and knowledge, and the best way to grow a garden is to allow nature do most of the work through companion planting.
Broccoli plants (Brassica oleracea var. Italica) are moderately heavy feeders and notorious for sucking calcium from the soil. It's vital to grow them with plants that don't deplete the ground of nutrients. It's also helpful to plant broccoli with plants that draw beneficial insects, deter harmful bugs, and ensure strong growth.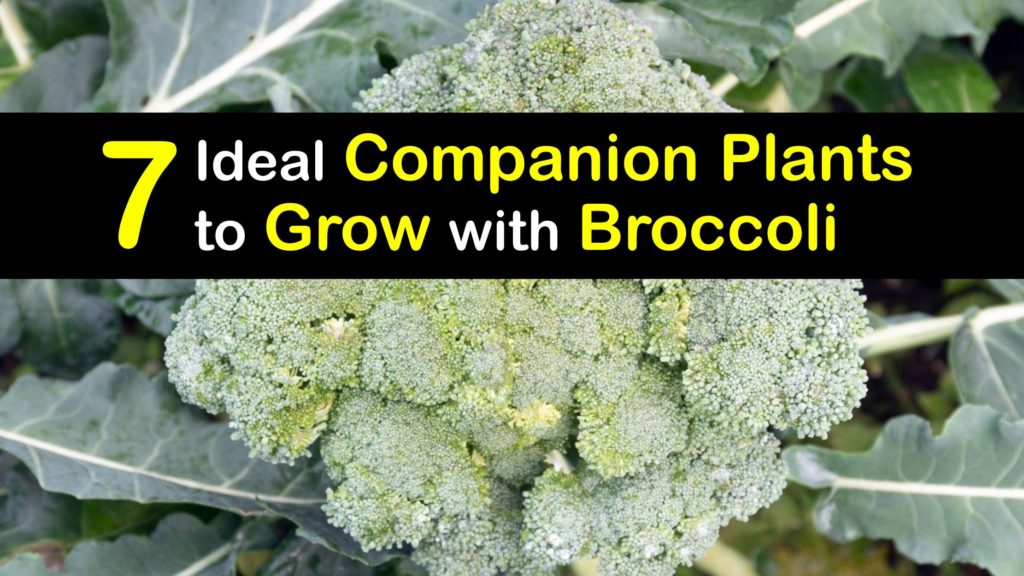 How to Grow Broccoli with Companion Plants
Broccoli is highly nutritious, reasonably simple to grow, and a great addition to the vegetable patch. It's even easier to grow if you plant it with friendly plants. Learn which plants are companions for broccoli and the ones to avoid and find tips for growing this veggie in the companion plant garden.
What is Companion Planting?
While it may seem odd, some plants get along better than others, and companion planting is popular for growing vegetables, whether you grow broccoli or corn. Learn more about companion plant gardening and how broccoli companion planting helps your crops.
Companion Planting
Companion planting is a gardening practice where you grow plants together that benefit each other in one form or another. For example, some plants attract pollinators and beneficial insects that pollinate flowers, and others deter harmful pests with their scent and foliage.
Additionally, some plants improve the nutrient supply and soil fertility, while others suppress weed growth and offer shade to low-growing plants.
What to Plant with Broccoli in a Vegetable Garden
If you plan on growing food besides broccoli, it's a good idea to understand which plants are beneficial to grow with broccoli plants. Here is what to plant with broccoli in a vegetable garden to ensure all of your veggies flourish.
Grow plants that do not require much room and prefer partial shade in the early summer, such as spinach, Swiss chard, lettuce, and radishes. Different kinds of broccoli make great radishes companion plants. Plant broccoli with beets; they are another good choice since they do not need much calcium to thrive.
Other broccoli vegetable companions include garlic, turnips, and cucumbers. Growing shallots, chives, leeks, and other onion family members enhances broccoli's flavor. Broccoli makes ideal companions for onions of all types.
Companion Planting Broccoli with Flowers
Flowering plants are good companions if you're growing broccoli alone or only growing a few vegetables. They draw beneficial insects and pollinators and add fragrance and beauty to the space. Explore what to grow with broccoli that produces flowers.
Nasturtiums and marigolds need little calcium to grow, making them ideal for growing with broccoli. In addition, these flowering plants keep squash bugs, whiteflies, aphids, cabbage worms, cabbage moths, and other pests away from the garden.
Chamomile is a flower that attracts pollinators, and people claim this flower boosts the flavor of broccoli. At the same time, borage and geraniums are excellent companions since they deter cabbage worms and flea beetles. When you harvest broccoli, you'll be pleased with an abundant crop that resisted bugs because of companion planting.
What to Grow with Broccoli in an Herb Garden
Vegetables and flowers are not the only broccoli companion plants. Many aromatic herbs make ideal companions for this veggie, and they provide you with an abundance of herbs and spices for the kitchen. Find out what to grow with broccoli in an herb garden.
Rosemary keeps cabbage flies from laying eggs on broccoli plants, making it a great choice for a companion plant. Dill, basil, thyme, mint, hyssop, cilantro, oregano, and catnip are other herbs beneficial to broccoli since their fragrance repels everything from cabbage worms to carrot flies. Fennel is a host plant to beneficial bugs, and it deters aphids.
Plants to Avoid Growing with Broccoli
While it's essential to know what to plant with broccoli, it's equally important to understand which plants to avoid. Some compete with broccoli plants for soil nutrients, which causes poor plant growth. These plants are better off growing in a different area than broccoli.
The main thing to consider when planting broccoli with other vegetables is calcium since broccoli plants consume a lot of this mineral from the ground. Avoid planting brassicas like Brussels sprouts, kohlrabi, collard greens, and other cabbage family members.
Beans fix nitrogen in the dirt, making it too rich for broccoli plants, but it grows well next to eggplant. Plants like cantaloupe, eggplant, peppers, watermelons, tomatoes, strawberries, mustard greens, and zucchini are heavy-feeders, and it's best to plant them away from broccoli.
Don't grow some plants together. Broccoli is not perfect to be planted with bok choy as both plants attract the same types of insects.
Tips for Planting and Growing Broccoli
Once you determine which plants to grow with your broccoli, it's time to start planting. Follow these broccoli planting and growing tips to ensure you get a bountiful broccoli harvest at the end of the season.
Broccoli plants are slow growers; starting the seeds indoors six weeks or more before the last frost ensures a midsummer harvest. Otherwise, direct sow seeds in the garden in the middle of summer for a fall crop.
Broccoli seeds germinate in five to seven days when temperatures are between 45 and 85°F. These cool season crops need well-drained, sandy, and clay loam soil, soil pH between 6.0 and 7.0, and at least six hours of full sun daily.
Space broccoli 12 to 24 inches apart when transplanting or sowing seeds in the ground since more space between plants encourages larger broccoli heads. Consider spreading mulch over the area to retain moisture and prevent weeds from removing nutrients from the ground.
Water your plants regularly to ensure the soil is moist and not soggy. Feed them a well-balanced and organic broccoli plant fertilizer since too much nitrogen causes excess leaf growth; phosphorus and potassium promote bloom development.
Drape the plants with row covers to protect them from cold weather and pests, and avoid planting broccoli in an area where you've grown cabbage family crops in the past four years.
Depending on the type, broccoli is ready to harvest in 48 to 115 days, and the edible part is the unopened flower. A fully developed head is ready to pick when it's four to seven inches in size with large, dense flower buds. Harvest the broccoli before the buds open since a plant that bolts is too late to pick.
Use a knife to cut away the central head and leave the plant in the ground to encourage side shoots to grow. These shoots produce more broccoli for additional harvesting. Keep fresh broccoli in the fridge for three to five days or freeze it for one year.
Using Fresh Broccoli to Make a Sandwich Spread
While we usually enjoy fresh broccoli steamed or sauteed with butter, there are many other ways to prepare this veggie. This healthy spread is an easy way to use broccoli sitting in the fridge a little too long and tastes great on toasted bread.
Prepare the broccoli by trimming it into bite-size pieces. Boil a large pot of salted water and add the broccoli, then cook the veggies for about three minutes until bright green, strain them, and set them aside.
Pour the olive oil, shallots, and garlic in the pot and cook them on medium heat until the garlic softens and the shallots are translucent. Reduce the temperature to low and stir in the cooked broccoli. Add the kosher salt, pepper flakes, and black pepper to taste and cook for about an hour while stirring often.
Serve the spread warm on toast, fold it into an omelet, or add it to pasta salad. To store leftovers, scoop the broccoli spread into an airtight container and keep it in the fridge for up to five days.
Companion planting is the perfect way to grow organic vegetables. Some plants repel insect pests, while others help enrich the soil, and then there are those that keep weeds away. Understanding which ones to plant with broccoli ensures that you get the most out of your garden.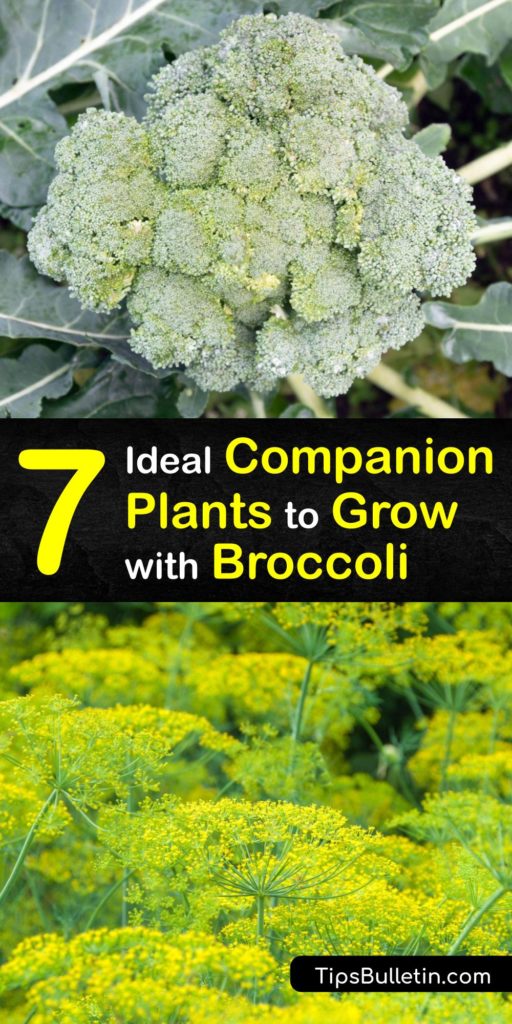 Now that you know how to grow the healthiest veggies by companion planting broccoli with the right plants, why not share our broccoli companion planting guide with the gardeners in your life on Pinterest and Facebook?