It's incredible how much a strategic gardening layout benefits your garden plants. Companion planting cilantro opens up many possibilities and serves as a form of pest control, providing shade, or attracting beneficial insects.
Figuring out what to plant with cilantro doesn't have to be a challenging process. There are many suitable herbs, flowers, and veggies that are excellent companion plants. Cilantro is known as Coriandrum sativum, and it belongs to the Apiaceae carrot family. The leaves are what many know as cilantro, while the seeds are called coriander. Cilantro is prevalent in all types of cuisines, including Mexican, Thai, Indian, and Chinese.
It works well in stews, salads, and curries. Some people think that it has a soapy flavor, but once you find your preferred way to cook with it, you'll be hooked for life. If you are hoping to grow your own herb garden, then cilantro companion planting could help make the entire garden thrive.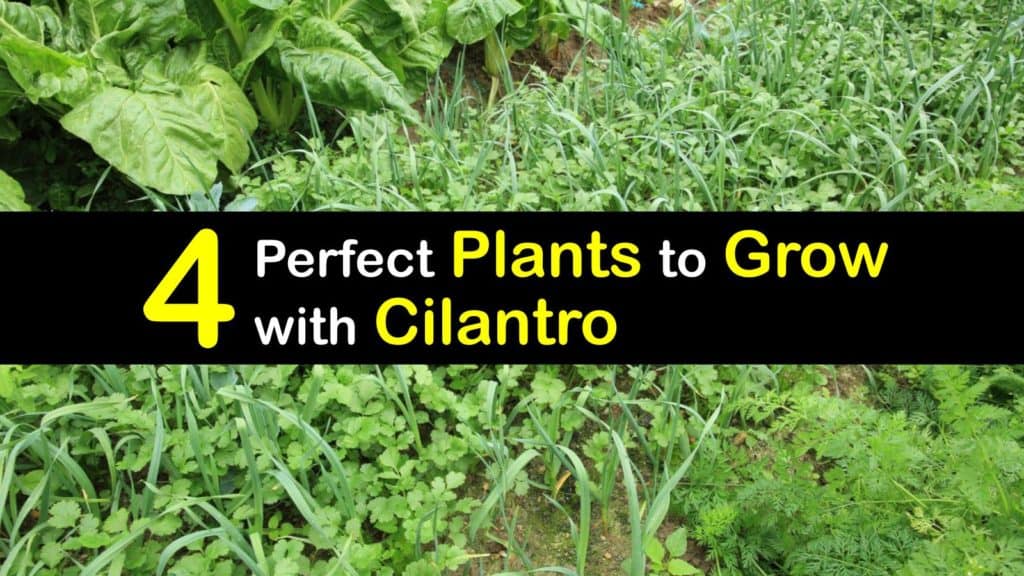 Benefits of Learning What to Grow with Cilantro
A good companion helps a crop in multiple ways, but there are also plenty of ways that two plants growing next to each other could do more harm than good.
Take a minute to understand the benefits of knowing what to plant with cilantro, the way to grow cilantro at home, and what characteristics make a great companion.
One of the most significant benefits that gardeners can get out of companion planting cilantro is the ability to repel garden pests. Regardless of where you live, there isn't a shortage of pests in a vegetable garden.
Carrot fly, cabbage moths, aphids, cabbage worms, spider mites, and potato beetles are only a few examples of the types of insects that plague a garden.
Instead, plant your cilantro near something that attracts more essential pollinators. Honeybees and ladybugs are two pollinators that you should encourage to make an appearance in your garden beds.
As you learn what to plant with cilantro, you'll discover that some plants go well together because they don't need to compete for resources. Different crops use different nutrients. You don't want plants right next to each other that are competing for the same food.
There are also some plants that add specific nutrients back into the soil that their neighbors love. This type of companion planting encourages faster growth. Cilantro doesn't enjoy the full sun and prefers a little shade while still remaining warm.
Choosing crops that work as ground cover or provide a small amount of shade during the hottest parts of the day could help your cilantro and surrounding plants feel comfortable and stable in their location.
What to Plant with Cilantro
Cilantro is an aromatic herb that is already great at attracting pollinators. What are some other ways that this plant could benefit? There are many plant options for you to choose from that you might not have considered. Learn which herbs grow well together as well as a variety of other plants you may already have in the garden.
Companion Planting Cilantro with Legumes
Cilantro is a nitrogen-loving plant. Placing cilantro next to legume plants like pole beans, bush beans, and peas is a smart choice because the legumes put nitrogen back into the soil and give the cilantro a constant supply, so you never have to amend the dirt.
These plants provide some much-needed shade to prevent them from bolting when the weather turns hot. Learn when to pick cilantro to take advantage of the leaves and when to harvest the seeds. To keep bean beetles away, plant some flowers that benefit both cilantro and legumes.
Flowers and Cilantro
Flowers are excellent insect repellants and also add beautiful pops of color to the garden. Some of the most popular garden flower choices for companion planting cilantro are marigolds, borage, nasturtium, chamomile, catnip, and sweet alyssum.
Marigolds are a wise choice for deterring bean beetles if you have legume plants in the area.
Herbs to Plant with Cilantro
If you're growing cilantro, the chances are high that you are trying to have a flourishing herb garden. Herbs gardens work well because these types of plants all have similar growing conditions.
Grow herbs like mint, chives, oregano, marjoram, chervil, and anise in the same beds. Anise is a great choice because it helps cilantro seeds to germinate faster.
Planting Vegetables Near Cilantro
Lots of fruits and veggies benefit when they grow next to cilantro. The aroma of cilantro repels pests, and the veggies attract pollinators like hoverflies and parasitic wasps.
Leafy green veggies like kale, spinach, lettuce, and cabbage are all great options. Cilantro plants are great potato companion plants. Radishes are also ideal near cilantro and a wonderful companion plant for peppers. Plant cilantro next to tomatoes for additional benefits.
What Not to Plant Near Cilantro
Some plants are better for cilantro than others. There are definitely a few plants that you want to avoid. Rosemary, thyme, and lavender require full sun and drier soil than cilantro, so steer clear of these crops.
Avoid any bulbous plant, like fennel, as well. Fennel releases chemicals into the ground that may inhibit the growth of many plants, and cilantro is included in this stunted growth.
Using Fresh Cilantro
Figuring out what to grow with cilantro helps you reach the end of the growing season and utilize your herbs in many delicious ways in the kitchen.
Cilantro is an herb with a bright flavor. Utilize this distinct taste by turning it into a vinaigrette to go on salads or use as a marinade.
Place the cilantro, garlic, oil, vinegar, red pepper, and water into a blender and blend the ingredients until they reach a smooth consistency.
Add more warm water if the sauce is too thick. Season the vinaigrette to taste with salt and pepper and put it on whatever sounds good at the moment.
If you have a bunch of cilantro you don't know what to do with, learn how to preserve and freeze fresh cilantro so that you have it on hand whenever you need it.
As a home gardener, you want your plants to thrive. One of the easiest ways to make your crops happy is by strategically placing them next to crops that help each other.
Learning what to grow with cilantro helps you have a better understanding of what these plants require in order to flourish.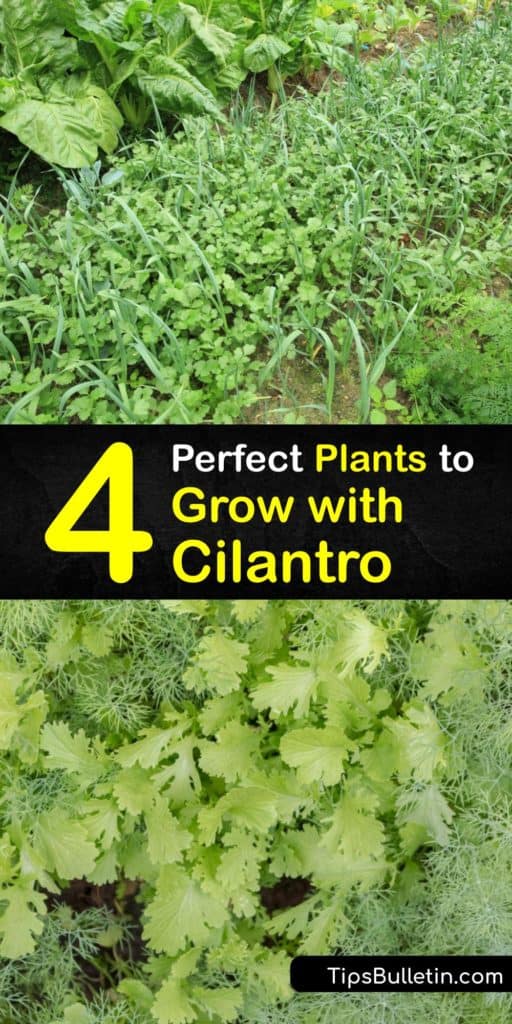 If companion planting cilantro has brought your garden to life, share this article discussing what to plant with cilantro on Facebook and Pinterest.