Brussels sprouts are a popular vegetable, and many gardeners are curious about companion planting for Brussel sprouts in the vegetable garden. These tasty little veggies are a member of the Brassica family, or cabbage family, along with cabbage, kohlrabi, kale, and collards. Brussel sprouts are unlike any other plant; they grow on tall plants with long stalks. Like miniature cabbages, the sprouts grow up the stalks.
Brussel sprouts are a cool weather crop thriving when planted in the early spring or early fall if you live in a locale with mild winters. They take a long time to mature and require approximately 90-100 days of cool weather after germination.
Companion planting is an excellent way to help your Brussels sprouts crop without worrying about using harsh chemicals or providing regular feedings. If you've ever wondered what to plant with Brussel sprouts, there are dozens of options. Learn what to grow with Brussel sprouts and reap the benefits of extra food crops and beautiful blooms while repelling pests and adding nutrition to the soil.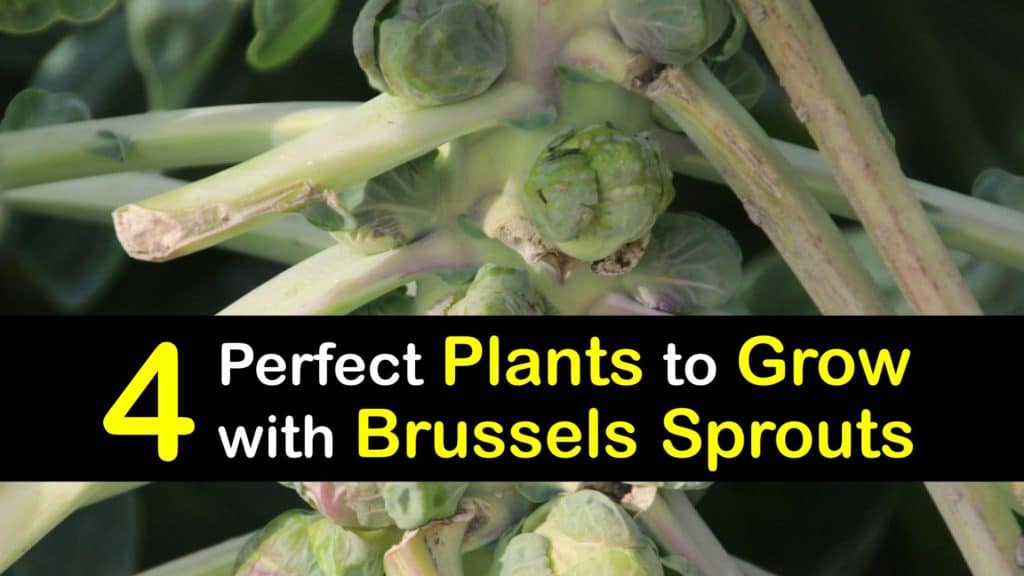 What to Plant with Brussel Sprouts
Companion planting is a popular gardening technique with various benefits, including soil improvement, pest control, and extra produce. Companion planting helps almost any vegetable and garden plants. There's generally a good companion available for avoiding aphids and spider mites or supplying nitrogen to the soil.
Generally, for a fall crop, the best time to plant Brussels sprouts in zone 6 is around mid August. You can also sow seeds in early spring.
Companion planting is advantageous for Brussels sprouts plants to marigolds, and most veggies work as a companion plant when you locate the correct neighbor for them. Learning what to plant with Brussel sprouts allows you to enjoy companion planting for Brussel sprouts.
Once you understand what to grow with Brussel sprouts, it's easy to plan your garden to optimize flavor, repel pests, and keep soil conditions acceptable.
Companion Planting for Brussel Sprouts – Beans and Beets
Brussel sprouts are heavy feeders and require lots of nutrients. Companion planting them with other veggies to add these nutrients into the soil is a straightforward way to ensure they thrive while you enjoy a second or third tasty crop.
Magnesium deficiency is a common issue growers face with their Brussel sprout crop. Brussels sprouts are great companion plants for beets, as they fix magnesium in the soil.
Similarly, bush beans, pole beans, or other legumes are beneficial as they add nitrogen to the earth – a nutrient these heavy feeders must have – watch for bean beetles.
Brussels sprouts benefit when you plant it next to celery and radishes as well as some flowers.
Geraniums and Nasturtiums are Good Companions
Brassica worms, cabbage loopers, Japanese beetles, and the flea beetle are among the pests nasturtiums and geraniums repel with their peppery, astringent aroma. Aphids, which feed on Brussels sprouts, are attracted to them, drawing them away from your Brussels sprouts.
As well as being excellent companion plants, these blooms are a beautiful choice for the vegetable garden and have a long growing season in warmer climates. Marigolds are another attractive and beneficial flower companion for Brussel sprouts.
Brussel Sprouts Companion Planting with Aromatic Herbs
Aromatic herbs attract the cabbageworm or cabbage maggots that eat the leaves and develop into white cabbage moths. To keep pests away from your Brussels sprouts, plant these herbs in a location far away from them in the home garden.
The practice of planting a crop to attract the pests you wish to repel from the main crop is called trap cropping and is a form of companion planting used successfully for many years in vegetable gardening. In addition to being excellent trap or companion plants, aromatic herbs have many uses in the kitchen and make your garden fragrant.
What to Grow with Brussel Sprouts – Alliums
The sweetness of matured Brussels sprouts is enhanced with alliums such as leeks, shallots, chives, and onions. You can plant Brussels sprouts with garlic, too. Alliums include antifungal qualities and act as a natural insect repellent in the soil, making them a perfect choice to plant near your sprouts.
Plants to Avoid with Brussels Sprouts
Like some veggies are good companions, others don't work well when planted near Brussels sprouts. Strawberries, like Brussels sprouts, limit the growth potential of all cabbage family members since they compete for space.
Other cabbages, such as cauliflower or broccoli, should not be grown near Brussels sprouts since they fight for similar nutrients and resources. Their proximity makes them twice as susceptible to disease and pests targeting Brassicas.
Tomatoes, as well as other nightshades such as eggplants, require many resources to thrive. Brussels sprouts are heavy feeders; therefore, planting them close together results in nutrient competition and deficiency.
Growers benefit from companion planting, knowing which plants are not good companions, and planning their vegetable garden accordingly.
Brussels Sprouts Care
Make sure your Brussels sprouts get at least six hours of direct sunlight daily. Brussel sprouts plants not receiving enough sunshine mature slower and require a longer growing season. Brussels sprouts require well-draining, moist soil to produce a large yield as a cool season crop.
Provide about 1 1/2 inches of water per week and add a layer of mulch to help with water retention and weed prevention.
Begin harvesting when the lowest sprouts on your plants reach the size of big marbles. Pick your Brussels sprouts before they get too large and fall apart or become bitter. As you harvest the sprouts, prune the lowest leaves of your plant to encourage the growth of other sprouts up the stem.
If nothing from the above list caught your eye, chard, radishes, collards, and chamomile are good companions for Brussels sprouts. Give companion planting a try and avoid harsh chemical insecticides or expensive feedings by providing pest control and added nutrients.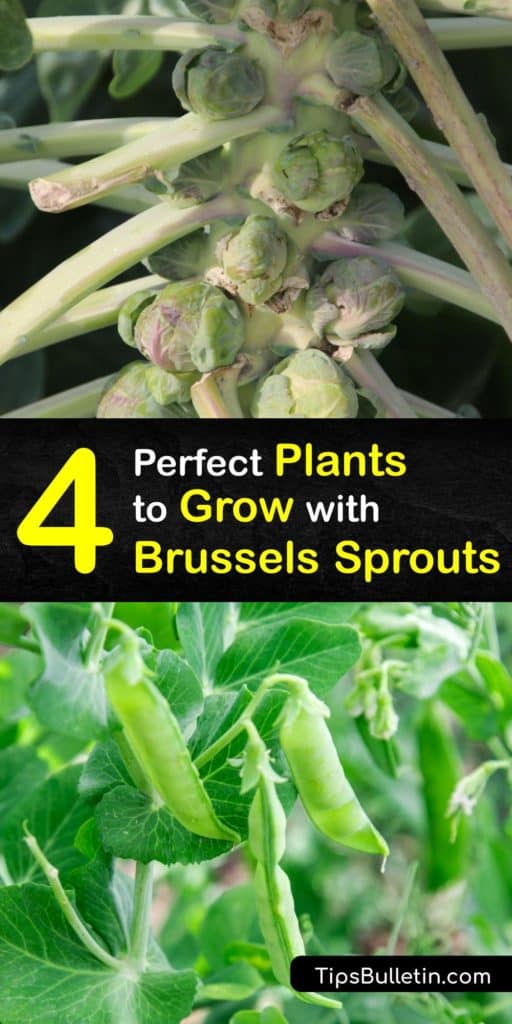 If you loved this article on companion planting for Brussel sprouts, please share these clever tips on what to plant with Brussel sprouts with your friends and family on Pinterest and Facebook.