The advice behind companion planting gourds stems from visual observations made by farmers and commercial growers. These observations often come from experiments in planting and rotating garden arrangements to find the best pairings to promote the growth of the focal plant.
The term gourd is a broad one belonging to plants in the Cucurbitaceae family, also known as cucurbits. Gourd refers to species within the family of varying appearances. Some gourds are known for hard-shell outer skin that comes in various colors. Gourd plants are grown worldwide, and their fruits are called different things like squash, gourd, or pumpkin, depending on their species.
There are different varieties of gourds, including the dipper gourd, sponge gourd or luffa, the standard field pumpkin, and calabash that are typically grown in what's known as a birdhouse or in a horizontal trellis by gourd vines.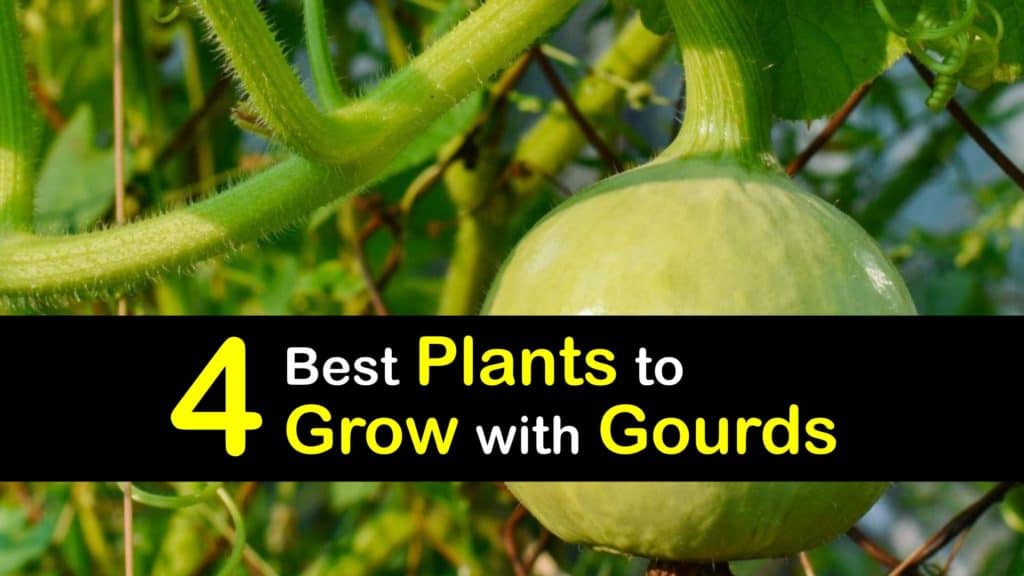 What to Plant with Gourds (Cucurbita)
Aside from food, gourds have a rich history. Gourds are mostly used for art objects, film, tools, and even musical instruments. Lagenaria siceraria, one of the different types of gourds native to Africa, is known as a bottle gourd and is often cut using a jig saw for a tool like a water ladle or water canteen.
Gourd companion planting requires knowing what problems you're looking to address with your garden, and this helps when looking for what to grow with gourds. When you grow gourds from seed, plant their companions at the same time to enjoy the benefits all season.
Some companion plants provide shade, others offer protection from harmful insects and disease, and some help your crop grow. Good companion plants draw in beneficial insects to help with pollination or natural predators to handle pests for you.
Growing Radishes Near Gourds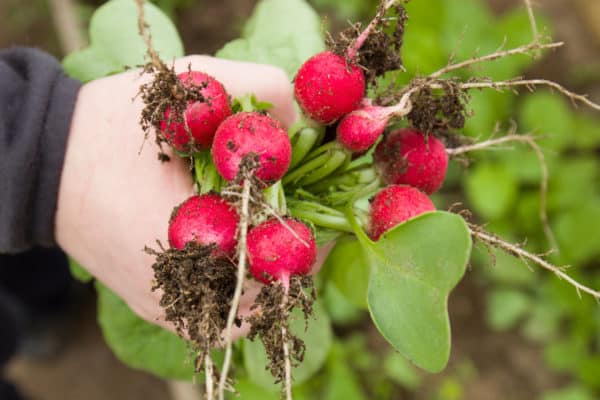 If you're wondering what to grow with gourds, radishes are a great place to start. Radishes are excellent companion plants as they perform several essential tasks when planted in your garden.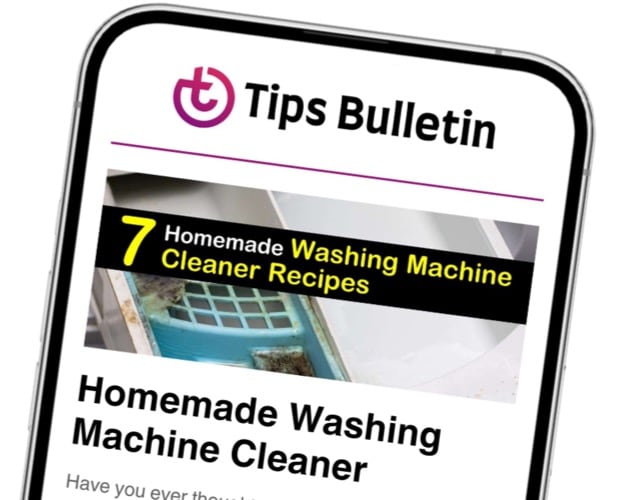 Finally, an email that Transforms Your Home.
Get the latest home and garden tips from our experts, delivered straight to your inbox.
Radishes have root systems that grow fast to help break up soil for the roots of other plants to burrow deeper into the soil. We don't recommend planting radishes too close to gourds to avoid them causing any harm to your plant. Instead, plant them a safe distance of three to four feet away.
Radishes attract pests like aphids and beetles, which means they will target your radish crop instead of your gourds. If you're okay with the idea of using your radish as a decoy trap crop, planting some near your gourds helps keep pests away from what you want to protect.
What to Grow with Gourds to Keep Away Pests from Gourds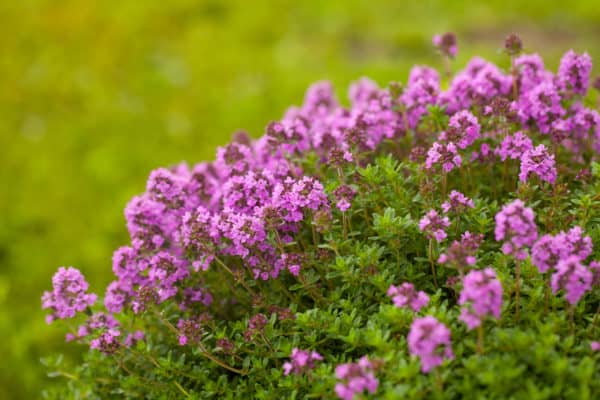 When growing vegetables, the most common problem is the pests that are drawn to your garden. Allowing pests to feed on your crop results in stunted growth and, in some cases, causes damage to your plant by causing it to fall over.
Herbs that produce intense aromas are favorites for gardeners because they help deter pests from landing on their plants. Common aromatic herbs include leeks, oregano, chives, marjoram, and tansy.
Catnip is another plant that surprisingly is great at keeping away beetles and insects harmful to humans like mosquitoes.
Companion Planting Gourds with Trap Crops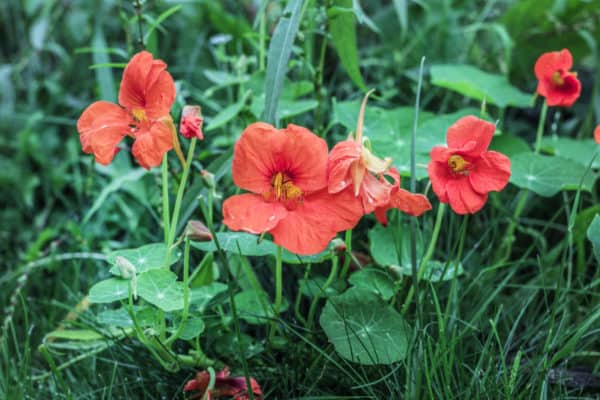 Not every companion plant works to repel insects from your garden, but some act as trap crops. Catnip, nasturtium, and marigold are three plants that add color and excitement to your vegetable garden, and as they do not produce crops, they serve as trap crops for the sake of other plants.
Pests like flea beetles are more likely to visit plants like catnip and flowering plants like nasturtium and marigolds.
The flowers produced by marigolds and nasturtiums attract natural predators to your garden. Getting rid of pests while encouraging pollinators to visit make these two essential companion plants.
What to Plant with Gourds to Improve Soil Quality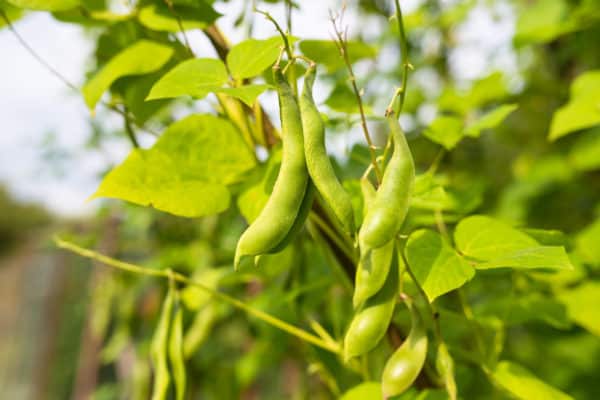 As part of the Cucurbitaceae family, gourds are similar to squash. Native Americans planted The Three Sisters – corn, squash, and beans – together to improve their harvest. You can quickly boost the growth of your gourds by planting beans in your vegetable garden
You can grow bush beans or pole beans, and they make great additions, but climbing beans are ideal when growing squash on a trellis as the structure provides support for your growing beans.
Beans make excellent companion plants due to their natural ability to pump nitrogen into the soil where they grow.
Because vegetables in the gourd family are heavy feeders for absorbing nutrients from the ground, having a companion plant to replenish those nutrients helps avoid deficiencies. Plants like zucchini should not be planted near gourds to prevent competition for nutrients.
Planting and Caring for Gourds
The best time to plant gourds from seeds directly into the garden is after the danger of frost has passed. The growing season and time when it's best to plant gourds may vary based on your location and the duration of your season. We recommend referencing a growing guide for the exact information for your growing zone.
Gourds enjoy full sun, and germination occurs quickly in well-drained soil rich with nutrients from organic material either from cover crops or mulch.
Dealing with Powdery Mildew
Diseases are not significant problems for gourds, though powdery mildew is common and appears as a white powder on the leaves that slowly spreads to coat the leaves until it causes them to drop.
Prevent powdering mildew by planting in full sun and space your gourds apart to allow proper air circulation after watering. Always water near the soil of the plant, avoiding the leaves.
Removing affected leaves prevents the spread of the fungal disease. To fight powdery mildew on squash and gourds, sterilize your shears before and after use and burn any infected leaves or vines to avoid spreading.
Combine bleach and water in a bucket or sink and while wearing gloves, and soak your scissors or garden shears in the mixture to disinfect any spores from the previous use.
Pests on Gourds
Gourds have several pests that enjoy feasting on their leaves and causing damage to your plant in the process. If left untreated, these pests may cause severe damage to your garden.
Small holes and wilting leaves are easy visual clues that your gourds are under attack from squash bugs or cucumber beetles. Each pest feeds on plant leaves, and with damaged leaves, your gourds take in less sunlight, affecting your plant's growth.
The larvae of squash vine borers also cause yellow leaves. The adult insects have orange abdomens with black dots and two pairs of wings, one of which isn't visible unless in flight. Damage from these pests causes wilting in plants and rotting the crop's base.
Aphids are tiny green insects that do not pose extreme threats to your plants as they seldom cause plants to die. Aphids suck nutrients through the stem of plants and leave behind honeydew on the plant and its leaves.
Although we listed a few essential options when researching companion planting gourds, there are many other vegetables and herbs out there to benefit your garden, too.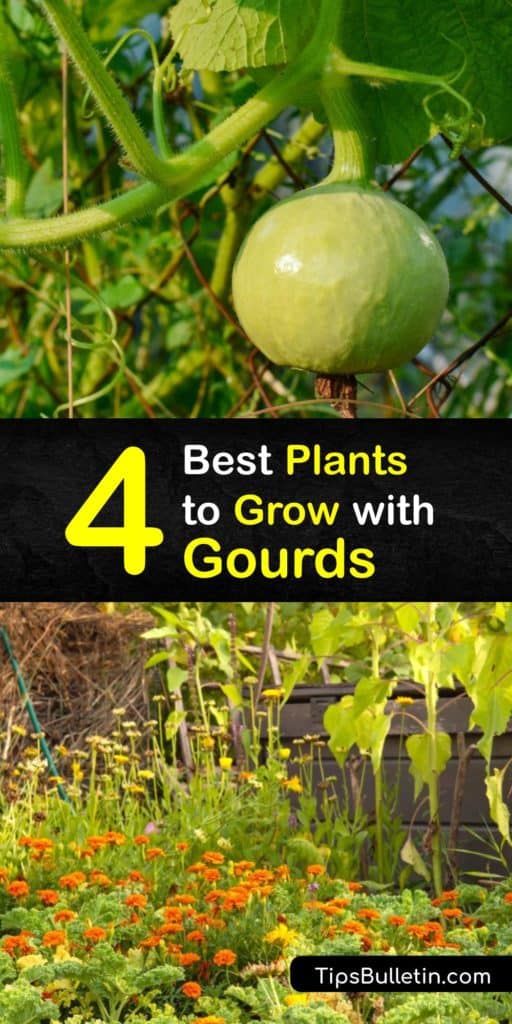 We hope you found our suggestions on companion planting gourds helpful and consider sharing our ideas on what to plant with gourds with your friends and followers on Facebook and Pinterest.