Any gardener will tell you that destructive insects and pests are a common struggle, and growing the wrong plants side-by-side often causes problems you don't expect. We help you produce the healthiest veggies from your garden by companion planting onions with other plants.
Growing a garden is a terrific way to produce your own food and keep your pantry cellar and fridge well-stocked. Unfortunately, we encounter many problems while maintaining a garden, including pesky rodents and hungry insects.
Are you aware that plants have a way of dealing with these problems? Companion planting is a great method to get plants to cooperate. As with anything in nature, some things get along and others that do not. This is also true for plants. It's vital to understand plants to learn which ones are a good companion and which ones to avoid.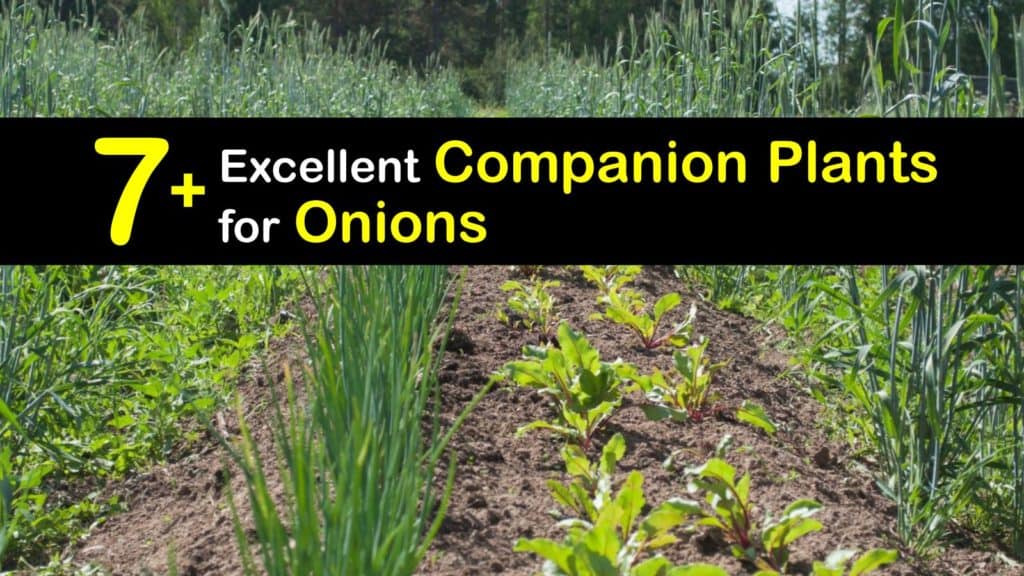 Growing Onions by Companion Planting
Growing your own garden is a lot of work, but there are ways to make the job easier. Learn what companion planting is, which plants to grow beside your onions, and those to avoid. Whether you are planting a sprouted onion or onion sets, use this valuable information to help you in your gardening journey.
What is Companion Planting?
Some plants make better neighbors than others, and growing the wrong types together causes havoc in the garden. That's not the only benefit of companion planting. We explain why gardening with companion plants is essential to growing the best garden.
Companion gardening is a common practice where you group plants to make them more productive or complement each other.
Some plants grow well in the same soil type and weather conditions, while tall plants provide necessary shade for low-growing plants.
Some plants improve soil fertility and others suppress weeds, and some plants deter pests while others attract beneficial insects. Knowing which plants to grow with onions benefits both the onion plants and the rest of the garden.
What to Plant Next to Onions to Keep Away Pests
Home-grown food takes a lot of patience and work and discovering that critters are destroying your vegetables is frustrating, to say the least. Here is what to plant next to onions to keep hungry insects and other pests out of the garden. They also work if you grow onions in a container.
Onions naturally deter many pests, and they are a great organic alternative to using pesticides in the garden. They repel everything from aphids, Japanese beetles, flea beetles, carrot flies, and bean beetles to rabbits.
Plants that love growing beside onions include lettuce, spinach, peppers, parsnips, beets, carrots, and strawberries, and they also benefit from the onion's insect repellent ability. Plant onions with tomatoes to keep bugs away, or plant onions next to cucumbers for excellent results.
Companion Planting Onions and Plants to Avoid
Unfortunately, not all plants get along, and some actually attract harmful insects to the area, leading to the destruction of the entire garden. Here are plants to avoid when companion planting for onions.
While it seems strange, it's not a good idea to grow other onion plants, such as leeks, shallots, chives, and garlic, in the same garden.
Growing shallots and similar onion species attracts onion maggots that travel easily from plant to plant and growing these species in the proximity of each other causes devastation throughout the onion patch.
Do not plant legumes such as beans, pole beans, bush beans, and peas near onions since alliums stunt their growth. Also, avoid planting asparagus and sage near onions.
What to Plant with Onions to Attract Beneficial Bugs
Not all insects are bad for the veggie garden. Bumblebees, honey bees, and butterflies are pollinators that help flowering plants flourish, and other bugs such as ladybugs and lacewings help keep the bad bugs in check. Here is what to plant with onions to draw beneficial insects.
Many useful bugs are great for your onion garden. Ladybug and lacewing larvae feed on aphids, hoverflies eat caterpillars and leafhoppers, mantids feed on squash bugs and cucumber beetles, and ground beetles eat ground-dwelling insects.
Pollinators such as honeybees and bumblebees are essential for helping plants reproduce. To introduce these beneficial insects to your garden, consider planting marigolds, chamomile, coriander, nasturtium, borage, hyssop, and aromatic herbs.
Which Plants Benefit from Onion Companion Planting?
Onions are not the only plant to benefit when companion planting. Growing onions benefits other plants in many ways and are perfect companions. Here is what to plant next to onions to help the other plants thrive.
Onions protect plants from mites, slugs, cutworms, borers, and all types of maggots, so any plant that tolerates growing near onions receives the added benefit of a natural bug repellent.
Plants that get the most out of growing near onions include peppers, beets, radishes, turnips, carrots, and lettuce.
Herb Companion Plants for Onions
Vegetables and fruits are not the only companion plants for onions. There are a variety of herbs that are also excellent choices for planting by their side. Here are some herb garden companion plants for what to plant with onions.
A variety of herbs flourish when you grow them with onions and protect your garden from certain pests.
Some of the most popular are chamomile, parsley, dill, marjoram, oregano, and summer savory. Other ideal choices are catnip to keep mice and voles away and fennel to keep the carrot fly away.
The Cabbage Family and Onion Companion Planting
Some of the best companions for onion plants are those from the cabbage family. They both grow well in the same soil conditions, and onions protect them from common cabbage-loving pests.
Onions grow quite nicely alongside brassicas or members of the cabbage family, and they protect them from cabbage moths, cabbage worms and maggots, and the cabbage looper.
Some of the most common include cabbage, kale, broccoli, kohlrabi, and Brussels sprouts. Just like onions, they prefer to be rotated each year, prefer similar well-drained soil conditions, and a nitrogen-rich organic fertilizer.
Note that collards are not from the same plant family, and you should not plant them together.
Decorative Companion Plants for Onions
If you do not want to go through the effort of growing other vegetables or herbs but still want your onions protected from pests, consider growing decorative plants such as flowers.
Marigolds are a top choice for gardeners since these flowers repel bean beetles, nematodes, aphids, and other insects. Rabbits and deer cannot stand them and steer clear of areas where you plant them.
They are an annual that produces bright colored flowers in shades of orange, yellow, and red.
Coneflowers, or echinacea, are decorative perennial flowers that attract parasitoid flies and predatory wasps that eat other insects.
They also attract various pollinators to the garden. They add charm with their tall, dark green foliage and profuse blooms of purple.
Sweet alyssum is a dainty annual flower with nectar that attracts hoverflies, and their larvae eat mites and aphids from plants. They grow in a low carpet of white, purple, or yellow flowers throughout the summer.
Calendula is a pot marigold variety that repels asparagus beetles while attracting beneficial insects. These yellow and orange flowers are also edible with a tangy, peppery flavor.
Creating the Perfect Onion Companion Plant Garden
With so many companion choices for onions, it's difficult to know where to begin when planning a garden bed. Here are some ideas to get you started on your next companion garden.
When planting a new veggie garden, consider growing onions around the sunny perimeter to protect the inside plants from harmful insects such as mites and slugs. Plant chamomile and summer savory alongside them to promote healthy onion growth and flavor.
Grow tomatoes near the back since these plants grow tall and bushy and require a generous amount of sunshine, and plant lettuce or cabbage in front of them to get shade from the afternoon sun.
Beets and carrots also grow in this environment, so consider adding them as well. For some extra color and to attract good bugs to the garden and keep the deer out, plant marigolds on either side of the bed.
There are many benefits to growing a garden with companion plants. Some plants attract beneficial bugs, while others deter destructive insects and pests such as rabbits and rodents.
Understanding which plants get along ensures that you receive a thriving bed of vegetables and a bountiful harvest.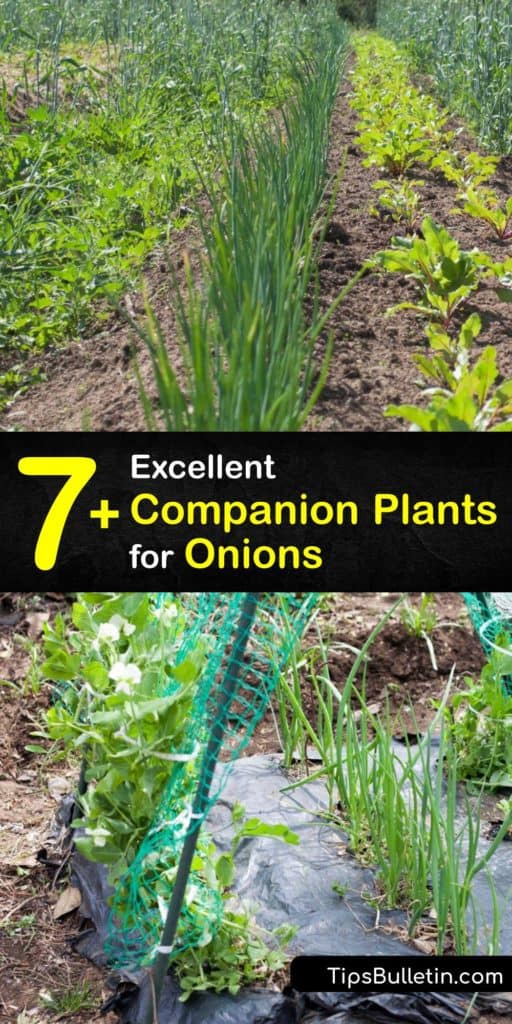 Companion planting onions with friends rather than foes produces the healthiest garden, so why not share our onion companion planting guide with the gardeners in your life on Facebook and Pinterest?