Gardening can be a daunting experience if you're a novice, and trying to figure out what to feed your flowers or vegetable garden only adds to the confusion. Some feel that applying fertiliser is the best action, and others decide compost is the way to go. Find out the difference between compost vs fertilizer to help you understand the ideal product for your planting needs.
There are many things to learn to ensure you grow healthy plants, from pest control and disease prevention to crop rotation and companion planting. Plant fertilization is just another topic to add to the list.
However, it's not as simple as adding nutrients to the dirt. For example, do you have sandy soil, and is it acidic or alkaline? Are you growing hungry plants that crave a lot of nutrients or those that grow best on their own? Answering these questions allows you to choose the perfect compost or fertilizer for soil fertility.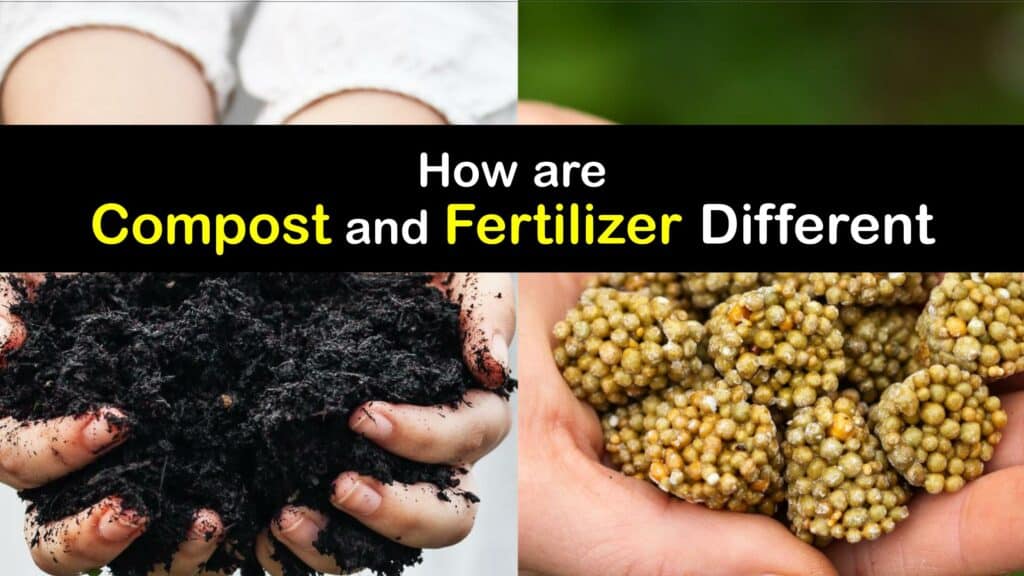 Compost and Fertilizer – The Basics
Growing plants, fruits, and vegetables is both easy and complex. While it's simple to sow seeds or plant seedlings in the ground, plants want sun, water, and nutrition as they grow to promote strong roots and plant development. You decide whether to feed your plants compost or fertilizer, or both.
Discover the many differences between mulch vs compost vs fertilizer and the different types. Explore their benefits for soil health, plant growth, soil amendment, and plant food.
The Difference Between Fertilizer vs Compost
If you're growing your plants in a home garden, you want to give them the best environment to ensure they thrive. Yet, strolling through the home improvement center is often confusing with all the bags of potting mix, garden soil, fertilizer, and compost. What's the difference between fertilizer vs compost?
Compost is a mixture of decaying organic material, typically brown and green materials like grass clippings, fruit and vegetable waste, leaves, straw, and fresh manure. It's a form of organic fertilizer that you usually use to amend soil to improve its structure and properties.
Not all compost fertilizers are created equally. For example, mushroom compost is not good for berries or flowers and require a milder compost.
Inorganic fertilizer or chemical fertilizer provides plants with specific nutrients. All fertilizers use the NPK ratio system, which measures nitrogen, phosphorus, and potassium levels.
Is Compost or Fertilizer Better for Plants?
Is compost or fertilizer better? A common question among new gardeners, the answer depends on your soil type. Learn which is better based on your needs so that you choose wisely.
There are varying things to consider when deciding whether to use compost or fertilizer, and both have pros and cons. Organic compost promotes the soil's overall condition, helps the growth of beneficial microbes, limits weeds, and is environmentally friendly.
However, the composting process is time-consuming as you add materials to the compost bin. In addition, a decomposing pile is sometimes smelly; compost takes a long time to affect the soil and benefit your plants.
Fertilizers enable plants to grow faster as they eliminate soil deficiencies and fulfill plants' specific needs. There is a risk of overloading the soil with nutrients and causing environmental pollution. Some synthetic fertilizers disturb the symbiotic relationship of microbes in the ground.
Compost vs Fertilizer Types
As if the differences between compost and fertilizer aren't enough, there are also varying types. Discover the different types of fertilizers and compost and how they are prepared to lessen the confusion.
Aerobic composting introduces air to the compost to help it break down compost manure, plant material, and other organic waste quickly while killing weed seeds. A compost tumbler is handy for this process since the pile requires turning every few days.
Anaerobic composting takes minimal effort, and all you have to do is toss scraps, like chicken manure, kitchen waste, and leaves, into the pile. Unfortunately, this method takes the longest – you must wait about a year for the finished compost.
Vermicomposting uses oxygen, moisture, and worms to break down the organic matter and has very little odor.
Organic fertilizers only contain plant or animal-based materials, and they are the end product of manures, compost, and other naturally occurring processes. In comparison, inorganic fertilizers or synthetic fertilizers are manufactured artificially with macronutrients.
Ways to Use Fertilizer or Compost
There are many uses for homemade compost and inorganic fertilizers, whether you want to increase crop yield or desire a lush yard of grass. Explore ways to use fertilizer and compost for garden and lawn care.
Compost is very straightforward to use; add it to the soil before and after planting, spread it over a new lawn, and apply it as mulch around trees, shrubs, and plants. However, always use composted manure rather than fresh manure to prevent E coli, salmonella, and other microbial pathogens.
Fertilizing plants is a little different since fertilizers have varying amounts of nitrogen, phosphorus, and potassium. It's wise to perform a soil test before fertilization to determine the soil's pH and understand the nutrient requirements of your crops. Check the NPK ratio on the fertilizer product and use one appropriate for your yard's conditions.
To use fertilizer, spread it over the area before tilling or dilute the granules with water for direct application. Avoid over-fertilizing, which causes the overproduction of foliage with fewer fruits. Likewise, under-fertilizing creates weak, undersized plants.
There are many uses for finished compost and synthetic fertilizer, which benefit the soil in one way or another. However, compost and organic fertiliser improve the soil structure and promote vigorous plants naturally, while overusing a manufactured fertilizer may harm the environment.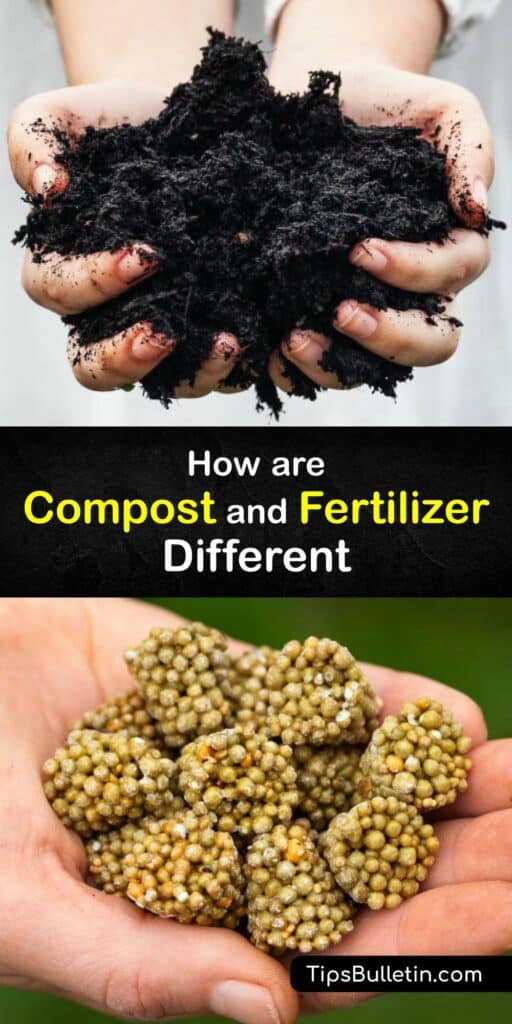 Now that you've learned the difference between compost vs fertilizer, we'd love it if you'd share our fertilizer and compost guide with the new gardeners in your life on Pinterest and Facebook.