If you live in the northern United States, knowing the best time to plant new flowers becomes a tricky task. Winters may be unpredictable, leaving you to wonder when the final frost ends, and spring planting begins. The most effective way to approach an issue like this is by planting cool season flowers that thrive in colder weather, no matter when the warmer temperatures of spring decide to show themselves.
Cool-season flowers also go by the name hardy annuals. These flowers often get planted in the fall so that they can adequately establish themselves throughout the winter.
Once spring arrives, the roots have already grown strong and robust, allowing the buds to shoot up above the soil even when the weather is still a little chilly outside.
The best time to plant these flowers is generally 6-8 weeks before the first frost in fall, though some can be planted early in spring.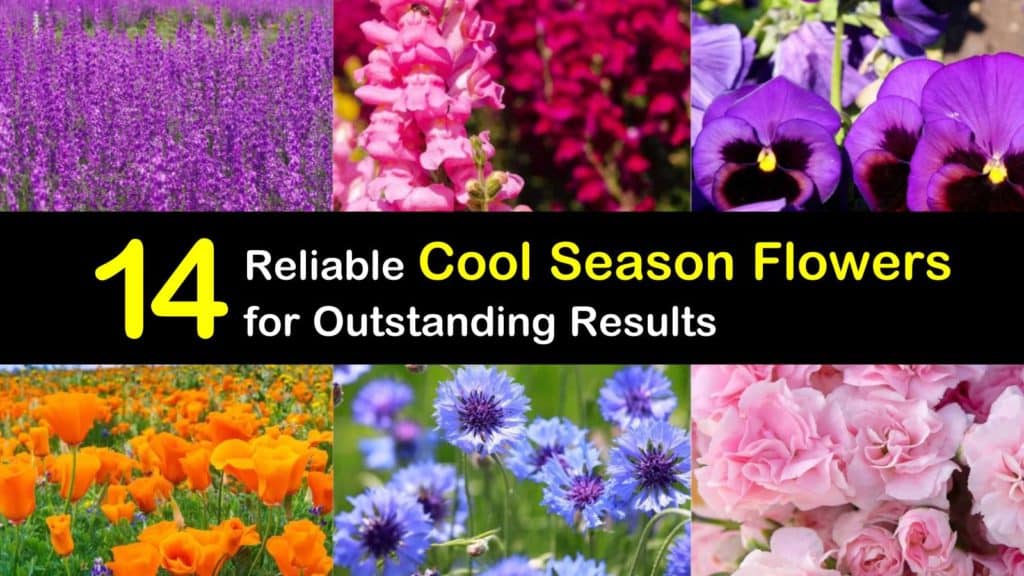 Unique and Attractive Flowers Perfect for Cooler Climates
The fantastic features of these hardy annuals don't stop at their ability to withstand lower temperatures. There are numerous styles, colors, and shapes to choose from, meaning there is a perfect plant for every garden.
Select a few different species for extra variety, from fall season herbs to brightly colored flowers to ferns and grasses, as well as determining what vegetables to plant in February and March for a more year-round harvest.
Add some perennials that bloom all year, as well, if your hardiness zone can handle it, to enjoy flowers in every season.
Larkspur (Consolida ajacis)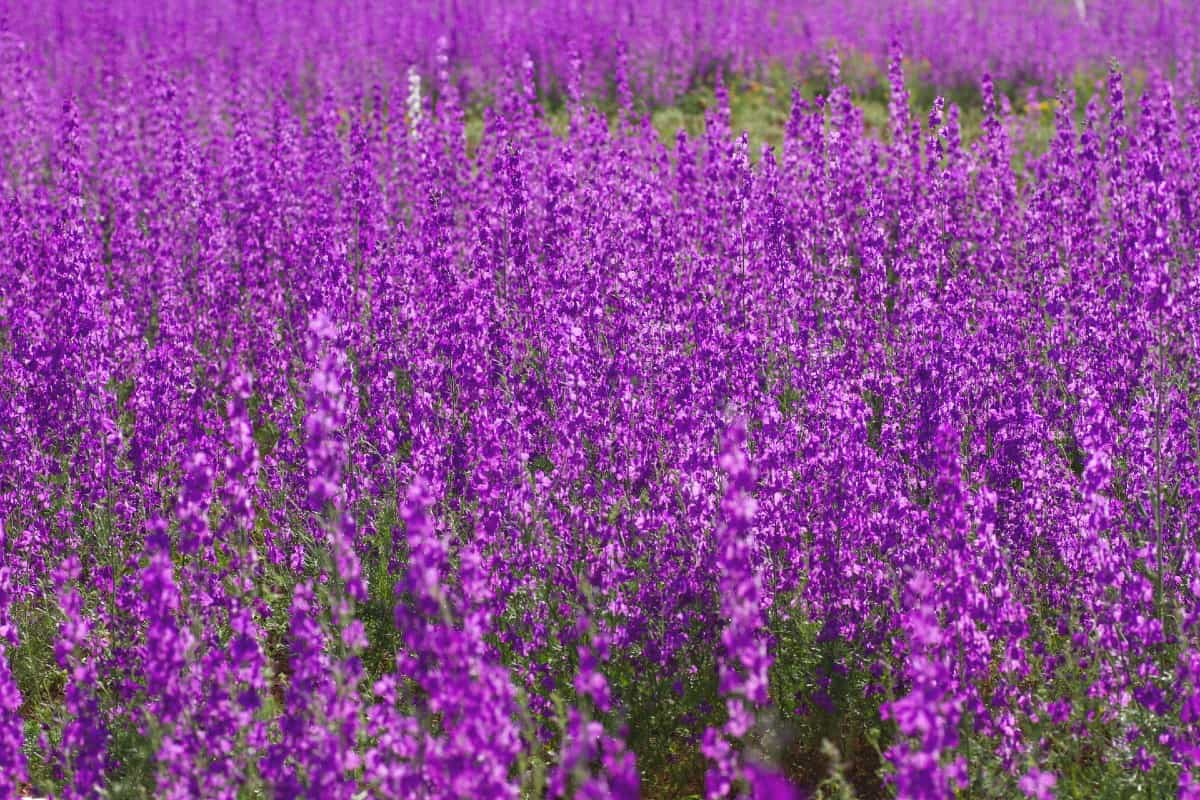 Larkspur is a lovely plant that looks similar to lavender, with blue clusters of flowers that form alongside the stalks. They reach about four feet in height, with some plants exhibiting other colors like purple, salmon, or pink.
These flowers appear at the end of spring and can be toxic to livestock and other animals, so keep them out of their way when planting.
Flowers require colder temperatures to germinate properly, so sowing them in early spring just before the soil begins to warm is ideal.
They reach their full height of around 4 feet in just a few short months. Larkspur prefers full sun but not too much heat or dry conditions to prosper.
Sweet Peas (Lathyrus odoratus): A Cool-Season Flower for Mild Winters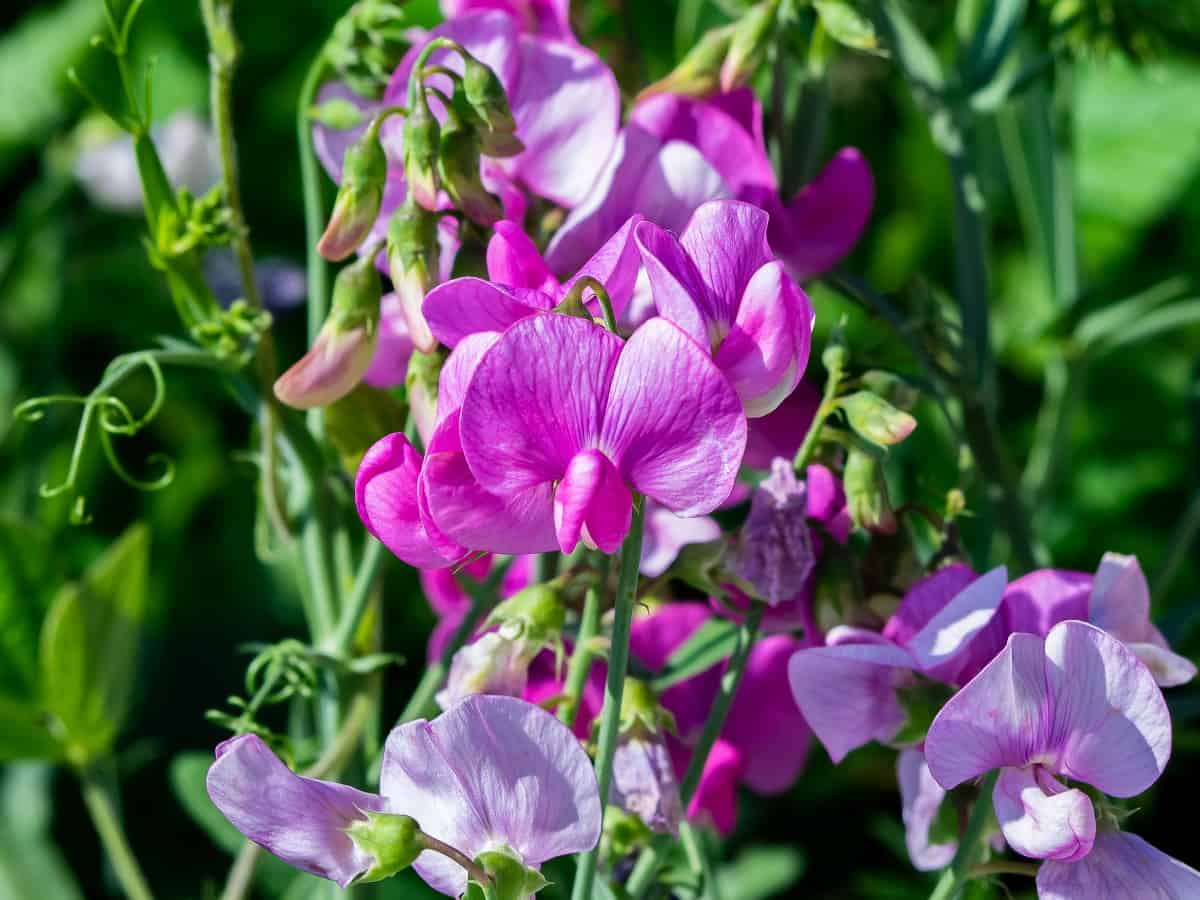 A cool-season plant that is perfect for several uses is Sweet Pea. These flowering plants come in climbing vines for adorning trellises or dwarf varieties for lining the borders in garden beds.
Larger sizes typically reach up to 8 feet in length, so reserve plenty of space when selecting these types. Plant Sweet Pea in late fall for blooming in late winter or early spring for flowering later that season or early summer.
The time of year depends entirely on how cool your summer and winter months get. Hotter locations like Texas and Florida do best with fall plantings when winters are cool without frost.
Snapdragons (Antirrhinum)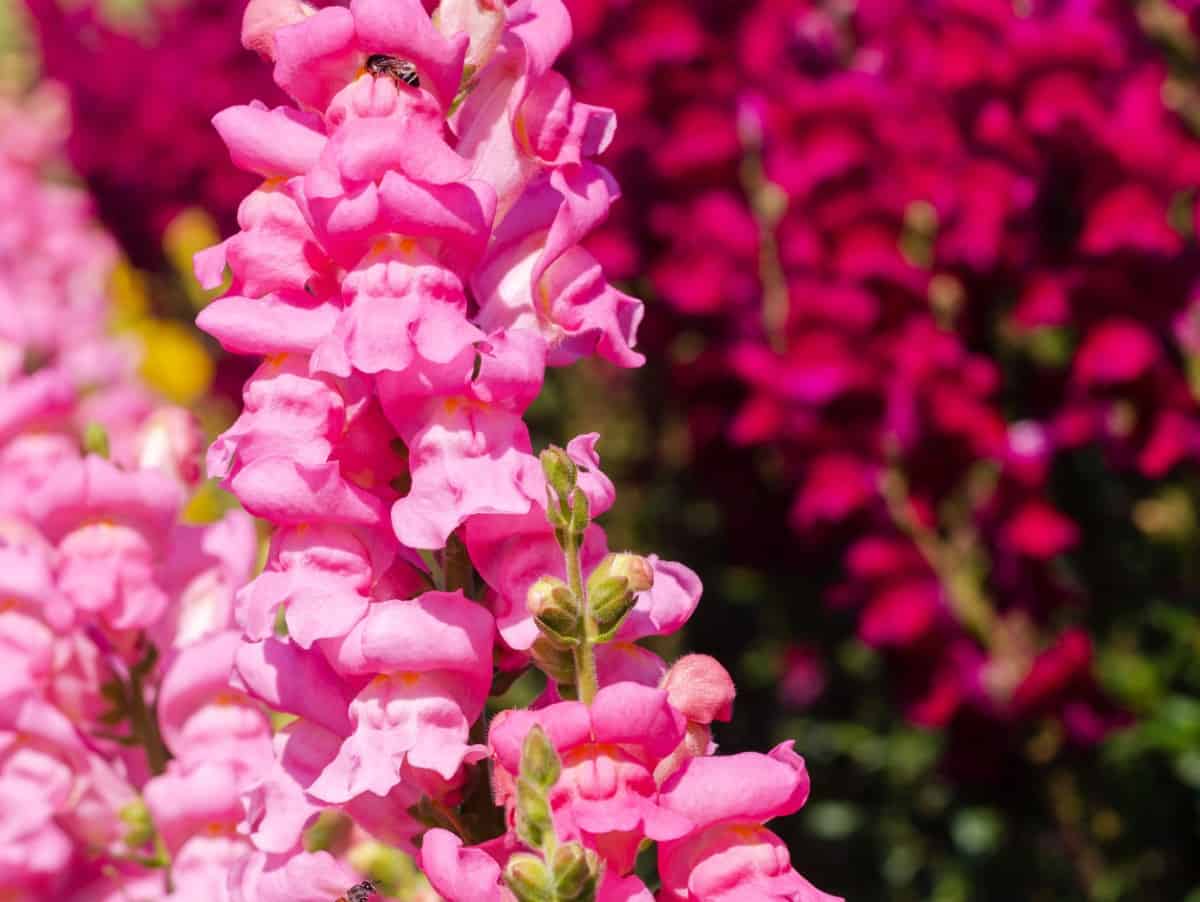 One of the most impressive annual flowers to add to your garden are Snapdragons. These flowers are beloved for their unique shape – their "mouths" open and close like puppets when squeezed.
They also have long flowering seasons, typically starting in April and lasting until the first frost. Milder climates are ideal for these plants, though they often tolerate warmer temperatures when given some shade during peak afternoon sun hours.
In warmer environments, planting them in September for growth in winter provides pops of color during the colder months. In cooler temperatures, start growing them in late winter to allow them plenty of time to get established before spring.
Petunia (Petunia × atkinsiana)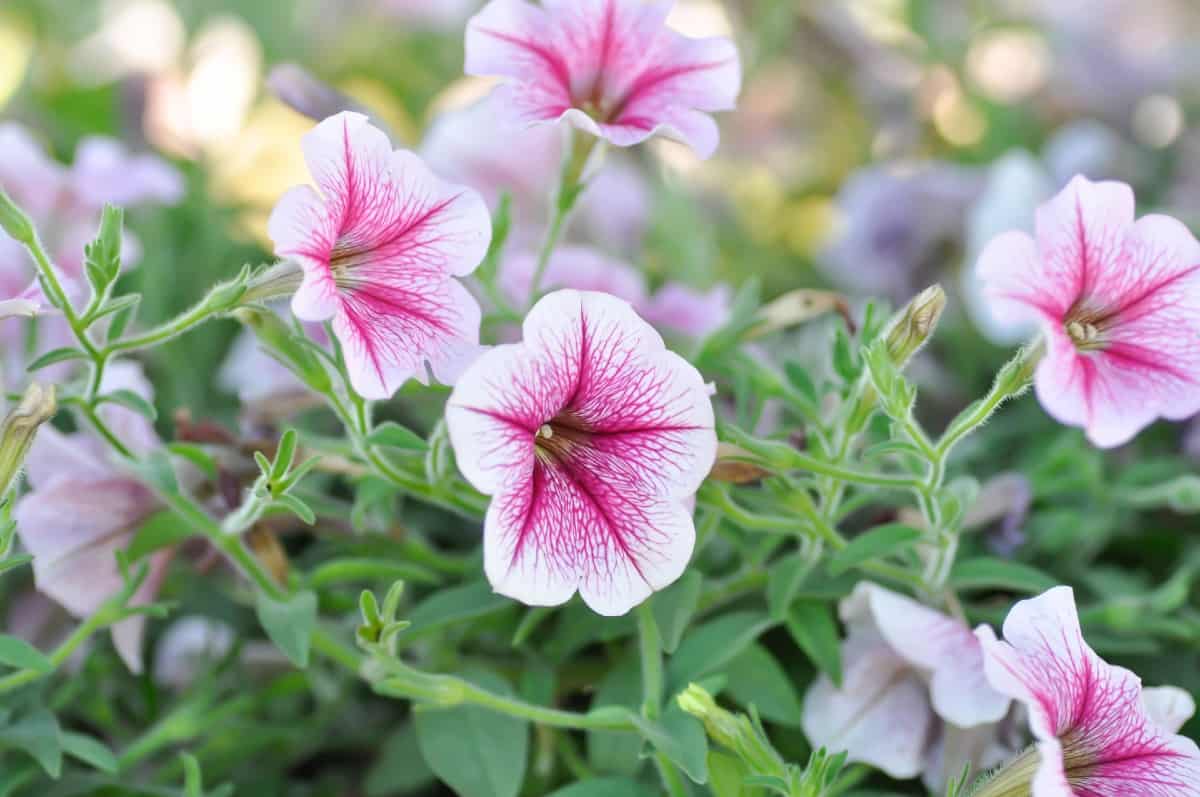 Petunias come in over 35 different species, offering a wide variety for you to choose from the start. A member of the nightshade family, Petunias are native to South America and considered an ornamental plant that offers multi-seasonal interest.
Trumpet-shaped flowers appear in the spring and summer months and look incredibly attractive in window boxes. Depending on the location, flowers even present themselves in fall with bright pinks, purples, or yellows.
When planting them for the first time, place Petunias in the ground 6-10 weeks before the last frost, using estimations based on weather or previous frost patterns. Offer them plenty of sunlight, at least 5 to 6 hours, to maximize their flowering potential.
Calendula (Calendula officinalis): Stunning Cool Season Flowers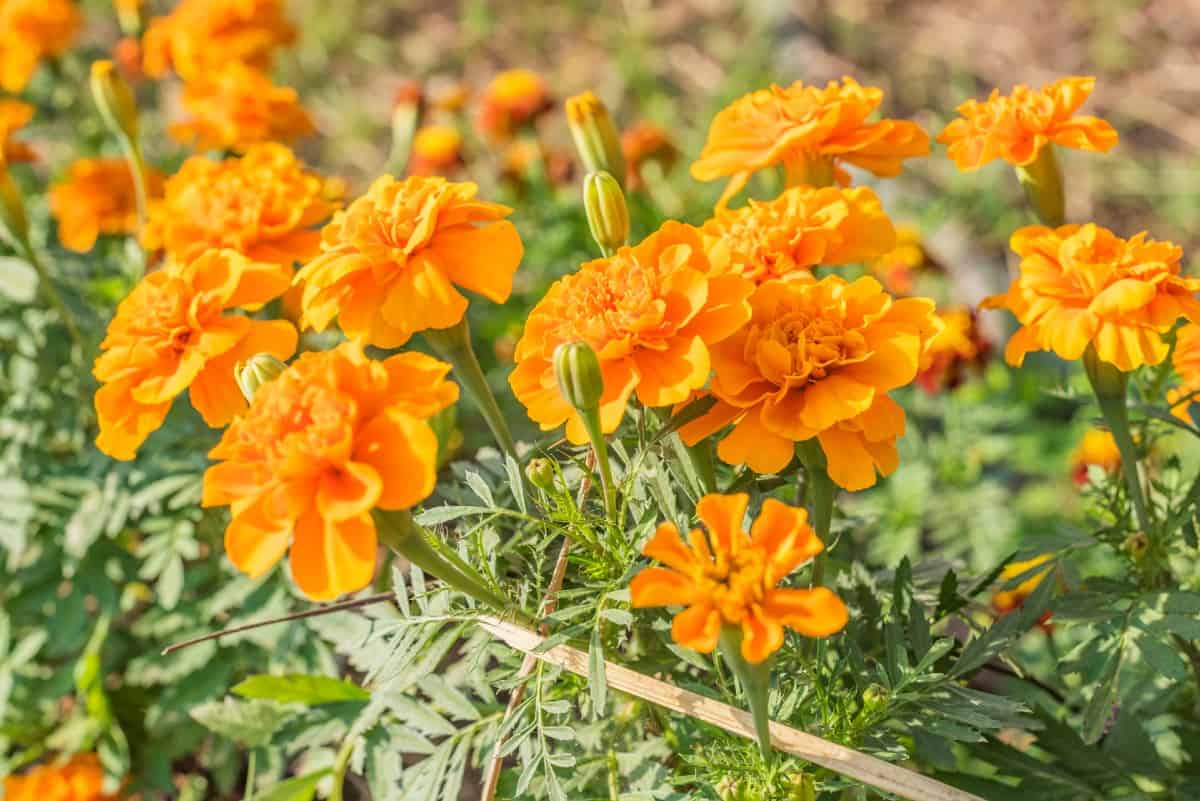 Another type of cool-season flowers many gardeners adore is Calendula. Historically, the Greeks and Romans used these plants as dyes for fabrics, foods, and cosmetics.
Nowadays, the leaves add flavor to salads, though the taste is not for everyone. These short-lived perennials offer a highly aromatic fragrance described as a woodsy musk-like scent.
The best time of the year for planting them is in early spring or toward the end of February, though in colder climates, plant them in early summer for fall flowers. Starting Calendula indoors in containers is also a fantastic option for these flowers.
Dianthus (Dianthus caryophyllus)
When it comes to flowers grown as both perennials and cool-season annuals, Dianthus fits the bill perfectly. Annual versions of this flower generally grow in woody areas and flower containers, though most tend to be perennials.
Blooms appear in spring to late summer, with some flowers lasting as long as the fall. When looking for cut flower pieces, these gorgeous bloomers resemble carnations and make stunning additions to any vase.
Planting them indoors and transferring them is one way to get them ready for outdoor life, though sowing them directly into the soil also works.
Kale (Brassica oleracea): Delicious Plants for Harvesting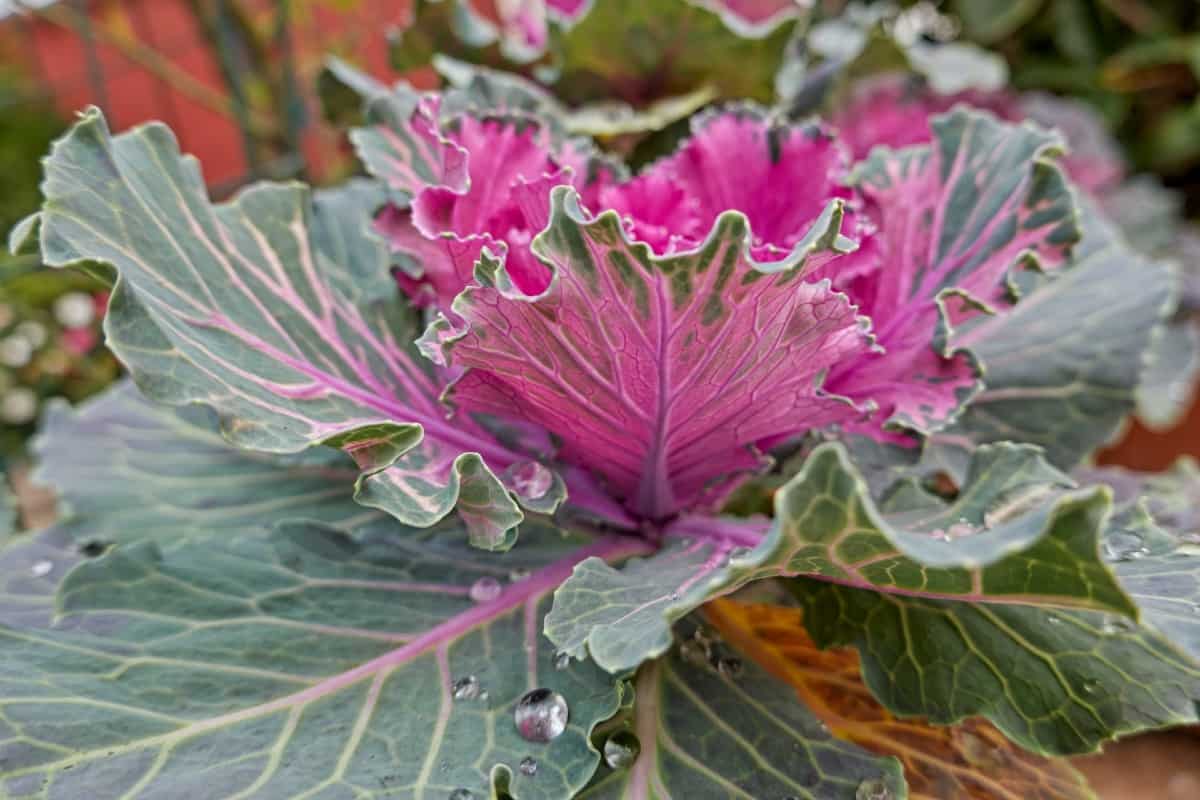 Not all cool weather plants are just about the flowers. Some add even more to your gardens by providing a delicious harvest of vegetables. There are even a variety of grasses with fall color to add to your chosen landscape.
Kale is a non-headed veggie similar to cabbage, with blue-green or purple-colored leaves. In early spring, it also displays bright yellow flowers. Plant kale twice during the year. They generally take around 80 days to reach full growth from a seed.
In cold weather areas, plant them in spring to collect the veggies by the end of summer. In warmer regions, plant them in late summer or fall for a fabulous winter harvest.
Zinnia (Zinnia elegans)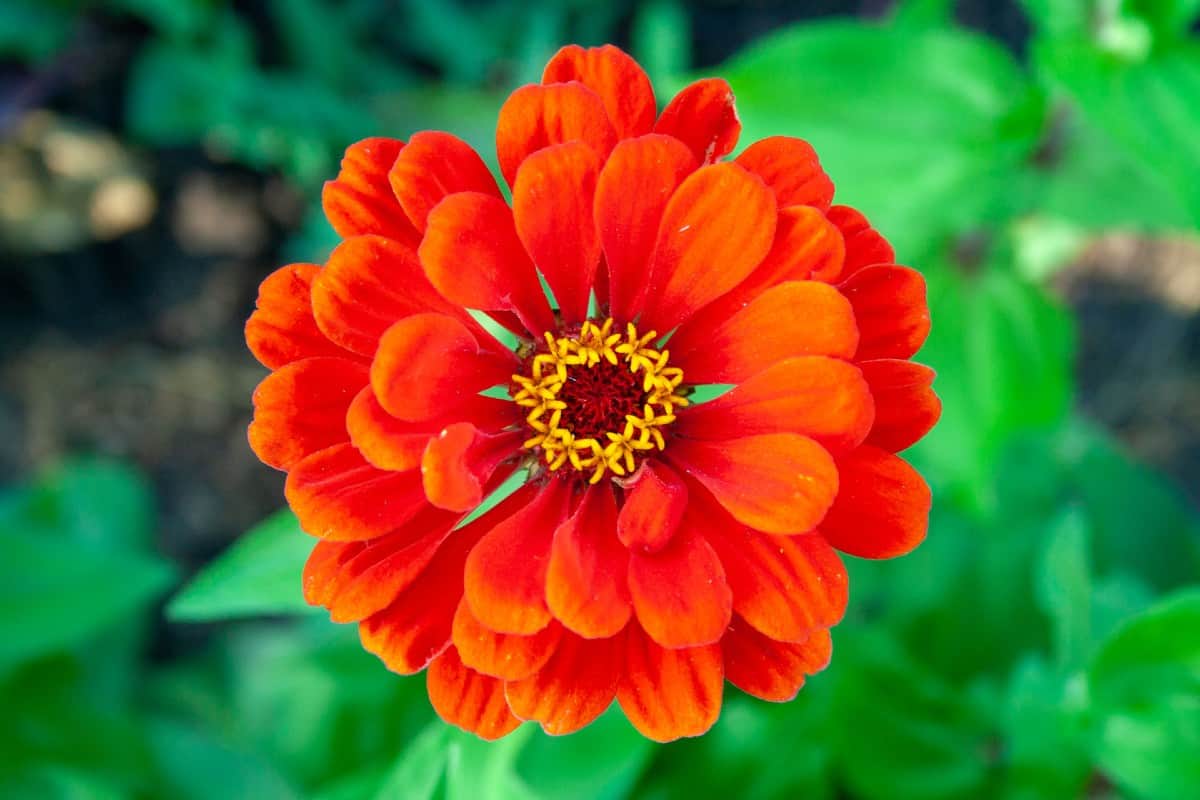 Zinnias are long-lasting flowers that handle all types of conditions, from dry spells to high heat levels. Their vibrant colors of orange and red attract bees, butterflies, and even hummingbirds to your flower garden.
They reach approximately two feet in height and begin blooming in the spring until the first frost appears. When establishing zinnias, provide them with plenty of sunlight throughout the day.
Partial shade should only be provided in warm climates when the sun is so intense it might damage the plant.
When kept in too much shade, especially in colder areas, this makes the plant more susceptible to diseases and prevents them from producing more flowers.
Pansy (Viola × wittrockiana)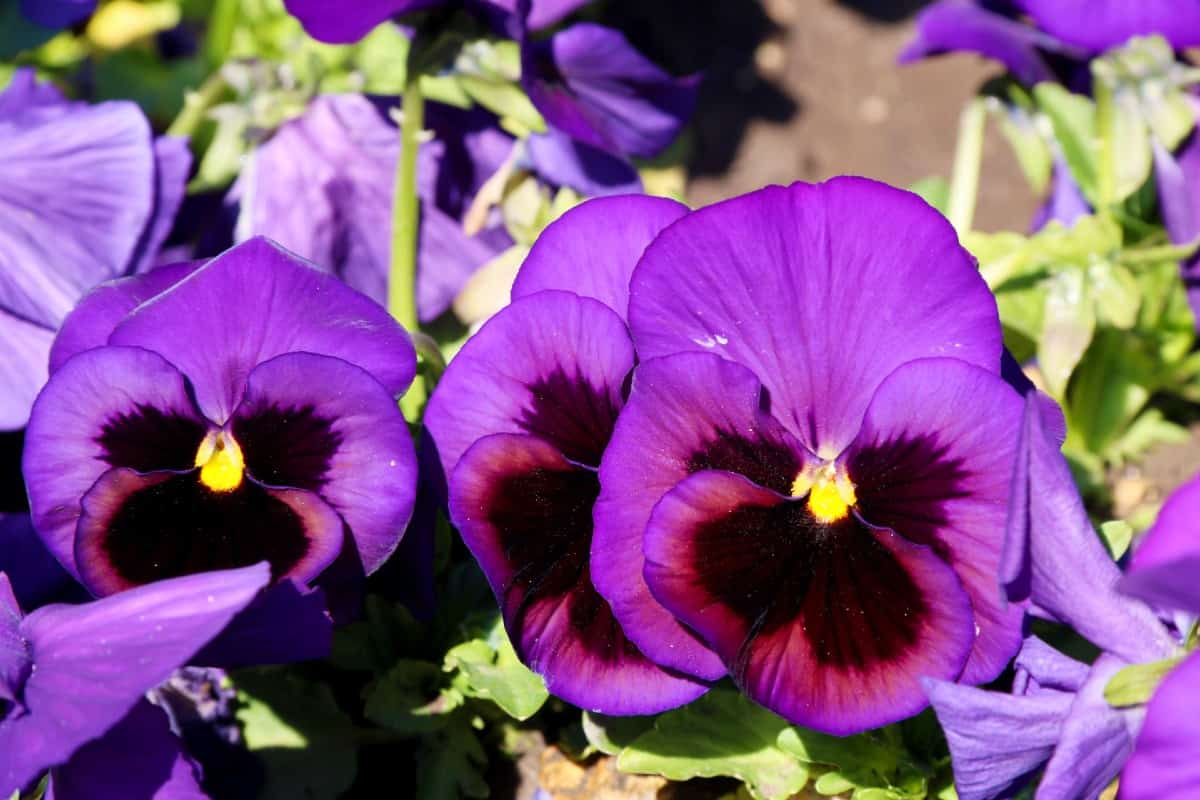 For cold weather flowers that even withstand light bouts of snow, Pansies make the perfect selection for your landscape projects. These fragrant blooms are similar to violets, with perky little faces that appear amid five petals.
Depending on the location and the species, these fall color flowers bloom all year long. Most flowers appear starting in spring, with a second blooming period arising in the fall. However, some varieties remain even through the winter months.
When first planting Pansy seeds, ensure the soil is nice and cool. If it is too warm, the plant yellows, making it especially susceptible to environmental damage, disease, and parasites.
Sweet Alyssum (Lobularia maritima): Delicate Cool Season Ground Cover
Alyssum is a beautiful annual flower noted for attracting helpful pollinators like bees and butterflies. Delicate white or purple blooms grow in tightly-packed clusters and last for several months at a time, even through mild winters.
It only produces a few inches off the ground but spreads to about a foot wide, making it the perfect ground cover plant. Place this cool-season flower out in early spring after the first frost passes.
Growing them in containers before planting them outdoors is another option and allows them to develop throughout the fall and winter.
Their natural environment includes beaches and sand dunes, meaning they can handle wind, heat, and dry conditions to a certain extent.
Bachelor's Buttons (Centaurea cyanus)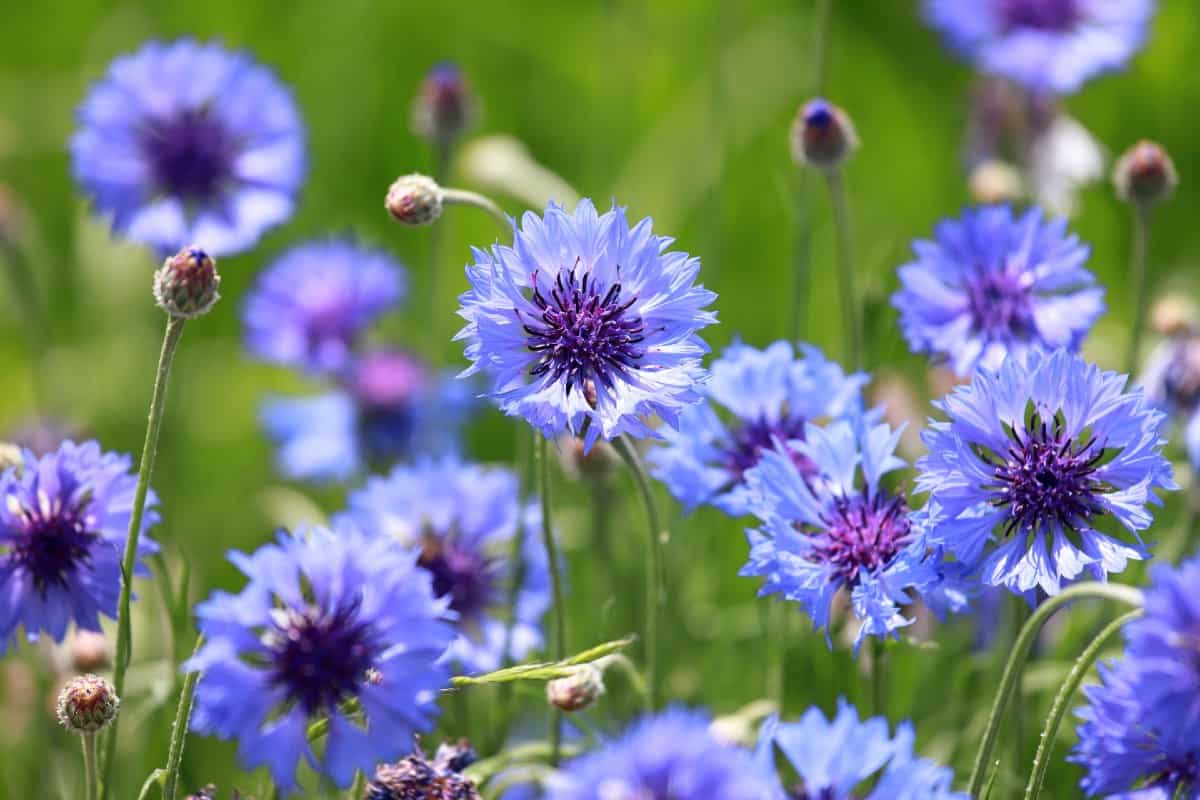 Another fantastic candidate for your next landscaping plan is Bachelor's Buttons. Not only are they perfect for cool-season plantings, but they also make beautiful specimens for cut and dried flowers.
Cutting back the flowers increases their longevity and allows new blooms to spring forth. Pink, blue, or white flowers blossom from midsummer and last until the first frost.
They resemble tiny carnations with papery little petals and stand around three feet tall. Flowers give off a warm, spiced scent similar to peppers or cloves.
Forget-Me-Not (Myosotis sylvatica) Tolerates Some of the Coldest Weather in the Country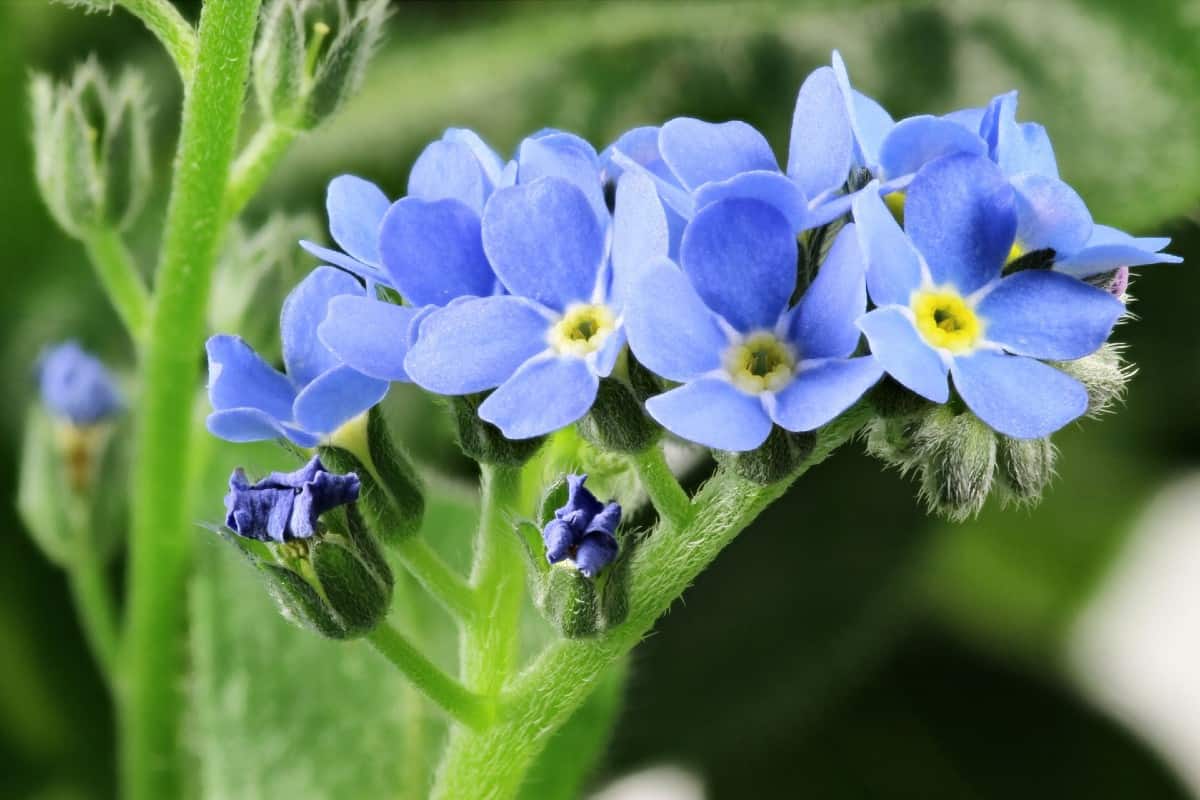 It doesn't get much colder than Alaska in the United States, so what better cool-season flower to plant than the state flower of Alaska? Forget-Me-Nots are hardy to -30°F. They are a clumping perennial with a strong fragrance only noticeable during the evenings.
This wildflower reaches up to two feet high and displays lovely powder blue petals with a bright yellow center.
When propagated in ideal growing conditions, they bloom continuously for two to three months starting in April. By June, they die back as the heat increases. Plant them toward the end of August for flowers that bloom the following spring.
Marigolds (Tagetes)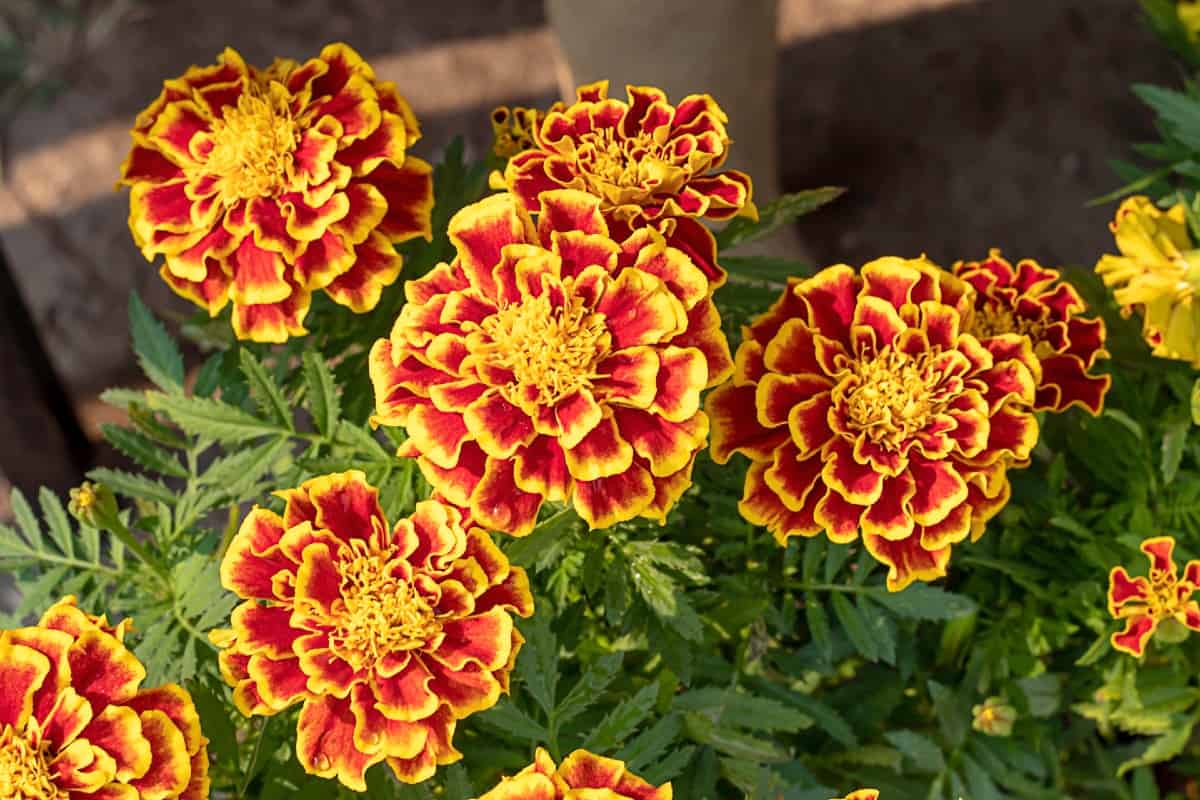 One of the most popular flowers for warmer climates also thrives as a cool-season flower. Marigolds present vibrant flashes of yellows and oranges, with many flowers being multicolored.
They have a wonderfully long blooming season that starts in the spring and lasts until the fall. In addition to flowering for several months, the plant germinates after only a few days and bursts into a sunny flower after approximately eight weeks.
They require little maintenance and only beg for plenty of sunlight throughout the day. Start them indoors in containers or plant them right after the first frost has passed.
If you have issues with stray cats at your house, marigolds deter cats from pooping in yard because they do not like the scent of the flowers.
California Poppies (Eschscholzia californica)
One more state flower to consider adding to your garden is the California Poppy, which also provides a welcome food source and contains useful oil extracts. The California Poppy goes by many names, including Flame Flower and the Cup of Gold.
All relate to its bright, vivid colors of oranges, cream, or pale yellow emblazoned against a grey-green foliage backdrop. Some flowers even achieve shades of pink, red, or white when spring rolls around.
While spring is the typical growing season, some start blooming as early as late winter, depending on the area's rainfall and weather conditions.
Some bloom in summer, too, but only when the weather is cooler. Plant California Poppies is from fall until the winter, when they receive the least amount of sunlight throughout the day.
By now, you have several unique options to choose from when it comes to planting gorgeous flowers during the colder seasons.
Whether your heart yearns to add something bright and cheery to your fall garden or want to prepare for an unpredictable winter, these specimens are the ideal candidates for the task.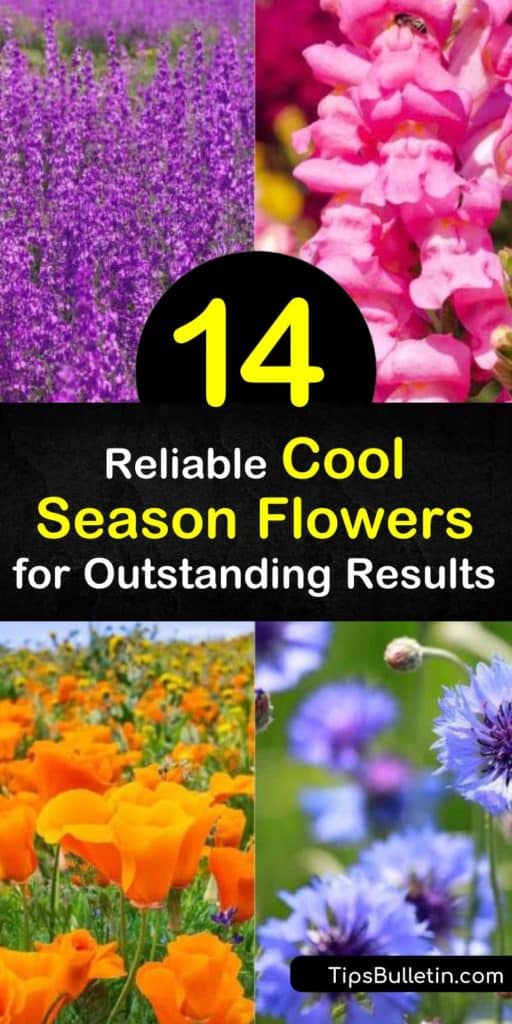 If you enjoyed these cold-weather gardening tips, please feel free to share your favorite cool season flowers with friends on Facebook and Pinterest.