After dedicating a portion of our lives to our gardens, it can be frightening to walk out and see your cucumber leaves turning yellow. Cucumbers are some of the most abundant plants that we grow at home, and we don't want the entire growing season to be cut short because of a few yellow spots on cucumber leaves.
Yellow cucumber leaves mean many different things. It's hard to say what exactly is wrong with them without taking the time to research the symptoms of possible problems and putting your theory to the test.
We know you're dying to know what causes cucumber leaves to turn yellow so that you can amend the situation. With this article, it won't be long before you figure out what went wrong and can save your cukes from ultimate death. While not every one of these causes kills your plants, you want to avoid some at all costs.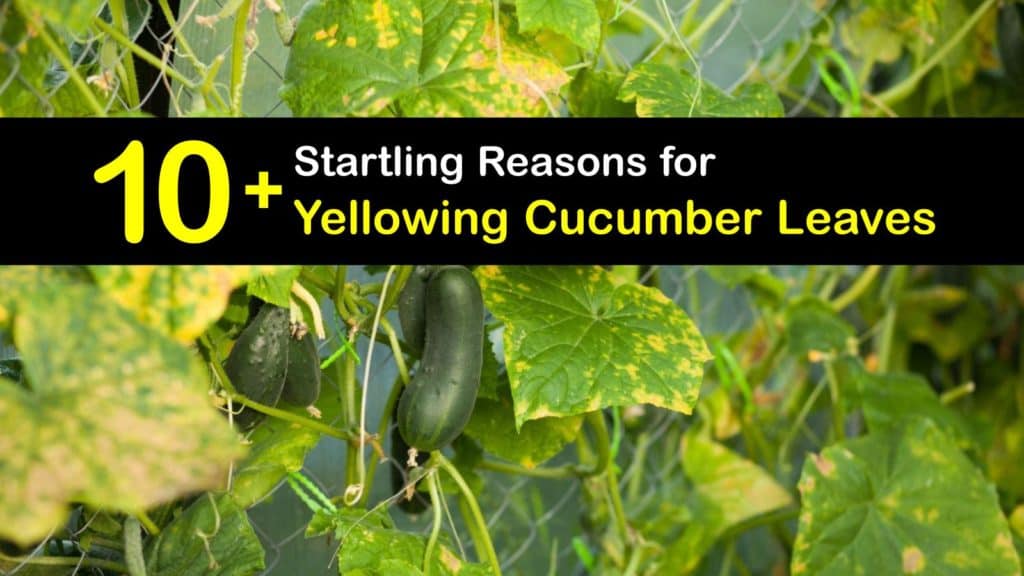 Why Do I Have Yellow Cucumber Leaves?
Yellow leaves on cucumber plants, as well as tomato leaves turning yellow, are the first sign that something isn't quite right in the garden beds. Whether issues stem from overwatering, a pest infestation, or bacterial issues in the soil, it's best to figure out how to resolve these gardening problems right away. Follow these cucumber planting tips and maintenance strategies to keep your cucumbers disease-free.
Cucumber leaves turning yellow isn't ideal but try not to worry too much. More often than not, it's easy to get rid of yellow spots on cucumber leaves and still have a successful harvest. Let's take an in-depth look at some of the leading causes of yellow cucumber leaves.
Lighting Issues
Light is essential for healthy crops like the different types of cucumber plants. It doesn't matter if you're growing them outdoors or indoors; you must ensure that your cucumber plants receive enough sunlight.
These crops require a minimum of six to eight hours of direct light every day to produce healthy new leaves and keep plants happy. If you know that the cucumbers aren't receiving this amount, either move them to a new location or supplement their light source with LED or fluorescent lighting.
Improper Watering Causes Yellow Spots on Cucumber Leaves
Chlorosis happens when there is a lack of chlorophyll in a plant, whether from under or overwatering, fungal disease, improper air circulation, or another cause. When our cucumber plants' once healthy green veins turn yellow, it's likely they are not receiving the appropriate amount of water and are more susceptible to cucumber leaf problems.
Overwatering your cucumbers means there is a lack of oxygen around the roots. The older leaves then start yellowing and wilting. An insufficient water supply could also be an issue because you aren't giving the plant leaves enough moisture to survive.
Cucumber plants require about two inches of water every week. Try amending the soil by mixing in sand, mulch, or other organic matter to fix these issues. Double-check that the spacing between each plant allows plenty of air circulation.
Instead of hauling your watering can outside every week, leave a hose or sprinkler out so that you can quickly turn on the water when necessary. Remember that if the top two inches of the soil are dry, it's time to water them again.
Spider Mites
Pests are a common yet big problem in the gardening world. There isn't much action to take to keep all garden pests off our crops for an entire season. Still, there are ways to combat the ones who love feasting on our cucumbers.
Spider mites are pests that wreak havoc on cucumbers, as the mites suck the sap from the older leaves. They appear from late June through August and are more common when the weather is hot and dry.
Spider mites are very small with a yellow or dark crimson color. They don't spend much time on the upper surface of leaves. Instead, they hide on the underside of them.
Spider mites leave feeding specs on your leaves. Over time, the leaves develop brown spots and cause the rest to yellow and fall off. Combat these pests by spraying with insecticidal soap or other insecticide sprays. You may also prune the leaves from the bottom of the plants or use row covers during the start of the season.
Cucumber Leaves Turning Yellow from Whiteflies
Yellow leaves on cucumbers could also be the source of whiteflies. Both the adults and the larvae destroy cucumber plants. Whiteflies lay eggs on the leaves and cause lots of destruction.
Gently shake your cucumber plants to remove as many flies as possible. Use row covers from the beginning of the season if possible. If the infestation is severe, you may have to discard and dispose of the plants to protect nearby crops.
Aphid Infestation
Aphids are an issue with lots of our favorite fruits and veggies. These sap-sucking pests are tiny, yet they still cause considerable damage. You'll know you have aphids if you spot their small, oval bodies and see their waste left behind, called honeydew.
Spray aphids off of your plants with a strong stream of water. You may introduce natural predators such as ladybugs, lacewings, or hoverflies to the pests.
Potato Leafhoppers
One of the larger bugs that create yellow cucumber leaves is the potato leafhopper. These bugs suck the sap out of the leaves and inject toxins into the plants.
After too much damage, leaves start falling from the vine and hinder cucumber production. Hang sticky traps around your plants, spray them with insecticide, or use row covers to remove them. Do the same if you find cucumber beetles hanging around.
Cucumber Mosaic Turns Cucumber Leaves Yellow
The dangerous mosaic virus attacks over 150 varieties of plants. Unfortunately, the cucumber is one of its victims. This virus lives in the soil and spreads via leafhoppers and aphids.
There is no way to treat the virus. The only thing to do is get rid of the infected plants as soon as possible to prevent them from spreading. Do not plant other Cucurbitaceae family members near your cucumbers.
Verticillium Wilt and Fusarium Wilt
These two fungal diseases are similar. They thrive in the soil for long periods and cause the leaves to yellow and curl inward. It is more common for them to attack older plants or leaves. Remove the infected plants and treat the soil with fungicides to prevent them from spreading.
Downy Mildew
Cucumber leaves turning yellow could be from downy mildew, a destructive foliar disease. A gray mold often accompanies the yellow leaves on the underside that eventually turns brown. Cool, humid conditions encourage this issue.
Increase the air circulation to prevent downy mildew, as well as other problems like powdery mildew. Keep the beds free from debris and apply fungicides in the early season to stop disease progression.
Nitrogen Deficiency in the Soil
Nitrogen deficiencies are common when growing cucumbers, whether growing cucumber plants in pots or the garden. Thankfully, these are easy to amend with a bit of fertilizer. Add a tablespoon of ammonium nitrate fertilizer to each plant one week after they start blossoming. Apply another round of the fertilizer three weeks later.
Potassium Deficiencies
Potassium deficiencies affect older leaves first. The leaves turn yellow at the tips and edges before spreading between the primary veins. Treat with a well-balanced fertilizer or create your own solution to amend the soil. Mixing ingredients like Epsom salt and citrus rinds are a great way to add both potassium and magnesium into the soil.
Mix two tablespoons of Epsom salt with a gallon of water. Add some citrus rinds and let the solution sit for 48 hours. To use Epsom salt for cucumbers, pour some of the mixture directly into your beds. Continue to pour the mixture into the soil once every other week until the problems subside.
Cucumbers are often an easy choice for home gardeners. These crunchy veggies make excellent snacks that the whole family eats throughout the year. They are also perfect for canning and allow you to keep a supply of garden vegetables stocked for the winter.
Though they're often easy to grow, cucumbers have their share of issues. Yellow spots on cucumber leaves aren't something you want. After all, you need healthy plants so you don't waste your time or money planting them every year.
It's a bit scary to see our plants suffer, but don't let it discourage you. Some yellowing leaves on cucumbers are a sign of big trouble, but there is usually an effective solution to fix the problem without pulling all your cucumber vines out of the ground.
Once you figure out what causes problems in the garden, do the necessary work to bring them back.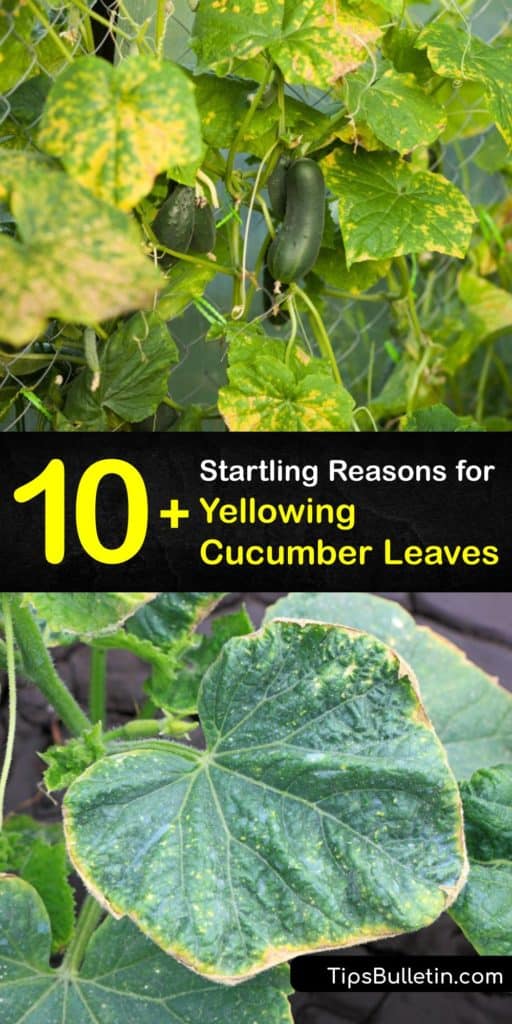 If your cucumber leaves turning yellow has kickstarted your motivation to save your plants, share these top causes for yellow spots on cucumber leaves on Facebook and Pinterest.