Although daikon and radishes belong to the same species, Raphanus sativus, there are critical differences between these two vegetables. Discover what makes each vegetable unique as we cover the daikon vs radish question.
Radishes are root vegetables categorized by the seasons when they grow, spring or winter. Similar in shape to turnips and parsnips, radishes have many subspecies, including daikon and the icicle radish. Cherry Belle is one of the most common red radishes found in grocery stores in North America.
Daikon is a winter radish that goes by many names, like mooli or the Japanese radish. Daikon radish is a staple in Asian cuisine and is often fermented and served as a popular Korean side dish like kimchi.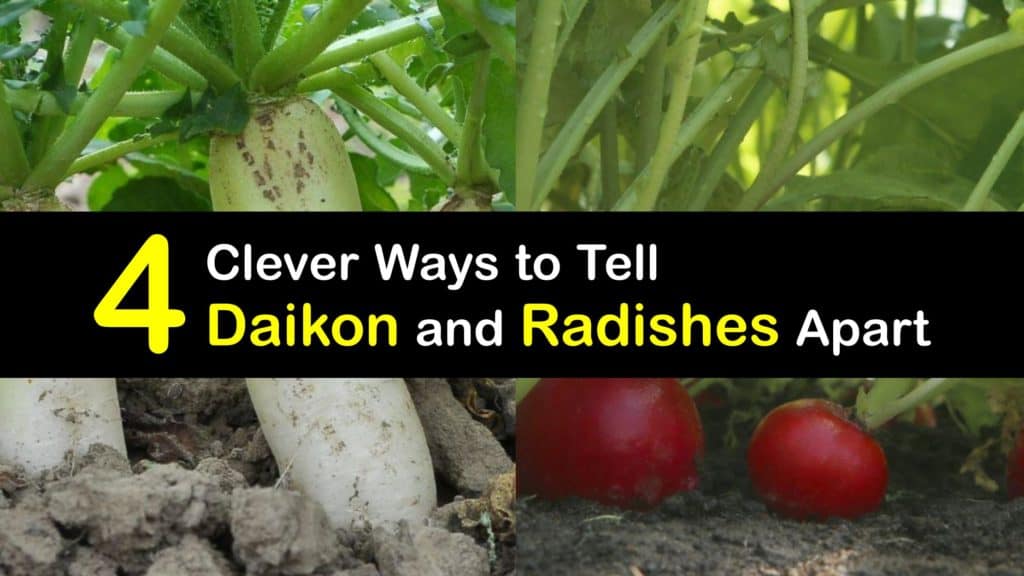 The Difference between Daikon and Radish
Because we divide radishes by their growing season, the main difference between daikon and radish is that daikon is a winter radish. Depending on which type of radish you prefer, you may choose to use or grow spring or summer radish varieties like Cherry Belle.
Daikon comes in different shapes, though the ideal daikon is an oblong white radish. Daikon originated in East Asia, where many different variations are grown, some people harvest them to eat, and others are left in the garden to break up garden soil.
The Chinese radish, lobak, describes radishes with light green coloring near the top. In Japan, these veggies resemble the Chinese radish, but with less green on the root of the vegetable.
Visual Differences Daikon and Radish Differences
Daikon is easily recognizable for its white root and oblong shape topped with green leaves. Although this is considered a standard for daikon, it is not the case for every cultivar. Some varieties of daikon grow red exteriors and do not grow into oblong shapes.
Common radishes look like small red vegetables that sprout foliage from the ground. The root skin of radishes is not always red, and certain varieties may grow with pink, purple, yellow, or black skin. Despite the differences in skin color, most radishes have white flesh inside except for watermelon radish that grows green skin with red-pink flesh.
Daikon vs Radish – A Taste Test
Radishes are known for their peppery taste and crunchy texture. The radish taste varies by how long the vegetable remains in the ground. The longer the radish spends in the ground before harvest, the milder the flavor becomes.
Daikon has a sweet flavor compared to other kinds of radishes. Regular white daikon is divided by taste into three portions. The bottom portion of the daikon has a spicier flavor; the top of the daikon is juicy and sweet, leaving the middle part a milder flavor.
Nutritional Attributes
Daikon and radishes share many values when it comes to nutrients. Both root vegetables contain 95% water, and their fiber levels are equal. Daikon has more carbs than radishes. The vitamin levels in these veggies are similar, but daikon has a higher percentage of vitamin C and folate, whereas radishes are high in vitamin K and B6.
Comparatively, daikon is high in minerals like phosphorus and magnesium, but both vegetables are similar in calcium and potassium. Both are low-calorie foods, and radishes have a diuretic property that provides additional health benefits. Glucosinolates in daikon help the process of enzymes that detoxify the body.
Are Radishes a Substitute for Daikon in Cooking?
Due to their flavor profile, radishes are usually eaten raw or sliced for salads. They add a peppery bite to other cold vegetables in salads along with onions. Like other radishes, you can eat daikon raw or cooked, depending on their intended meal. The green tops of daikon are also edible for use as a garnish in meals.
Although daikon is not common in the western market, they are great additions to stir-fries and more complex dishes like curry. In Japan, citizens use daikon as a palate cleanser, often served alongside sushi.
Because of the texture, radishes are acceptable as a substitute for daikon in many dishes. Although one is sweeter than the other, with the addition of seasonings and sauces when making a stir-fry, the difference may not be noticeable. However, radish does not replace daikon as a palate cleanser because of its spicy flavor.
Cut your daikon into sticks and combine your choice of oil with ginger, chili paste, and soy sauce to create a mix. Drizzle your sauce mix onto your daikon until evenly coated.
Place your daikon onto a baking sheet or into an air fryer and roast them until they turn golden brown. Once you remove the daikon fries, season them with salt or sugar.
Growing Radishes and Daikon
Because daikon is a type of radish, they are grown similarly. Both vegetables grow quickly, so sow them directly into the garden in early spring or late summer. Radishes bolt in the summer, halting the growth of their roots to focus on producing seeds, so plant when temperatures are cool to avoid this.
When planting seeds, leave at least one inch between each seed and one foot between each row. This spacing gives your plants room to grow without disturbing nearby plants because radishes proliferate and break up compact soil. When you are growing radish from seeds at home, space between your garden rows is essential to give you room to water and harvest radishes.
Cover your seeds with soil and water them thoroughly as they sprout, and continue to grow. Add mulch to retain your soil's moisture and keep weeds at bay to reduce competition for nutrients in the soil.
Germination happens quickly for all radish types, and after a week, your seeds will have sprouts; thin them out to leave one radish sprout every three inches and one daikon sprout every five inches.
Practice the beneficial growing technique of companion planting with radishes for pest control. Add cucumbers and lettuce nearby.
Follow guidelines on your seed packet to know when it's time to harvest your crops. You can also test by pulling a few to view the roots. Mature radishes are crunchy and crisp, but if you leave them too long in the ground, they become pithy, and their flavor becomes milder.
The ideal way to store daikon in the fridge for the short-term is to wash them and put them in a bowl of water. Many people feel the best way to preserve radish is to pickle it. Homemade pickled daikon or radish is delicious. There are many tasty recipes available and they can last for years.
In North America, radishes are more common than daikon, but if you come across daikon at the farmer's market, don't hesitate to buy it and use it in your next meal. If you're used to cooking with daikon, explore different types of radishes to determine if they are a suitable substitute for daikon.
If you learned the difference between daikon and radish, please share our article with your friends on Facebook and Pinterest to clear up any confusion about daikon vs radish.