We all try to take pride in our lawns and gardens. That's why it's so frustrating to walk outside and discover that hungry deer have wandered in and decimated your greenery. You work hard to keep your home beautiful and verdant, and it's natural to want to keep it looking that way.
Deer repellent shrubs will help you reach that goal. Once you plant deer resistant trees and shrubs around your property, you'll be able to maintain your yard's good looks and will deny the deer a meal. In this article, we'll look at the most effective deer resistant shade plants you can grow.
The list of deer repellent plants is long, and these deer resistant flowering shrubs and deer resistant evergreen shrubs will not only keep your local deer population at bay, but they will make your home more attractive and will increase your curb value. Once you've let these deer-resistant plants into your life, you'll wonder how you managed without them!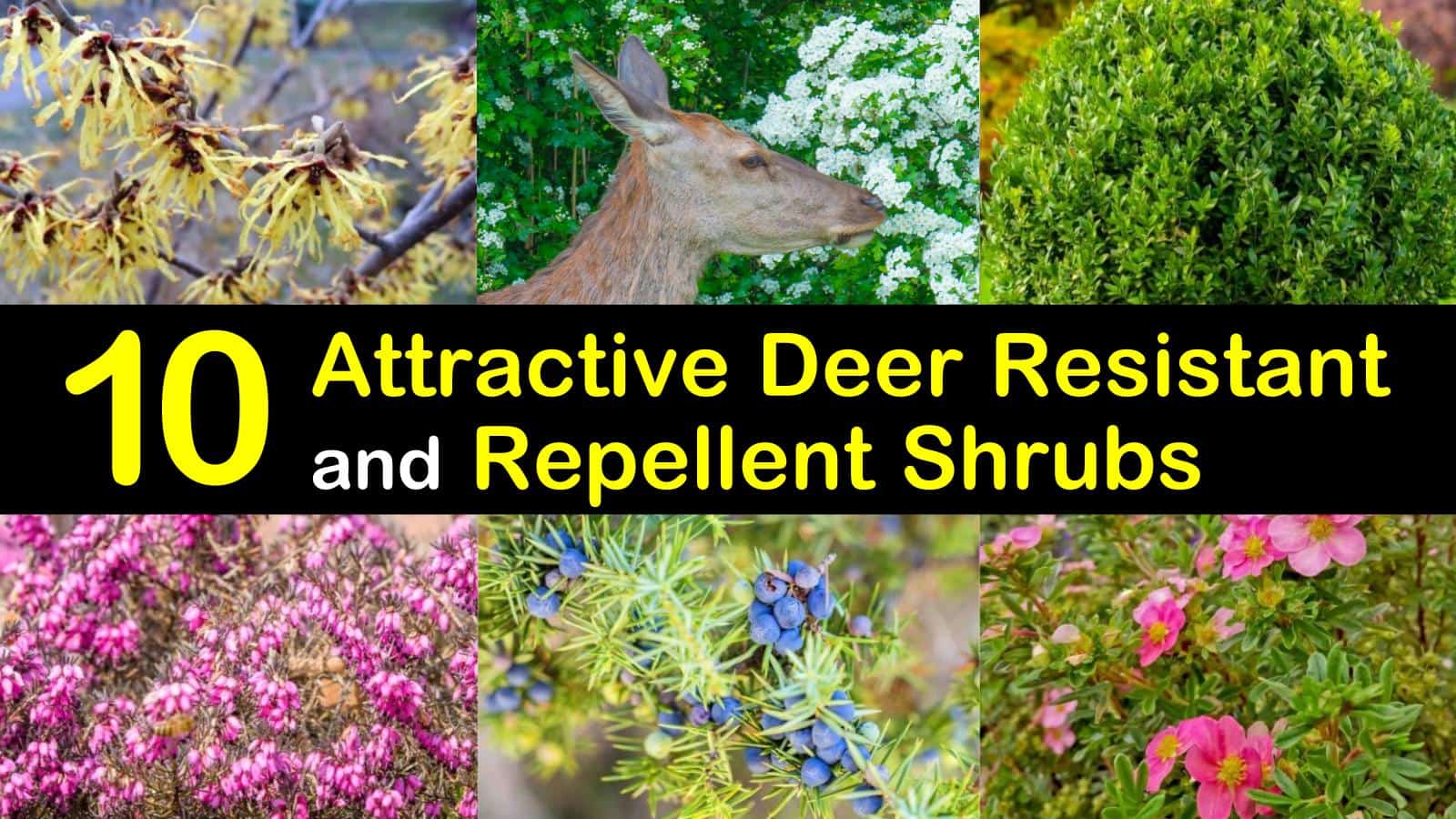 When Should I Plant Deer Resistant Shrubs?
Plan on getting your pest resistant shrubs into the ground as early in the spring as you dare. Most deer proof shrubs are hardy and can take temperature variations, but you should check your specific plants to determine any restrictions. The earlier you plant them in the spring, the better their chances of thriving.
Check your local agriculture office to find out about any regional quirks or restrictions that you might need to know before you plant, and find out when the local planting season begins, be it late spring or early spring. Try to get your deer resistant evergreen shrubs in the ground as soon as the season's last frost passes.
How Do I Plant Deer Repellent Shrubs?
Be kind to your deer resistant shrubs when preparing to plant them. Keep them watered and as happy as they can be ahead of time. Place your deer resistant trees and bushes in their permanent locations, but leave them in their pots for a week or two, and check to make sure that your shrubs get enough sunlight if they like full sun and shade if they prefer full or part shade.
Try to pair your deer resistant flowering shrubs with complementary plants. Plant your shrubs alongside plants for privacy from neighbors, for instance. You'll make both plants much happier.
When it's time to plant, make your hole as deep as the shrub's pot and twice as wide. Make sure to cover the root ball in soil, and tamp it firmly to avoid air pockets.
How Do I Care for Deer Resistant Shade Plants?
There are a variety of different deer resistant plants from which you can choose. Some of them require more upkeep than others. Easy to maintain bushes are ideal if you don't have a lot of time to spend in the yard.
Keep your deer proof shrubs watered and weeded to make sure they stay happy. Although you've selected deer repellent greenery, you should still be on the lookout for smaller hungry pests. Ornamental grasses and ground cover, such as the thyme plant, are fantastic companions to deer resistant shrubs.
Prune your shrubbery regularly – a well-pruned shrub is a happy and healthy shrub. Aim to get your pruning done in the early spring, as you'll find the task much easier when you start on it before the shrub branches fill with red berries and dark green leaves.
Attractive and Durable Deer Resistant Shrubs
When choosing plants that keep deer away, it's important to consider where you will place them. Shade loving shrubs will not do well in sunny areas and those that need the sun will do poorly in the shade. Always read plant labels or consult a gardening professional if you have a question about the best place to plant them.
Lo & Behold Butterfly Bush (Buddleia) – Fantastic Deer Repellent Shrub
If your home is in a temperate climate and you need a plant with excellent deer resistance that can take the heat, take a look at the Lo & Behold butterfly bush. This lovely flowering bush will fill your spring and summer with blossoms of blue and purple, and they'll control your deer problem at the same time.
Because the butterfly bush re-blooms all growing season, you can expect gorgeous floral displays for much of the year. These tough little plants do well in hot weather, and they're drought tolerant deer resistant perennials, to boot.
Rainbow Fizz Spirea (Spiraea japonica)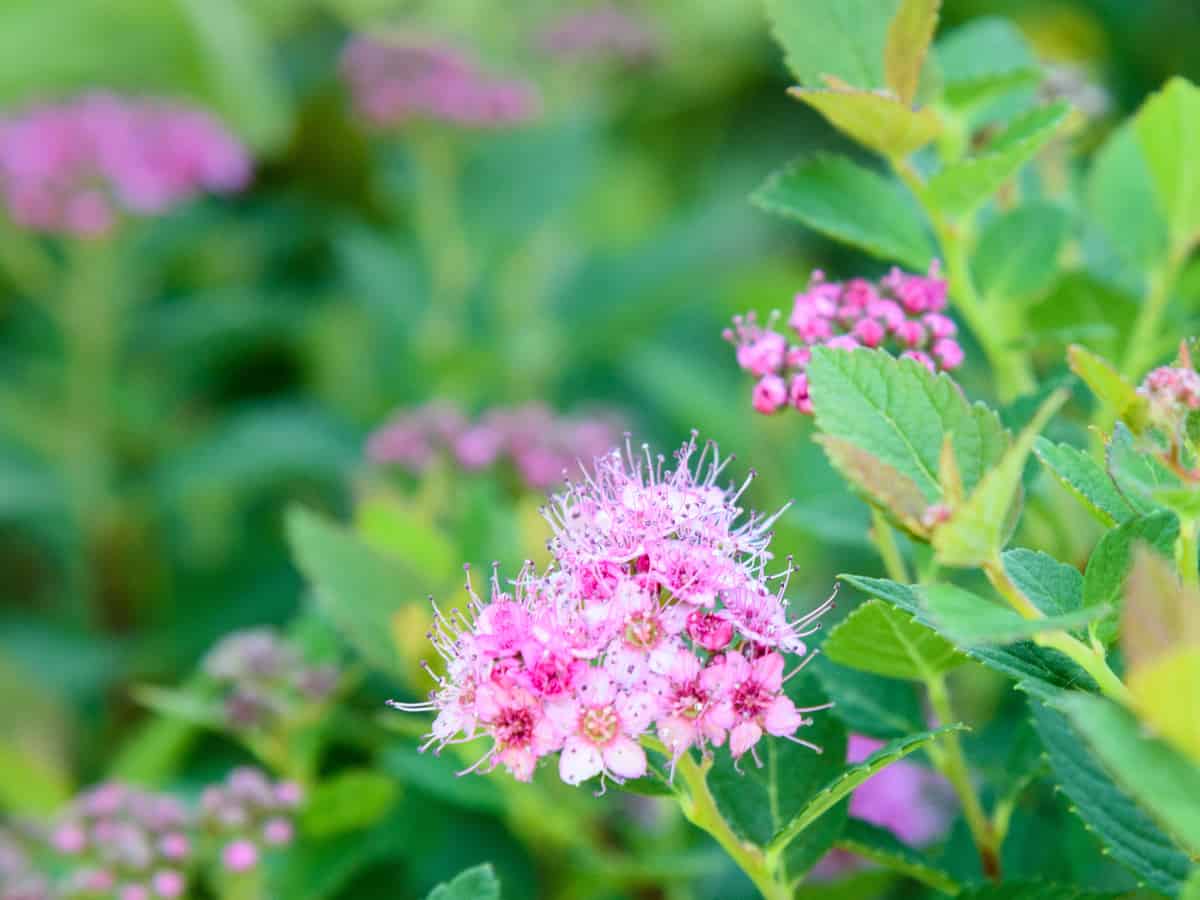 Who doesn't enjoy a shrub that explodes into spectacular bright red and purple flowers and can also shrug off the coldest and most miserable weather?
Deer do, indeed, so if deer plague your garden, the Rainbow Fizz spirea, which is Japanese in origin, is the shrub for you. This deer-proof plant can take the worst winter weather and come up fresh and flowering each spring.
Because your Rainbow Fizz is a quick-growing and high-reaching plant, you can place it in border locations and watch it thrive. Keep tabs on your soil moisture, and make sure to water your spirea when it dries out.
However, if you have a smaller area and don't want the spirea to spread, create small flowered bushes by keeping the plants trimmed regularly. You will still have a beautiful explosion of blooms, albeit on a less grand scale.
English Boxwood (Buxus sempervirens) – Shrub that Resists Deer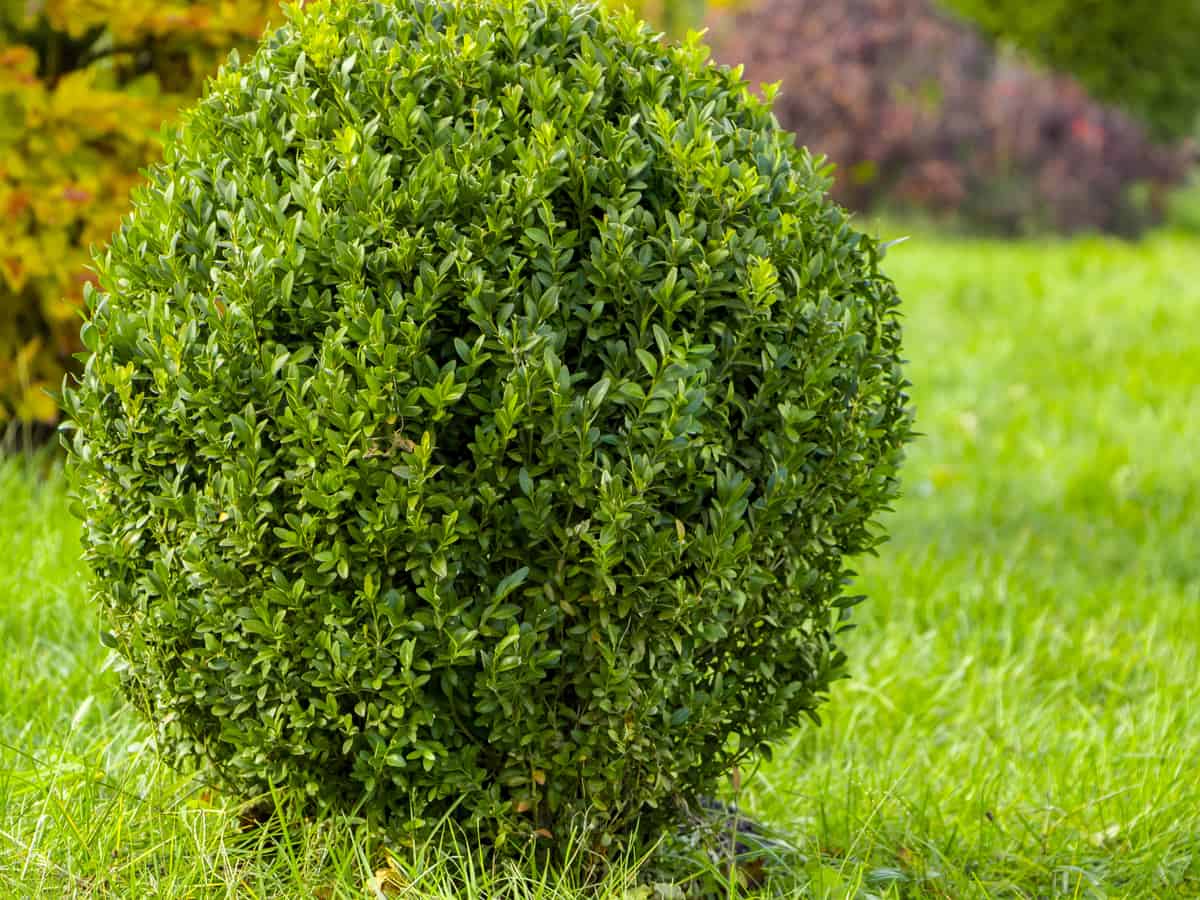 When you're looking for evergreen trees that repel deer, you can't do better than an English boxwood. The boxwood is an attractive and sturdy shrub that can be whatever height and shape you prefer in your garden or yard.
You can plant the English boxwood in colder climates, and while you can place your boxwood in full sunlight, they do well in part shade, too. The boxwood is the original hedge plant and can be trimmed to conform to whatever your desired shape and height might be, so don't be afraid to use your imagination when working with these versatile evergreen shrubs!
Bella Bellissima Potentilla (Potentilla fruticosa)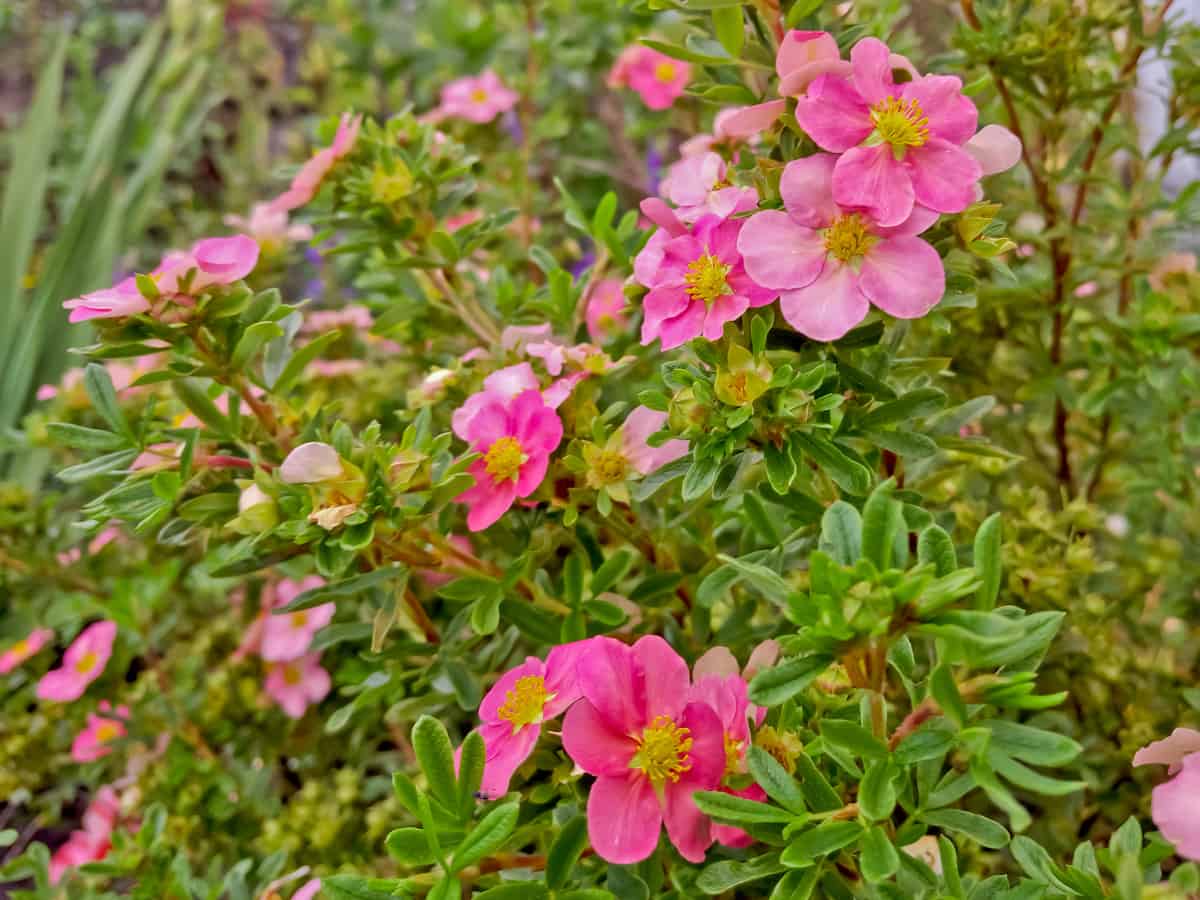 Maybe you live in a place that gets constant, bright sunlight and need to plant some deer repellent shrubs to protect your yard. If so, take a look at the Bella Bellissima potentilla! The Bella Bellissima can't get enough sunlight and will greedily gobble up all you can throw at it and come back for more.
Your reward for giving your Bella Bellissima all of that sunlight will be a profusion of delicate pink flowers that cover your yard with beauty. Plant the Bella Bellissima in colder climates that kill most other flowering shrubs; the Bella Bellissima thrives in those conditions.
Juniper (Juniperus)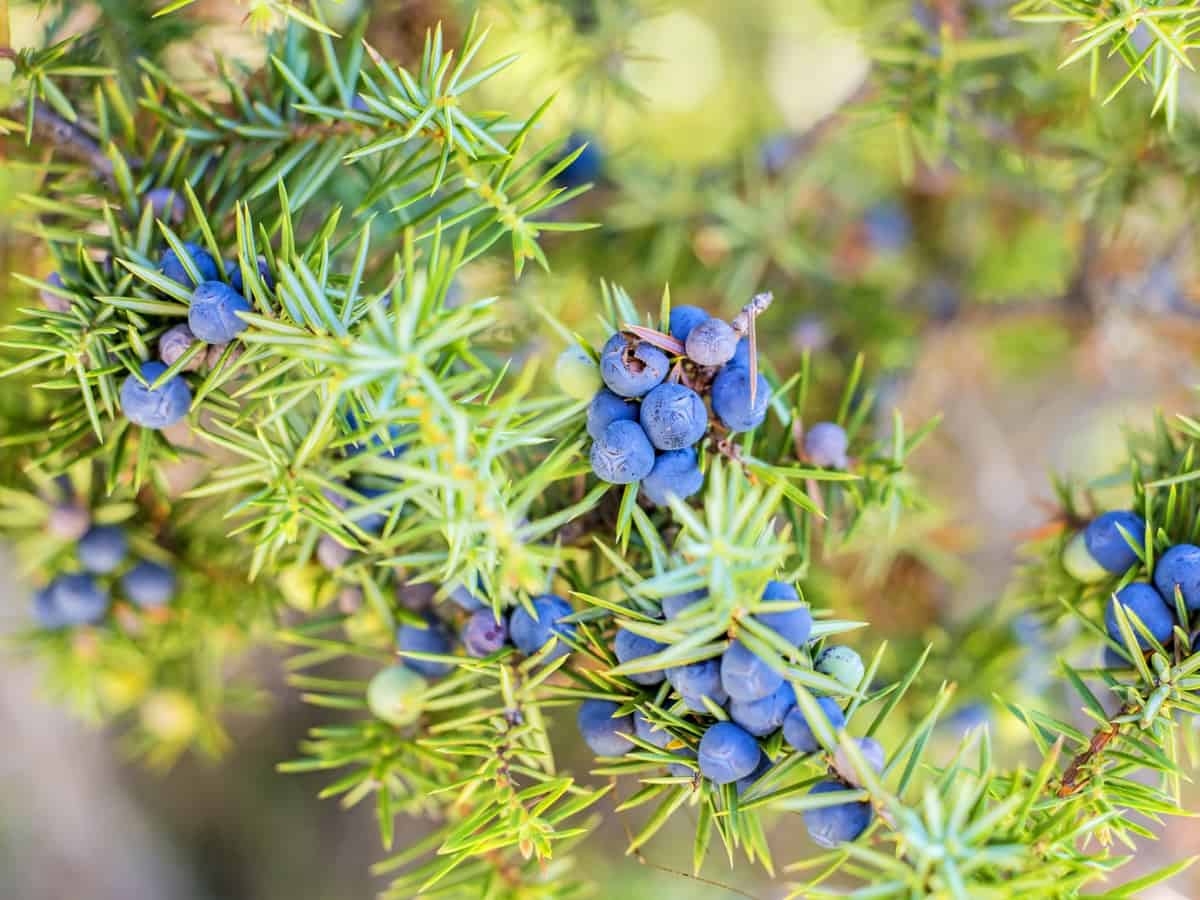 When you're in the market for native plants and are looking for a fragrant and gorgeous shrub that repels deer and makes your garden a more delightful place to walk through, you can't go wrong with the juniper.
Highlighted by the USDA for its conservation benefits, the juniper shrub is one of the best deer resistant shade plants you can find and will make your home deer-free and beautiful (..).
Depending on the variety, your juniper might have needles or scale-like leaves. Plant your junipers in full sunlight or light shade. If you live on a busy street, plant your junipers near traffic areas, as the juniper cleans the air and tolerates pollution quite well.
Northern Bayberry (Myrica pensylvanica) – Gorgeous Deer Resistant Shade Plant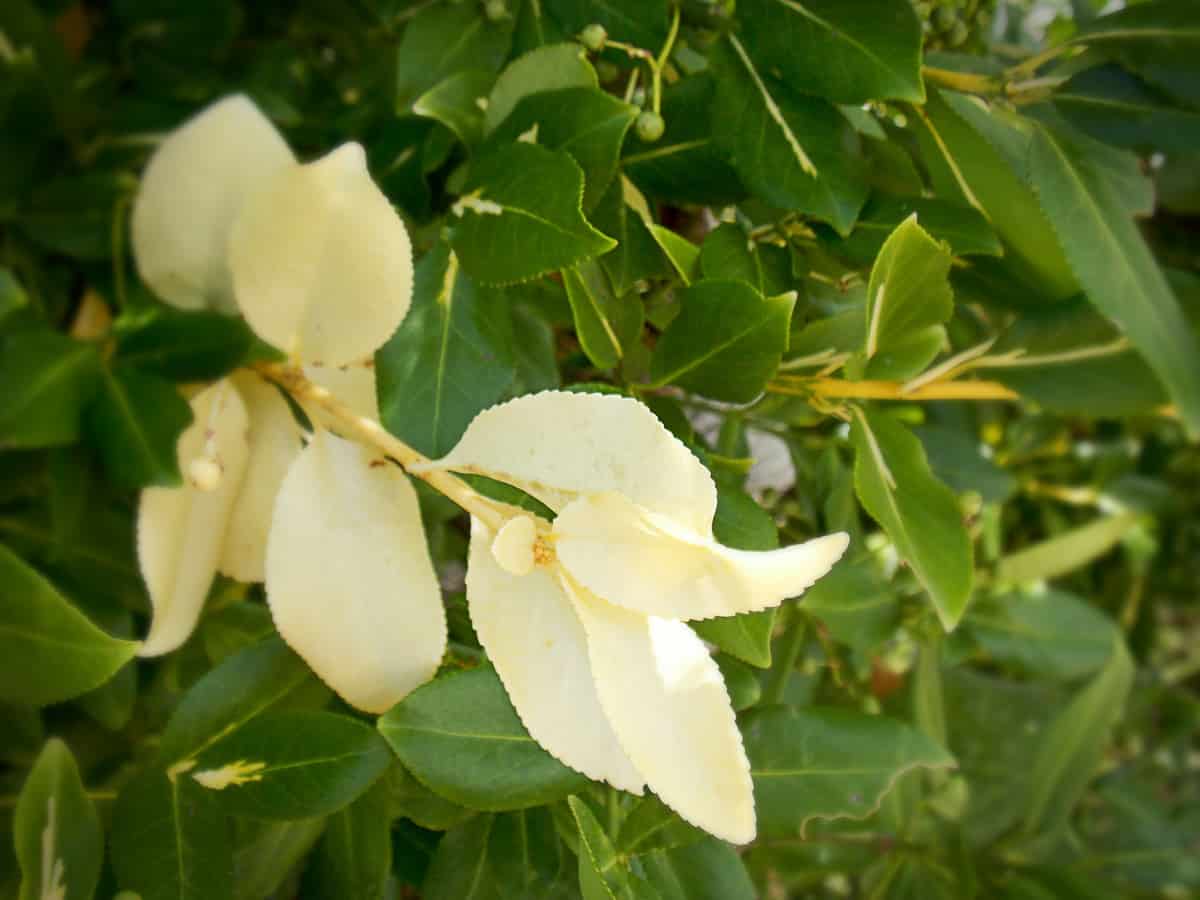 Are you in the market for plants deer hate that please the eye and the nose? You'll love the Northern bayberry. You'll like the way this beautiful bush dominates the yard and draws your gaze, and you'll be amazed at how well it repels deer and other furry pests.
Because the Northern bayberry can reach up to six feet in height, consider planting this shrub as a border plant. The Northern bayberry is very hardy and can tolerate weather extremes and drought conditions, so don't be afraid to plant it in climates that many other plants can't handle.
French Lavender (Lavandula dentata)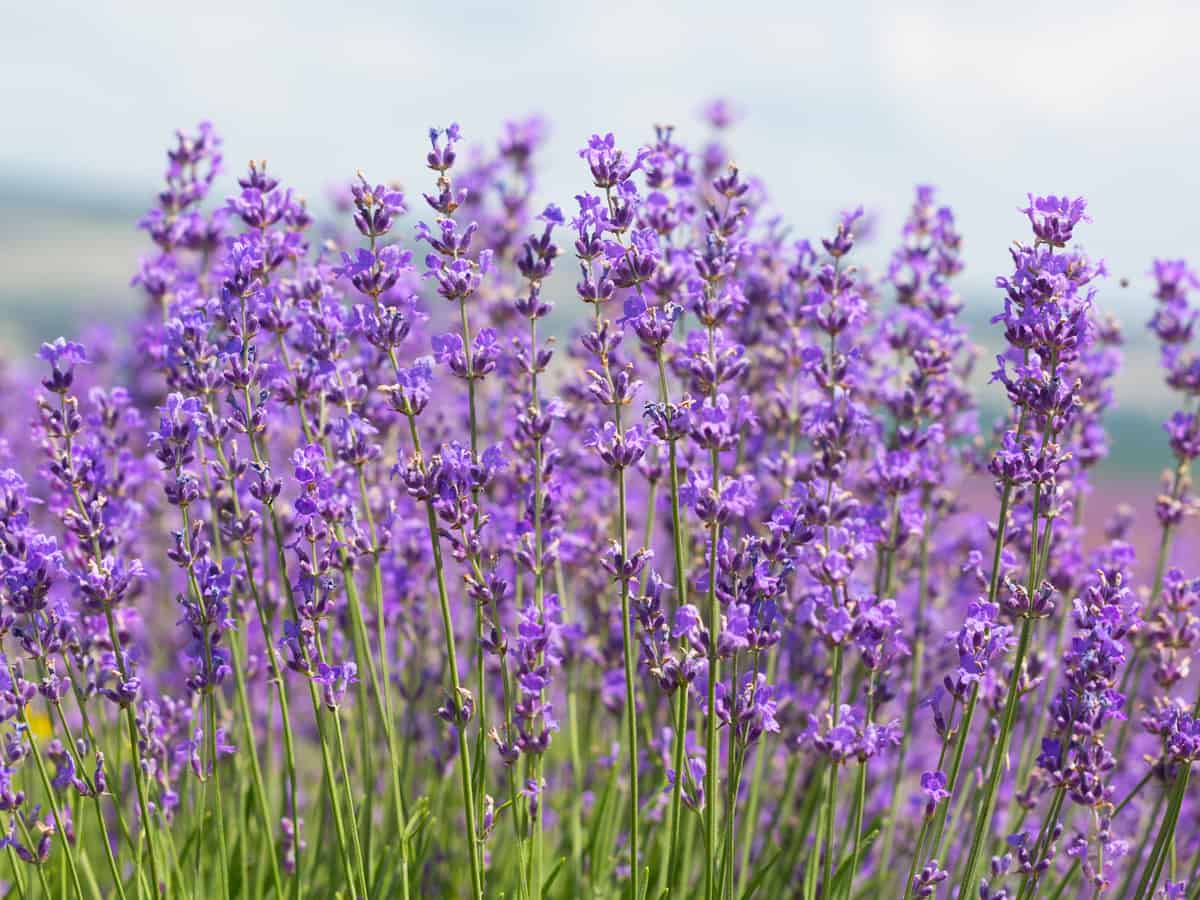 Perhaps you live in a milder, more Mediterranean-style climate with dry conditions and moderate temperatures. For those folks, we present the French lavender. Planting French lavender is a great way to keep deer off your property while filling the air with sweet scents and covering your lawn with stunning spring, summer, and fall color.
Plant your French lavender in well-drained soil and full sunlight. You'll do best with a neutral pH soil with lavender. For best results and to avoid overwatering them, place your lavender in raised beds for better drainage.
Heather (Calluna vulgaris) – Deer Repellent Plant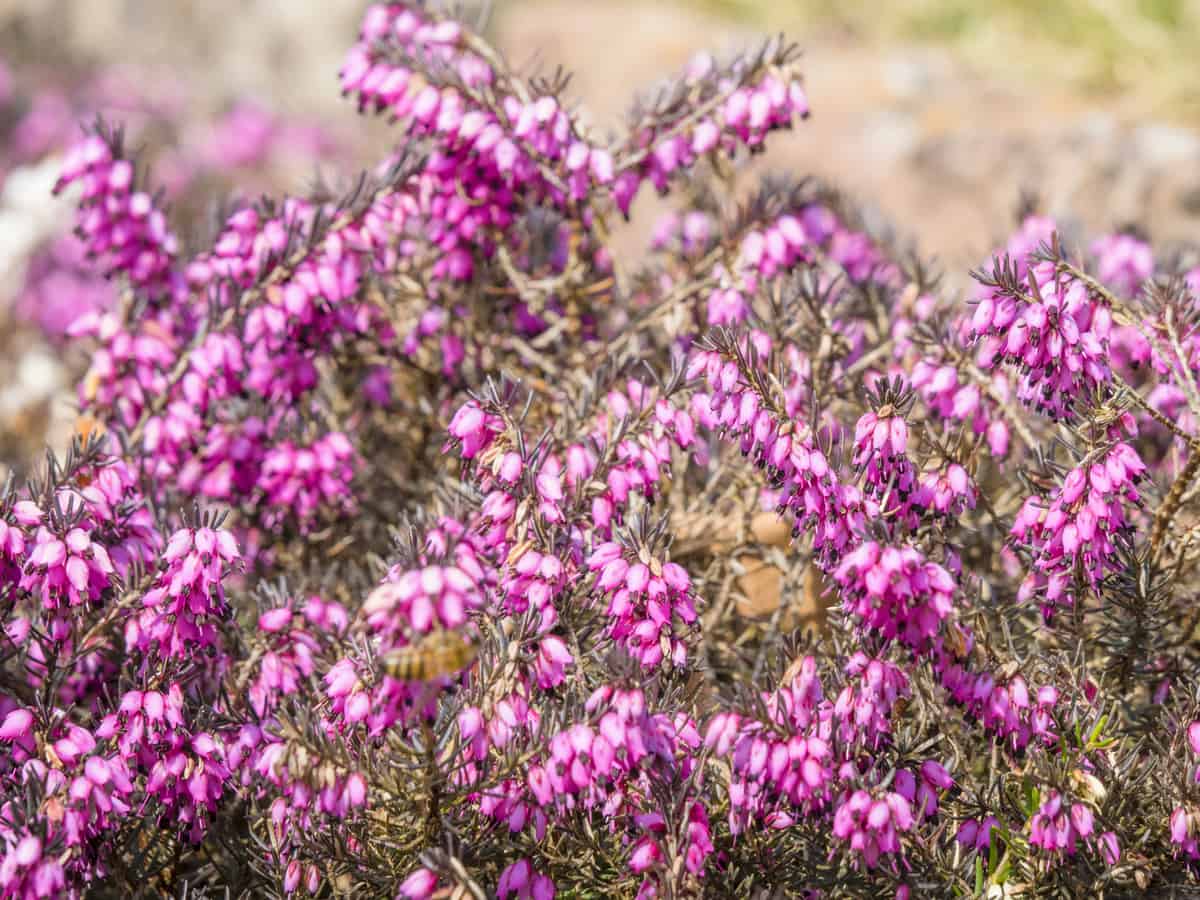 Whatever your garden design, you won't find a better evergreen deer proof shrub than heather. Hardy enough to grow wild across stretches of Europe and the United States, low growing heather shrubs will keep deer from tasting your green foliage and will please the senses with its pink and white flowers.
Those flowers will change to brown but remain on the shrub throughout the year and add to the heather shrub's spectacular year-round display.
Plant your heather in full sun and well-drained, slightly acidic soil. Heather prefers warmer weather, so take care to protect your heather plants from freezing weather. Avoid mulching the heather's root system, as this can lead to root rot.
Russian Sage (Perovskia atriplicifolia)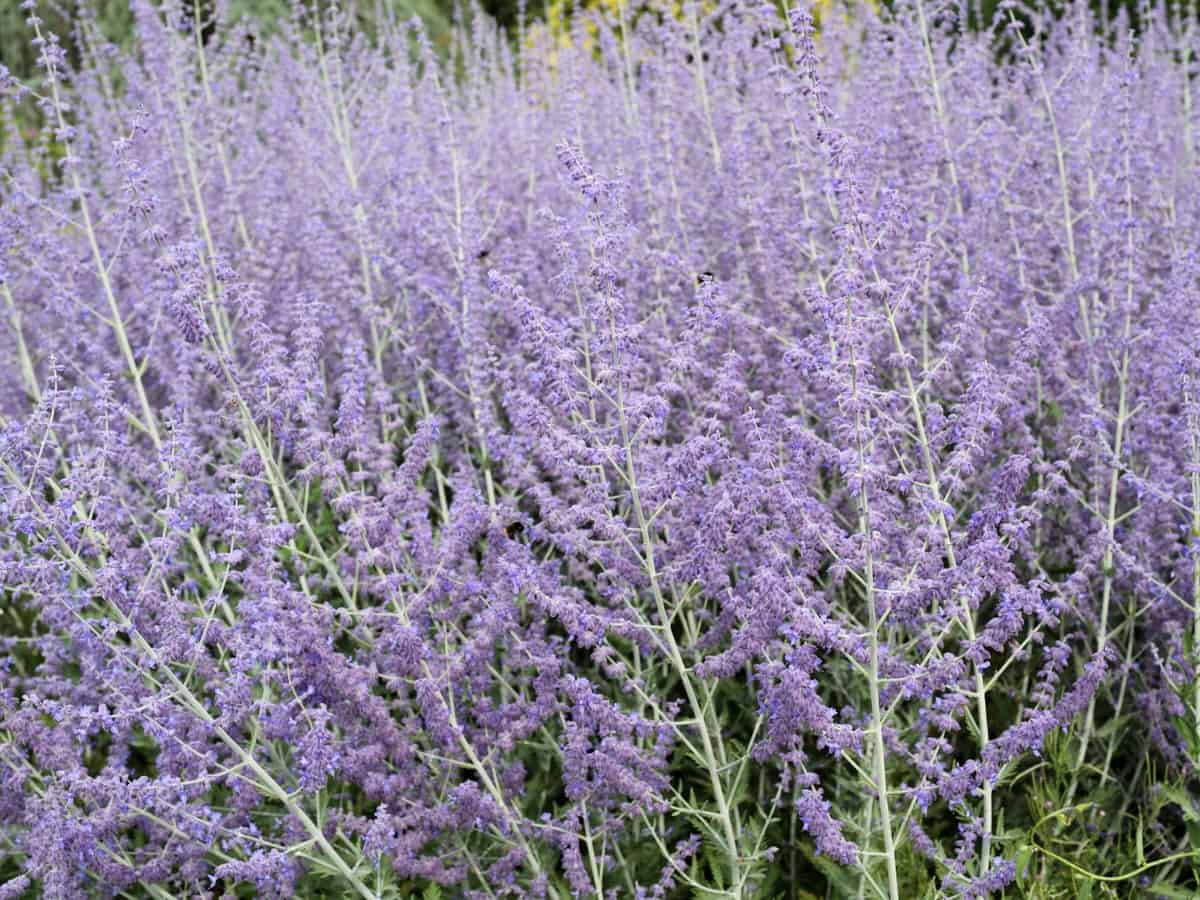 The Russian sage is one of the most effective deer repellent shrubs you'll find. This robust perennial plant will drive away deer with its sharp, pleasant fragrance, and it will cover your garden with gorgeous purple fronds. Russian sage shrubs are great landscape plants and are proven winners in the fight against garden pests.
You'll have the most success with your Russian sage when you plant it in full sunlight and dry, unfertilized soil. You can plant the Russian sage all year, including the late summer and early winter. Because this sage variety has a tidy habit, you won't need to prune it very often, but you should watch for weeds.
Vernal Witch Hazel (Hamamelis vernalis) – An Ideal Deer Resistant Shrub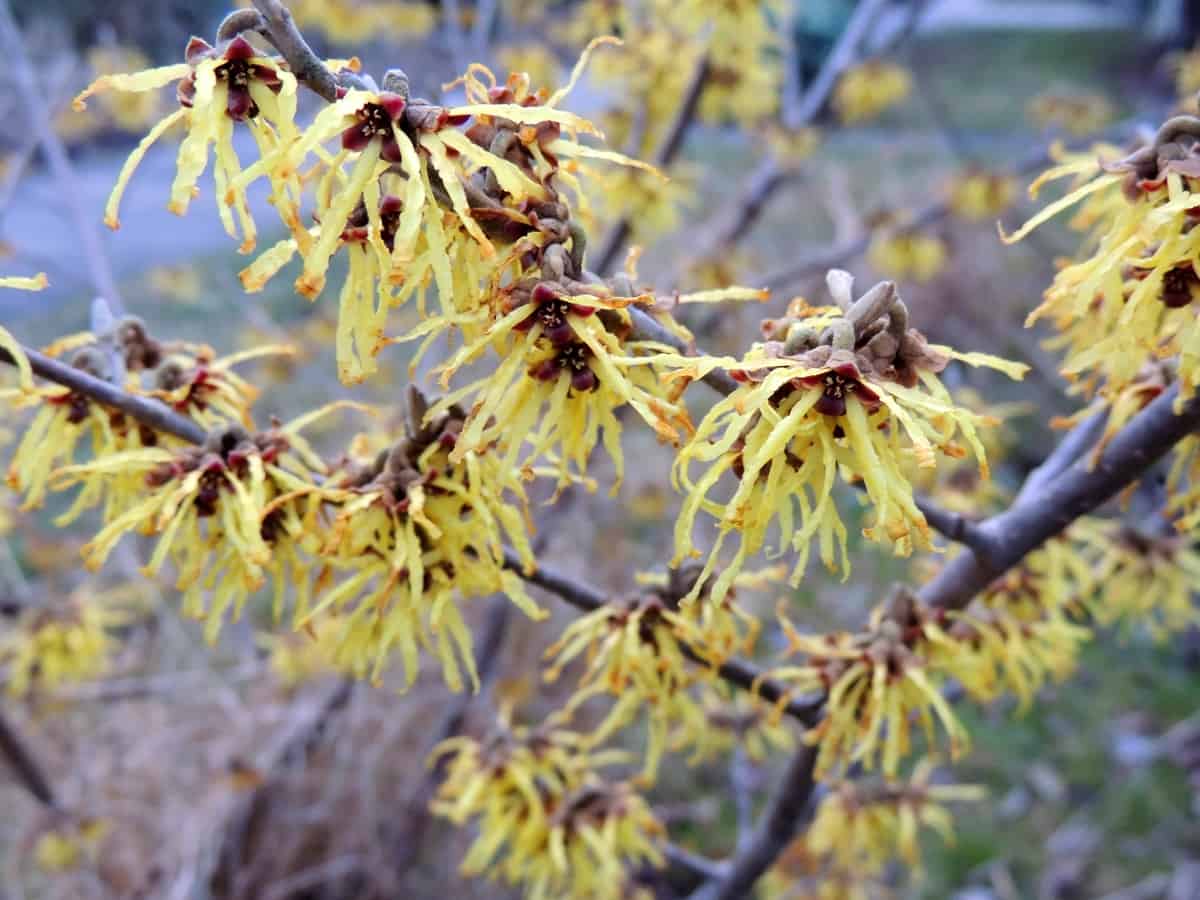 If you want a large, deciduous shrub that produces vibrant flowers and also keeps the deer away, plant vernal witch hazel. These shrubs fill any available space and brighten your yard with their sweet-smelling winter blossoms. Witch hazel is an excellent choice for hotter climates.
While witch hazel likes full sun, it has a limit and will burn when exposed to full sun during hot weather. If you live in a tropical climate, plant your witch hazel in light shade to keep it happy and healthy. Your witch hazel shrub will grow up to twenty feet in height, so stay on top of pruning to avoid overrun.
We hope you liked this guide to deer resistant shrubs. While we all want a beautiful home with attractive plants and flowers, keeping deer away from our green plants can be a pain. Our guide to deer repellent shrubs and plants will help you keep your yard deer-free and your home a sight to behold!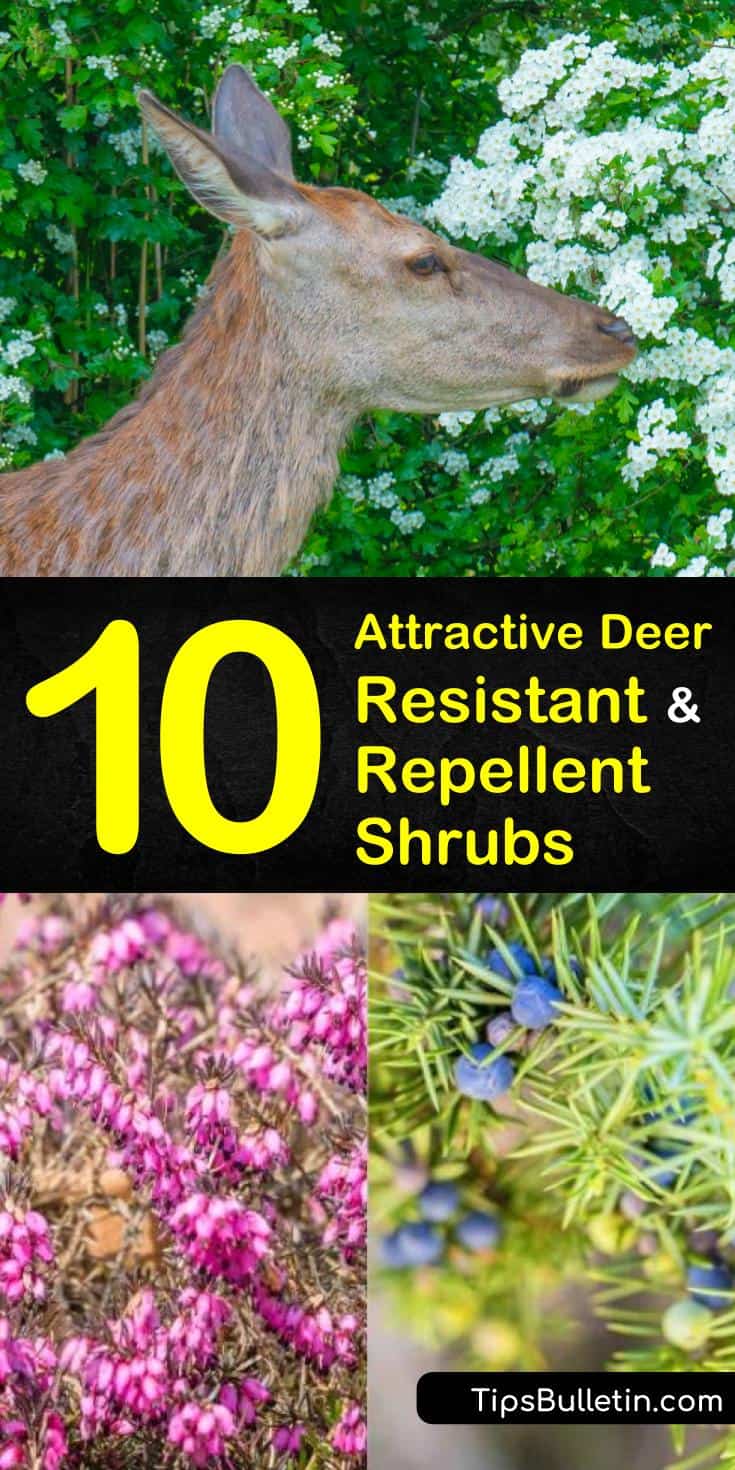 Thank you for reading this deer-resistant shrubs guide. If you found our guide to shrubs that repel deer helpful, we'd love it if you would share our deer repellent shrubs information with your family and friends on Pinterest and Facebook.