Have you ever been stirring a good meal on the stove and casually glance up only to discover that the oven hood is splattered with grease and oil stains? It's almost enough to make you lose your appetite. What you need is an excellent degreaser for a range hood to make that exhaust hood shine like brand new.
The underside of the hood is a commonly overlooked area when it comes to cleaning. The stove exhaust hood is an everyday blind spot in the kitchen that is noticed only by chance. When that greasy range hood is seen, it's most likely when you're busy cooking, and you have to make a mental note to clean it.
Creating a to-do list comes in handy at this moment. You can create a printable house cleaning checklist to ensure these easily forgotten chores never go undone.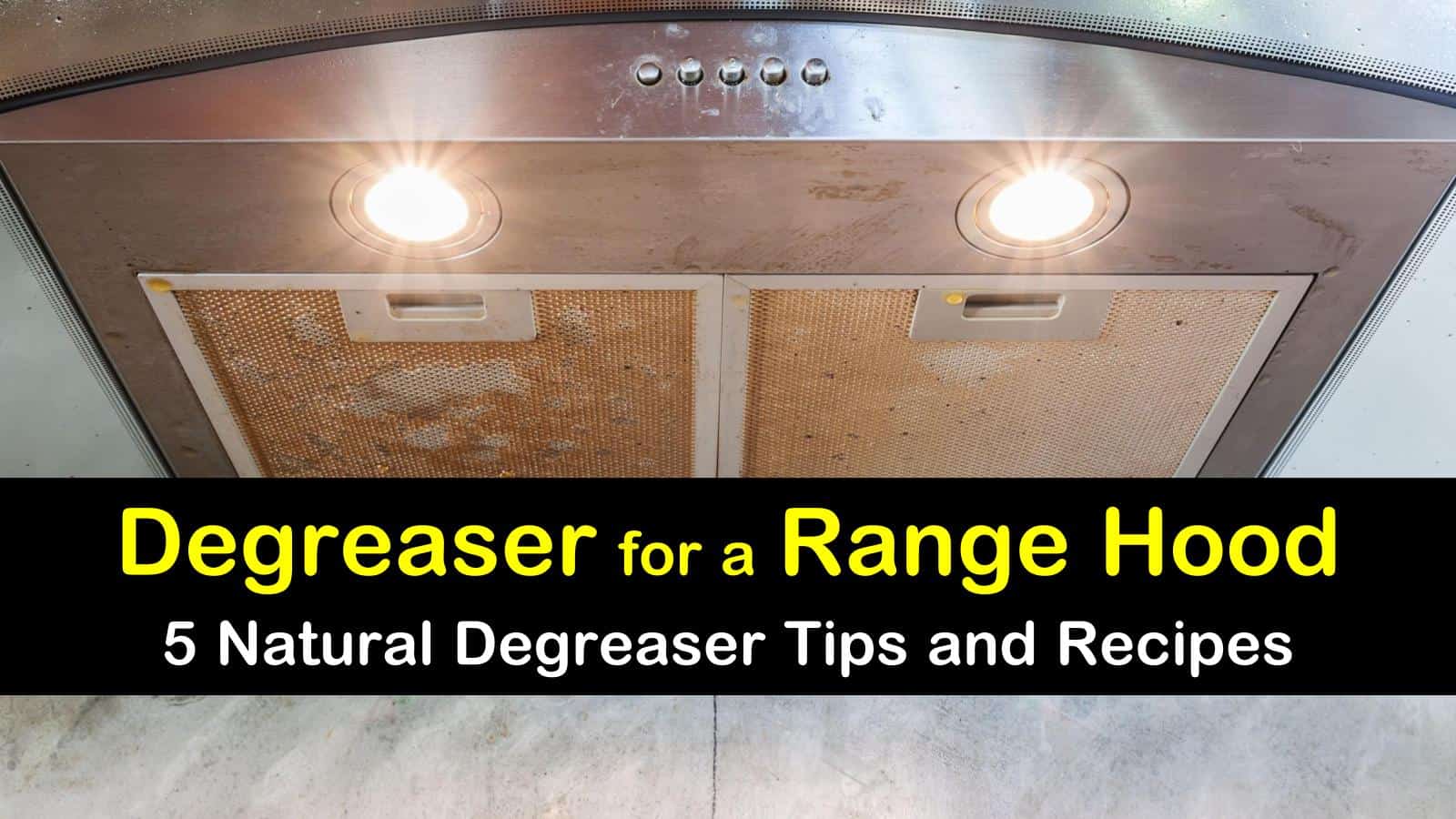 Degreaser Recipes for Cleaning a Range Hood
To get your stove and oven area nice and clean, it's important to know how to clean grease off a stove hood so that all the pieces of this vital equipment are spotless. It's time to get to the greasy-grimy in range hood degreasing.
Sure, you could make a run to the store and purchase some heavy-duty degreaser, but those contain various harsh chemicals that can be harmful to you and the environment. We have compiled our favorite recipes using natural ingredients to remove grease splatter and grime from a stovetop range hood.
Best Way to Degrease a Range Hood
The best way to degrease a range hood is the easiest way. This cleaning method works well for the weekly cleaning of an oven hood. If you have never cleaned the hood or have been procrastinating, you may want to try one of our other methods for heavy build-up.
Wet a sponge with hot water and apply some of the dish soap. Use circular motions to work the soapy sponge over the range hood. Pay special attention to those greasy areas. Rinse the sponge clean and wipe the soapy residue and oily grime off the hood.
Natural Degreaser for an Oven Hood
This method is a natural degreaser for an oven hood that can also work on stainless steel. Vinegar is an excellent DIY cleaner that works as a degreaser for most, if not all, areas of the kitchen. Use it to clean everything from kitchen cabinets to countertops.
To make this simple DIY degreaser spray, pour the white vinegar into the bottle and spray the surface of the range hood. Use the sponge to wipe as much of the grease away as you can.
Wash the sponge with warm water and clean up any leftover residue on the hood. Wipe the area dry with paper towels. Often this is all you need to eliminate grease from your range hood. If stains remain, try the next recipe.
Stove Hood Degreaser Using Baking Soda
Baking soda is not only considered a cooking ingredient but an all-purpose cleaner, as well. Baking soda breaks down stuck-on foods and works excellently as a grease remover.
Mix enough water and baking soda to form a paste that is similar to toothpaste. Use the sponge to scoop up the mixture and spread it onto the range hood. Allow it to sit for ten minutes. Use a wet cloth to wipe the baking soda and grease residue off the hood. Repeat if necessary.
Cleaning a Range Hood Filter with Baking Soda and Vinegar
A range hood filter that is clogged up with grease attracts dust and other debris that sticks to it when the exhaust fan is running. A clogged filter inhibits steam and smoke from being sucked out of the kitchen stove area and makes this handy appliance useless right when you need to get rid of smoke or heat from the stove or oven.
Oven hood filter cleaning needs to be performed on a regular maintenance schedule so that it continues to work when you need it most. Charcoal filters cannot be cleaned and require replacement every few months.
Fill a large pot with water and bring to a boil. Make sure that the pan is large enough to accommodate the filter. Turn off the stove and add the vinegar and baking soda to the water, making sure that you add the baking soda slowly.
Place the filter into the boiling water solution and allow it to sit for one hour. Use the tongs to remove the filter and place it in the sink. Scrub crud off the filter using the scrub brush. Rinse and allow to air dry.
Cleaning a Range Hood Filter with Dishwashing Detergent
This cleaning method is similar to the oven hood cleaner except that you will be using dishwasher detergent instead of vinegar and baking soda. This cleaning solution works well for removing those stuck-on, greasy areas.
Remove the hood filter and place it in the kitchen sink. Spray as much debris off as possible with hot water using the kitchen hose sprayer. Add a generous amount of dishwashing soap to all areas of the filter and let sit for one hour.
Rinse the soapy water and gunk off of the filter with the sink sprayer. Apply another layer of soap and brush the filter thoroughly with a bristle brush. Rinse and allow to air dry.
It's quite easy to remove greasy scum off an oven hood once you have the right ingredients and know-how. Now that you have incorporated this chore into your regular cleaning, future degreasing tasks will be as easy as pie. Grab your cleaning list and check off the section for degreasing the range hood.
Recipe for Homemade Range Hood Degreaser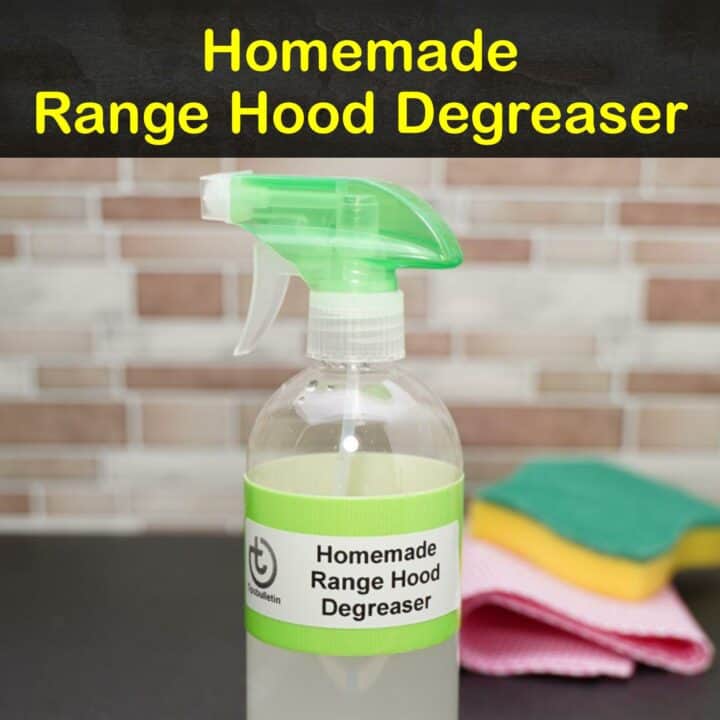 Homemade Range Hood Degreaser
A simple but effective range hood cleaning solution!
Materials
6 ounces of vinegar
Warm water
Tools
8-ounce spray bottle
Microfiber cloth
Measuring cup
Paper towels
Instructions
Pour the vinegar into the sprayer.
Spritz the range hood.
Wipe with a damp microfiber cloth.
Rinse the cloth and continue wiping until the hood is clean.
Dry with paper towels.
Notes
Either white or apple cider vinegar works well.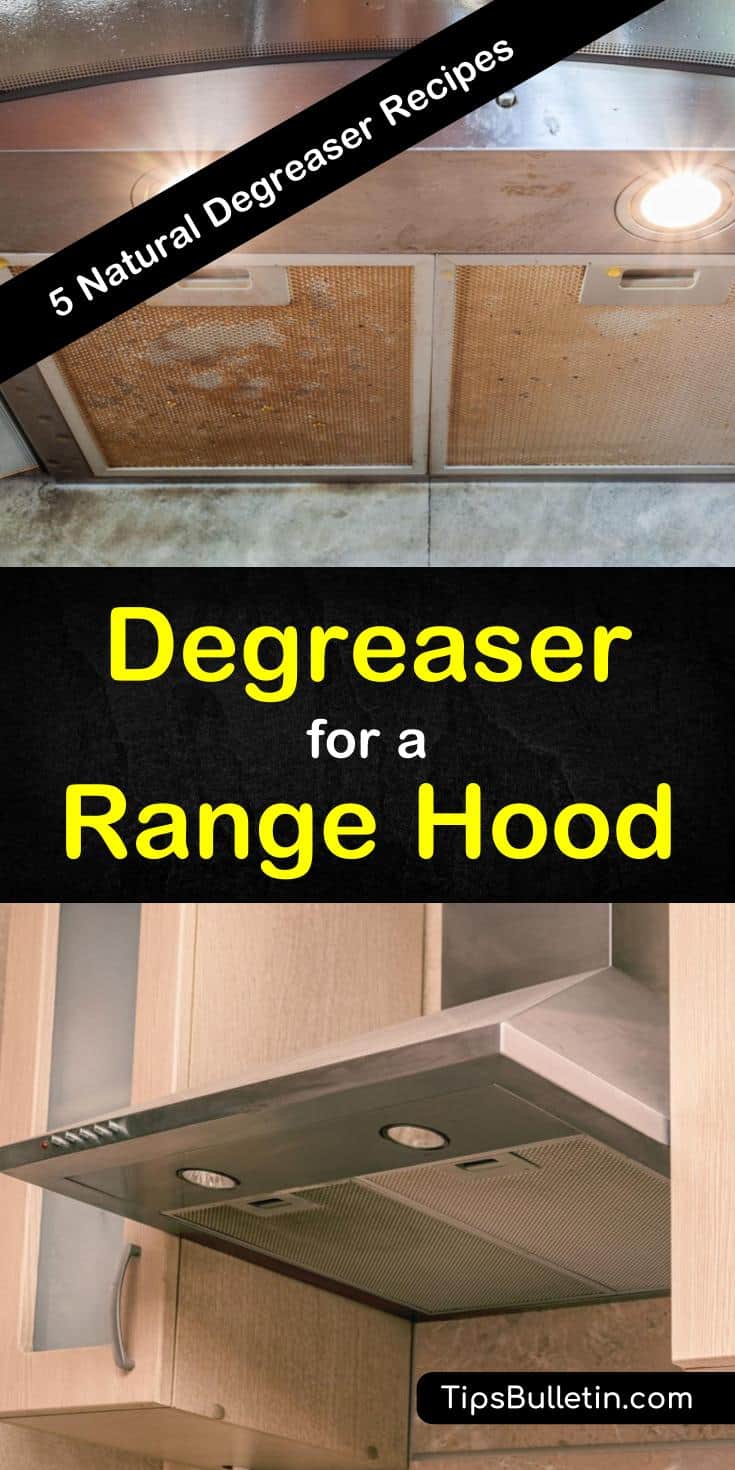 You're not the only one who loves to have a clean kitchen without having to deal with harsh cleaning chemicals. If you learned something about degreasing your range hood, feel free to share these cleaning tips and natural recipes to make a degreaser for a range hood with your family on Facebook.