Your kitchen cabinets are one of the most handled items in your home. Constant use causes them to collect crud and grime, and their proximity to the stovetop means they will get greasy. A cleaner and degreaser for kitchen cabinets is required to keep them looking new, but you need to use one that will not damage the cabinet or its finish.
We are going to help with some great cleaning tips that explain how to degrease kitchen cabinets without causing damage by using natural ingredients to create a powerful degreaser.
Our DIY tips and tricks will bring your cabinets to life and then help keep them that way. You probably have all you need right in your pantry!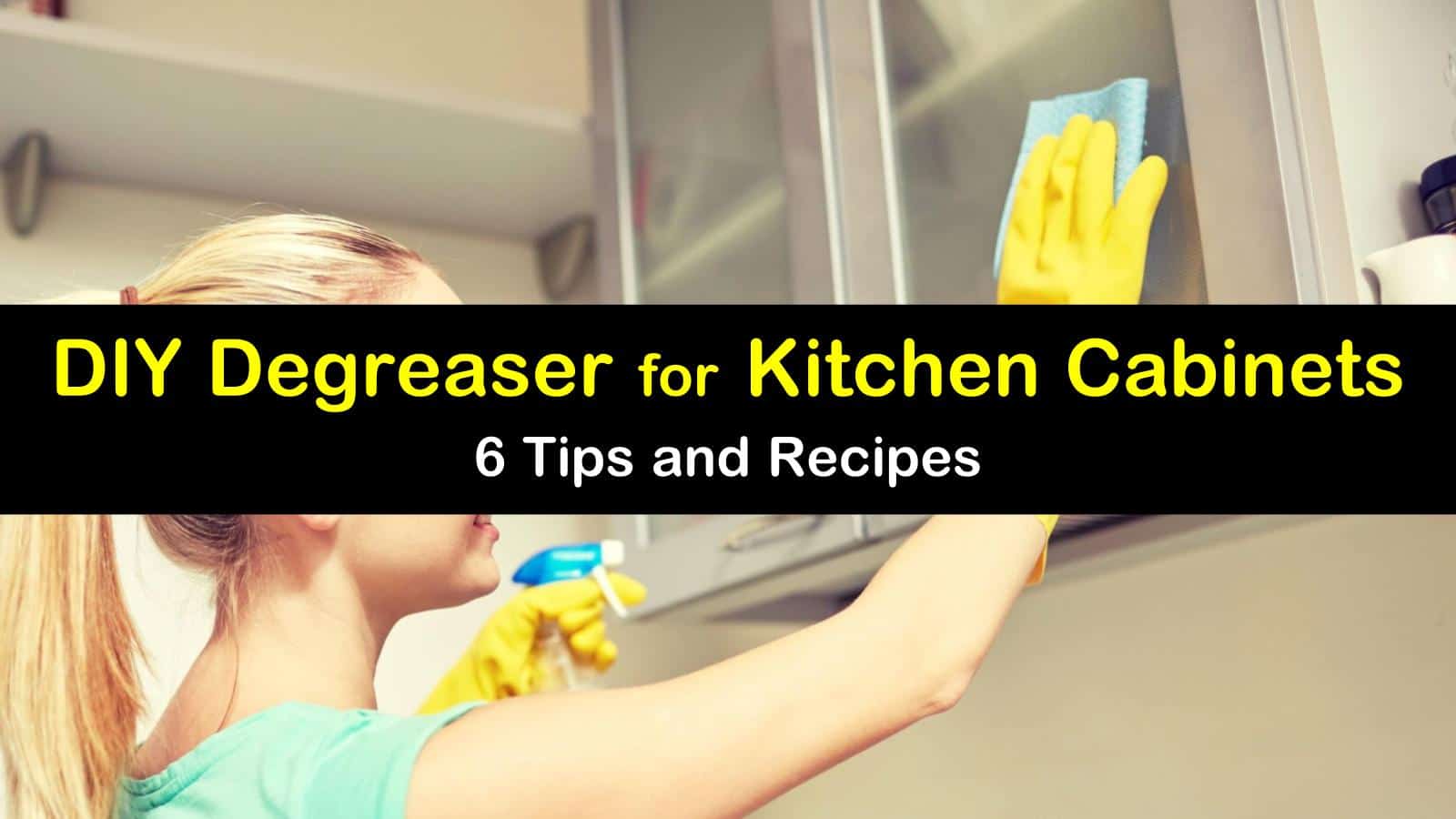 Simple Degreaser Tips and Recipes for Kitchen Cabinets
Here are six DIY recipes to be used as a degreaser for kitchen cabinets. Each works a little differently, and when combined in concert, they will help get your cabinet doors clean with minimal elbow grease.
Getting Prepared
Most of the things needed to make a kitchen cabinet degreaser are everyday household items. There's no need to have every element to begin, start with the items you already have. You should also use gloves and wear safety glasses while cleaning.
Dawn Dish Soap Kitchen Cabinet Degreaser
Dawn dish soap is famous for being an excellent degreaser, and this simple tip might be the best way to clean wooden cabinets. It is also mild enough that it won't ruin your wood cabinets or their finish. You can even use dish detergent as the best way to clean painted kitchen cabinets, too.
Make a cleaning solution by mixing 1/4 cup Dawn dishwashing detergent with one quart of warm water. Don't make too many suds. Pour the cleaning solution in a pail or a bucket, but it is also quite helpful to put it in a spray bottle.
Spray or wipe down the kitchen cabinets with the solution. Using a soft cloth, rub in a circular motion to remove any visible splatters or grease stains. Apply a little elbow grease to stubborn grease stains. You can also remove oil stains from kitchen wall tiles and countertops with dish soap and water. Wipe dry with paper towels.
How to Degrease Kitchen Cabinets with White Vinegar and Salt Rub
Make a paste using white vinegar and salt for an excellent wood cabinet cleaner. Use an old toothbrush to scrub the paste in tight spots where grease might have a chance to build up.
This rub is the perfect natural grease cleaner and an excellent way to remove grime around hinges and handles. If your wood kitchen cabinets have a lot of carvings and intricate designs, this will be able to get in there to give you a deep clean.
White Vinegar as a Degreaser for Kitchen Cabinets
To make the best kitchen degreaser that is simple yet highly effective, pour white vinegar into a small spray bottle, spray on greasy cabinets, and let sit for about 30 minutes. Once the vinegar degreaser has had a chance to penetrate the grease stains, wipe away the vinegar and gunk with a damp cloth and clean water.
The slightly acidic nature of white vinegar makes it a top-notch kitchen cleaner degreaser. It not only works to clean cabinets, but it will also do a fantastic job cleaning a stainless steel stove top, most countertops, and laminate.
Baking Soda and Water as a Kitchen Cabinet Degreaser
One of the most popular cleaning supplies is ordinary household baking soda. A perfect all-purpose cleaner, the most common practice is to mix baking soda with water, but both work much better on their own. Baking soda is an alkaline substance, while vinegar is an acid.
Make a paste from baking soda and hot water to make a homemade kitchen cleaner degreaser. Use an old toothbrush to scrub the mixture into your cabinet doors for a deep clean.
Use baking soda and vinegar as a DIY counter cleaner, particularly if there are tough stains.
How to Degrease Kitchen Cabinets Using Oil Soap
Many different brands of oil soap, such as Murphy's Oil Soap or home remedies, make a great wood cleaner. Oil soap is specially designed to not only clean wood but also protect and rejuvenate it. To use oil soap to clean kitchen cabinets, put a few drops onto a clean cloth and gently massage the oil into the wood using a circular motion.
Clean Kitchen Cabinets Using Vegetable Oil and Vinegar
Vegetable oil and vinegar are among our last cleaning products. This tip is very similar to the oil soap tip and is a way to create a homebrew oil soap.
The way to make a degreaser with these handy pantry ingredients is to mix equal parts vegetable oil and vinegar and apply to a clean cloth to polish and shine your kitchen cabinets and remove grease build up that may have accumulated while you weren't looking.
We hope that you liked our article and will use some of these DIY tips to degrease your kitchen cabinets and get them looking new. After a deep cleaning, some preventative measures may go a long way toward keeping your cabinets clean. Wipe them down once a week with white vinegar or Dawn dish soap to keep grease stains and crud to a minimum.
Degreaser Recipe for Kitchen Cabinets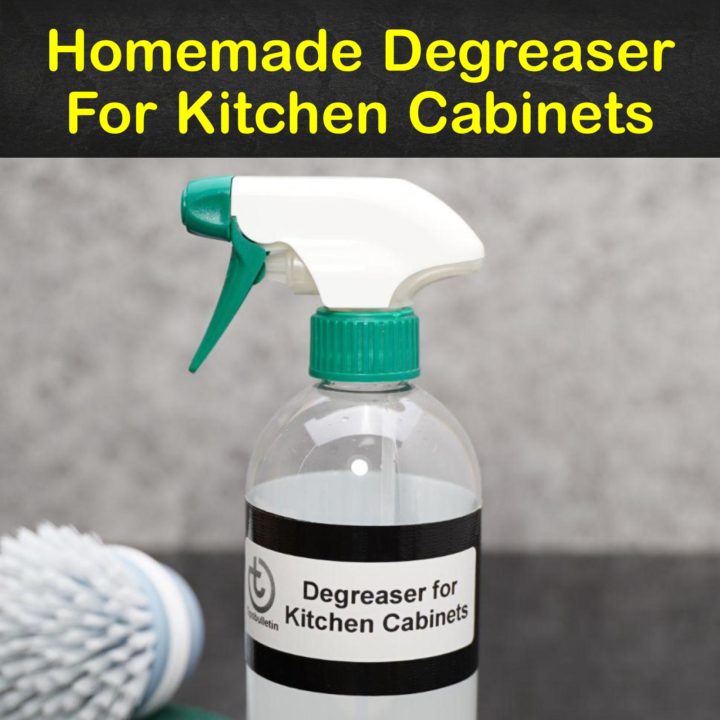 Degreaser for Kitchen Cabinets
Soap and water are not just for washing your hands.
Materials
1/4 cup degreasing dish soap
4 cups of warm water
Tools
Measuring cup
48-ounce spray bottle
Clean rag
Instructions
Pour the soap and water into the sprayer.
Swish gently to incorporate. Try not to make too many bubbles.
Spray one cabinet at a time.
Wipe the cleaner over the cabinet face, getting into the corners and grooves.
Allow to air dry.
Notes
If you don't have a spray bottle, you can easily add the mixture to a bucket instead.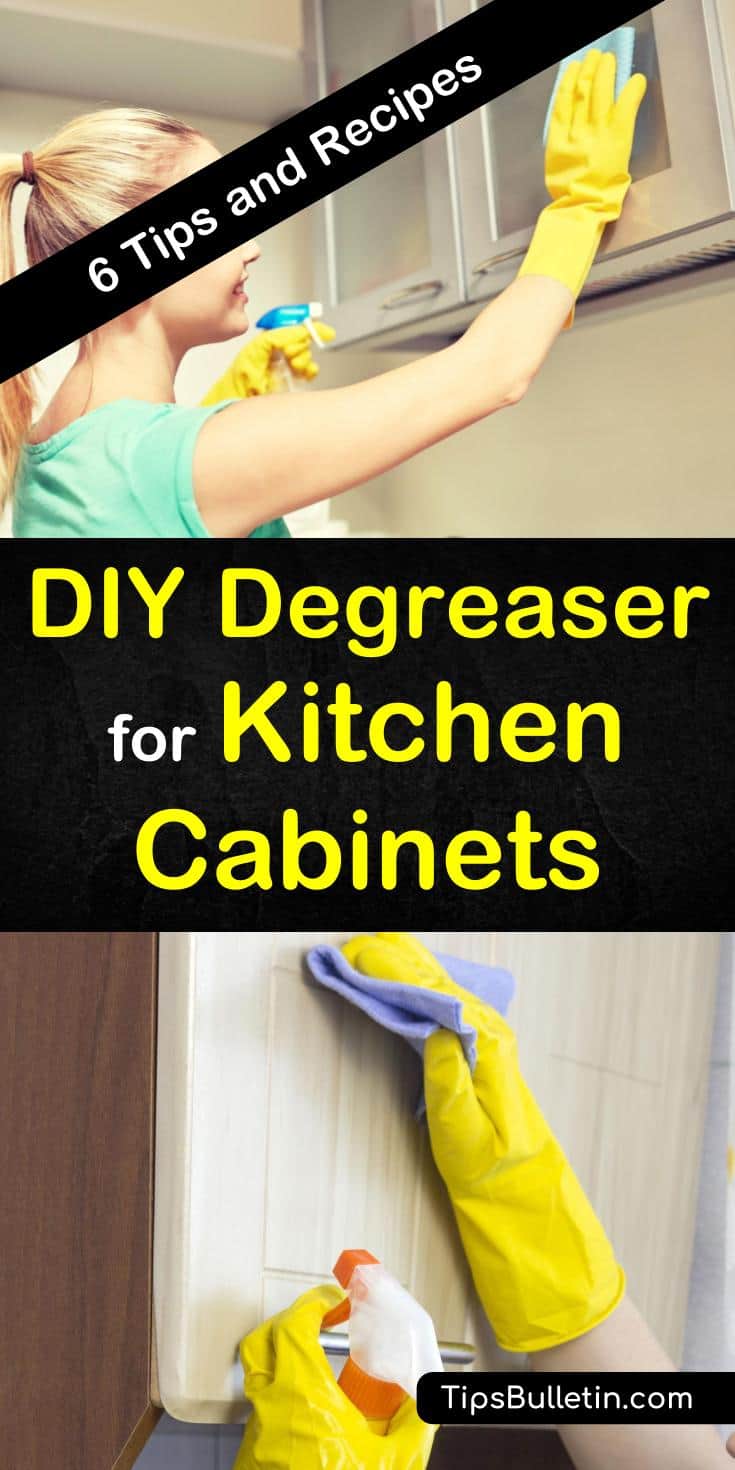 If you enjoyed these six tips to make a DIY degreaser for kitchen cabinets, please share your new knowledge about cabinet degreasing on Pinterest or Facebook.