Is there really a plant more beautiful than a rose? Okay, that may not be objective, but there's a reason why these flowers are so popular. Planting roses in your garden is always a good idea, but planting the hardiest, disease resistant roses in your garden is the smart approach.
Roses have everything you want in a plant: good looks, a pleasant scent, and low maintenance. Unfortunately, pests and diseases come with the territory. Knowing how to fight these diseases helps keep your plants healthy, but there is something else that prevents this from happening altogether.
Disease resistant roses are real, and when you do not have to worry about them as much, you spend much less time putting labor into your roses and merely enjoying all they have to offer.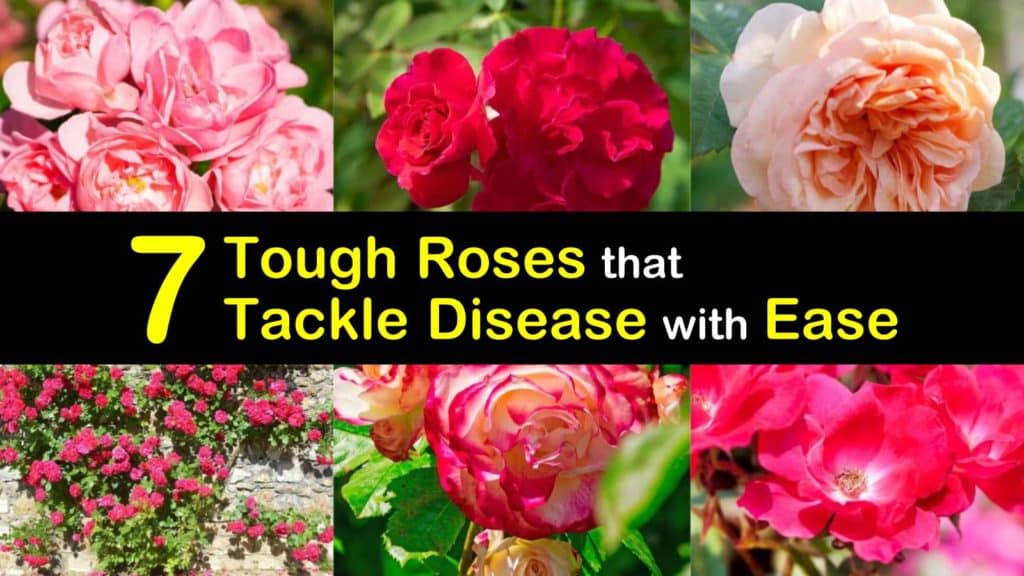 Rose Diseases I Look Out For
David Austin is the horticulturist who opened up the rose market. He created 200 hybrids of the old rose and is to thank for many of today's different types of rose bushes. One of the biggest cons to roses is their susceptibility to catching diseases that kill them.
Thankfully, the disease resistant roses in this article have built-in protection against these annoyances. Black spot is a common disease that is most severe after long periods of wet, hot conditions.
It visually appears as small black circles on the rose leaves and last throughout the summer. Powdery mildew is another critical disease caused by a fungus. A white powder emerges on the surface of leaves, stems, and buds and causes bloom failure.
Stem canker appears as discolored or dead areas that enlarge until they completely take over. If you've noticed these diseases on your roses, use fungicides to treat them.
Even disease-resistant roses get bugs sometimes. For aphids or other annoying insects, use neem oil on roses to kill the bugs without harming the plants.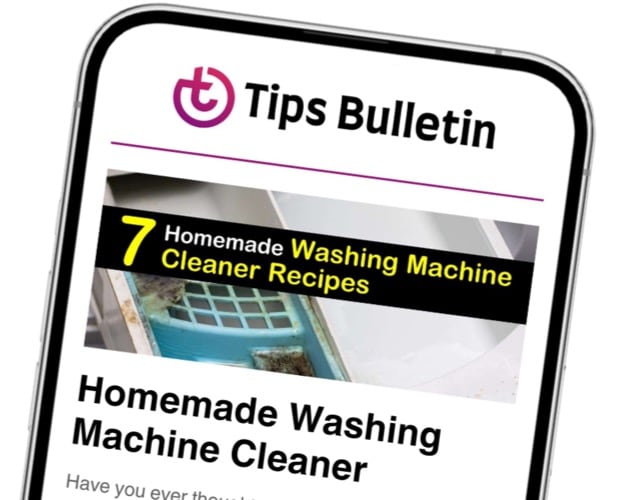 Finally, an email that Transforms Your Home.
Get the latest home and garden tips from our experts, delivered straight to your inbox.
Knock Out Rose (Rosa radrazz): Record-holding Disease Resistant Roses I Love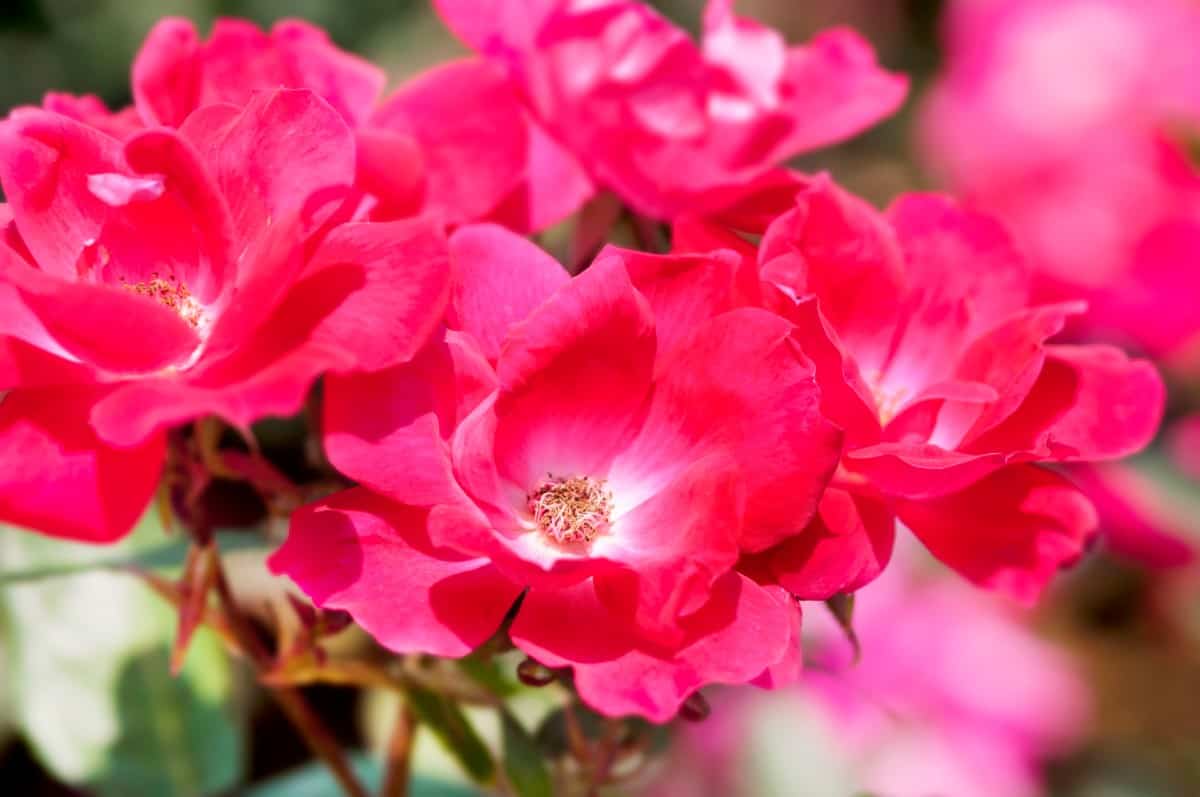 Knock out roses are one of the best disease-resistant roses. It once held record sales of a new rose and is now one of the most popular in North America.
These roses are low-maintenance and are also self-cleaning roses, meaning there is no need to deadhead them. These roses are plants that look beautiful along fence lines.
Knock out roses are hardy up to USDA zone five. The most work they require is a quick trimming if they get too bushy. Feeding them organic rose food for their first spring helps them get established quickly and helps them live long, happy lives.
Apricot Rose (Rosa meimirrote)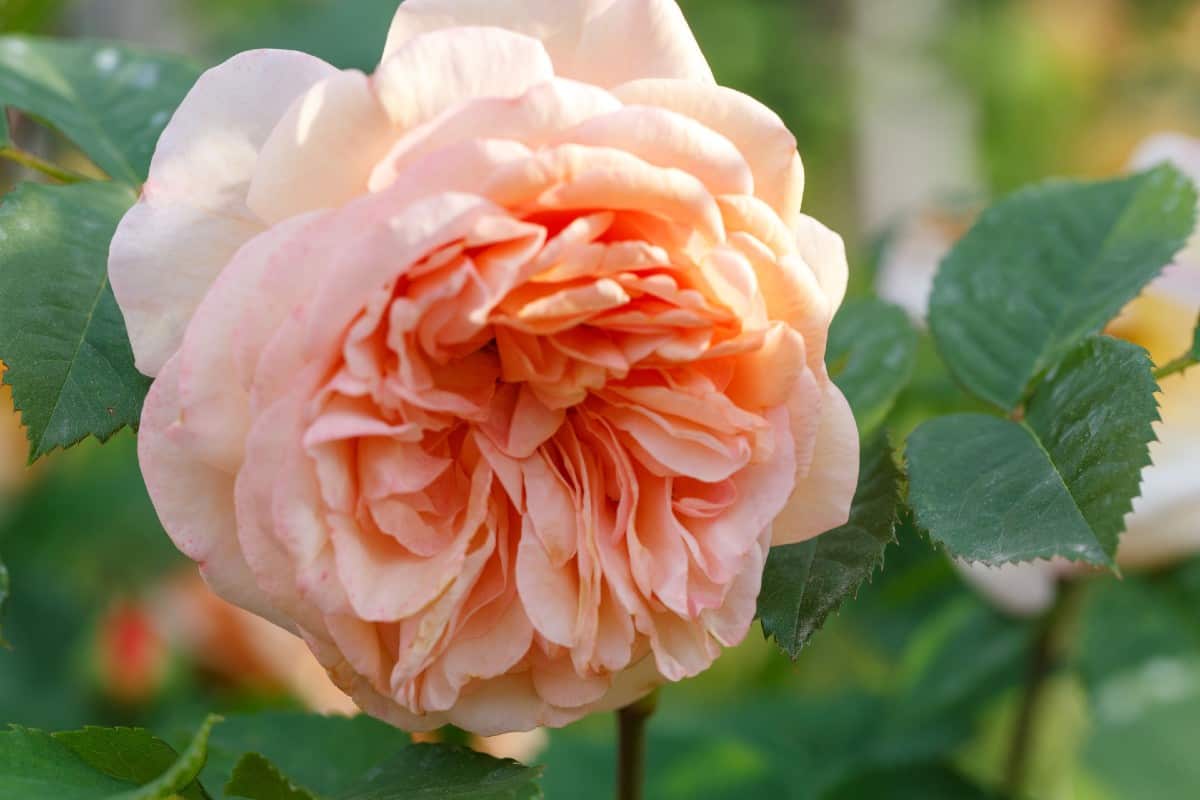 Apricot roses are best identified for their apricot and peach colors. They produce abundant clusters of flower heads packed with around 35 petals each.
These roses bloom from early spring until the first frost of fall. They are low-growing and spreading, making them perfect for groundcover. Apricot roses thrive in areas that receive full sun and fertile, well-draining soil.
Fertilize the shrub rose each spring and again in the late summer. Spread organic mulch around the bottom to help the roots retain moisture. Cut them back in the early spring once the last frost passes.
Hybrid Tea Rose (Rosa x hybrida)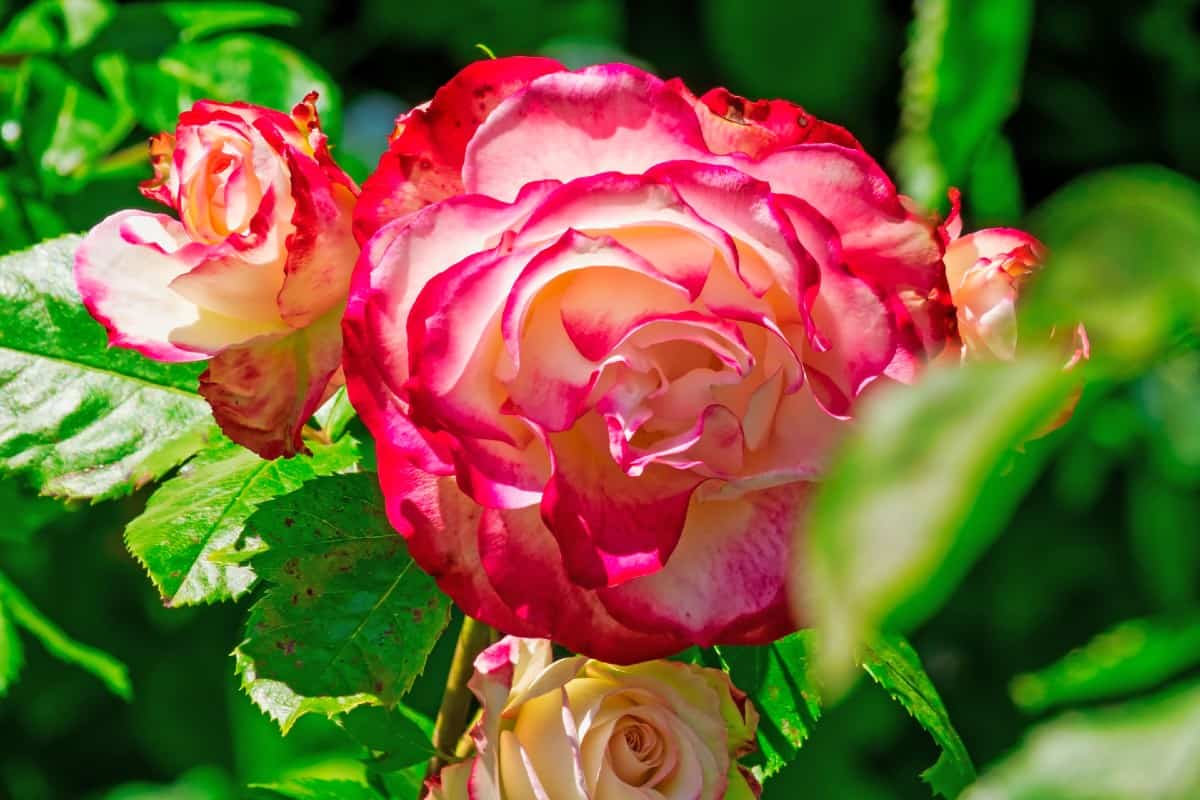 Hybrid tea roses might be the most popular in the world. They are famous for their blooms, fragrance, and easy maintenance. The shrubs produce only one blossom on each stem as opposed to clusters; however, they repeatedly bloom throughout the growing season.
Each flower has up to sixty petals and is as large as five inches across. It's no wonder that they are so popular.
Hybrid tea roses are purchased bareroot – remove the packing of soil around the roots and soak them in a large bucket of fresh water for 24 hours before planting them.
Once soaked, dig a hole up to 18 inches across and plant it with a cone-shaped mound of soil around the base. Hybrid tea roses do best in full sun or light shade and slightly acidic soil rich with organic matter.
One home remedy for powdery mildew on roses is a milk spray you spritz directly on the plant. If you can't escape the fungus, this solution works well in the sun.
Abundant Blooming Roses: Floribunda Rose (Rosa floribunda)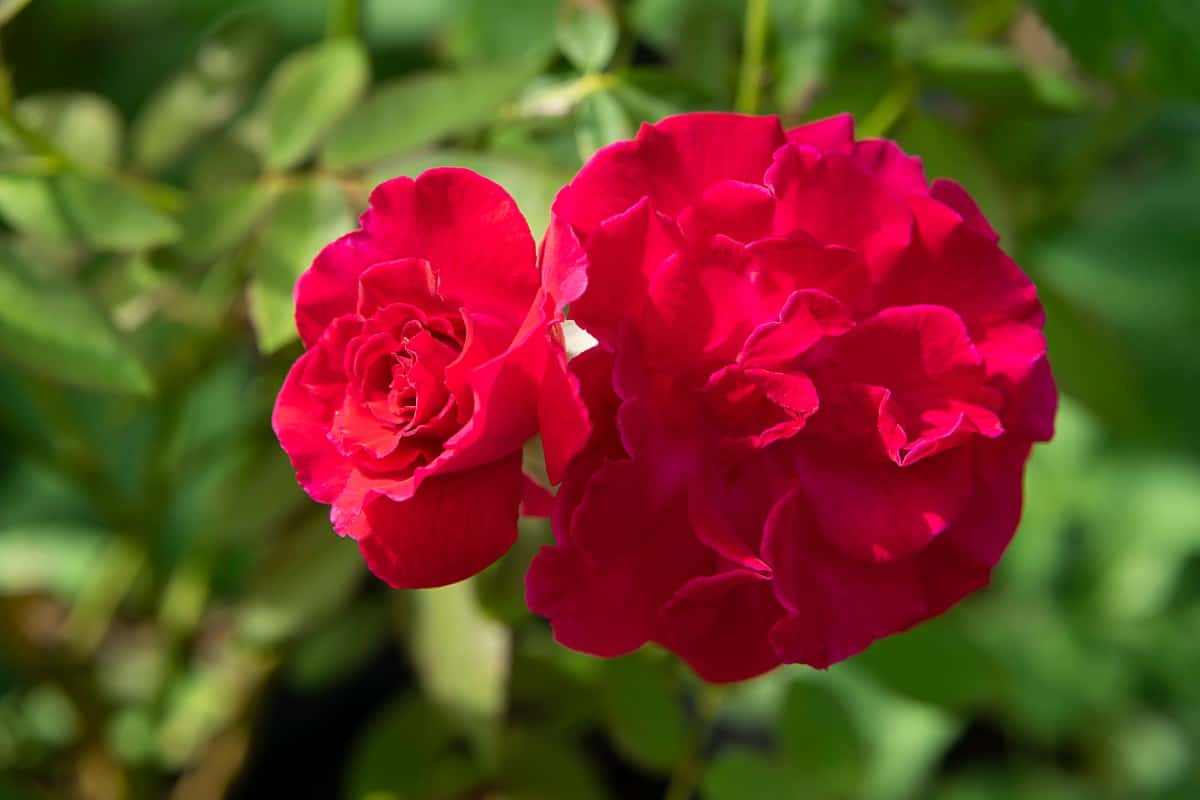 The floribunda rose got its name because the word floribunda is Latin for 'many flowers.' These roses are abundant in blooms that flower consistently from summer until the first fall frost and grow three to four feet tall and wide.
Floribundas are excellent border roses and are also ideal for regular flower beds. These roses are hardy and don't require as much care as other rose bushes.
Water the base of the plant to avoid leaf scorch. Regular watering may be required until the plant establishes itself. Deadhead spent flowers to help promote new growth.
Climbing Roses (Rosa setigera)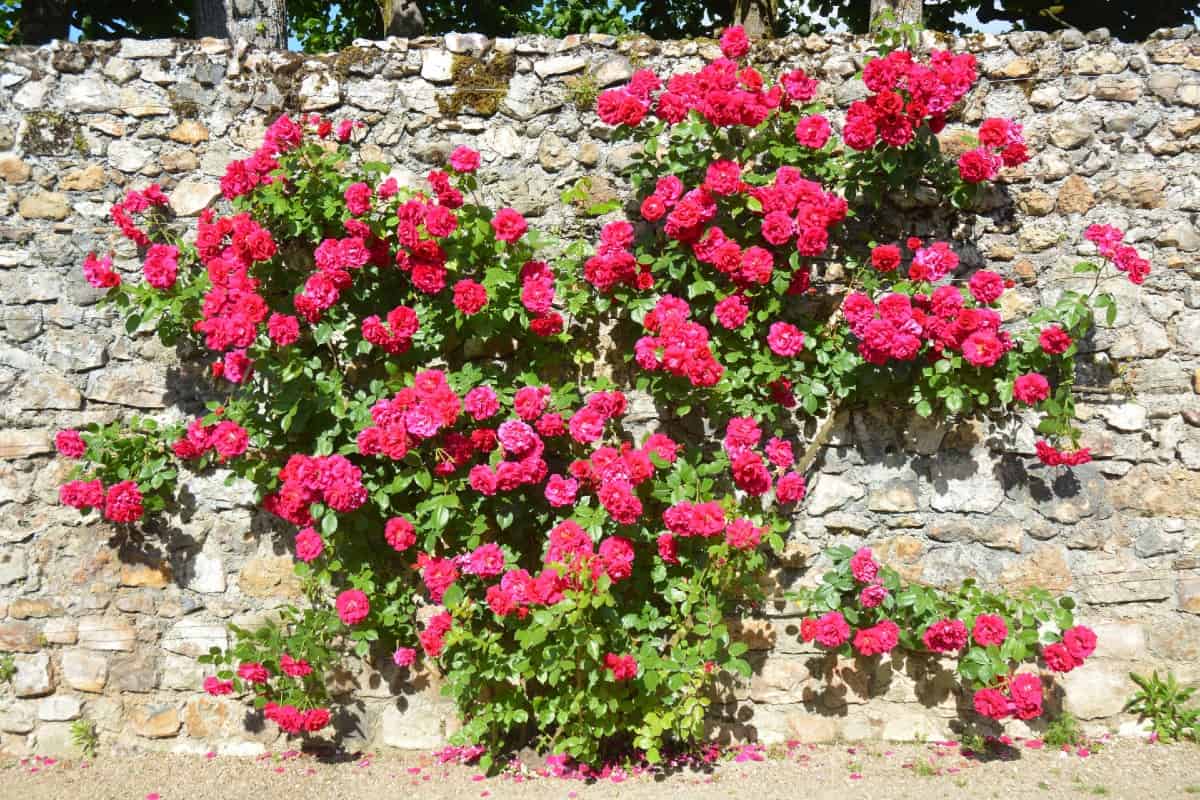 Climbing roses are less fussy than their cousins in bush form. This climbing variety is perfect for growing up a trellis or pergola. They have a sweet scent and vibrant colors. Each plant grows up to 12 feet long and spreads three to four feet wide.
Climbing roses require full sun and prefer loamy, well-draining soil, and they like to have an inch of water per week. Be careful not to overwater. Although they have disease resistance, these roses are susceptible to fungus growth, like black spot, if they get too much.
Moss Rose (Portulaca grandiflora)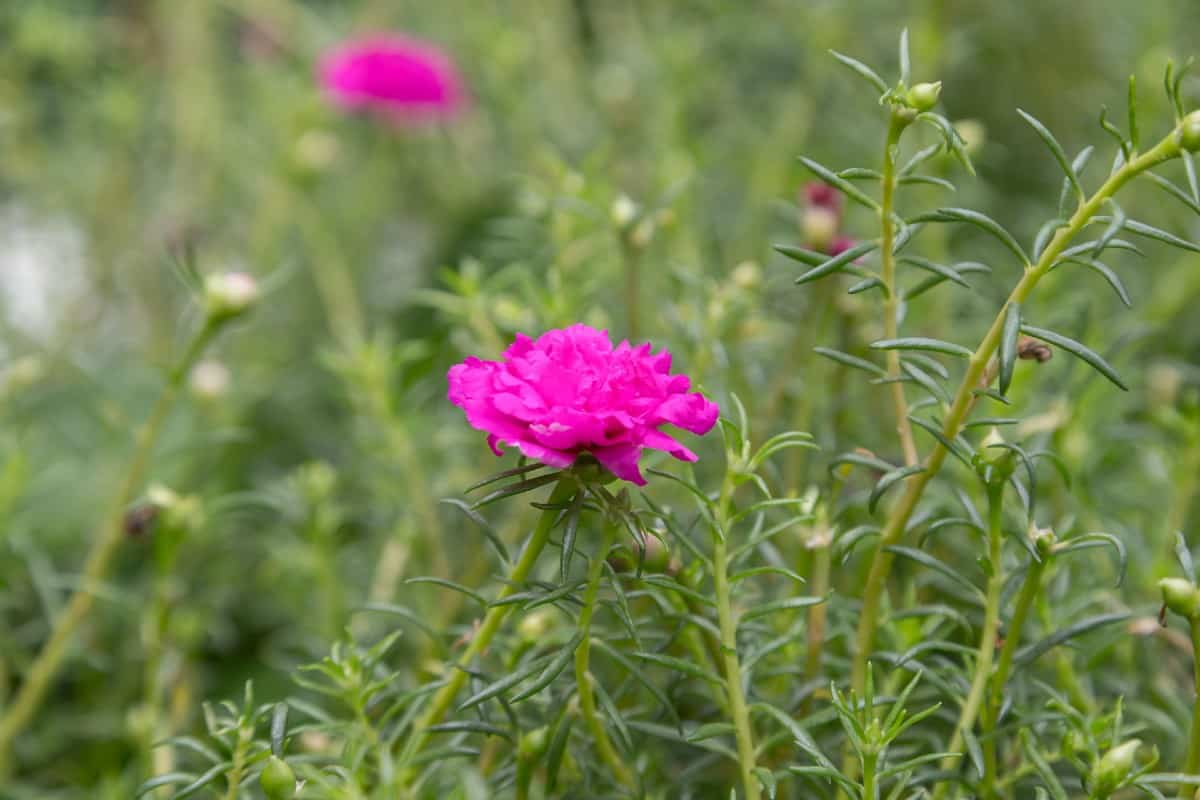 One of the most stunning disease resistant roses is the moss rose. People who live in areas with a lot of heat and drought gravitate toward this plant because it requires minimal moisture to survive and produce blooms.
This hardy plant produces bright-colored roses of pink, purple, red, white, and orange. They grow only six inches tall, so they look best planted in the front of a flower bed.
Moss roses are easy to grow as long as they have full sun. They thrive in poor to average soil as long as it is well-draining. Deadhead the spent flowers and prune the plant for a fuller and neater look.
Fairy Rose (Rosa polyantha) – My Unique Roses that Resist Disease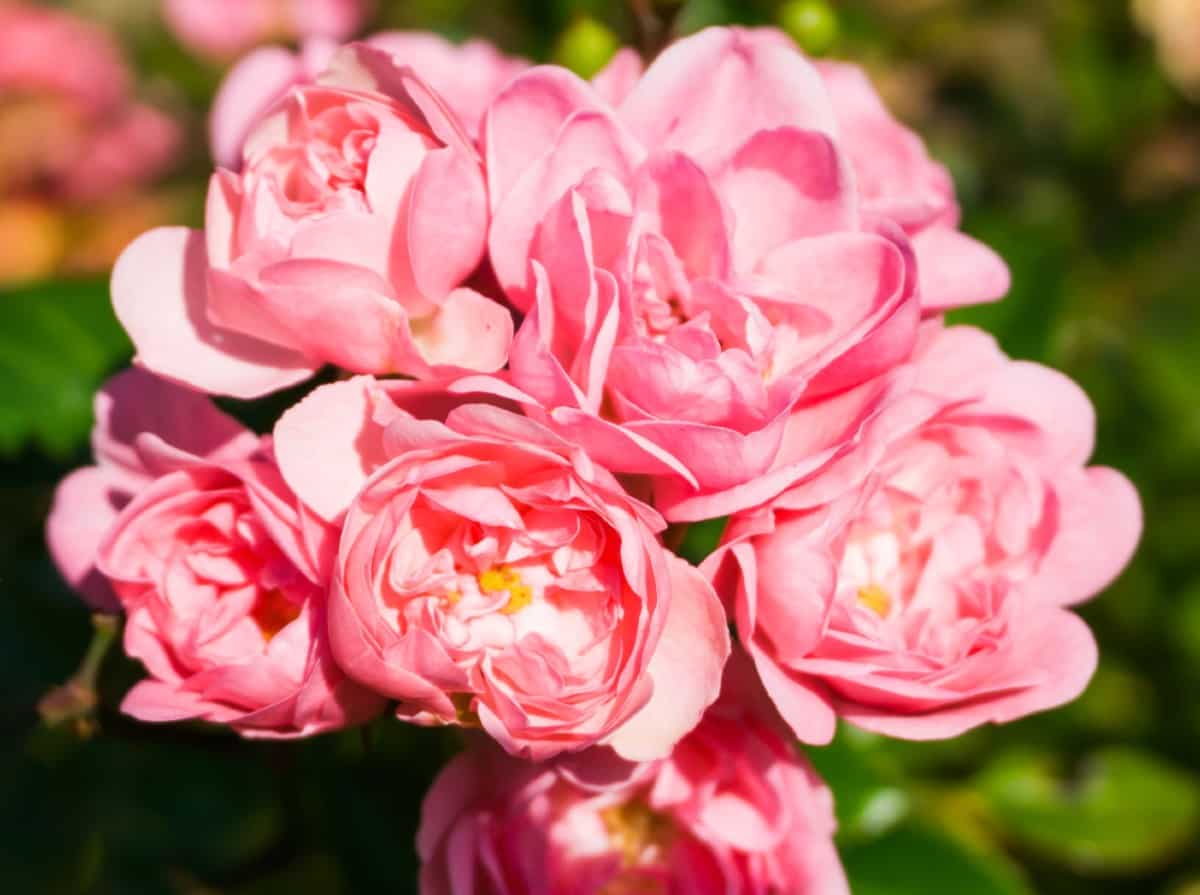 The fairy rose is another beloved plant of the disease resistant roses that bloom from early June until the first fall frost. They have double, rosette-shaped flowers that are light pink. The fairy rose grows up to three feet tall and wide.
Grow fairy roses in fertile and moist soil. They tolerate both full sun and partial shade. Give them plenty of air circulation and remove dead or fallen leaves. Late winter or early spring is the ideal time for a thorough pruning.
Add some deer resistant hostas nearby to create variety in color and texture, and you will have a garden area you can enjoy in two or more seasons.
Purchasing disease resistant roses is one of the best ways to keep these long-time favorites around your property.
Although it's important to remember that no rose is 100 percent safe from contracting a disease, this list provides the top choices to avoid having to treat your bushes each year.
Occasionally check on your mature rose bushes throughout the growing season and take care of any issues as soon as you notice. When you give your roses the right conditions and attention, they provide timeless beauty for years.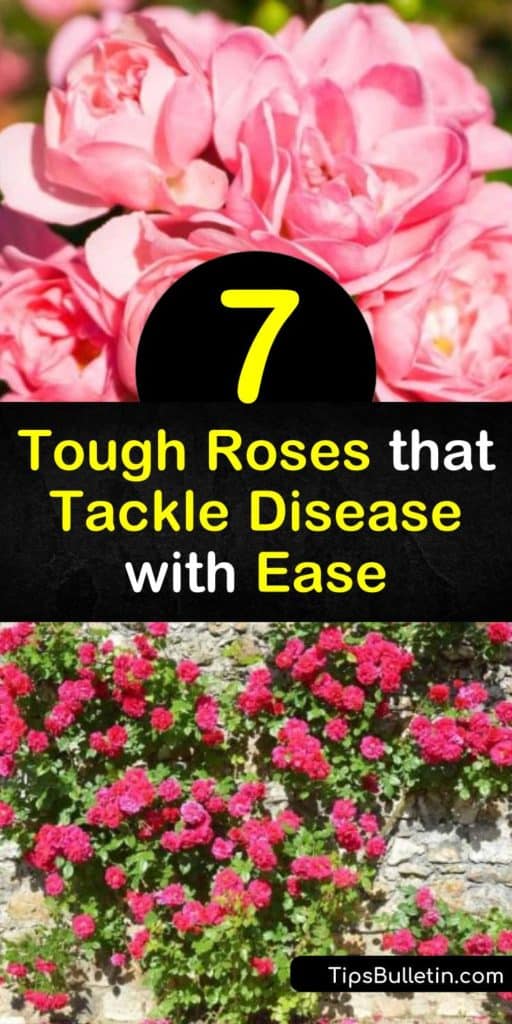 If you want to control plant issues with disease resistant roses, share these plants that naturally fight fungi on Facebook and Pinterest.