The bathroom is the room you spend a great deal of your time, and the least amount of time thinking about cleaning as you go about your daily life. You wash your hair in the shower and clean your hands with soap in the sink, so why is regular bathroom cleaning even necessary?
Unlike the bedroom or living room, where you kick up your feet and relax after a long day of work, a bathroom is a place of personal maintenance.
Even though it seems like it is the cleanest room in your home with all that soap and hot water, the bathroom has the most germs and bacteria. More than likely, you aren't even aware of just how dirty it is until you begin to smell a faint and unpleasant odor.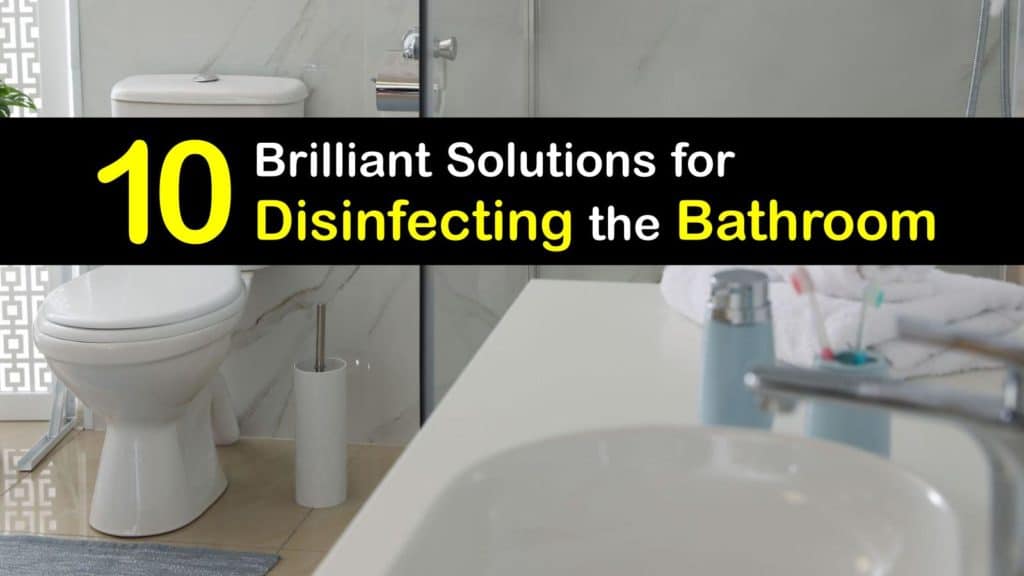 Cleaning and Disinfecting the Bathroom from Top to Bottom
But, what is that smell? The accumulation of rinsed off dirt, grime, and soap scum, combined with heat and steam, is the perfect breeding ground for mildew and bacteria.
It's hard to notice it as it begins to grow, except for the telltale sign of a musty, earthy odor. Given enough time, it eventually develops into mold, which leads to more problems, especially if you or your family has allergies.
These odor-causing germs grow in damp areas of the shower, sink drain, around the base of your toilet, and in the grout of the bathroom tile.
Unfortunately, ignoring these areas for too long causes your bathroom to get filthy and fills the space with a foul odor that eventually spreads throughout your home.
Even if you're the type of person who absolutely hates cleaning, there are ways to make it a reasonable task.
These include setting up a schedule and sticking to it, choosing the right cleaning products for the chore, and using the simplest cleaning method. Once you establish these, you're good to go, and all that you need is some ambition.
How much time do you think you spend in the bathroom? Well, on average, you take about seven to ten trips a day to use the toilet and another half an hour or so showering or preparing for your day.
Not to mention, all the time that you hide out in the bathroom to get a little peace and quiet from the rest of the house. If you think about it, that is an awful lot of time spent in the so-called water closet.
To break it down, the average adult spends over 700 days of their life hanging out in this room, and not all of that time is necessarily clean.
Multiply that by the number of people in your home, and you have quite a lot of bathroom traffic. So, it goes without saying that the room you visit the most is also the room that requires routine cleaning.
The traffic in your bathroom brings us to the next question. Are you aware of how many germs and bacteria are in your bathroom?
While your eyes see a clean and shiny surface, there are actually over 3 million bacteria per square inch on your toilet, 200,000 on your toothbrush, and over 400,000 per square inch on all other surfaces.
To make matters worse, bacteria continue to grow and spread if you do not perform routine disinfecting. These germs are not just hanging out on the most obvious surfaces, like the toilet bowl, toilet seat, bathroom floor, and bathroom sink.
They travel through the air and land on everything from the shower head and faucet to your bath towels and toothbrush. These air-born germs are why it is vital to perform a deep clean using the right bathroom cleaner.
Taking on the entire bathroom all at once is a bit overwhelming. While deep cleaning is ideal for sanitizing the whole room, that's not always possible if you're on a tight schedule.
So, begin small and work your way up. Before you know it, the entire room is spotless and bacteria-free, at least for the time being.
Start with a Cleaning Routine
We were all raised with the notion that having a routine is a good thing. However, as adults, we tend to let that idea slide a little bit.
Life is hectic and busy. After all, there's work to be done, bills to pay, kids to raise, and dinner to make. Who has time to clean and sanitize the bathroom every day or week?
While the bathroom looks clean with its shiny surfaces, don't let that fool you. All areas of the room are crawling with bacteria, and setting up a bathroom cleaning routine ensures that the area has the least amount of germs possible.
Not only that but using a cleaning schedule actually makes cleaning easier and takes a shorter amount of time. The best way to do this is to set up a daily, weekly, and monthly cleaning checklist.
Dry the shower walls and hang up your towels after each use. Clean the mirror, and use an all purpose cleaner on all surfaces each week. Perform a deep clean once a month to disinfect the entire room.
Use the Right Bathroom Cleaner
When cleaning your bathroom, it is essential to use proper cleaning products for the job. While a toilet bowl cleaner is effective at cleaning nasty gunk out of the toilet, it's not useful for the floors, counter, mirror, and shower.
Arming your cleaning arsenal with the right solutions ensures that you do not damage fixtures with harmful chemicals and makes the job more effective.
There are so many cleaners on the market that it's challenging to know which ones are ideal. To eliminate the confusion, make your own bathroom cleaner to deep clean the shower, tile, and grout, and use a homemade all-purpose cleaner for daily clean-up.
DIY cleaners are less expensive and safer than many commercial products. They do not contain chemicals and often use the power of white vinegar, baking soda, hydrogen peroxide, and other natural ingredients to safely remove soap scum, dirt buildup, mildew, and bacteria. They are also useful for eliminating bad bathroom smells.
Eliminate Bathroom Smells
You're in the kitchen preparing a delicious dinner of pasta, marinara sauce, and garlic bread when you notice an unpleasant and mysterious odor drifting into the room.
What is that smell? Well, if you haven't disinfected your bathroom recently, it's probably coming from there. This stench is definitely a problem, especially if you're expecting company.
You experience many foul odors throughout life, and a bathroom smell is probably top on the list.
The scent of rotten eggs, sewage, mildew, and other types of nastiness is all too familiar in the bathroom, and each one has its own cause, from a clogged sink drain or backed up toilet to moldy grout and a mildew-stained tub.
Fortunately, this problem is easy to rectify once you know the source. Disinfecting your bathroom daily, weekly, and monthly is one of the best ways to keep the room smelling fresh and clean.
Using an air freshener after bathroom trips is also helpful and a polite gesture to the rest of your household.
Clean Granite to Remove Soap Scum
Granite countertops are very trendy these days, and there are so many colors and patterns to choose from. They are not only stunning but very durable and a popular choice for use in the bathroom.
However, this natural stone surface requires special care when cleaning to prevent damaging the surface. There are specific cleaners to avoid when working with granite, including bleach and vinegar.
Consider using a DIY granite cleaner without alcohol using a basic combination of dish soap, baking soda, and water.
These three ingredients remove soap scum, dirt, and grime with a mildly abrasive action while absorbing odors and stains and restoring the granite's shine.
To give your cleaner an extra boost of freshness, try adding your favorite essential oils, such as lemon, grapefruit, or peppermint. Not only does the counter get clean, but your bathroom fills with the fresh citrus or floral scent while you disinfect it.
Remove Mildew from the Shower Mat
Shower mats are an excellent tool for preventing slips and falls. They are also decorative and come in a variety of colors, styles, and patterns.
However, these mats are literal traps for scum, grime, and mold, and not cleaning them on a regular schedule leads to bad odors and foot fungus.
The easiest way to clean a shower mat is to toss it into the washing machine with OMO laundry detergent. The hot water and soap clean away dirt and disinfect them without getting your hands dirty.
If your mat is not machine washable, use a bleach product to kill germs and dissolve gunk. For a more natural approach to cleaning, white vinegar is a superb alternative since it has antibacterial properties.
It breaks up slimy soap residue and eliminates bacteria. Since this solution doesn't smell as pleasant as others, consider adding your favorite essential oils to the liquid.
Scrub Away Grime from the Fiberglass Tub
Fiberglass is an inexpensive alternative to other bathtub materials and one of the most popular choices in many homes.
While this type of tub is reasonably uncomplicated to clean, there are times when stubborn stains refuse to budge, and a bit more elbow grease is required.
Several cleaners get the job done, but the best way to clean a fiberglass tub is to use a homemade solution with white vinegar, baking soda, dish soap, and warm water.
This combination of ingredients dissolves scum with a natural bubbling action for easy cleaning while eliminating bad smells. If you have particularly tough stains in your tub, consider using Borax.
While your first instinct is to grab a bottle of bleach, this chemical discolors the tub's surface, leaving a permanent stain. On the other hand, Borax is safe for most surfaces, and only a small amount is needed to complete the task.
Clean the Mirror for a Streak-Free Shine
There is nothing worse than cleaning the bathroom and finishing up with the mirror, only to step back and admire your tedious work and discover that the mirror glass has streaks of smears and smudges.
Reapplying the cleaning spray and wiping vigorously with a paper towel only seems to make the problem worse.
While glass is often the most straightforward material to clean, it is also a surface that streaks very easily, especially in the bathroom.
Splatters of soap and toothpaste stick stubbornly to the mirror, and a towel simply smears it around. However, cleaning mirrors with vinegar makes the job a whole lot easier.
White vinegar is a mildly acidic liquid and degreaser that breaks up sticky substances. A homemade window cleaner with vinegar is both cheap and simple to make, and one application leaves your bathroom mirror streak-free.
Add a couple of drops of peppermint, orange or lavender essential oil to the solution and freshen the room at the same time.
Remove Dirt Buildup and Mold from Tile Grout
Tiling adds a touch of personality to the space, and there are so many color and pattern choices. When clean, they have an appearance of elegance and style that many other surfaces do not match.
However, tiles with brown or black grout lines are not only disgusting to look at, but the mold is harmful to your health and fills the bathroom with a musty odor.
Out of all the bathroom cleaning chores, cleaning grout has got to be top on the list of most-hated. There is grout over there and grout over here, and most of it is difficult to reach.
Sadly, there is no way around it, so do a couple of arm stretches, and grab a scrub brush and cleanser. But, what cleans grout between tiles? There are several different cleaners for removing dirt and grime from the grout.
A tube of toothpaste and a toothbrush work wonderfully to clean up small stains, while dish soap and hot water is the perfect gentle cleanser, and baking soda and hydrogen peroxide are fantastic choices for large areas of filthy grout.
Make Your Porcelain Sink Sparkle
Many bathroom sinks are made out of porcelain. This non-porous material is relatively easy to clean and typically repels stains.
However, using the wrong cleaners causes damage to this material, and time has a way of changing your once-shiny sink into a dull and unattractive bathroom fixture.
There are many simple solutions for cleaning your bathroom sink, such as mild soap and warm water.
But, if you find yourself staring disappointedly at a sink with stain spots, scuff marks, and faded patches, it's time to start polishing porcelain sink and restore its shiny appearance.
There are a few ways to clean stubborn stains. White vinegar is excellent for removing water stains and marks, and this natural liquid is probably in your kitchen cupboard.
Another great choice is hydrogen peroxide and baking soda. Once the stains are gone, try using lemon oil or baby oil to bring the luster back to your sink.
Disinfect the Toilet Inside and Out
Now that the rest of the bathroom is clean, this leaves you with the infamous toilet. There are so many other things we'd rather do than spend our time hunched over the toilet, stubbornly scrubbing mysterious stains best left unmentioned.
Unfortunately, it's a necessary task. So, put on some cleaning music, roll up those sleeves, and grab your toilet brush. By the way, the brush is not a microphone. It is for cleaning only.
The rule of thumb when cleaning a toilet is to work your way from the outside in. Disinfecting wipes are ideal for quick clean-ups on the toilet seat and cover, but they aren't good for heavy-duty cleaning.
Consider using an organic toilet cleaner to clean both the outside and inside of your toilet. Homemade organic cleaners are better for the environment and your fixtures.
They contain natural ingredients such as baking soda and hydrogen peroxide, and they are also less expensive. Not only that, but more often than not, these cleansers work better than commercial brands.
Your bathroom is a popular room in your home, and the sink, countertops, toilet, bathtub, shower, and floor are all perfect environments for bacterial growth.
The act of cleaning the bathroom seems like a daunting task and something to put off until another day, but delaying the inevitable makes cleaning harder.
Setting up a daily, weekly, and monthly schedule and sanitizing these surfaces with the right cleaners is the way to go.
Doing this ensures that your home is not a breeding ground for mildew and foul smells, and sticking with a routine makes the chore easier.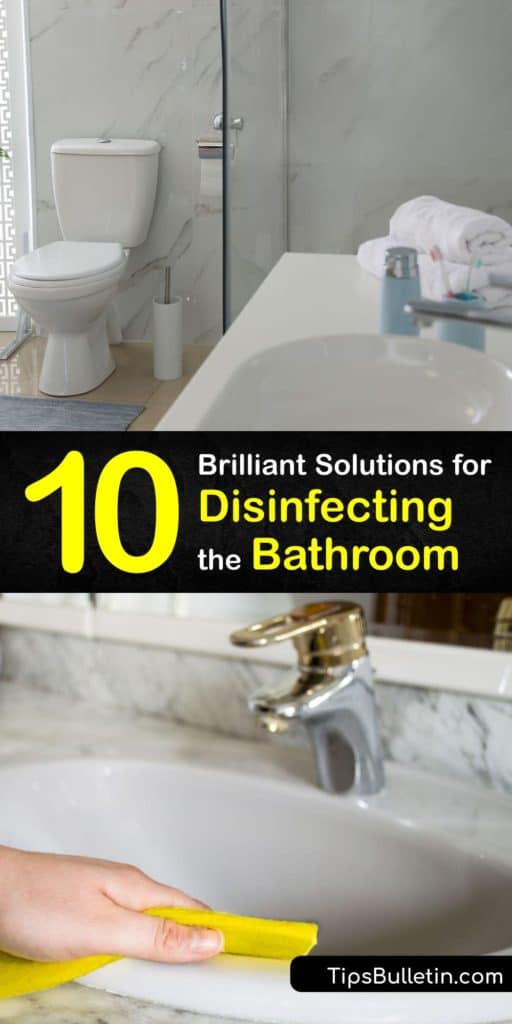 While it's never any fun, it's vital to disinfect the bathroom regularly to remove germs and keep you and your household healthy, so why not share our bathroom disinfectant cleaning guide with your friends and family circle on Facebook and Pinterest?