There is nothing like having a nice clean car to drive to work or for hitting the road for a weekend adventure. As an essential part of your day to day life, it sees a lot of use. With all the use your car gets, the interior can get pretty filthy.
Keeping the carpeting and upholstery of your vehicle clean and looking like new doesn't have to cost you a fortune. These DIY car carpet cleaner recipes and homemade carpet cleaning solutions will help you get the tough stains out and get your car interior looking like new.
When it comes to keeping your car looking good on the inside, it is essential to take the time to clean the floor mats and the upholstery on a regular basis. While there are many specialty car cleaning products on the market, you can save yourself some money by making your own at home from everyday products.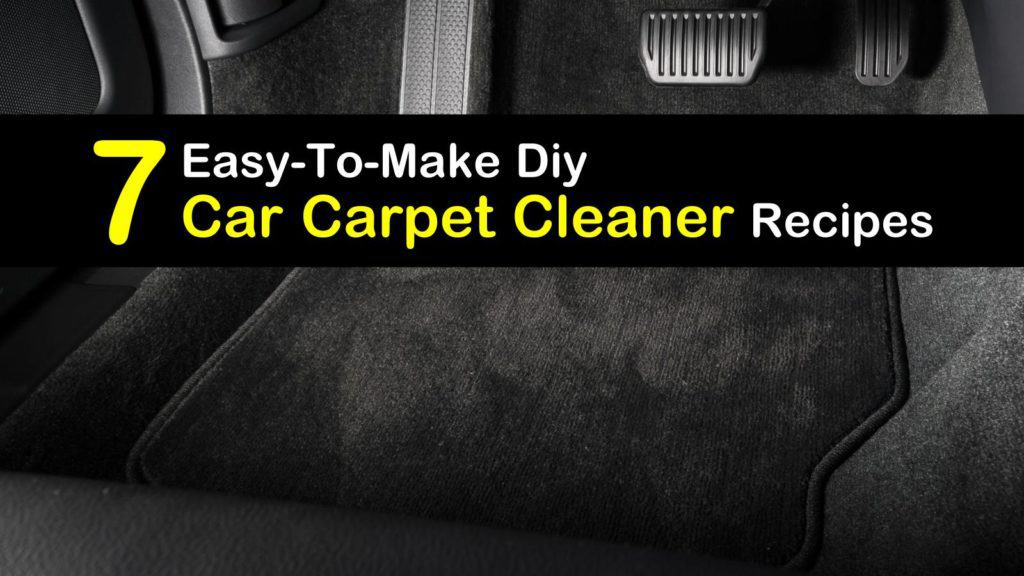 How to Clean Your Car Carpet
Keeping the carpet in your car clean can dramatically change the interior of your vehicle. Whether you have a brand-new car or have been driving the same vehicle for years, regular cleaning of your car's carpet is necessary to get rid of dirt, debris, and stains.
Cleaning the carpets in your car isn't difficult and can be done in less than an hour. The following tips and DIY car carpet cleaner solutions will help you get your vehicle looking great.
The first thing that you need to do is clear out the garbage that has collected throughout the car. Throw out any fast food wrappers, drink cups, mail, and anything else that has accumulated. To help eliminate the buildup of garbage down the road, place a small trash bag or bin in the back seat.
After you've removed the trash from your car, it's time to remove the dirt and debris from the interior. Using a vacuum, go over the floor mats, under the mats, and over upholstery to pick up the items that are too small to remove by hand.
Finally, treat any stains on the upholstery and carpet with a homemade car carpet stain remover and clean the upholstery with a homemade car upholstery cleaning solution.
Best Homemade Car Upholstery Cleaner
The task of cleaning the upholstery in your car can either be easy or difficult, it all depends on whether or not you use the right cleaning solution.
You can make this simple DIY carpet cleaner solution that will be just as effective as the commercial products without breaking the bank. The recipe is from our extensive homemade car upholstery cleaner page where you can find even more easy-to-make cleaning recipes.
Thoroughly mix the ingredients and pour them into a large spray bottle to use to clean car interior fabric. Spray the stains on your upholstery and carpet and let the solution sit for a few minutes. With a scrub brush, brush the stains using a circular motion.
Next, use a steam cleaner filled with water or shop vac to rinse the seats. If you are using a shop vac, spray warm water on the seats and use it to suck up the mixture. Open all the windows and doors for circulation so the material can dry effectively.
DIY Car Carpet Cleaner
During the winter, your car carpet and floor mats take a beating. Along with stains from muddy shoes and residual salt from snow melt, you may have stains from dropped food and spilled drinks.
With a few simple ingredients that you probably already have in your home, you can clean your car carpet the DIY way, eliminating the stains and dirt that make the interior of your vehicle look filthy. Try this solution for the best car carpet stain remover and general cleaner. You won't be disappointed with the results.
In a large, plastic bowl add all the ingredients. Stir the DIY cleaner until the soap is completely dissolved and the mixture is foamy like a carpet shampoo.With a stiff scrub brush, dip it in the solution and scrub the parts of the car carpetthat are dirty.
With a clean, wet rag, wipe the area clean, then let dry. This recipe also works well as a natural carpet deodorizer, too!
How to Remove Stains from Car Carpet
With the amount of time that we spend in our cars, driving to and from work, hauling kids and pets around, and hitting the road for a nice relaxing road trip, stains from food and drinks are inevitable, not to mention the dirt and grease tracked into the car.
All of this can leave stains on your upholstery and car carpet if not appropriately treated. There are different kinds of stains that require different steps to remove.
Remove Grease Stains
If you spend a lot of time eating at the drive-thru, you may notice grease stains on your car carpet, floor mats, and upholstery. A great way to break this kind of stain down is by using a small amount of paint thinner. With a clean cotton cloth, rub the paint thinner into the stain.
Follow this by pouring some cornmeal or salt over the stain and let it sit for several hours. The salt and cornmeal will absorb the oil. Finally, vacuum the cornmeal or salt up and allow the area dry.
Get Coffee Stains Out of the Car Carpet
If you have coffee stains, you can use a simple glass cleaner to remove the stain. For this to work, you have to treat the stain quickly by blotting up as much of the liquid as you can with paper towels or a clean cloth. Once the area is dry, you will want to soak the stain with the glass cleaner.
Allow the glass cleaner to sit for several minutes then wipe dry with a clean cloth. This method should remove the stain without leaving any residue.
Get Rid of Blood Stains
If you have an accident and have to clean up blood stains, cold water, and dry laundry starch work well. Combine the water and laundry starch to form a paste. Apply the paste to the stain and let it dry.
The starch will pull up and get the blood stains out of the carpet. Then vacuum up the residue. Repeat this process as often as necessary until the stain is completely removed. Vacuuming is also the best way to remove dirt from carpet fibers.
Homemade Car Carpet Stain Remover
For removing general carpet stains from car floor mats and upholstery, you can make your own homemade carpet stain remover from everyday ingredients that you probably already have in your home.
Mix the baking soda and white vinegar to form a thick paste. Using a scrub brush or old toothbrush, work the paste into the stains. Allow the paste to dry completely.
Once the paste is dry, vacuum up the baking soda. If you are dealing with a stubborn stain, repeat the process until the stain is gone.
Homemade Car Carpet Freshener
It doesn't take long for cars to lose their new car smell and begin to develop pretty strong odors, particularly if you are prone to dumping trash and food debris on the floor or into the back seat.
With the help of baking soda and essential oils, you can rid your vehicle of those disgusting odors and leave it smelling fresh with a natural car deodorizer that is inexpensive and simple to make.
Combine the essential oils and baking soda. Sprinkle a fine layer of the powder on your car's carpet and allow to sit for several hours. Vacuum up the powder. To keep your carpets from smelling stale, do this regularly.
Cleaning the interior of your car doesn't have to take a lot of time or cost you a ton of money. Using a DIY car carpet cleaner on a regular basis works just as well as commercial cleaners for eliminating tough stains and disgusting odors. With the right tools and elbow grease, your car's carpet and upholstery can look new again.
Recipe for DIY Car Carpet Cleaning Spray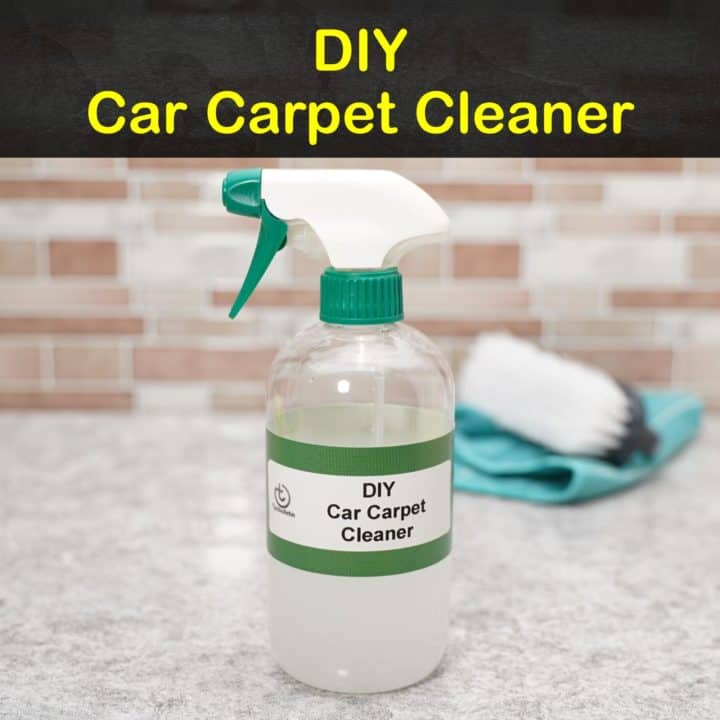 DIY Car Carpet Cleaner
Get rid of ugly, smelly car carpet stains with this easy-to-make spray.
Materials
8 ounces of white vinegar
4 ounces dish soap
8 ounces of club soda
Tools
24-ounce sprayer
Measuring cup
Cleaning brush
Carpet steamer or shop vac
Instructions
Pour the liquids into the spray bottle.
Shake to mix.
Spritz carpet stains or fabric car seats.
Allow the cleaner to sit for about ten minutes.
Scrub the mixture with a cleaning brush to get down into the carpet fibers.
Steam the material or use a shop vac to pick up residue and excess cleaning solution.
Air dry by opening the windows and doors for several hours.
Notes
Substitute apple cider vinegar for white vinegar, if desired.
Ensure that the carpet or fabric is completely dry before closing the doors and windows so that mold does not develop.
If you found the information about car carpet cleaner recipes helpful, please feel free to share our car carpet cleaning tips with everyone you know on Pinterest and Facebook.