There are a few reasons that your car may have an unpleasant smell, and it may be due to uncleaned spills, smoke, and old food aromas. A smelly car can be an annoyance, especially if you spend much time driving in it. However, you can make a DIY car deodorizer using natural ingredients to fill your car with a personalized, fresh scent.
While you can get a car freshener from just about any store to get rid of that car smell, many of them contain harmful chemicals that are unwanted and unnecessary. Making your own DIY air freshener means you won't have to worry about breathing in harsh ingredients.
Many of our recipes use essential oils, compounds extracted from plants. Not only are these healthier for you to breathe than commercial fresheners, but they make your car smell good and are also beneficial to your overall well being.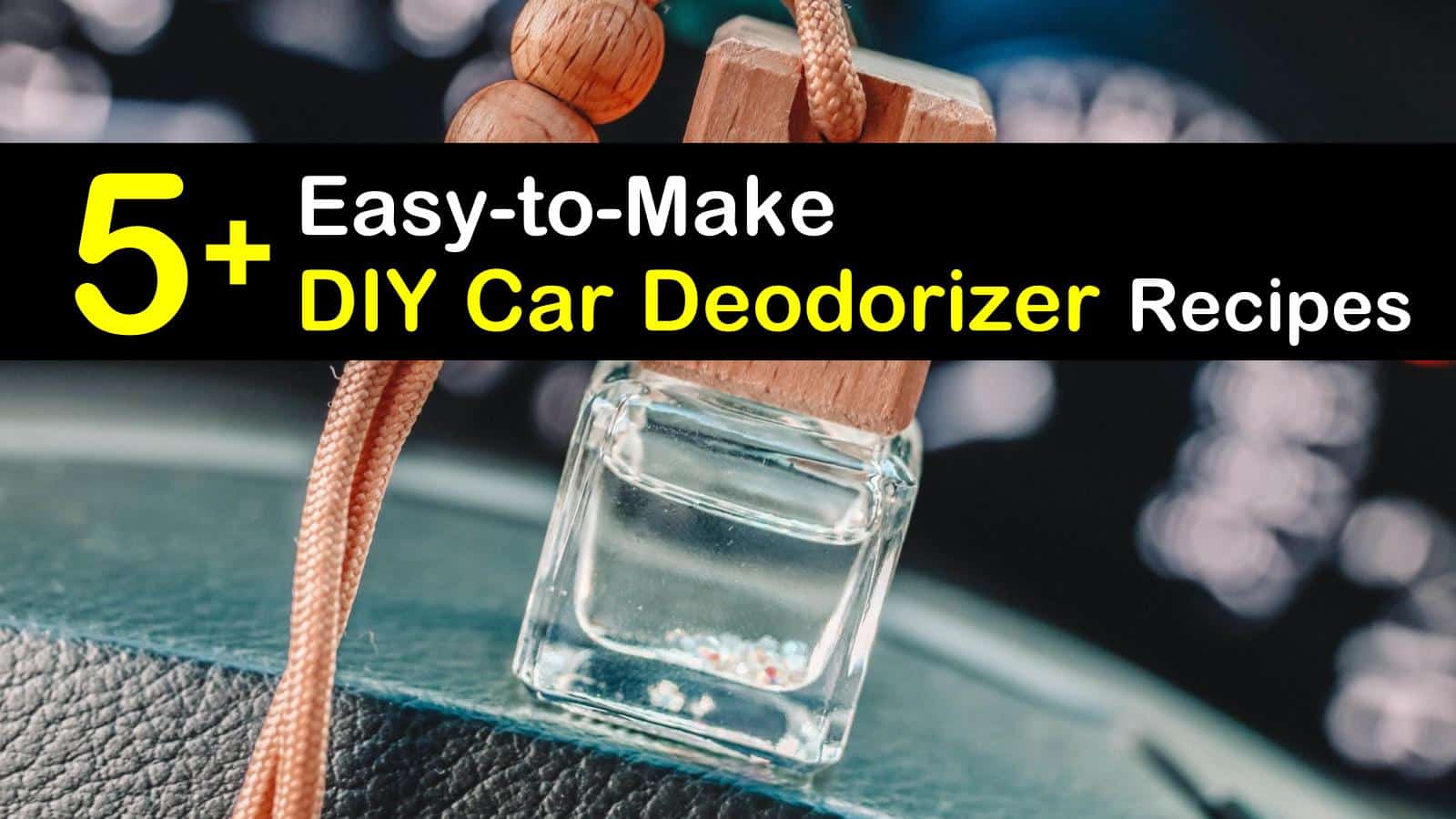 Do-It-Yourself Car Deodorizers
Before purchasing a bottle of Febreze, consider making a homemade air freshener as one of your latest DIY projects. DIY air fresheners make your car smell fresh by eliminating odors in the carpeting, upholstery, and by getting smoke smell out of leather. We've got DIY air freshener deodorizer and freshening spray recipes to help your car smell great.
While you're working on creating a pleasant smell on the inside of your auto, think about cleaning the outside at the same time. Getting it all done at once actually saves time. Make your own DIY car soap and clean off the dirt and grime on the exterior as you improve the air on the interior.
After you remove water stains from a car headliner and clean your seats and carpet, pick one or more of these simple home remedies to make your car smell just like it came off the showroom floor.
How to Make Car Deodorizer
This recipe shows you how to make car deodorizer using two essential oils. This all-purpose air freshening spray is not only excellent for freshening the car but has positive impacts on the occupants. These essential oils can be helpful for respiratory health while providing a reviving scent.
Get rid of nasty odors from cigarettes, sweaty gym bags, or other smelly items with a natural car air freshener that uses safe and refreshing ingredients. If you're not fond of peppermint or eucalyptus, you can switch out the essential oils for ones that you like better.
To make this simple but delightful-smelling fabric deodorizer spray, fill the spray bottle with some water and add both the eucalyptus and peppermint oils. Shake the bottle well and label.
Spray the car interior with three to five sprays as needed, wherever you think the upholstery smells a little musty.
Natural Car Deodorizer
For a natural car deodorizer and air freshener that will keep your car fresh for up to a month before needing replacement, try this recipe. It uses a combination of baking soda to absorb bad odors and essential oil to provide your car with a fresh scent. It's ideal to remove cigarette smell from the car or eliminate other unpleasant odors.
Pour the baking soda into a Mason jar and add 20 drops of essential oil of choice. Replace the jar lid and shake the mixture well to mix the two ingredients. Use the flat disk of the jar lid to trace out a circular shape on the cardboard and cut out the form.
Place the circular cardboard onto the jar and secure using the ring part of the lid. Use thumbtacks to poke several holes into the cardboard. Place the scented jar in a cup holder.
For immediate freshening power, sprinkle some of the contents of the jar directly on the seats or to remove odor from the carpet. Lightly scrub the material with a brush and let it sit for an hour or so, then vacuum. Viola! Your car will smell wonderful.
How to Make a Rearview Mirror Air Freshener
This homemade car deodorizer is just like the ones you get at the car wash or store. You know, the ones shaped like a pine tree? The cool thing about these is that you can not only personalize the scent but the shape, as well.
Start by deciding what you want the shape of your mirror air freshener to be. The form can be anything from a traditional pine tree to a seashell. If you're not confident about your artistic ability, you can always use printables.
Trace the shape and cut out the design on both the craft foam and felt. Remove the paper backing off the foam piece and attach the piece of felt to the foam. Make a hole at the top of the shape using the hole puncher.
String a piece of twine through the hole and tie it off. Put a few drops of essential oil on the felt side of the form and hang it over your rearview mirror.
How to Deodorize Your Car with Natural Scents
This method is for use on your car's air vent and will fill your car with an aroma of your choice whenever you turn on the heat or AC. You can use any one of your favorite essential oils. If you are unsure, try a citrus oil for an energizing effect.
Start by putting five drops of your favorite essential oil onto the clothespins. Place the clothespins into a sandwich bag and seal. Take one of the clothespins out and clip it onto the car vent to get smoke smell out of car vents. It will give off a mild scent even when the heat or AC is not running.
Deodorize Your Car with Coffee
Coffee lovers will enjoy this deodorizing method. Coffee beans are a great way to absorb bad odors in the car and for removing a moldy smell from your car while also filling the vehicle with an aromatic scent.
Use a funnel or a small plastic cup with a hole in the bottom to fill an old sock (or one of those lonely lost socks) with coffee beans. Use a zip tie to secure the end of the sock. Place the coffee sachet beneath the passenger seat in your car.
How to Make a DIY Car Air Freshener Sachet
This DIY air freshener is a great way to reuse some of those old fabric softener sheets by making handy little scented sachets to freshen up your car. After you learn how to clean a car dashboard, leave a sachet or two on the dash for freshening power that will last.
Apply a few drops of your favorite essential oil to a couple of cotton balls. If you enjoy being thrifty, you can use a ball of fabric lint from the dryer instead of the cotton balls. Spread out a sheet of used fabric softener and place the cotton balls in the center.
Pull up the sides of the softener sheet around the cotton and seal it shut with a piece of string or twine. Place the scented sachet beneath the car seat, in the glove box, or in the cup holder to make your vehicle smell like a new car.
Making your own homemade car air freshener does not take a lot of time and will make your car interior smell great while providing you with aromatherapy. What could be better than having your air freshener tailored to you and your style? The next step in getting that car back to the way it was when you first bought it is to give it a good vacuuming and use a car interior cleaning solution.
DIY Car Deodorizer Recipe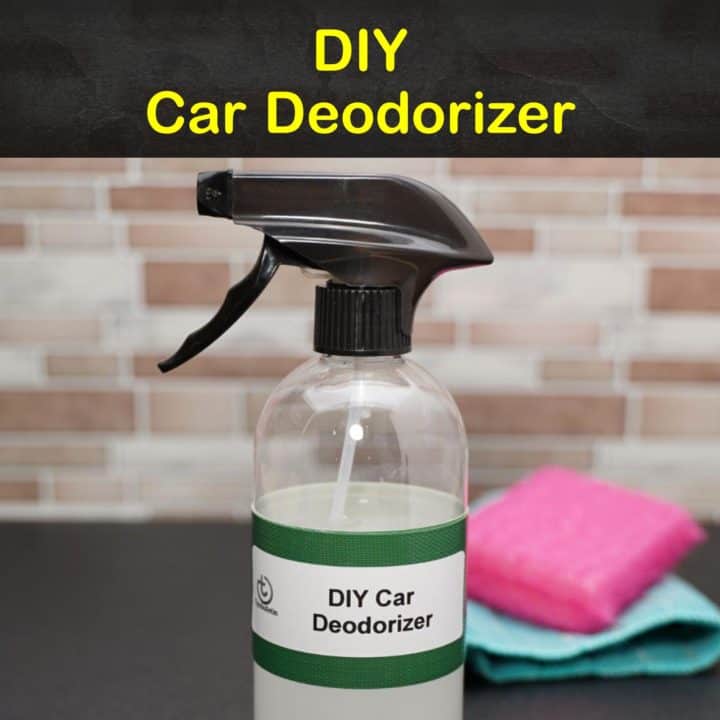 DIY Car Deodorizer
Essential oils not only deodorize but elevate your mood!
Materials
6 drops of peppermint oil
6 drops of eucalyptus oil
8 ounces of water
Tools
8-ounce glass sprayer
Measuring cup
Instructions
Add the liquids to the spray bottle.
Shake well to incorporate the oils.
Give the car interior a few spritzes as needed to eliminate unpleasant odors.
Notes
Feel free to substitute your favorite essential oils for peppermint and eucalyptus.
We hope you'll make your own air freshener using one of our DIY car deodorizer recipes, and we'd appreciate it if you shared these car air freshener tips with your friends and family on Facebook and Pinterest.